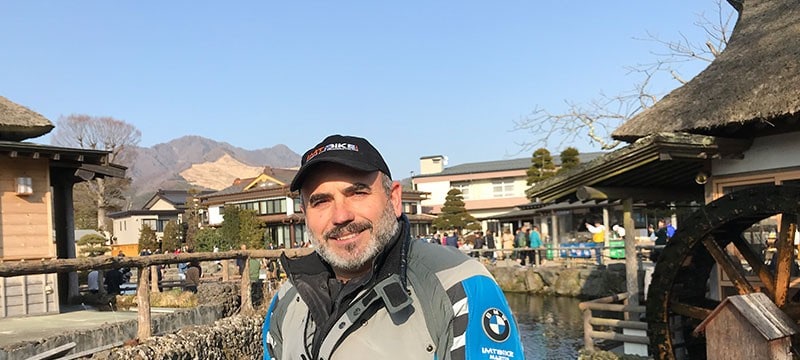 Date of Birth: May 17th
City of birth: Barcelona, Spain
Last Tour: Sardinia & Corsica 
Social Media: facebook.com/martin.cebrian.3
1.   How did you become part of the IMTBIKE Family?  
I was a freelance motorcycle test rider when my colleague and I got the phone call for an interview. As soon as I met Scott I knew I wanted to work with him and that we would become friends. And it has been over 20 years now and counting!
2. What do you always take with you on a tour?        
A lot of enthusiasm.
3. What do you like to eat for breakfast when on a tour?             
Fresh orange juice and coffee with milk. Then some warm bread, scrambled eggs, Spanish ham and tomato purée.. All of this on a bed of cheese.
4. Do you have any rituals before starting a tour?
My daughters and I draw all the different stages of the tour on our blackboard so that they can follow my itinerary each day.
5. Wine or beer?
Wine. I love it each day more and I´m lucky enough to be surrounded by vineyards.
6 . Of the trips you´ve done with IMTBIKE, Which one did you like the most?
The last one that I designed!
7. What's the funnest thing that's happened to you on a tour?
Fun and terrifying at the same time: A poltergeist experience in a castle/hotel where it is said a ghost lives!
8. What it´is your favorite food?  
Gastronomically speaking I´d say a pair of farm-fresh fried eggs with Pagés bread (Typical Catalonian bread). To complete the experience I must be surrounded by people I love.
9. What do you like doing most in your free time?
Spend time with my girls (wife and daughters), play the guitar and head into the mountains with my friends and our mountain bikes.
10. If you could meet anyone, dead or alive… who would it be?   
If it can be someone not born yet? All my grandchildren and great grandchildren.
11. What do you think is the invention of all times?
The wheel of course!
12. If you could be an animal, what would you be?
Any animal that is smarter than the one I am now.
13. If you had a time machine where would you go?
To the future, but only if I could change things when I returned.
14. Who do you consider to be the best band/singer in today's music?
Pheww.. What a tough choice! Ok! Joe Bonamassa.
15. What do you do on a rainy day?
Smell the wet soil and smile thinking about how great the mountain will be the following day.
16. What´s your favorite ice cream flavor?
Chocolate with almonds ice-cream bar, but the mini size. I don't have much of a sweet tooth.
17. What do you think about when riding a motorcycle?
About everything, only with a better perspective.
18. What do you want to be when you grow up?
Like Chano!
19. What super power would you like to have?
To heal.
20. What country would you like to visit soon?
Croatia.