Sardinia & Corsica Motorcycle Tour
Secret Jewels of the Mediterranean
Spain | Italy | France | Andorra
Sep. 25 — Oct. 09, 2024
14 Spots left
Come and conquer the untamed islands of Sardinia and Corsica with IMTBIKE during this Sardinia and Corsica motorcycle tour; or better yet, let their numerous delights conquer you! These lush pristine islands with surprisingly mountainous topography and beautiful coastlines make them one of the best places to ride a motorcycle in the world. After a Mediterranean cruise from Barcelona we will ride the most beautiful corners of both islands on a magnificent network of local roads which are perfectly designed for motorcycling.
From the natural charm of their national parks to the turquoise waters of their beaches, from their delicious gastronomy to their authentic people and villages, nothing in Sardinia and Corsica will escape us! Back on the European mainland, we will make our way through Provence, the medieval city of Carcassonne and then cross the mighty Pyrenees to cosmopolitan Barcelona- a wonderfully curve-filled ending to a vacation of a lifetime. Mark this riding adventure on your calendar and join us in motorcycle paradise!
IMTBIKE ROUTE rating
It is essential to know the different skill levels needed to participate in the IMTBIKE TOURS that are offered to you. IMTBIKE makes sure that it offers different tours for all riding styles and levels. The IMTBIKE team always works diligently in designing our routes. This is a laborious process which entails reviewing all road choices before selecting the best option for an IMTBIKE tour.
The most experienced motorcyclists looks for roads that require technical skill; narrow twisty roads with little traffic and endless curves. But these same roads would be too difficult for a less experienced rider.
The local driving habits, the amount of traffic, the asphalt quality and the radius of the curves vary considerably from country to country and even in different regions of the same country. They will also vary depending on the season of the year. All of these factors have been studied by IMTBIKE and have been taken into consideration when rating our tours.
IMTBIKE thinks it is also important to know about the different types of roads you will be enjoying on your tour. To understand the road types easier, IMTBIKE has divided them into two categories, and we have calculated an approximate percentage of each on all of our tours.
TOURING ROADS: These are wider roads comprised mainly of larger radius sweepers. They are still curvy roads but not tight mountainous twisty curves. Please remember that you will ride very few straight roads on IMTBIKE tours!
CHALLENGING ROADS: These are roads that are tight twisty turns which require more technical skill. Many times they will be narrower roads without a shoulder and sometimes with steep inclines or descents. Normally they will be mountainous roads accompanied by spectacular sceneries.
If you have never ridden a motorcycle outside of your country, or if you have little experience riding on mountain roads with many curves, we recommend that you choose a tour rated moderate or intermediate. If you have any questions or doubts please do not hesitate to call or email us. We are always happy to answer your questions to make sure that you choose the best tour for your riding level.
Moderate
This route offers wider sweeping turns that are easy to maneuver. This route may have some tighter turns in a few places but this will be the exception. Regardless, even on moderate tours you must be able to ride a large cylinder motorcycle in any condition. Never plan to learn how to ride a motorcycle on an IMTBIKE tour. We recommend having a minimum of 8.000 km (5.000 miles) of experience riding a large cylinder motorcycle to participate on a MODERATE rated IMTBIKE Tour and you should ride a motorcycle on a regular basis at home.
Intermediate
This route rating can have sections of very twisty curves on narrow roads with no center line to divide the road. There will also wider radius curves on these routes. Traffic conditions can be intense at times in some urban environments and the local driving habits may seem aggressive and unpredictable to you. It is imperative that you are an experienced motorcyclist. We recommend that you have a minimum of 12.000 km (7500 miles) of large cylinder motorcycle experience to participate on a INTERMEDIATE rated IMTBIKE Tour and you should ride a motorcycle on a regular basis at home.
Advanced
This route rating has long sections of technical narrow twisty roads and sometimes single lane roads. These twisty roads will often be in mountains where steep inclines and descents will be commonplace. Some riding days can be long and challenging. Traffic conditions can be intense at times in some urban environments and the local driving habits may seem aggressive and unpredictable to you. It is imperative that you are a very experienced motorcyclist on a large cylinder motorcycle. We recommend that you have a minimum of 16.000 km (10.000 miles) of large cylinder motorcycle experience on an ADVANCE rated IMTBIKE Tour and of course you should ride a motorcycle on a regular basis at home.
IMTBIKE Average Daily Riding Hours
5 to 7 hours
6 to 8 hours
7 to 9 hours
How many hours a day you ride on a tour is important information in helping you decide on the right IMTBIKE tour for you. Some tour members want to ride as many hours as possible everyday, while others prefer to stop more frequently and dedicate more time to enjoying the scenery, visiting cultural sights and arrive at the hotel earlier to relax before dinner. The daily riding hours are calculated including the coffee breaks and photo stops but they do not include the time taken for lunch.
Normally we'll start our riding day at 9:30am and we will take about a one hour lunch break sometime between 1pm and 2pm. So if the daily riding hours for a given tour are 5-7, then you will arrive at the hotel between 3:30pm- 5:30pm depending on the average speed of the group.
Tour Facts
Total Distance

1,725 miles / 2,729 km

Rest Days

2 Orosei Natural Park, Ajaccio

Breakfast

14 Included Breakfasts

Daily Mileage

160/220 miles / 250-350 km

Hotel Overnights

14 Nights

Riding Season

Spring, Autumn

Highlights: Barcelona, Mediterranean cruise, National Park of Gennargentu, Cape Corse, Provence, Carcassone, Pyrenees, Andorra. Incredible motorcycle roads and scenery! Italian and French gastronomy.

Accommodations: Comfortable, very nice hotels, often the best in the area, mostly 4****
*All IMTBIKE lodgings are hand-picked for their quality of service, local charm and strategic locations.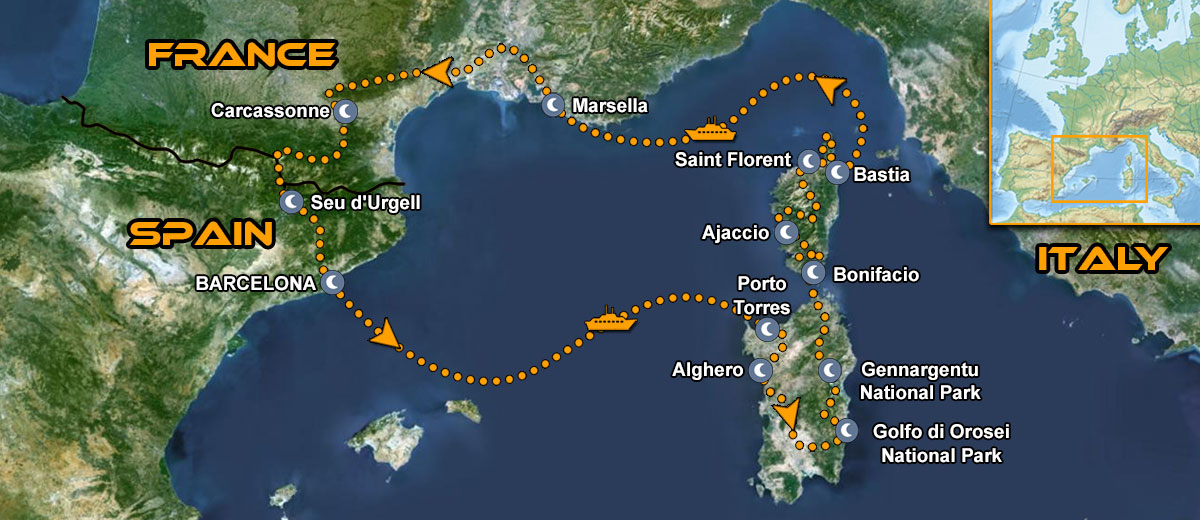 Click to enlarge
France, Italy & Alps Motorcycle Tours Gallery

An absolute pleasure on every one of our three tours with IMTBIKE. We've done the Pyrenees, Southern Spain and Portugal and Sardinia and Corsica with them. Fantastic attention to detail, excellent tour guides great lodgings and incredible food. What more could you ask for. Any issues were dealt with immediately. We can't wait for our next opportunity to tour with one of the best!

Robert Wilthew
Granite Bay, USA
Multiple IMT Tours

My wife and I with a number of great friends have enjoyed several IMTBIKE Moto Tours and are hoping to return ASAP ... Outstanding routes, food, accommodation, espresso, gelato and wonderful people too. These folks are all about your having an awesome experience ... Ride Safe Eh

Steve Brooke
Orangeville, USA
Moto Heaven

Have been on several tours with IMTBIKE. Cannot recommend this company highly enough. Scott and his team were the perfect motorcycle hosts.

David Cruise
USA
Perfect Tour

We LOVE our trips with IMTBIKE. Already booked our 3rd trip in 3 years. Trips are flawlessly planned and executed. The routes take you over some of the most amazing roads you've ever seen. Incredible riding. Epic views. Fantastic food. Can't say enough about the trips.
I do have to add that the people are what really make the experience with IMTBIKE extra special. Martin '222' has been our guide and we consider him a great friend and stay in touch since. Incredible person to take you on your trip. Roger, Nacho and the rest of the team are incredible. So excited for future trips.

Jasen Gundersen
Lighthouse Point, USA
Simply Incredible!

This was our second trip with IMT and once again had an amazing trip. The organization and care were great. Amazing!

Jon Fielding
Princeton, USA
Sardinia & Corsica Motorcycle Tour

You cannot in words or pictures express what these rides are like and the care that the guides give you. There is nothing in the US that compares to these rides and the food is the best in the world. Ann And I are both in our 70s, so the extra care of setting our bike up at every stop was really nice. If you are looking to tour Southern Europe or Morocco, IMTBIKE is the best. It will be an experience of a life time.

Jerry and Ann Larsen
Texas, USA
Sardinia & Corsica Tour - Our 4th IMTBike Tour

First off, I want to say how incredibly impressed I have been with the services that your company offers! I've just returned from touring Sardinia and Corsica with Martin and Sergi. What great guides they are, so professional, personable, and knowledgeable, very impressive. And then there was the tour itself, with its incredible roads, lodgings and scenery. Oh, and did I mention the food..?!

Paul Campbell
New York, USA
Sardinia & Corsica - Great guides, incredible roads

What a fantastic trip! As always, the planning and organizing was amazing; the hotels, food, riding, scenery and overall experience, completely awesome! Martin & Sergi were such skillful guides, keeping us safe, well cared for, properly but gently herded; and thoroughly entertained. Their knowledge of the roads and all of the must-sees along the way were so beneficial. And, perhaps best of all — every one of the tour members, totally delightful (IMTBike can't take full credit for that, but you do tend to attract us discerning types!). Can't wait to do it again!

Chip and Sharon Houston
Texas, USA
Sardinia & Corsica - Can't Wait to Do It Again!

The purpose of this message is to let you know how much I enjoyed the Sardinia & Corsica Tour. Not only was the weather great, but the two Tour Guides were among the best of any I have encountered during my 20+ organized motorcycle rides outside of the U.S. As you undoubtedly already know, Martin 222 is absolutely the most animated conversationalist and ride briefers one could ever encounter. He is a joy to watch when he has both feet on the ground, and even more fun to follow when he is in his element - riding. Mikel was mesmerizing in his enthusiasm, energy and friendliness. If the rest of your staff is even close to these two, you have a winning team.

Sardinia exceeded my expectations. I really expected a small island more oriented to the conditions of Mexico. Wow, was I wrong! Even though the big draw for me was Corsica, I think Sardinia is a better choice for the pure enjoyment of motorcycle riding.

After 16 years in business, an inventory of 120 motorcycles and a crew that really gives a damn about keeping the business going, I think you have a winning program. You haven't seen the last of me. Because of Martins description and my personal desire to experience as much of the world as I can on two wheels while Im still on this side of the grass, I strongly suspect that you will find me on your Moroccan Tour in November.


Gary Pricket
California, USA
Sardinia & Corsica - What an Incredible Tour!

Martin, I just wanted to let you know that Diane and I will be attempting to tilt at windmills from the seat of one of your R1200GS's this spring. Diane's already looking the tour and the possibility that you will be leading it.
In fact, as soon as I complete this email, I'm going to send out another one to everyone who was in the Sardinia/Corsica Tour. Everyone enjoyed each other's company so much that we agreed that we should try to get together again for another tour. Who knows, maybe history CAN be repeated...?

Paul Campbell
New York, USA
Sardinia & Corsica - History CAN be repeated...?

I wanted to say what a WOW trip this was. Great weather, unbelievable roads, little traffic and really great scenery. I'm glad I came back after 10 years !! Also Martin, Ruben and Mikel were the best and most fun guides that I have ever had on a m/c tour group. Everything went perfectly and the only rain day was one of our days off. You are a lucky guy to have these guys part of your company. Also many accolades to you for establishing a premier tour company. Scott I hope to book anther tour someday again with you. Just need to decide which one.


Sam McCaulley
New Jersey, USA
Sardinia & Corsica

Meet our guides

We are very proud of the reputation we've earned as one of the world's leading motorcycle tour operators, and it starts with our guides.
Day 1: Arrival in Barcelona
Day 2: Ferry to Sardinia
Day 3: Porto Torres - Alghero
Day 4: Alghero - Parco Nazionale Golfo di Orosei
Day 5: Parco Nazionale Golfo di Orosei - rest day
Day 6: Parco Nazionale Golfo di Orosei - Parco Nazionale del Gennargentu
Day 7: Parco Nazionale del Gennargentu - Bonifacio
Day 8: Bonifacio - Ajaccio
Day 9: Ajaccio - Rest day
Day 10: Ajaccio - Saint Florent
Day 11: Saint Florent - Bastia - Ferry to Marseille
Day 12: Marseille - Carcassonne
Day 13: Carcassonne - Andorra - La Seu d'Urgell
Day 14: La Seu d'Urgell - Barcelona
Day 15: Flight home
Day 1: Arrival in Barcelona, safety briefing and welcome dinner

Transfer included from the Airport to the hotel. You can relax or take a stroll through beautiful and cosmopolitan Barcelona before you meet the guides and other tourmembers at our safety briefing in the evening. After the briefing we will enjoy our welcome dinner in a traditional restaurant where we will toast to the start of our journey to Sardinia and Corsica. The first and last days mentioned in the itinerary are the arrival and departure days for your tour. Depending on the country you are flying from, you may have to leave a day early. Please book your flights accordingly!

Day 2: Barcelona visit or ride through Montserrat and the Penedès wine country. Ferry to Sardinia.

You can choose between visiting Barcelona or go for a day ride through the surrounding mountain ranges. The ride will start from the IMTBike base in the center of Barcelona and we will ride in the Montserrat Mountains and through the "Penedès" wine region. Then the whole group will meet at the port of Barcelona in late afternoon where we will embark on a cruise ship to Sardinia.

Day 3: Porto Torres - Alghero

You will enjoy a relaxing night crossing the Mediterranean on a cruise ship in a comfortable private cabin with bathroom. You will wake up to the sight of the island of Sardinia. We will disembark in Porto Torres and follow the coastline to visit the picturesque fishing village of Castelsardo. We will then head towards the interior, enjoying some quiet local roads until reaching the fortified city of Alghero, which maybe the most beautiful town of the island.

Day 4: Alghero - Parco Nazionale Golfo di Orosei

A fantastic coastal road will take us down to Bosa. From there we will immerse ourselves in the interior of the island and cross from coast to coast until we reach the eastern seaboard on the Tyrrhenian Sea. In doing so you will ride your first (of many) curves in the mountains of the Gennargentu National Park. Tonight we will sleep in Arbatax.

Day 5: Parco Nazionale Golfo di Orosei - rest day

Today is a rest day and you can choose between enjoying the hotel amenities and nice hikes in the surrounding mountains or take your motorcycle and enjoy a fun day ride in the heart of the Golfo di Orosei and Gennargentu National Parks on their fantastic roads, including the highest mountain pass of the island.

Day 6: Parco Nazionale Golfo di Orosei - Parco Nazionale del Gennargentu

Today we will go to the heart of the Gennargentu National Park, riding some of the best sweepers and twisties in Sardinia! You will cross quaint mountain villages that exude the essence of the Sardinians and their tumultuous history. Our picturesque hotel for this night is located in the middle of the national park.

Day 7: Parco Nazionale del Gennargentu - Bonifacio

For our last day in Sardinia we will ride inland northward, connecting small mountain ranges on twisty roads surrounded by thick forests until Santa Teresa Gallura. There we will board a ferry that will bring us across the Bonifacio Strait to Corsica. Bonifacio is also the name of the spectacular village hanging from the cliffs that will welcome us to Corsica.

Day 8: Bonifacio - Ajaccio

Today we will ride north along the Tyrrhenian Sea and its gorgeous blue water coves until we reach a spectacular mountain road that will take us quickly to an altitude of 1000 meters (3300 ft.) and breathtaking Alpine landscapes. Today's route will take us through pine forests with pristine scenery on twisty mountain roads until we reach Ajaccio, the capital of Corsica and Napoleon's birthplace.


Day 9: Ajaccio - rest day

Today is our second rest day and you have the choice between visiting Ajaccio, the birth city of Napoleon Bonaparte or riding superb roads in the heart of the island. The day ride will take you through the "Parc Naturel Régional Corse" and Corte, the old capital of independent Corsica. On this day ride you'll reach the highest mountain passes in Corsica.


Day 10: Ajaccio - Saint Florent

We will head north along the Western Corsican seaboard on winding roads hugging the coastline and offering unsurpassable views of the Mediterranean Sea and the steep red-hued cliffs. We will stop to visit the fortress town of Calvi and head west to our beachfront hotel for the night.

Day 11: Saint Florent - Bastia - ferry to Marseille

Today you will ride the northern finger-shaped peninsula of Corsica on its twisty coastal roads all the way to Bastia. There we will head to the port and embark on the night ferry to Marseille. You will enjoy a restful night in your comfortable cabin with private bathroom.

Day 12: Marseille - Carcassonne

We will arrive in Marseille in the morning and ride a short stretch of highway to leave Marseille behind us. Afterwards you will ride nice national roads that flows through the rolling hills and lavender fields in Provence. These roads will lead you to the walled city of Carcassonne and its "Cité Médiévale".

Day 13: Carcassonne - Andorra - La Seu d'Urgell

Today you will cross the land of the Cathars and its numerous fortresses perched on steep crags. You will keep riding south until the foothills of the Pyrenees that we will ascend and cross the frontier between France and Andorra, the small Pyrenean country. You will ride through Andorra and cross into Spain where we will spend the night in the Pyrenees Mountains.

Day 14: La Seu d'Urgell - Barcelona

Today we have a great last riding day in store for you! We will climb the Cadí Mountain range and reach the Pre-Pirenáica Mountain range. We will keep edging closer to Barcelona on lovely local roads that will take us practically to the gates of the "City of the Counts", Barcelona. You will have to bid farewell to your trusty bike at the IMTBike base. At night we will enjoy our farewell dinner in a fine restaurant. Until our next adventure together!

Day 15: Flight home

Today you will say your goodbyes to the guides and the other tour members (now your new friends) as you make your way to the airport to fly home. Until our next motorcycle adventure together! Hasta Luego!
Sardinia & Corsica Motorcycle Tour Pricing
The base price of every tour is calculated for a single rider on a BMW G310R and sharing a double room

Included in Tour:
Airport pickup on the first day of the tour.
Overnight accommodations in carefully selected 4 & 5 star hotels and boutique hotels.
A delicious gourmet evening meal featuring French and Italian specialties every night (except on rest days).
Complete buffet breakfast every morning.
New model BMW motorcycle fully equipped with 3 BMW cases.
Tour handbook (normally about 70 pages-very comprehensive) and highlighted map.
Expert multilingual guide on a motorcycle.
Multilingual guide in support vehicle which will carry your luggage, any oversized purchases you make; or even a passenger or two.
Tour Souvenirs.
Not included in Tour:
Air ticket, lunches, gasoline, drinks, tolls, personal spending and tips