Blog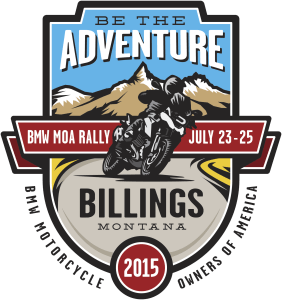 IMTBike will be in Billings, Montana for the 43rd annual BMW MOA (Motorcycle Owners of America) international motorcycle rally July 23-25th. It's always a pleasure to take part in motorcycle related events so if you are looking for information about our motorcycle tours in Spain, France, Italy, Portugal and Morocco, motorcycle rentals, or if you just want to come by and chat don't hesitate to stop by our stand.
Join Scott Moreno, managing director of IMTBike, for two presentations about motorcycle tours in Spain and Morocco:
Motorcycle Tours in Spain:
Friday the 23rd from 11:45 to 12:45 in hall 6
Motorcycle Tours in Morocco:
Saturday the 24th from 1:00 to 2:00 in hall 3
If you have participated in one of our motorcycle tours or if you have rented a motorcycle from us, we will be organizing a reunion dinner on Friday the 24th Don't forget to stop by our stand to sign up!
Also, during the rally we will be giving away a certificate for a $500 discount, a free BMW MOA Castles & Mountains Tour and more!
Tweet
Did you know IMTBike is present in many social media platforms?
Join us and share your adventure with riders from all over the world.
Join the conversation in: Facebook · twitter · Instagram · Google+ · YouTube
#PassionForMotorcycling
Tweet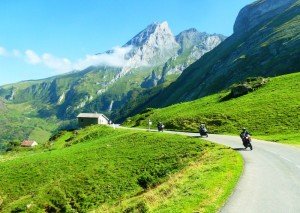 From a Motorcycle Touring point of view it's very rare to find a region that combines everything you could want in a tour in such a small area. Each Northern Spain province has quaint historical villages & towns, green landscapes, outstanding mountain passes, world famous local dishes, friendly locals and a huge collection of well paved roads packed with curves and very little traffic.
Motorcycling in Northern Spain: From the Mountains to the Coast.
In Northern Spain there's no shortage of Mountain Ranges. In the center you have the Cantabrian Range which spans 180 miles (300km) and contains the famous Picos de Europa Mountains. To the west stands the mighty Galician Massif and to the East, the Pyrenees. The Pyrenees extend for about 305 miles (491 km) and are a natural border between Spain and France. The Pyrenees are famous among the motorcycling world for their Mountain passes such as Tourmalet or Aneto.
Besides the mountains, Northern Spain is well known for its constantly changing, lush green scenery. Its coast line is referred to as the "green coast" and is one of the most impressive coast lines in the world.
Motorcycle Tours in Northern Spain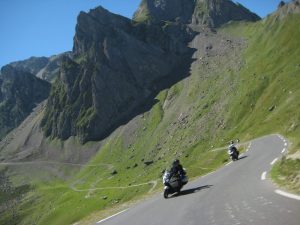 As a Motorcycle Touring and Rental Company specializing in Tours in Southern Europe and Morocco, we know how good Northern Spain can be on a motorcycle. We have carefully selected the best roads and outstanding hotels to create the best riding experience in North Spain. For 2015 we are offering the following motorbike Tour in northern Spain.
Take an unforgettable Motorcycle tour through "Green Spain" and discover Northern Spain's Elegance.
A great opportunity to see Marc Marquez on his home track! This tour combines the very best of the Pyrenees with the excitement of MotoGP. IMTBike always gets excellent seats for the races.
The Mighty Pyrenees awaits you in this Motorcycle Tour. You will ride the best mountain roads on a motorcycle tour made of 100% curves.
Tweet
Yes you read that correctly! We're offering one-way motorcycle rentals in Spain and Portugal with no extra costs if you book your one-way rental for April or May, 2015. If you are thinking of doing a one-way motorcycle trip in Spain and Portugal now is the time! We have limited models available so act now!
What is a one way motorcycle rental?
One way motorcycle rental means you can collect your motorbike in any of the 8 IMTBike Tours rental stations in Spain and Portugal and drop-it in any other location of your choice. For example, you can rent your Motorcycle in Malaga and drop-it in Barcelona. Usually, one way rentals have an extra cost of 150€ but we are offering them for free for a limited time only.
How do I book my one way motorcycle rental?
Choose the motorbike you want to rent and fill out our booking form as usual. In the comments section, located at the bottom of the booking form use the code "Passion for Motorcycling" and we wont charge you the 150€ one way rental fee. It's as easy as that.
All our Motorbikes are new model fully-equipped BMWs with two sidecases and one topcase. We have unlimited mileage for 7 day rentals or longer. If you want more information about our motorcycles rentals in spain and portugal have a look to our rentals page or contact us via mail to [email protected] or give us a call to tel.: USA:(412) 468-2453 or (Spain) tel.:(+34) 91 633 72 22.
Tweet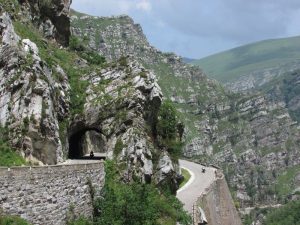 Ben Lindley Bike Magzine UK has interviewed our Head Guide Martin "222" Cebrián about Motorbike touring Northern Spain. You can read this outstanding interview here: Motorcycle Touring Northern Spain.
If you're considering joining a Motorcycle Tour in Northern Spain check out our Northern Green Spain Motorcycle Tour or Wild Pyreenes Motorcycle Tour pages.
Let us know what you think in the comments below!
#PassionForMotorcycling
Tweet
Remember our post about New Motorcycle Tours for 2015? Well, Rider Magazine does!! They have been kind enough to run a small article featuring our new tours for 2015. You can read it below.
If you're interested in our Motorcycle Tours in Morocco and Europe have a look at our Motorbike Tours or write us to [email protected]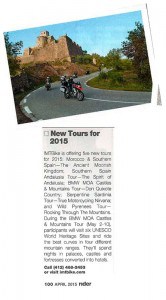 Tweet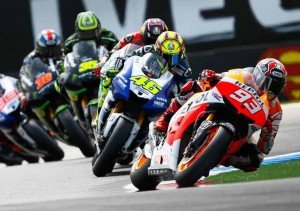 Did you know Spain is the only country in the world to have four MotoGP races? Some say it's because Spaniards love motorcycles so much. Others say it's due to Spain's perfect climate for motorcycling! Whatever the reason, this year you can have an outstanding motorcycle tour and experience the excitement of MotoGP together with IMTBike MotoGP Motorcycle Tours.
for 2015 we're running three different MotoGP Motorcycle Tours: Jerez, Catalunya and Valencia. These tours will take you twisting and turning on perfect asphalt through the best curves in the country to the MotoGP race of your choice. You'll experience the excitement of the races first-hand and ride trhough little-known parts of Spain. At night you'll sleep in 4 & 5 star hotels and Spanish Paradors. Paradors are historical buildings such as palaces and castles turned into top-notch motorcycle-friendly hotels.
Since 1997 we've been offering outstanding motorcycle tours and rentals in Europe and Morocco. Their experienced multi-lingual guides are all expert riders that enjoy sharing their local knowledge.
For more information visit our MotoGP Motorcycle Tours page, send us an email or give us a call: USA (412) 468-2453/Spain (+34) 91 633 72 22
Are you up for an unforgettable weekend at the races? let us know what you think in the comments below!
#PassionForMotorcycling
Tweet
Enjoying a motorcycle tour in Morocco is really quite easy. However, in our 18 years of experience guiding motorcycle tours in this North African country we have encountered a few things we'd like to share with you.
First of all, Morocco is not one vast desert! Morocco has every kind of scenery you could imagine, from green rolling hills to snowcapped  mountain peaks and yes, desert too, full of incredibly photogenic dunes and sunsets like you've never seen before. The diversity of landscapes gives Morocco an amazing mix of well-paved mountain roads with sweeping views, cedar forests full of monkeys and the mystical charm of the Sahara Desert.
Get your motorcycle ready and prepare for adventure. If you're traveling on your own be sure to carry spare parts and basic tools with you. A mechanical issue can get very tricky really fast if you're riding in the desert or crossing the Tizi-n-Tichka Mountain Pass. IMTBike always carry an extra motorcycle and many spare parts in our support vehicle during our guided motorcycle tours in Morocco just in case! If you do venture into Africa on your own, we strongly recommend you're prepared for flat tires and basic motorcycle maintenance.
Remember that Morocco has a very complicated border entry process. You will need to have all the motorcycle documents in your name. If the motorcycle is not registered in your name you will need a notarized authorization from the owner. Make sure your motorcycle insurance is valid in Morocco. Good news is insurance can usually be bought at the border.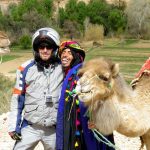 The Moroccans are very friendly people, a fact you will quickly get used to. They're extremely welcoming by nature and will share everything with you, from their rich culture and history to their traditional (and delicious) mint tea. Most people understand English but official languages are French and Arabic. The younger Moroccans are more likely to have studied English and speak up to five languages. Food in Morocco is also fantastic; Tagine and Couscous are the most famous traditional Moroccan dishes that you won't want to miss.
The Moroccan currency is the dirham (Dh), which is divided into 100 centimes. You will find notes in denominations from Dh20 to Dh200. Coins come in denominations of Dh1, Dh2, Dh5 and Dh10, as well as, less frequently, 10, 20 and 50 centimes. The dirham is a restricted currency, meaning that it cannot be taken out of the country and is not available abroad. The current exchange rate is 1USD to 9.3 Dirham or 1 Euro to 10.9 Dirham.
The electrical sockets are the same as those used in Europe with the exception of England. So if you're travelling from outside the EU, you will need a plug converter.
Finally, it can get cold in Morocco! So remember to bring some warm clothes for riding over the highest mountain pass in North Africa and for those cool desert nights.
Ready for a motorcycle tour in Morocco? Check out our Guided Motorcycle Tours in Morocco and don't forget to let us know your thoughts in the comments below.
Tweet
Discover our new motorcycle tours for 2015
We are introducing five brand new motorcycle tours for 2015:
Motorcyle Tours in Spain
Explore Sevilla, Ronda, Cordoba and Granada. Enjoy the famous "White Towns" and ride the greatest curves in the Sierra Nevada and Grazalema Mountains. Spend the night in exclusive Paradors, historical buildings such as Palaces and Castles converted into top-notch motorcycle—friendly hotels.
A tour designed with BMW MOA members in mind! This tour rides through history across six UNESCO World Heritage sites linked up by the best curves, twisties and sweepers of four different Mountain Ranges. Spend your nights in Palaces, Castles and Fortresses converted into top-notch motorcycle-friendly hotels.
The exceptional combination of magnificent roads with perfect asphalt and the intoxicating curves of the Pyrenees. An exquisite feast fit for true motorcyclists.
Motorcyle Tours in Morocco
Discover The Ancient Moorish Kingdom. Ride through Andalucia/Southern Spain and Morocco on this fascinating 15 day adventure on two wheels.
Motorcyle Tours in Sardinia (Italy)
An astonishing motorcycle tour through the best roads of the mountainous island of Sardinia. One of the best places to ride a motorcycle in the world.
What do you think? are these some good looking motorcycle tours in Spain & Morocco?
Tweet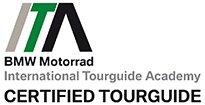 22/04/2014 – IMTBIKE is now a certified ITA BMW Motorrad (International Tourguide Academy) company.

This certification guaranties that IMTBIKE fulfills the high standards of quality required by BMW Motorrad as an official travel partner.

The skill level, experience and knowledge of our guides has been put to the test and pushed to the limits in all fields required for their job: on and off-road riding, first aid, motorcycle mechanics and more.

For us, this certification is tantamount to a promise to all of our clients to continue providing guided motorcycle tours of the highest quality.

Our guides represent the image of IMTBIKE during a tour, and it has always been our goal that they are adequately trained and prepared to provide and unforgettable tour that exceeds expectations. 

For that reason we are proud to announce that since April 2014 IMTBIKE holds the official certification of the ITA BMW Motorrad (International Tourguide Academy).
Tweet