Portugal & Spain Land of Vineyards Motorcycle Tour
Mountains, Valleys & Rivers
Spain | Portugal
Sep. 21 — Oct. 05, 2024
14 Spots left
This dream tour will lead you through some of the most prestigious wine regions in Spain and Portugal. You'll begin your journey in Madrid, the Spanish capital, and travel through charming wine regions such as La Rioja, Ribera del Duero, Rueda, El Bierzo, Douro, Porto and the area in which "Vinho Verde" is produced. This magnificent motorcycle route will wind you over mountains and through infinite vineyards. You will also visit millenary villages, castles and fortresses that still remain as proud vestiges of the once mighty region of Castile.
This tour takes place a few weeks after the "Vendimia" harvest and this means the aroma of freshly pressed grapes and the festive atmosphere of the wineries will accompany us during our tour. Now combine this with fun twisty roads with impeccable asphalt and you are in for an amazing vacation! On this journey you will see for yourself why this route is designed for connoisseurs of great motorcycle roads, wine, history and gastronomy.
IMTBIKE ROUTE rating
It is essential to know the different skill levels needed to participate in the IMTBIKE TOURS that are offered to you. IMTBIKE makes sure that it offers different tours for all riding styles and levels. The IMTBIKE team always works diligently in designing our routes. This is a laborious process which entails reviewing all road choices before selecting the best option for an IMTBIKE tour.
The most experienced motorcyclists looks for roads that require technical skill; narrow twisty roads with little traffic and endless curves. But these same roads would be too difficult for a less experienced rider.
The local driving habits, the amount of traffic, the asphalt quality and the radius of the curves vary considerably from country to country and even in different regions of the same country. They will also vary depending on the season of the year. All of these factors have been studied by IMTBIKE and have been taken into consideration when rating our tours.
IMTBIKE thinks it is also important to know about the different types of roads you will be enjoying on your tour. To understand the road types easier, IMTBIKE has divided them into two categories, and we have calculated an approximate percentage of each on all of our tours.
TOURING ROADS: These are wider roads comprised mainly of larger radius sweepers. They are still curvy roads but not tight mountainous twisty curves. Please remember that you will ride very few straight roads on IMTBIKE tours!
CHALLENGING ROADS: These are roads that are tight twisty turns which require more technical skill. Many times they will be narrower roads without a shoulder and sometimes with steep inclines or descents. Normally they will be mountainous roads accompanied by spectacular sceneries.
If you have never ridden a motorcycle outside of your country, or if you have little experience riding on mountain roads with many curves, we recommend that you choose a tour rated moderate or intermediate. If you have any questions or doubts please do not hesitate to call or email us. We are always happy to answer your questions to make sure that you choose the best tour for your riding level.
Moderate
This route offers wider sweeping turns that are easy to maneuver. This route may have some tighter turns in a few places but this will be the exception. Regardless, even on moderate tours you must be able to ride a large cylinder motorcycle in any condition. Never plan to learn how to ride a motorcycle on an IMTBIKE tour. We recommend having a minimum of 8.000 km (5.000 miles) of experience riding a large cylinder motorcycle to participate on a MODERATE rated IMTBIKE Tour and you should ride a motorcycle on a regular basis at home.
Intermediate
This route rating can have sections of very twisty curves on narrow roads with no center line to divide the road. There will also wider radius curves on these routes. Traffic conditions can be intense at times in some urban environments and the local driving habits may seem aggressive and unpredictable to you. It is imperative that you are an experienced motorcyclist. We recommend that you have a minimum of 12.000 km (7500 miles) of large cylinder motorcycle experience to participate on a INTERMEDIATE rated IMTBIKE Tour and you should ride a motorcycle on a regular basis at home.
Advanced
This route rating has long sections of technical narrow twisty roads and sometimes single lane roads. These twisty roads will often be in mountains where steep inclines and descents will be commonplace. Some riding days can be long and challenging. Traffic conditions can be intense at times in some urban environments and the local driving habits may seem aggressive and unpredictable to you. It is imperative that you are a very experienced motorcyclist on a large cylinder motorcycle. We recommend that you have a minimum of 16.000 km (10.000 miles) of large cylinder motorcycle experience on an ADVANCE rated IMTBIKE Tour and of course you should ride a motorcycle on a regular basis at home.
IMTBIKE Average Daily Riding Hours
5 to 7 hours
6 to 8 hours
7 to 9 hours
How many hours a day you ride on a tour is important information in helping you decide on the right IMTBIKE tour for you. Some tour members want to ride as many hours as possible everyday, while others prefer to stop more frequently and dedicate more time to enjoying the scenery, visiting cultural sights and arrive at the hotel earlier to relax before dinner. The daily riding hours are calculated including the coffee breaks and photo stops but they do not include the time taken for lunch.
Normally we'll start our riding day at 9:30am and we will take about a one hour lunch break sometime between 1pm and 2pm. So if the daily riding hours for a given tour are 5-7, then you will arrive at the hotel between 3:30pm- 5:30pm depending on the average speed of the group.
Tour Facts
Total Distance

1,770 miles / 2,850 km

Rest Days

2 Salamanca, Porto

Breakfast

14 Included Breakfasts

Daily Mileage

165 miles / 275 kms.

Hotel Overnights

14 Nights

Riding Season

Spring, Autumn

Highlights: 6 cities declared World Heritage by UNESCO: Segovia, Ávila, Ciudad Rodrigo, Salamanca, Porto and Guimarães. All of them connected by the best imaginable roads. This tour goes through the major wine regions of Spain and Portugal.

Accommodations: Awesome hotels. First-class historical Pousadas and Paradors plus a few specially selected boutique hotels with local flair. Pousadas and Paradors are Castles, Palaces & Fortresses converted into motorcycle-friendly hotels.
*All IMTBIKE lodgings are hand-picked for their quality of service, local charm and strategic locations.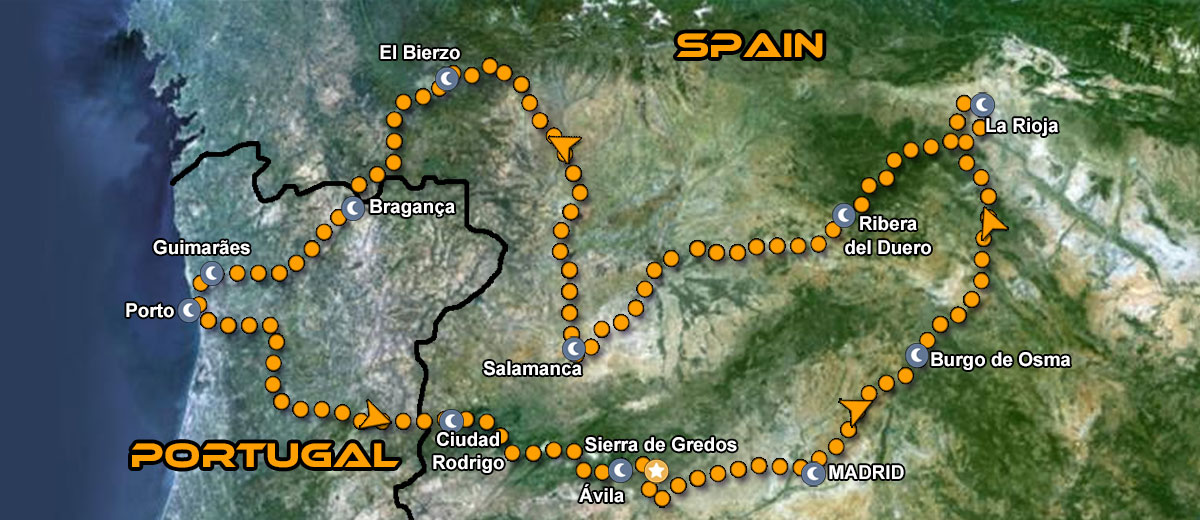 Click to enlarge
Portugal Motorcycle Tours Gallery
Day 1: Madrid Arrival
Day 2: Madrid – Soria
Day 3: Soria – La Rioja
Day 4: La Rioja – Ribera del Duero
Day 5: Ribera de Duero – Salamanca
Day 6: Salamanca – Rest Day
Day 7: Salamanca – El Bierzo
Day 8: El Bierzo – Bragança
Day 9: Bragança – Guimaraes
Day 10: Guimaraes – Porto
Day 11: Porto – Rest Day
Day 12: Porto – Ciudad Rodrigo
Day 13: Ciudad Rodrigo – Ávila
Day 14: Ávila – Madrid
Day 15: Flight home
Day 1: Madrid Arrival

Transfer from the Airport to the Hotel is included. You will have free time to rest or visit the city until the welcome meeting at the hotel in the afternoon. We will enjoy a welcome dinner after the meeting at a typical restaurant Spanish. The first and last day in the itinerary correspond to the arrival and departure days of the tour. You may have to leave a day early depending on your country of origin. Please book your flights taking this into account.

Day 2: Madrid – Soria

We will leave Madrid's hustle behind heading northward towards the Sierra de Guadarrama Mountains to breathe in the tranquility of the little-known roads along the Black Towns of Guadalajara. We will end the day arriving at one of the most unpopulated yet prettiest areas of Spain within the province of Soria.

Day 3: Soria – La Rioja

Today we can expect solitary mountains and landscapes full of charm. We will start with the Lobo River Canyon and then skirt the little-known Sierra de la Cebollera Natural Park that will give us access to the unmistakable vineyard extensions of "La Rioja". Here our beloved Rioja Wine is produced!

Day 4: La Rioja – Ribera del Duero

Today we will go from the famous Rioja wine region to another wine region equally treasured called Ribera del Duero. To get there, in addition to the expected vineyards surrounding the entire course of the Douro River, you will enjoy incredible riding crossing the Sierra de la Demanda Mountains.

Day 5: Ribera de Duero – Salamanca

Your riding day today will be softer sweepers. It will be equally beautiful since we will be crossing areas that host other prestigious wine regions such as Rueda and Toro which are well known by local wine connoisseurs. You will also cross the monumental cities of Tordesillas and Zamora.

Day 6: Salamanca – Rest Day

The historical university city of Salamanca deserves an extra day to enjoy all of its charms. Its city center is an open-air museum and a World Heritage Site declared by UNESCO. We definitely recommend a walk through its historic streets and ancestral university that will transport you to another era.

Day 7: Salamanca – El Bierzo

Today we'll head north in search of other wine regions and beautiful vistas. We will pass near the border with Portugal and reach the first mountainous areas with its twisty roads all the way to the foothills of the majestic Cantabrian Mountains.

Day 8: El Bierzo – Bragança

You will see many scallop-shelled pilgrims today as the first stretch of mountain road is also part of the Camino de Santiago. We then have an unforgettable journey southward on mountainous back roads. These mountain roads link small villages unfamiliar to tourism and will take us to the border with Portugal which we will cross to sleep in the historic city of Bragança.

Day 9: Bragança – Guimaraes

Our first day in Portugal will lead us all along Northern Portugal and give us some of the most enjoyable curves for motorcycle riding. These curves will lead us on excellent asphalt through beautiful and varying landscape all the way to Guimarães, known as the "Cradle of Portugal."

Day 10: Guimaraes – Porto

Today is another perfect day to combine two passions; motorcycles and wine. The winding roads will combine a beautiful green landscape full of vineyards and mountains, rivers and valleys while crossing the "Vinho Verde" territory. We'll then continue by following the Douro River and all the vineyards that grow in the slopes of its shore towards the Atlantic Ocean.

Day 11: Porto – Rest Day

This second rest day allows you to visit a city that, in spite of its extensive history, grows in attractiveness every year! Crossing the impressive Luís I Bridge to visit some of the Vilanova de Gaia Port wineries is a great plan. This is where the famous Porto wine ages. However, Porto offers much more.

Day 12: Porto – Ciudad Rodrigo

We'll start the day heading inland by following the course of the Duoro River upstream. We will then spice it up on the well laid out roads known only to locals and enjoy its phenomenal asphalt all the way to the Spanish border. We will sleep in the fortified border town of Ciudad Rodrigo. A spectacular place.

Day 13: Ciudad Rodrigo – Ávila

We'll return to the mountains visiting medieval cities along the way and following the best motorcycle routes running through the impressive Sierra de Gredos Mountains. We will rest in Ávila, a medieval walled city with the most extensive original walls in the world. This city also houses a historical center that will take us back in time.

Day 14: Ávila – Madrid

The last day of this adventure comes with surprises like Segovia. A stop here to admire its Castle-Alcázar is a must. It is said that the Disney Castle used the Alcázar of Segovia as its inspiration. Its Cathedral and the impressive Roman Aqueduct are also amazing and worth visiting. After this, the mountains of Madrid will give way to the last section of the ride before we say goodbye to our bikes.

Day 15: Flight home

Today you will say your goodbyes to the guides and the other tour members (now your new friends) as you make your way to the airport to fly home. Until our next motorcycle adventure together! Hasta Luego!
Portugal & Spain Land of Vineyards Motorcycle Tour Pricing
The base price of every tour is calculated for a single rider on a BMW G310R and sharing a double room

Included in Tour:
Airport pickup on the first day of the tour.
Overnight accommodations in high quality hotels
A gourmet dinner every night (except on rest days).
Complete buffet breakfast every morning.
New model BMW motorcycle fully equipped with 3 BMW cases.
Tour handbook (normally about 70 pages-very comprehensive) and highlighted map.
Expert multilingual guide on a motorcycle.
Multilingual guide in support vehicle which will carry your luggage, any oversized purchases you make; or even a passenger or two.
Tour Souvenirs.
Not included in Tour:
Air ticket, lunches, gasoline, drinks, tolls, personal spending and tips