Best of Portugal Motorcycle Tour
The little great paradise
Portugal
Mar. 31 — Apr. 14, 2024
14 spots left
May. 05 — May. 19, 2024
14 spots left
The only way to immerse yourself in the soul of Portugal is to travel by motorcycle and this extraordinary country has a lot to offer! Our Best of Portugal tour encompasses everything you could want to see in a country as beautiful and fascinating as the ancient Roman Lusitania: its dream beaches and vertigo cliffs, folklore and Fado music, tasty cuisine, excellent wines. Its captivating cities … its history. And, of course, an abundance of serpentine roads to for motorcycling.
Two unforgettable weeks in this little European paradise to travel the country from north to south and from east to west, to its most lost corner. Visiting historical cities like Lisbon, Porto, Guimarães or Évora; sleeping in medieval cities and tasting Portuguese specialties like Bacalhao. You'll follow the snaking course of the Douro River through the vineyards that produce Porto wines; You'll visit bays, magnificent mountains, lush forests and Natural Parks; and, above all, you will enjoy some of the best curvy roads you can imagine. Portugal awaits you with open arms.
IMTBIKE ROUTE rating
It is essential to know the different skill levels needed to participate in the IMTBIKE TOURS that are offered to you. IMTBIKE makes sure that it offers different tours for all riding styles and levels. The IMTBIKE team always works diligently in designing our routes. This is a laborious process which entails reviewing all road choices before selecting the best option for an IMTBIKE tour.
The most experienced motorcyclists looks for roads that require technical skill; narrow twisty roads with little traffic and endless curves. But these same roads would be too difficult for a less experienced rider.
The local driving habits, the amount of traffic, the asphalt quality and the radius of the curves vary considerably from country to country and even in different regions of the same country. They will also vary depending on the season of the year. All of these factors have been studied by IMTBIKE and have been taken into consideration when rating our tours.
IMTBIKE thinks it is also important to know about the different types of roads you will be enjoying on your tour. To understand the road types easier, IMTBIKE has divided them into two categories, and we have calculated an approximate percentage of each on all of our tours.
TOURING ROADS: These are wider roads comprised mainly of larger radius sweepers. They are still curvy roads but not tight mountainous twisty curves. Please remember that you will ride very few straight roads on IMTBIKE tours!
CHALLENGING ROADS: These are roads that are tight twisty turns which require more technical skill. Many times they will be narrower roads without a shoulder and sometimes with steep inclines or descents. Normally they will be mountainous roads accompanied by spectacular sceneries.
If you have never ridden a motorcycle outside of your country, or if you have little experience riding on mountain roads with many curves, we recommend that you choose a tour rated moderate or intermediate. If you have any questions or doubts please do not hesitate to call or email us. We are always happy to answer your questions to make sure that you choose the best tour for your riding level.
Moderate
This route offers wider sweeping turns that are easy to maneuver. This route may have some tighter turns in a few places but this will be the exception. Regardless, even on moderate tours you must be able to ride a large cylinder motorcycle in any condition. Never plan to learn how to ride a motorcycle on an IMTBIKE tour. We recommend having a minimum of 8.000 km (5.000 miles) of experience riding a large cylinder motorcycle to participate on a MODERATE rated IMTBIKE Tour and you should ride a motorcycle on a regular basis at home.
Intermediate
This route rating can have sections of very twisty curves on narrow roads with no center line to divide the road. There will also wider radius curves on these routes. Traffic conditions can be intense at times in some urban environments and the local driving habits may seem aggressive and unpredictable to you. It is imperative that you are an experienced motorcyclist. We recommend that you have a minimum of 12.000 km (7500 miles) of large cylinder motorcycle experience to participate on a INTERMEDIATE rated IMTBIKE Tour and you should ride a motorcycle on a regular basis at home.
Advanced
This route rating has long sections of technical narrow twisty roads and sometimes single lane roads. These twisty roads will often be in mountains where steep inclines and descents will be commonplace. Some riding days can be long and challenging. Traffic conditions can be intense at times in some urban environments and the local driving habits may seem aggressive and unpredictable to you. It is imperative that you are a very experienced motorcyclist on a large cylinder motorcycle. We recommend that you have a minimum of 16.000 km (10.000 miles) of large cylinder motorcycle experience on an ADVANCE rated IMTBIKE Tour and of course you should ride a motorcycle on a regular basis at home.
IMTBIKE Average Daily Riding Hours
5 to 7 hours
6 to 8 hours
7 to 9 hours
How many hours a day you ride on a tour is important information in helping you decide on the right IMTBIKE tour for you. Some tour members want to ride as many hours as possible everyday, while others prefer to stop more frequently and dedicate more time to enjoying the scenery, visiting cultural sights and arrive at the hotel earlier to relax before dinner. The daily riding hours are calculated including the coffee breaks and photo stops but they do not include the time taken for lunch.
Normally we'll start our riding day at 9:30am and we will take about a one hour lunch break sometime between 1pm and 2pm. So if the daily riding hours for a given tour are 5-7, then you will arrive at the hotel between 3:30pm- 5:30pm depending on the average speed of the group.
Tour Facts
Total Distance

1,755 miles / 2,825 km

Rest Days

2 Porto, Eastern Algarve

Breakfast

14 Included Breakfasts

Daily Mileage

160-220 miles / 250-350 km

Hotel Overnights

14 Nights

Riding Season

Spring, Autumn

Highlights: Cascáis, Sintra, Lisbon, Porto, Guimarães, Óbidos, Serra da Estrela, Algarve, Atlantic Coast

Accommodations: Awesome hotels. First-class historical Pousadas and Paradors. Pousadas and Paradors are Castles, Palaces & Fortresses converted into motorcycle-friendly hotels.
*All IMTBIKE lodgings are hand-picked for their quality of service, local charm and strategic locations.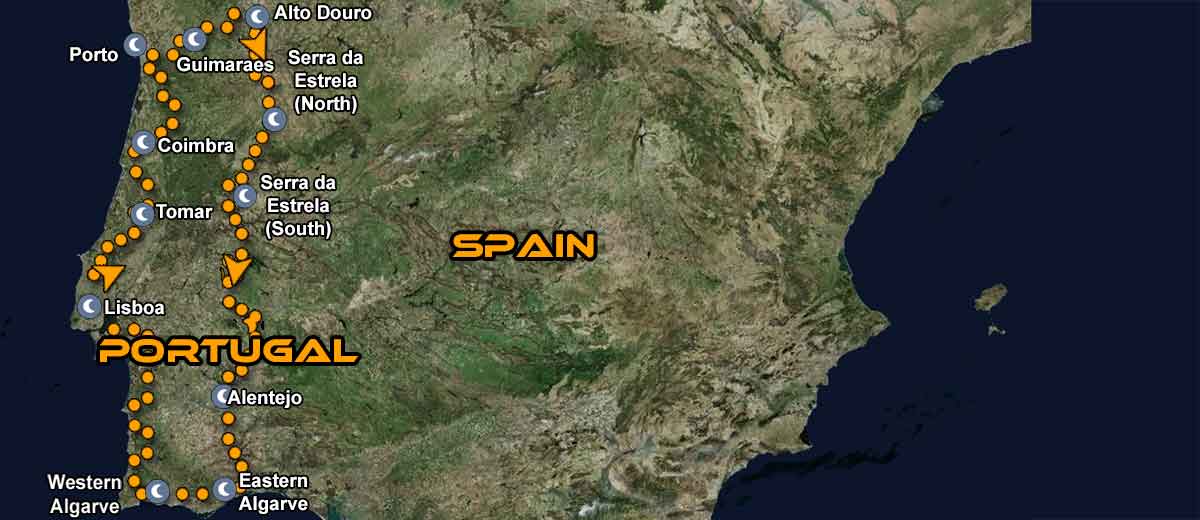 Click to enlarge
Portugal Motorcycle Tours Gallery
Day 1: Arrival in Lisbon, safety instructions and welcome dinner
Day 2: Lisbon - Tomar
Day 3: Tomar – Coimbra
Day 4: Coimbra - Porto
Day 5: Porto - rest day
Day 6: Porto – Guimarães
Day 7: Guimarães – Alto Douro
Day 8: Alto Douro - Serra da Estrela (North)
Day 9: Serra da Estrela (North) – Serra da Estrela (South)
Day 10: Serra da Estrela (South) – Alentejo
Day 11: Alentejo – Eastern Algarve
Day 12: Eastern Algarve - rest day
Day 13: Eastern Algarve - Western Algarve
Day 14: Western Algarve – Lisbon
Day 15: Flight Back home
Day 1: Arrival in Lisbon, safety instructions and welcome dinner

Transfer included from the airport to the hotel. You'll have time to rest and visit the city before meeting with the group for a welcome briefing in the evening. Afterwards we'll all eat dinner together in a traditional restaurant. The first and last day of the itinerary correspond to your arrival and departure days. Depending on which country you are from, you might have to leave a day early. Please make your airline reservations accordingly.

Day 2: Lisbon - Tomar

Lisbon is an incredible city, but we'll have no trouble saying goodbye knowing what lies ahead. We'll be visiting Cascais, Estoril (Portuguese Monaco) and Cabo da Roca, (the westernmost point in Europe) while riding our very first Portuguese roads of the trip. Leaving the city we'll follow the coastline on a road frequented by motorcyclists and surfers' vans heading out to the beaches. Next we'll visit the extraordinary walled medieval city of Óbidos. We'll finish the day in Tomar, an attractive small town famous its history with the Knights Templar.

Day 3: Tomar – Coimbra

Today we'll explore the beautiful mountains and lonely roads of the interior. We'll experience the most rural part of the country and see with our own eyes how the locals live in this part of the world. The way of life hasn't changed much in years! We'll ride the Serra da Lousã Mountains on some fun, twisty roads through a thick forest. We'll end the day in the lively university town of Coimbra.

Day 4: Coimbra - Porto

Another day of great motorcycling awaits us with more curves and mountain roads through the Central Portuguese mountains. We'll link up one small road after another through beautiful villages and incredible landscapes all the way to the steep, vineyard covered banks of the Douro River. The last part of the day will bring us along the river to the beautiful city of Porto, world famous for its delicious wines.

Day 5: Porto - rest day

Today you'll have an opportunity to explore Porto. Don't miss your chance to visit one of the famous wine cellars on the other side of the river in Vila Nova de Gaia. You can also head towards the beach and eat freshly grilled sardines or even hop on your motorcycle and ride north along the Atlantic coast, the choice is yours!

Day 6: Porto – Guimarães

Today we'll follow the Douro River upstream through a landscape of steep terraced vineyards where the Port wine grapes are grown. We'll then head north through another wine region where Vinho Verde is made and eventually arrive in the beautiful city of Guimaraes, the cradle of ancient Portuguese civilization and a UNESCO world heritage site.

Day 7: Guimarães – Alto Douro

Today we'll explore the remote backroads of Portugal's far northern region near the border with Spain. This beautiful and sparsely populated region is lodged between two historically powerful kingdoms that are rich in history. We'll ride some fantastic motorcycling roads with no traffic. The day's journey ends near our beloved Douro River and the border between Spain and Portugal.

Day 8: Alto Douro - Serra da Estrela (North)

Today we'll change course and head south through Portugal's interior. We'll trace the Douro River's first few kilometers in Portugal through an area called the "Alto Douro." After that we'll continue on lonely rural roads until we reach the imposing Serra da Estrela mountains where we'll stop for the night. Rest up because tomorrow is an important day!

Day 9: Serra da Estrela (North) – Serra da Estrela (South)

We could spend weeks carving up the marvelous, solitary mountain roads of this region but we have condensed them into one fantastic day for your motorcycling pleasure. A few hundred kilometers of perfect asphalt, beautiful views, and infinite curves…what else can we say? Today is a day of motorcycling Nirvana!

Day 10: Serra da Estrela (South) – Alentejo

We still have a bit more riding to do in the Serra da Estrela as we explore the Sao Mamede Natural Park before finally heading northwest towards the mighty Tajo River, which we'll cross more than once. Next we'll head south, little by little entering into another wine growing region, the Alentejo. We'll finish our day inside an impressive and perfectly conserved walled city.

Day 11: Alentejo – Eastern Algarve

Today we have to say "see you soon" to the interior of Portugal, to its kind people and the serene beauty of its landscapes. But our sadness will be short-lived as we return to the blue waters of the Atlantic on the coast of the Eastern Algarve. To get there we will follow the waters of the Guadiana River, the river that forms the natural border with Spain. On your way south we will cross the Guadiana Natural Park and pass through beautiful historic towns.

Day 12: Eastern Algarve - rest day

This is a magnificent day next to the blue waters of the southern coast to recharge our batteries for the last two intense days of the route. The Portuguese Algarve is visited by tourists from all over the world for the quality of its beaches, mild climate, rich cuisine, beautiful fishing villages and its friendly people. Today you'll have the opportunity to enjoy it all.

Day 13: Eastern Algarve - Western Algarve

The roads and highways that follow the coastline of the Portuguese Algarve can get pretty busy. We'll escape from the chaos by heading up into the mountains on winding roads used only by the locals. These roads will take us to the beautiful Sierra de Monchique with its spectacular views. After a fantastic day on a motorcycle we'll descend to the shores of the Atlantic again, at the foot of the westernmost part of the Algarve.

Day 14: Western Algarve – Lisbon

Today we have a long ride north along the Atlantic coast in search of the Tajo River. We'll cross it near the coast on one of the most famous bridges of the city. Along the way we'll visit lighthouses hanging on impressive steep cliffs, very important in maritime history for their strategic location. After riding the entire length of the picturesque southern coast, the marvelous city of Lisbon will welcome us again with open arms.

Day 15: Flight Back home

Today you will say your goodbyes to the guides and the other tour members (now your new friends) as you make your way to the airport to fly home. We'll see you again on our next motorcycle adventure together!
Best of Portugal Motorcycle Tour Pricing
The base price of every tour is calculated for a single rider on a BMW G310R and sharing a double room

Included in Tour:
Airport pickup on the first day of the tour.
Overnight accommodations in high quality hotels
A gourmet dinner every night (except on rest days).
Complete buffet breakfast every morning.
New model BMW motorcycle fully equipped with 3 BMW cases.
Tour handbook (normally about 70 pages-very comprehensive) and highlighted map.
Expert multilingual guide on a motorcycle.
Multilingual guide in support vehicle which will carry your luggage, any oversized purchases you make; or even a passenger or two.
Tour Souvenirs.
Not included in Tour:
Air ticket, lunches, gasoline, drinks, tolls, personal spending and tips