Lisbon is the capital of Portugal and also its largest city. It is located on the western Iberian Peninsula where the Atlantic Ocean and the Tagus River meet. Lisbon has not lost its authentic feel as its old section still boasts the same narrow cobble-stone streets that traverse its hilly terrain, making the use of trolley cars still commonplace today. Lisbon offers numerous lookout points where one can take in spectacular views of the Tagus River, the castle and the surrounding countryside. At night Lisbon comes alive with its numerous taverns and bars where melancholic Fado can be heard wailing.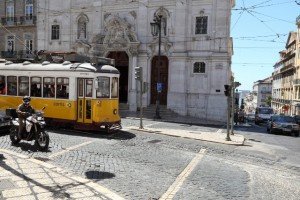 Portugal is a country that loves motorcycles and the highlight for motorcycle lovers is Estoril with its famed racetrack. Estoril is a short 20 minute motorbike ride from Lisbon and every year this quiet beach town swells with motorcyclists from all over Europe to see MotoGP racing at its best. Renting a motorcycle in Portugal gives you access to fantastic motorcycle roads with perfect curves like the road that leads to Cabo da Roca- the westernmost point in Europe!
Lisbon Sights
When you visit Lisbon you shouldn't miss its Alfama Barrio and its Bairro Alto. Both are great areas to stroll and take in daily life and enjoy some incredible Portuguese cuisine like Bacalao and Vino Verde. Also not to be missed are the San Jorge Castle, and the Belem Tower.
IMTBike Tours
If you are looking for a hassle free motorcycle vacation, IMTBike also offers outstanding organized and self-guided motorcycle tours in Spain, Portugal, Morocco, France and Italy. We use top quality "biker-friendly" hotels and you are guaranteed incredible motorcycle roads day after day! To see more information on IMTBike tours please click here