Bilbao is the capital of the Vizcaya Province in the Basque Country in Northern Spain. Bilbao was historically a city known for its ship building industry but in recent years tourism has taken over. This tourism boom was fuelled by the completion of the Guggenheim Museum designed by architect Frank Gehry. Bilbao's historical section offers elegant streets where renowned Basque cuisine can be found in all the little eateries. Typical specialities include Basque "pintxos" (tapas) and local Txacolí(white wine).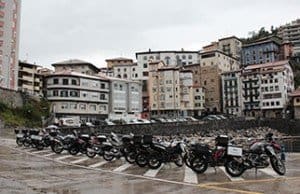 Renting a motorcycle in Bilbao locates you in a natural enclave between a verdant coastal area and the wooded mountain forests to the interior. This terrain has incredible motorcycle roads along the coast and also in the nearby mountains. Bilbao is also located between the Pyrenees and the Picos de Europa Mountains which boast some of the best motorcycle roads in the world.
Bilbao Sights
One cannot visit Bilbao without visiting the Guggenheim Museum. Even if you are not a lover of Modern Art the building alone makes the visit worthwhile. The Santos Juanes Church, the Maritime Museum and the river walk are also enjoyable and should not be missed.
IMTBIKE Tours
If you are looking for a hassle free motorcycle vacation, IMTBIKE also offers outstanding organized and self-guided motorcycle tours in Spain, Portugal, Morocco, France and Italy. We use top quality "biker-friendly" hotels and you are guaranteed incredible motorcycle roads day after day! To see more information on IMTBIKE tours please click here