Malaga is the capital of the "Costa del Sol" (Coast of the Sun) in Southern Spain and it is the Spanish city with the most sunny days a year! 325 days of sunshine and an average annual temperature of 18C (65F) make it a natural paradise to ride a BMW Motorcycle.
Malaga boasts fantastic beaches and the city center is home to numerous bars, restaurants and outdoor cafes where the finest Mediterranean seafood can be enjoyed. The inland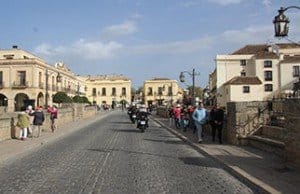 mountains that surround Malaga have some of the finest motorcycle roads in the world, perfect curves with no traffic. These mountain motorcycle roads can lead you to a sea of olive groves if you head north or they can wind you through "white pueblos" to the Jerez Racetrack in 2 hours to join the 120,000 MotoGP fans for the first MotoGP race in Europe of the season every year!
Malaga Sights
The Picasso Museum is a must see in Malaga as this was his birth city. You should also see the Gibralfaro Castle, the Roman Theater and the Cathedral. Renting a motorcycle in Malaga gives you a short ride to Marbella and Puerto Banus which is home to many of Europe's "Rich and Famous."
IMTBIKE Tours
If you are looking for a hassle free motorcycle vacation, IMTBike also offers outstanding organized and self-guided motorcycle tours in Spain, Portugal, Morocco, France and Italy. We use top quality "motorcycle-friendly" hotels and new BMW motorcycles. You are guaranteed incredible motorcycle roads day after day! To see more information on IMTBike tours please Click Here.