Barcelona is the capital of the Catalonia region of Spain and is located on the Mediterranean Sea about 200 kilometers from the French border. Barcelona is the second largest city in Spain and is a very popular tourist destination known for its beaches, museums and nightlife. Barcelona has always been very important in the motorcycle world. Legendary motorcycle brands like Bultaco, Montesa and Ossa all hail from this city known for its long motorcycle tradition. Motorcycle riders as renowned as the world champions Àlex Crivillé and Dani Pedrosa, not to mention Sete Gibernau, Carles Checa, Toni Elías, and seven time trials world champion Jordi Tarrés all come from Barcelona and its surroundings.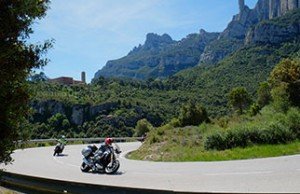 Barcelona is also famous for its Montmelo Race Track where every year 100,000 motorcycle fans enjoy a weekend of MotoGP races. It is safe to say that Barcelona is one of the European cities with the most motorcycle heritage.
Renting a motorcycle in Barcelona gives you easy access to an incredible variety of outstanding motorcycle roads in the nearby Sierras and also in the mighty Pyrenees Mountains.
Barcelona Sights
Barcelona is a fantastic city with lots of things to do and see. When you come to Barcelona you must see the Sagrada Familia Cathedral, Ramblas Street, Güell Park, La Boquería Market, Montjuïc Castle, and the streets of the "Eixample Barrio."
IMTBIKE Tours
If you are looking for a hassle free motorcycle vacation, IMTBIKE also offers outstanding organized and self-guided motorcycle tours in Spain, Portugal, Morocco, France and Italy. We use top quality "motorcycle-friendly" hotels and you are guaranteed incredible motorcycle roads day after day! To see more information on IMTBIKE tours please click here