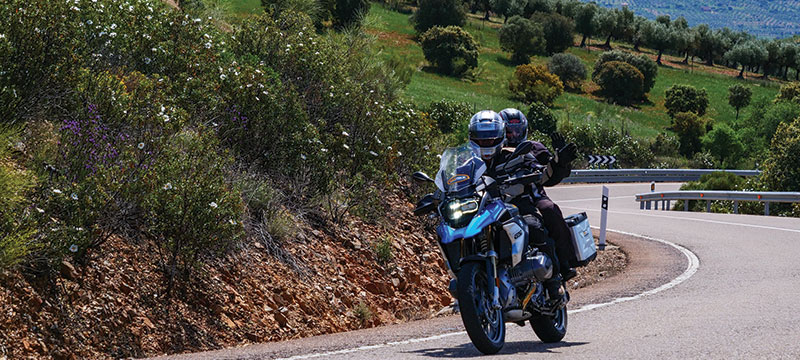 Today, we're going to talk about the best motorcycle routes in Madrid. Both motorcycle outings through the city of Madrid, as well as long-range routes through the Sierra Madrileña and beyond.
Without a doubt, the area most sought after by Madrid motorcyclists for a day trip is to the north. The routes here in the Sierra de Madrid are diverse in their offerings, but all provide roads with lots of curves, good asphalt, breathtaking natural landscapes, and excellent local cuisine. However, it is true that the closer to the capital we are, the more car traffic we will encounter.
There are many routes available that have all the ingredients mentioned above that make for a perfect day on a bike:  the Puerto de Navacerrada, the roads that go from El Escorial to Ávila or Segovia, and even those that head South. The famed Puerto de la Cruz Verde is an obligatory stop. It is here that a number of different routes converge and where motorcyclists meet. This meeting point is home to a famous restaurant whose parking lot often looks like a sunny Sunday at a Motorcycle Grand Prix!
For a longer weekend trip or trip of a few days, there are even more routes from Madrid available.
To the west, the Sierra de Gredos are ideal for a motorcycle trip in the summer months, late spring, or early autumn. With all its slopes, it is a gift for the senses—both in terms of pure driving pleasure an in the magnificence of the surrounding natural environment.
Towards the south, the routes that run through the Montes de Toledo are exceptional. These can be combined with a visit to the walled city of Toledo, a museum wholly open to the public. Further west, in the lands of Extremadura, we can enjoy the amazing ride to Guadalupe.
The east of Madrid is also home to beautiful motorcycle trips of one or several days.
To the north, in the province of Guadalajara, can be found the Route of Black Villages, also known as the Route of Black Architecture—so named for the color of the walls of the houses in the towns there, which are built mostly in slate black.
Oak groves, canyons, and quiet villages here are linked by a network of local roads that will delight those who appreciate cultural motorcycle routes. Towards the south, following the Sacedón Reservoir, there are magnificent routes towards the province of Cuenca, some even following the course of the Tagus River.
With something for everyone, there are endless routes from Madrid to be enjoyed for one or several days. All that's left is to choose which BMW model you want to ride! Book your rental at https://www.imtbike.com/motorcycle-rentals/!