BMWs water cooled R1200R is a classic, muscly roadster with modern technology. Its look is futuristic, yet retro. Gone is the old round headlight of the previous model and in its place is a light fixture more akin to a Japanese roadster. Yet there's no denying that it's a BMW and the classic Boxer engine is central to its look. There's no fairing to hide those big cylinders, it's like an RT with no clothes on.
With the R1200R they've built a bike that's easy to ride and handle yet with plenty of power for all but the biggest adrenaline junkies. The boxer engine has never been intimidating and the power delivery is relaxed and friendly. But kick in the more aggressive riding mode, turn off traction control, open the throttle wide and the acceleration is formidable. The engine is the same found in the R1200GS and the RT, yet with much less weight. (R1200RT: 276kg, 604lbs; R1200GS: 244kg, 530lbs; R1200R: 232kgs, 508lbs) Few engines can provide this level of excitement while still feeling relaxed around town.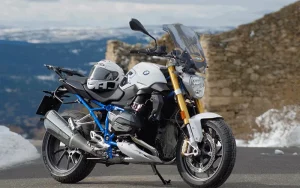 As far as looks are concerned, the R might be the best looking Beemer in the line-up. Admittedly my perspective comes from an appreciation of simplicity in motorcycling and the R embodies everything I love about bikes. It's simple, it's badass, and it looks great. It screams "hop on and have fun," and isn't that what motorcycling is all about? You'll find yourself staring at it during your coffee stops and you'll certainly turn heads in the city.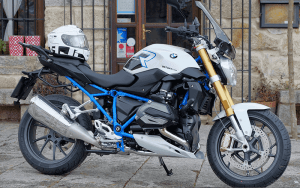 But how does it ride? Like a dream. The new version of the R loses the Telelever central to the Boxer platform for so many years, but in its place is a high quality inverted fork with just enough rake to feel relaxed and very planted but not so much that the bike loses agility. The thing turns on a dime and holds its line while cornering. The Telelever on the RT and GS is incredible technology but what it gains in braking stability, it loses a little in feeling. And the R1200R's traditional, yet high quality front suspension provides great feedback and adds to the purist, roadster feel. The R1200R's chassis, suspension and brakes work in unison for a solid, planted, yet sporty ride.
Comfort is un-paralleled in a "naked" bike. The shape of the tank combined with the protruding cylinders offers a surprising amount of protection and if you add an aftermarket windshield it quickly becomes a sport tourer. My short arms mean I am slightly bent forward while riding, at least compared to the GS, but in general the ergonomics work well for long hours in the saddle and the seat is wide and comfortable. Taller riders might find their legs a little cramped but BMW sells tall seats which should address the issue.