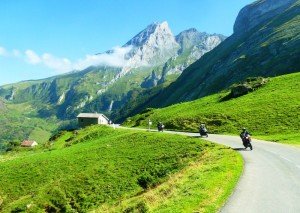 From a Motorcycle Touring point of view it's very rare to find a region that combines everything you could want in a tour in such a small area. Each Northern Spain province has quaint historical villages & towns, green landscapes, outstanding mountain passes, world famous local dishes, friendly locals and a huge collection of well paved roads packed with curves and very little traffic.
Motorcycling in Northern Spain: From the Mountains to the Coast.
In Northern Spain there's no shortage of Mountain Ranges. In the center you have the Cantabrian Range which spans 180 miles (300km) and contains the famous Picos de Europa Mountains. To the west stands the mighty Galician Massif and to the East, the Pyrenees. The Pyrenees extend for about 305 miles (491 km) and are a natural border between Spain and France. The Pyrenees are famous among the motorcycling world for their Mountain passes such as Tourmalet or Aneto.
Besides the mountains, Northern Spain is well known for its constantly changing, lush green scenery. Its coast line is referred to as the "green coast" and is one of the most impressive coast lines in the world.
Motorcycle Tours in Northern Spain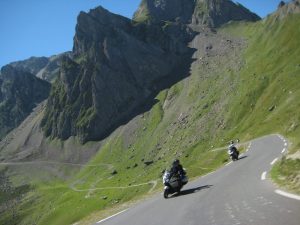 As a Motorcycle Touring and Rental Company specializing in Tours in Southern Europe and Morocco, we know how good Northern Spain can be on a motorcycle. We have carefully selected the best roads and outstanding hotels to create the best riding experience in North Spain. For 2015 we are offering the following motorbike Tour in northern Spain.
Take an unforgettable Motorcycle tour through "Green Spain" and discover Northern Spain's Elegance.
A great opportunity to see Marc Marquez on his home track! This tour combines the very best of the Pyrenees with the excitement of MotoGP. IMTBike always gets excellent seats for the races.
The Mighty Pyrenees awaits you in this Motorcycle Tour. You will ride the best mountain roads on a motorcycle tour made of 100% curves.