Enjoying a motorcycle tour in Morocco is really quite easy. However, in our 18 years of experience guiding motorcycle tours in this North African country we have encountered a few things we'd like to share with you.
First of all, Morocco is not one vast desert! Morocco has every kind of scenery you could imagine, from green rolling hills to snowcapped  mountain peaks and yes, desert too, full of incredibly photogenic dunes and sunsets like you've never seen before. The diversity of landscapes gives Morocco an amazing mix of well-paved mountain roads with sweeping views, cedar forests full of monkeys and the mystical charm of the Sahara Desert.
Get your motorcycle ready and prepare for adventure. If you're traveling on your own be sure to carry spare parts and basic tools with you. A mechanical issue can get very tricky really fast if you're riding in the desert or crossing the Tizi-n-Tichka Mountain Pass. IMTBike always carry an extra motorcycle and many spare parts in our support vehicle during our guided motorcycle tours in Morocco just in case! If you do venture into Africa on your own, we strongly recommend you're prepared for flat tires and basic motorcycle maintenance.
Remember that Morocco has a very complicated border entry process. You will need to have all the motorcycle documents in your name. If the motorcycle is not registered in your name you will need a notarized authorization from the owner. Make sure your motorcycle insurance is valid in Morocco. Good news is insurance can usually be bought at the border.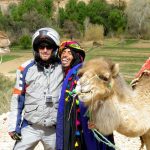 The Moroccans are very friendly people, a fact you will quickly get used to. They're extremely welcoming by nature and will share everything with you, from their rich culture and history to their traditional (and delicious) mint tea. Most people understand English but official languages are French and Arabic. The younger Moroccans are more likely to have studied English and speak up to five languages. Food in Morocco is also fantastic; Tagine and Couscous are the most famous traditional Moroccan dishes that you won't want to miss.
The Moroccan currency is the dirham (Dh), which is divided into 100 centimes. You will find notes in denominations from Dh20 to Dh200. Coins come in denominations of Dh1, Dh2, Dh5 and Dh10, as well as, less frequently, 10, 20 and 50 centimes. The dirham is a restricted currency, meaning that it cannot be taken out of the country and is not available abroad. The current exchange rate is 1USD to 9.3 Dirham or 1 Euro to 10.9 Dirham.
The electrical sockets are the same as those used in Europe with the exception of England. So if you're travelling from outside the EU, you will need a plug converter.
Finally, it can get cold in Morocco! So remember to bring some warm clothes for riding over the highest mountain pass in North Africa and for those cool desert nights.
Ready for a motorcycle tour in Morocco? Check out our Guided Motorcycle Tours in Morocco and don't forget to let us know your thoughts in the comments below.