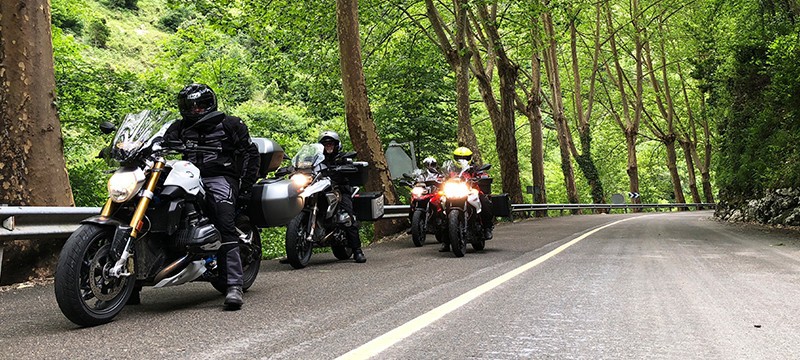 It's been a long winter and bikers in colder climates look forward to the warmer May weather when they can hit the roads. Some riders may be a little rusty and motorists may have forgotten about us over the winter, so it's especially important to be vigilant and cautious at the start of the riding season. 
While you already know the safety rhetoric, it's important to remind motorists and new bikers of the dangers that we face on our rides. One way to create awareness is to find motorcycle safety events in your area. There are events that promote awareness for motorists and others that help hone special skills for bikers. Even seasoned riders can use a little refresher sometimes. Do you remember all the pointers you learned in your driver's test? Of course not, so here goes:
At the start of the season, be especially careful to leave space between you and other vehicles on the road so you can take evasive action if you need to—motorists may be out of the habit of keeping an eye open for bikers.

Double check those mirrors for the same reason, especially at intersections. Drivers will be focusing on making turns or lights and may not notice you. Better still, don't just rely on your mirrors, do your shoulder checks too.

Check your tire pressures. This can have a significant affect on the performance of your bike. You can find optimal tire pressure settings in your motorcycle manual, or simply Google it.

Wear your gear all the time! Your gear is there to protect you, even if it's damn hot.
We don't need to say don't drink and drive (or take drugs) but we are going to say it anyway. Your response time and balance are negatively affected by drugs and alcohol.

 
At the start of the season, be especially careful, keep your eyes open and help newer riders who may not be as experienced as you are. Be patient with motorists who need a little reminder that they share the road with bikers and need to check those mirrors.
This May, #BeSeen #BeSafe and happy trails!
IMTBIKE puts your safety first
Your safety is of paramount importance. IMTBIKE has been an Official Partner of BMW Motorrad since 1997 so we adhere to the highest standards set by BMW Motorrad for our motorcycle tours and rentals. Our bikes are inspected by BMW-certified mechanics every time they go out. At 170, IMTBIKE has the largest fleet of the latest fully-equipped BMW motorcycles replaced every 18 months to ensure you enjoy a motorcycle in great condition.