Are you planning a motorcycle trip in Europe? With nearly 20 years of experience in tours and rentals in Europe and Morocco, we've learned what types of questions you might have before you travel. Keep an eye out for our IMTBIKE Tips & Tricks blog posts with clever advice to help you get the most out your next trip.
Power adaptors!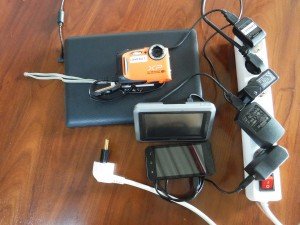 Every day we find ourselves using more and more electronic devices like digital cameras, smartphones, GPS etc., and if you are coming from outside Europe you will need an adaptor. In Spain we use 220 volt/50Hertz plugs.
Instead of carrying an adaptor for each electrical device you have, IMTBIKE recommends buying just one adaptor and a multi socket surge protector. Plug the adaptor into the wall and the surge protector into the adaptor, and voila! Now you can safely charge all of your devices at the same time! This will also allow you to keep everything in one place and not have them scattered all over the hotel room in places you might forget about like in the bathroom or behind the couch.
Do you know any tricks of your own? Feel free to share them with everyone in the comments below!
IMTBIKE, Official Partner of BMW Motorrad, is the leading Motorcycle Tour and Rental Company in Spain, Portugal, Morocco, Europe, and the Mediterranean. Leading the way since 1997.
Central Office
C/Chapinería, 6B Polígono Industrial Ventorro del Cano.  28925 Madrid
Tel: (+34) 91 633 72 22    USA: (412) 468 2453
[email protected]