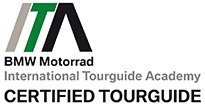 22/04/2014 – IMTBIKE is now a certified ITA BMW Motorrad (International Tourguide Academy) company.

This certification guaranties that IMTBIKE fulfills the high standards of quality required by BMW Motorrad as an official travel partner.

The skill level, experience and knowledge of our guides has been put to the test and pushed to the limits in all fields required for their job: on and off-road riding, first aid, motorcycle mechanics and more.

For us, this certification is tantamount to a promise to all of our clients to continue providing guided motorcycle tours of the highest quality.

Our guides represent the image of IMTBIKE during a tour, and it has always been our goal that they are adequately trained and prepared to provide and unforgettable tour that exceeds expectations. 

For that reason we are proud to announce that since April 2014 IMTBIKE holds the official certification of the ITA BMW Motorrad (International Tourguide Academy).