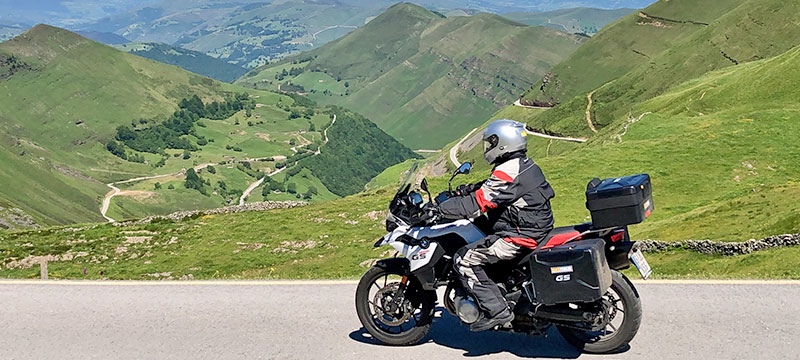 Spanning nearly 500 km, the Pyrenees mountain range runs from Mediterranean Sea to the Cantabrian Sea from east to west. It also serves as a natural border between France and Spain and is home to a small country situated entirely amongst its peaks: Andorra.
The Pyrenees—a name with Greek origins—have seen thousands of years of history pass them by. Many peoples have inhabited and nurtured them, displaying an extraordinary array of cultural diversity among them.
What do these ancient mountains offer to the modern motorcycle rider that make them so worth touring?
Roads. Lovers of curves will find themselves in paradise. For those seeking an adventure, we highly recommend exploring the infinite routes to be found here. There is a reason the Tour de France organization always visits this area. And, on a guided motorcycle route with IMTBIKE, you will have the opportunity to visit the most outstanding mountain passes in the region and take in the truly spectacular scenery.
Culture. Today, there is no bureaucratic border between France and Spain. However, the cultural leap between these two countries is apparent the moment you cross from one into the other. From the nature of the people, the road markings, the gardens of the houses, the architecture, to the bars where you can have coffee… The cultural comparisons are as rich as they are endless. Although the political dividing line is blurred, the cultures and their individual histories are distinct the Spanish Pyrenees are one thing, and the French Pyrenees another altogether.
Gastronomy. One of the highlights of a motorcycle route through the Pyrenees with IMTBIKE is the food! Due to the altitude and the cold seasons, the Pyrenean diet is largely centered around meat-based hot dishes and spoon dishes, although the variety is constantly evolving with new culinary trends and so extensive that there is something to suit all tastes. An added bonus—our guides know all the best restaurants along the route where you can recharge your batteries.
Architecture. In the eastern parts of the Pyrenees, you can find beautiful echoes of Romanesque (11th and 12th centuries) heritage and art—in most cases, perfectly preserved. There are myriad charming villages, hermitages, churches, cathedrals—all made of stone just as Europe was beginning to form. On a motorcycle trip through the Pyrenees with IMTBIKE, you will be transported to another time as you take in the charm of the abundant Romanesque architecture.