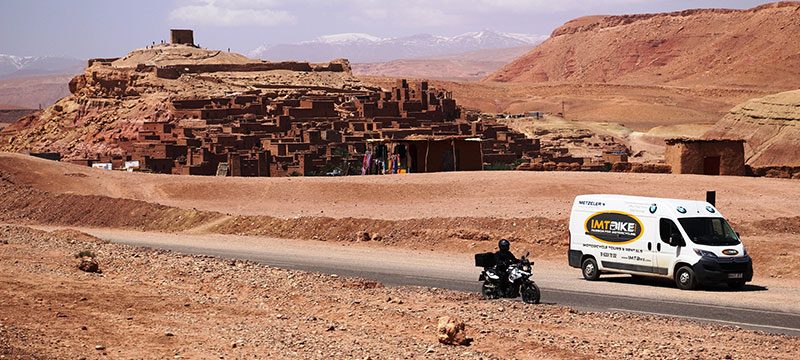 On a motorcycle tour of Morocco with IMTBIKE, our guides will handle all of the bureaucracy and the details— the only exception being in the event that a visa is required for your country of origin, in which case you must obtain that. When it comes to police presence and customs, just be patient and enjoy the show! The Moroccan border is just the first act of our experience in Northern Africa. Now the real adventure can begin!
The GS models of our BMW fleet are the best option for your trip. They are the most versatile in terms of comfort and safety, making them the ultimate choice for adding to your overall experience, although any bike model in our fleet would be appropriate for the route which we have mapped. All IMTBIKE guides have extensive knowledge of our BMW motorcycle models which come fully loaded. We do everything we can to set our tour participants up to enjoy the full potential of our BMW motorcycles.
On an IMTBIKE Moroccan motorcycle trip, our support vehicle will be with you every step of the way and is loaded with everything you need— including a spare motorcycle. You wouldn't have this level of support and preparedness if taking a motorcycle tour through Morocco on your own, much less a replacement motorcycle or the two free spaces in the van for members who may feel unwell, or just not in the mood to ride their motorcycle that day.
Safe, modern, and constantly evolving, Morocco has been revamping and investing in its infrastructure heavily over the last decade. It possesses an almost infinite variety of hotels, restaurants, and tourist activities.
IMTBIKE first put its wheels in the country nearly 25 years ago, scouting out and evaluating countless accommodations. For our motorcycle trips, we opted to use 4-star hotels (or higher) and Riads— elegant historical homes with multiple levels and a central patio that have been converted into cozy hotels.
By taking part in one of our organized motorcycle trips, you can count on being safe when it comes to eating, enjoying the surroundings, and spending the night. IMTBIKE and our guides never leave anything to chance and always seek excellence.
And of course, a motorcycle trip in Morocco shines for its cultural offerings. Not only have we landed in Morocco, but also in Africa. The romance and intrigue we find in cities like Marrakech and Fez is immediately apparent. They will draw you in and leave an indelible mark on your soul— especially in Fez! We spend two nights here on all of our organized motorcycle trips in Morocco, with a free day to spend exploring this labyrinthine media with a guide. Founded in 809 and a World Heritage Site since 1981, the Medina of Fez is the largest pedestrian area in the world. Walking through its streets, with all its sights and smells, is akin to stepping back into the Middle Ages.
Without a doubt, the most important differences between taking an organized motorcycle trip to Morocco versus going it on your own lies in three key words: safety, knowledge, and relaxation.
Our company and our expert guides take care of even the smallest details so that your adventure in Morocco is the one you've always dreamed of. We're ready for you to join us on our next motorcycle adventure to Morocco! What are you waiting for?