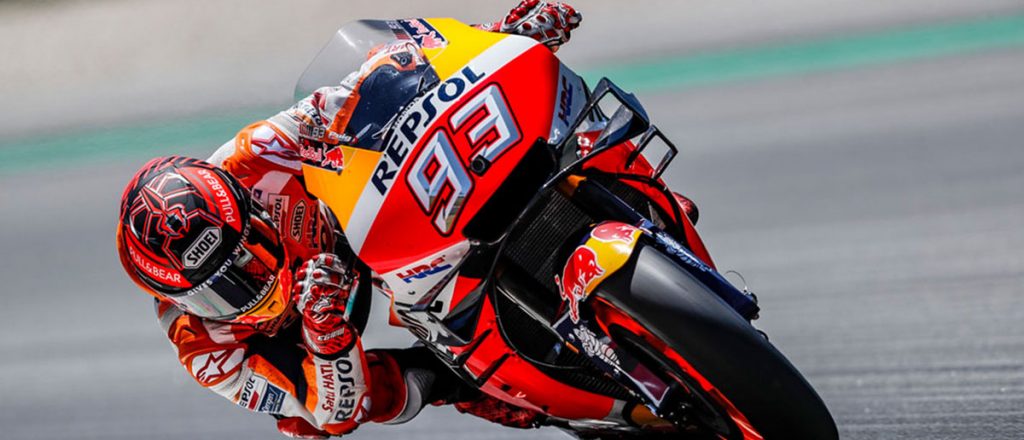 A weekend at the MotoGP races is the perfect plan for motorcyclists. Going to the track to enjoy with all your senses the excitement of the races of the best riders in the world fighting on the fastest motorcycles on the planet, has no equal. But, in addition, at IMTBIKE we offer the complete experience: the adrenaline of MotoGP racing combined with an exceptional motorcycle route.
It is important to arrive at the circuit well prepared, with everything ready and with clear ideas, so that your experience is exactly what you want! At IMTBIKE we want to share our experience with you by giving these tips, so that your MotoGP motorcycle trip is enjoyed fully:
Timing. Get the information on the schedules and always have them at hand (they can be easily downloaded on the official website of each racetrack). At IMTBIKE we always have tickets with access from Friday to Sunday. It is important to know the schedules of each race and training to be able to be at the track and see the really important ones that we want to see.
Situation map. Also carry information about the accesses to the circuit and the stands. Thanks to the fact that many of our guides are also professional riding instructors and know the circuits very well, at IMTBIKE we always choose the best grandstands, the ones where we know that the most exciting overtaking takes place. But it is important to get a good location map to know how to find them. A map that indicates accesses, exits, toilets, where are the merchandising stores, different parkings (to know where we park the motorcycle), etc.
Traffic. Due to the massive influx of fans to the Spanish racetracks, every year there are traffic jams at the racetrack entrance and exit, so we recommend that you circulate with prudence, a lot of patience and philosophy. Above all, before and after the MotoGP race on Sunday, which is when the most crowds occur.
Climate. Check the local weather forecast every day to be able to wear the appropriate clothing and accessories necessary to make our stay at the track as comfortable and safe as possible. The weather is often cool in the morning with the first free practice sessions, and warm at noon with qualifying or racing. It is important to be prepared with layers that we can remove and put on. Do not forget sunglasses, sunscreen and a cap. We are in Spain and here the sun is powerful even in spring or autumn.
Hydration and nutrition. Bring plenty of water (never in glass bottles, they are prohibited for safety reasons) to hydrate and some snacks, fruit or sandwiches if we want to avoid queues at the street food stalls on the circuit. Although the offer of fast-food stands has improved a lot in recent years and now at all tracks there are enough good quality stands.
Noise. It is important to take some earplugs with you that will allow you to enjoy the music of racing engines revved to ecstasy, but without damaging your eardrums. Many hours exposed to such a high decibel level can be harmful to your ears or, at the very least, cause a headache and even residual ringing. The same plugs that we use to ride a motorcycle are more than enough to dampen the decibel impact a bit.
Vision. If we have the opportunity, it is ideal to take with us some small binoculars that allow us to have a better vision of specific actions. Although in all MotoGP circuits in Spain there are always large screens strategically located so that the public can see the development of the race, and even on tracks like the Circuit Ricardo Tormo it has a stadium-shaped design that allows you to see almost all track layout.
Safety. Never leave anything of value on the motorcycle. Large events where there is a large influx of public is the ideal place of "work" for thieves. You don't have to make it easy. Documentation or valuables always with us.
Helmet bag. It will allow us to transport it comfortably and without damaging it. We can leave it at our feet once seated in our tribune. Our motorcycles come equipped with 3 original rigid suitcases with a security lock, so we can also leave it in one of them. Although the most professional thieves can open them too and it is better to be discreet when we keep it.
Useful information:
All tickets will be valid for Friday, Saturday and Sunday.
The access control will be electronic, so the ticket will have to be presented every day when entering the track. It will be essential to carry your ID, driver's license or passport.
Parking is free for cars and motorcycles. The car parks close at night. Vehicles cannot be left parked overnight.
Alcoholic beverages, cans, glass, weapons, flares or any object that may be dangerous will not be allowed.
By following these tips, we are sure that you will enjoy an exciting, fun and unforgettable day of racing as we have been doing for 24 years.
We can only wish: May the best man win!