Provence & Tuscany Tour
Aromatic Provence & Bella Toscana
Spain | Andorra | France | Monaco | Italy
May. 26 — Jun. 11, 2018
6 spots left
Sep. 08 — Sep. 24, 2018
May. 18 — Jun. 03, 2019
Sep. 07 — Sep. 23, 2019
This unique motorcycle tour starts in Barcelona the cosmopolitan capital of Catalunya. Your first riding day will take you into the mighty Pyrenees Mountains towards Andorra and France. The walled medieval city of Carcassonne is just over the Pyrenees's peaks and is the perfect introduction to Southern France! The motorcycling in Southern France is outstanding and the Tarn Gorge won't disappoint anyone! Provence is famous in Southern France for its lavender fields and sunflowers and the scenery around Avignon promises to take your breath away! Two days in Avignon will give you time to explore beautiful Provence or take a ride to the close quaint town of Arles where Van Gogh spent his last days painting. From here mountains, canyons and the Verdon Gorge will lead us to Castellane located in the pre-Alps.
Time to ride from mountain to Mediterranean Sea as we head to Nice and the French Riviera. Two days in Nice will give you enough time to explore, Monaco, Cannes and St. Tropez. Italy here we come! Portovenere and Cinque Terre's charming villages await you on the Italian Riviera. Time for Tuscany! You will enjoy four riding days out of our base in San Gimignano located in the heart of Tuscany. This will give you enough time to explore Florence, Siena, Pisa and enjoy delicious cuisine and fine Chianti wines before returning to Barcelona on an overnight cruise ship. On this one-way jaunt through Spain, Andorra, France and Italy you will have the best of Southern Europe in one fantastic motorcycle tour!
IMTBike ROUTE rating
It is essential to know the different skill levels needed to participate in the IMTBIKE TOURS that are offered to you. IMTBIKE makes sure that it offers different tours for all riding styles and levels. The IMTBIKE team always works diligently in designing our routes. This is a laborious process which entails reviewing all road choices before selecting the best option for an IMTBIKE tour.
The most experienced motorcyclists looks for roads that require technical skill; narrow twisty roads with little traffic and endless curves. But these same roads would be too difficult for a less experienced rider.
The local driving habits, the amount of traffic, the asphalt quality and the radius of the curves vary considerably from country to country and even in different regions of the same country. They will also vary depending on the season of the year. All of these factors have been studied by IMTBIKE and have been taken into consideration when rating our tours.
IMTBIKE thinks it is also important to know about the different types of roads you will be enjoying on your tour. To understand the road types easier, IMTBIKE has divided them into two categories, and we have calculated an approximate percentage of each on all of our tours.
TOURING ROADS: These are wider roads comprised mainly of larger radius sweepers. They are still curvy roads but not tight mountainous twisty curves. Please remember that you will ride very few straight roads on IMTBIKE tours!
CHALLENGING ROADS: These are roads that are tight twisty turns which require more technical skill. Many times they will be narrower roads without a shoulder and sometimes with steep inclines or descents. Normally they will be mountainous roads accompanied by spectacular sceneries.
If you have never ridden a motorcycle outside of your country, or if you have little experience riding on mountain roads with many curves, we recommend that you choose a tour rated moderate or intermediate. If you have any questions or doubts please do not hesitate to call or email us. We are always happy to answer your questions to make sure that you choose the best tour for your riding level.
Moderate
This route offers wider sweeping turns that are easy to maneuver. This route may have some tighter turns in a few places but this will be the exception. Regardless, even on moderate tours you must be able to ride a large cylinder motorcycle in any condition. Never plan to learn how to ride a motorcycle on an IMTBIKE tour. We recommend having a minimum of 8.000 km (5.000 miles) of experience riding a large cylinder motorcycle to participate on a MODERATE rated IMTBIKE Tour and you should ride a motorcycle on a regular basis at home.
Intermediate
This route rating can have sections of very twisty curves on narrow roads with no center line to divide the road. There will also wider radius curves on these routes. Traffic conditions can be intense at times in some urban environments and the local driving habits may seem aggressive and unpredictable to you. It is imperative that you are an experienced motorcyclist. We recommend that you have a minimum of 12.000 km (7500 miles) of large cylinder motorcycle experience to participate on a INTERMEDIATE rated IMTBIKE Tour and you should ride a motorcycle on a regular basis at home.
Advanced
This route rating has long sections of technical narrow twisty roads and sometimes single lane roads. These twisty roads will often be in mountains where steep inclines and descents will be commonplace. Some riding days can be long and challenging. Traffic conditions can be intense at times in some urban environments and the local driving habits may seem aggressive and unpredictable to you. It is imperative that you are a very experienced motorcyclist on a large cylinder motorcycle. We recommend that you have a minimum of 16.000 km (10.000 miles) of large cylinder motorcycle experience on an ADVANCE rated IMTBIKE Tour and of course you should ride a motorcycle on a regular basis at home.
IMTBIKE Average Daily Riding Hours
5 to 7 hours
6 to 8 hours
7 to 9 hours
How many hours a day you ride on a tour is important information in helping you decide on the right IMTBIKE tour for you. Some tour members want to ride as many hours as possible everyday, while others prefer to stop more frequently and dedicate more time to enjoying the scenery, visiting cultural sights and arrive at the hotel earlier to relax before dinner. The daily riding hours are calculated including the coffee breaks and photo stops but they do not include the time taken for lunch.
Normally we'll start our riding day at 9:30am and we will take about a one hour lunch break sometime between 1pm and 2pm. So if the daily riding hours for a given tour are 5-7, then you will arrive at the hotel between 3:30pm- 5:30pm depending on the average speed of the group.
Tour Facts
Total Distance

1700 miles / 2720 kms.

Rest Days

5, Avignon, Nice, Portovenere (Cinque Terre), and two in San Gimignano

Breakfast

16 Included Breakfasts

Daily Mileage

160-220 miles / 250-350 kms.

Hotel Overnights

16 Nights

Riding Season

Spring, Autumn

Highlights: Barcelona, Andorra, Carcassonne, Avignon, French Riviera, Monaco, Cinque Terre, San Gimignano, and Florence. Plenty of curves and great French and Italian cuisine.

Accommodations: Amazing hotels. Primarily first-class hotels with local flair and a few specially selected boutique hotels.
*All IMTBIKE lodgings are hand-picked for their quality of service, local charm and strategic locations.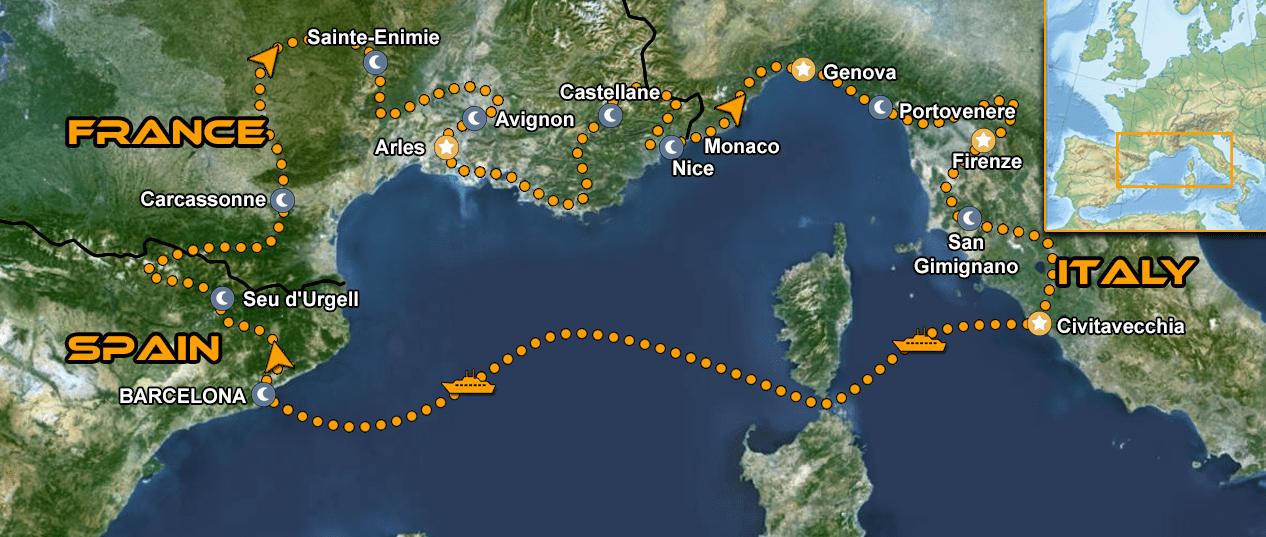 Click to Enlarge
Video

Estamos aquí en Venezuela con nuestra aventura diaria pero llenos de muy lindos recuerdos de nuestro viaje, por lo que no dudamos ni un minuto en nuevamente agradecerte y felicitarle por tan excelente Tour, ustedes como guías, los lugares, las rutas, las comidas, los hoteles TODO estuvo maravilloso y es lo que hemos trasmitido a todos nuestros amigos y familiares.
Recibe un afectuoso saludo!

Martha Hernandez
Caracas, Venezuela
Tour Provenza & Toscana - Todo estuvo Maravilloso

This was truly a bike trip of a life time. The guides were great and the routes were unbelievable. This was our fourth tour, but the first one outside of North America. The food and wines as expected were wonderful. Pictures and words cannot adequately describe the adventure of being on a bike in these beautiful mountains.
See you in Morocco in April.


Jerry and Ann Larsen
Texas, USA
Provence & Tuscany Tour - Bike Trio of a Lifetime

What a terrific trip! Our guides, Martin and Chano were outstanding. The roads were something you only dream about: lots of variety to keep you alert, good asphalt, beautiful scenery, and great bikes to enjoy it all. Hotels were more than comfortable, dinners together were most enjoyable with lots of conversation, sharing stories and making new friends. Rest days we got to explore some of the history of the places we were visiting. Lucky for us the weather was excellent. We look forward to another IMTBIKE Tour and spending time with Martin and Chano again.

Jerry Julian
New York, USA
Provence & Tuscany Tour - A Terrific Trip

My wife and I rode two up and we had some special needs that Scott and Chano accommodated very easily and graciously without any hint that we were imposing on them.
We couldnt wait to ride in Tuscany because we knew it would be so beautiful and that part of the trip lived up to our very high expectations. What knocked our socks off, though, were the incredible twisties and spectacular scenery throughout the French mountains and the Pyrenees. Overall, this trip was one of the best trips of any kind we have taken. The roads, the scenery, the bikes, the sights and the people (the IMTBike people and the other riders) were all terrific.

Dean Vegosen
Utah & Florida, USA
Provence & Tuscany Tour - Lived up to our very high expectations

This was my third tour with IMTBike (Morocco, Andalucia) and as usual, spectacular in all regards. Weather cooperated for the most part, and the roads and scenery were second to none.
What continues to amaze me are not only the tours themselves, but the people who make up the group. Each time I think the group cannot be any better than the previous tour group, but lo and behold, they are! We had an excellent group, easy to get along with, just fantastic!
I was the least experienced rider in the group, but everyone went out of the way to offer helpful suggestions and tips; Scott and Chano did make this trip extra special....thanks again, look forward to the next tour!

Jim Nims
Massachusetts, USA
Provence & Tuscany Tour - Third Tour with IMTBike

Otra aventura maravillosa con IMTBike. Muchas gracias a Chano y Roger por sus esfuerzos incansables y el pastoreo gato pacientes y por mostrarnos todos los tantos caminos extraordinarios! Happy Trails por ahora .

Another wonderful adventure with IMT. Many Thanks to Chano and Roger for their tireless efforts and patient cat herding and for showing us all so many extraordinary roads! Happy Trails for now,
Esteban

Steve "Esteban" Brooke
Ontario, Canada
Provence & Tuscany Tour

Mi primer mejor experiencia, con compañeros de ruta admirables y Chano y Roger como guías , me hace pensar que esto recién empieza. Espero recorrer más rutas maravillosas con IMTBike.

Maria Silvia Cristina Nicolini
Buenos Aires, Argentina
Provence & Tuscany Tour - Maravilloso

What a Wild, Wild trip we had!! Fantastic. Pretty well sensory overload but what a rush. The roads, the food, the people, the history, the cities, the towns, the villages, the views, the Med, the wine...it goes on and on....did I mention the roads!!
Your guys, Chano and Roger, did a fantastic job. I also want to thank you for your gifts, the T- shirt, pullover, memory stick and the wine for most of our dinners. I will wear the cloths with pride and spread the word of IMTBIKE.
Once again, a great trip, a great IMTBike company, great memories and stories..an adventure!!

Tom and Kathy
Ontario, Canada
Provence & Tuscany Tour - A wild, wild, trip

Nuestro viaje por Europa ya terminó y nos quedaron maravillosos recuerdos de amistad, paisajes bellísimos y la excelente conducción de las motos por entretenidos caminos diseñados por ustedes. Quiero agradecer por el servicio que nos brindaron, muy profesional, de alta calidad, con excelentes rutas, motos nuevas y buenos hoteles. Fue una experiencia muy satisfactoria para nuestro grupo.
Espero nos volvamos a ver en alguna oportunidad futura.
Francisco Walther

Francisco Walther
Santiago, Chile
Self-Guided Provenza & Toscana

Realmente la experiencia vivida con el tour Provence Toscana de IMTBIKE, ha sido inolvidable.
Las rutas perfectamente balanceadas, los lugares visitados, las espectaculares vistas y la programación de los alojamientos, hacen del tour una experiencia increíble.


Carlos Costa
Vitacura, Chile
Self-Guided Provenza & Toscana

Fantastic! IMT did a superb job with bikes, routing, accommodations, food, and guide (Sergi). For anyone who enjoys riding twisties, this is incredible fun - and if you're a foodie as well, you'll be right at home!
Questions below are mostly irrelevant...this was a motorcycle riding adventure - 2 weeks of twisty roads, very little time spent doing anything else. But you will see art, history, nature - just not a large part of the time.

Meet our guides

We are very proud of the reputation we've earned as one of the world's leading motorcycle tour operators, and it starts with our guides.
Day 1: Arrival Barcelona
Day 2: Barcelona – Seu d'Urgel
Day 3: Seu d'Urgel-Carcassonne
Day 4: Carcassonne-Sainte Enimie
Day 5: Sainte Enimie-Avignon
Day 6: Avignon rest day
Day 7: Avignon- Castellane
Day 8: Castellane-Nice
Day 9: Nice rest day
Day 10: Nice - Porto Venere (Cinque Terre)
Day 11: Portovenere (Cinque Terre) Rest Day
Day 12: Portovenere (Cinque Terre)- San Gimignano
Day 13: San Gimignano rest day
Day 14: San Gimignano –Florence-San Gimignano
Day 15: San Gimignano - Sienna - Civitavecchia(cruise ship)
Day 16: Civitavecchia- Barcelona
Day 17: Flight home
Day 1: Arrival Barcelona, safety briefing and welcome dinner

Your guides will be waiting to welcome you at the airport and take you to the hotel in Barcelona. You will have some free time to relax or do some sightseeing before the safety briefing. After the briefing we will enjoy a welcome dinner in a traditional Spanish restaurant. The first and last days mentioned in the itinerary are the arrival and departure days for your tour. Depending on the country you are flying from, you may have to leave a day early. Please book your flights accordingly!

Day 2: Barcelona – Seu d'Urgel

Today will be the perfect start to two weeks of motorcycle heaven in Southern Europe. Leaving Barcelona we will head north into the mighty Pyrenees Mountains for curve after curve of perfect asphalt and breathtaking scenery. We will spend our first night in the town of Seu d'Urgel located a stones from the tiny principality of Andorra.

Day 3: Seu d'Urgel-Carcassonne

Today you will cross the border into France and enjoy the beauty of the French Pyrenees. The Pyrenees will lead you to Cathar Country, known for its numerous fortresses built high on the mountain tops. We will spend tonight in one of the best preserve medieval walled towns in Europe, Carcassonne.

Day 4: Carcassonne-Sainte Enimie

Today you will get to see the famous Millau Viaduct up-close followed by one of the most beautiful gorges in the world, the Tarn Gorge. You are guaranteed to arrive in the sleepy medieval town of Sainte Enimie, located in the Tarn Gorge, filled with awe!

Day 5: Sainte Enimie-Avignon

You'll start the day by heading into the Cevennes National Park for a beautiful morning ride filled with verdant forests before arriving at the Ardèche Canyon for some more superb motorcycle roads. From there you will cross the Rhone Valley to the most well-known city in Provence, Avignon! Avignon is famous for the Pope's Palace and the Avignon Bridge.

Day 6: Avignon rest day

Today is a rest day and you can explore beautiful Provence and maybe visit the town of Arles where Van Gogh spent his final days painting or you can enjoy all the culture that Avignon has to offer. The choice is yours!


Day 7: Avignon- Castellane

Today we will continue east towards the Luberon National Park and more motorcycle friendly canyon riding. From here you will ride to the blue waters of the Sainte-Croix Lake before starting your ride along the edge of the deepest canyon in Europe, the spectacular Gorges du Verdon. At the end of this canyon the quaint town of Castellane awaits you!

Day 8: Castellane-Nice

Leaving Castellane we will enjoy some impressive mountain riding with curves galore and numerous natural tunnels before heading south out of the mountains to the French Riviera and the bustling town of Nice.


Day 9: Nice rest day

Today is a rest day and you can explore Nice, Monaco, Cannes and St. Tropez. You can also head to the town of Grasse to see where the perfume industry all began.

Day 10: Nice - Porto Venere (Cinque Terre)

Today we head to Italy! We will leave Nice and head into Italy towards the famous Bracco Pass before heading south to the Mediterranean Sea and Portovenere. Portovenere is located next to the 5 charming villages that make up Cinque Terre. This is the Italian Riviera and you will fall in love with it!

Day 11: Portovenere (Cinque Terre) Rest Day

Today is a rest day and you can spend it as you wish, but we highly recommend taking the boat tour to explore Cinque Terre. The vistas and charm of Cinque Terre are overwhelming. One of our favorite Italian restaurants is located in Monterosso, we'll tell you about it during the briefing the night before!

Day 12: Portovenere (Cinque Terre)- San Gimignano

Today you will leave the coast and head into the heart of Tuscany. But first we have a little surprise as we motorcycle through the Alpi Apuane Mountains to San Gimignano. The mountains are great for motorcycling! San Gimignano is one of the most beautiful medieval towns in Tuscany!

Day 13: San Gimignano rest day

Today IMTBike has a day ride planned that will take you to famous places in Tuscany like Siena, Volterra, Montepulcino and more. If you don't feel like riding you are free to relax by the pool and enjoy the beautiful Tuscan countryside or go for a stroll on the cobblestoned streets of San Gimignano.

Day 14: San Gimignano –Florence-San Gimignano

Today IMTBike has planned an optional ride to Florence where you can stroll the same streets that Michelangelo and Leonardo da Vinci strolled long ago. Florence is the capital of the Tuscany region and the birth city of the Renaissance. Florence itself is one giant museum!

Day 15: San Gimignano - Sienna - Civitavecchia(cruise ship)

Today we will have an enjoyable ride through the rolling hills of Tuscany down to the port town of Civitavecchia where we will board our cruise ship back to Barcelona.

Day 16: Civitavecchia- Barcelona

Today we will relax on our Mediterranean Cruise Ship and arrive in Barcelona with time to do some last minute shopping or sightseeing before our farewell dinner! After dinner you will say your goodbyes to the guides and other tour members (now your new friends).

Day 17: Flight home

It's time to say goodbye to Spain and head to the airport to fly home. Until our next motorcycle adventure together! Hasta Pronto!
Pricing
The base price of every tour is calculated for a single rider on a BMW F700GS and sharing a double room

Included in Tour:
Airport pickup on the first day of the tour- your guide will be waiting to welcome you at the gate.
Overnight accommodations in high quality hotels
Complete buffet breakfast every morning.
A gourmet evening meal every night (except on rest days)
New model BMW motorcycle fully equipped with 3 BMW cases.
Tour handbook (normally about 70 pages-very comprehensive) and highlighted map.
Expert multilingual guide on a motorcycle.
Multilingual guide in support vehicle which will carry your luggage, any oversized purchases you make; or even a passenger or two.
Tour souvenirs.
Not included in Tour:
Air ticket, lunches, gasoline, drinks, tolls, personal spending and tips