MotoGP Jerez Motorcycle Tour
Motorcycle Meca
Spain
Apr. 22 — May. 01, 2024
14 spots left
Spain is the only country in the world to have four MotoGP races! Maybe it is because Spaniards love motorcycles so much; or maybe it is because of Spain's perfect climate for motorcycling! This tour combines our Andalucia Southern Spain Tour which highlights the best of Andalucia with the adrenaline-filled excitement of the MotoGP races in Jerez de la Frontera. IMTBike always gets the best seats at the track! Come and join us for great Andalucia riding and MotoGP Jerez fun!
IMTBIKE ROUTE rating
It is essential to know the different skill levels needed to participate in the IMTBIKE TOURS that are offered to you. IMTBIKE makes sure that it offers different tours for all riding styles and levels. The IMTBIKE team always works diligently in designing our routes. This is a laborious process which entails reviewing all road choices before selecting the best option for an IMTBIKE tour.
The most experienced motorcyclists looks for roads that require technical skill; narrow twisty roads with little traffic and endless curves. But these same roads would be too difficult for a less experienced rider.
The local driving habits, the amount of traffic, the asphalt quality and the radius of the curves vary considerably from country to country and even in different regions of the same country. They will also vary depending on the season of the year. All of these factors have been studied by IMTBIKE and have been taken into consideration when rating our tours.
IMTBIKE thinks it is also important to know about the different types of roads you will be enjoying on your tour. To understand the road types easier, IMTBIKE has divided them into two categories, and we have calculated an approximate percentage of each on all of our tours.
TOURING ROADS: These are wider roads comprised mainly of larger radius sweepers. They are still curvy roads but not tight mountainous twisty curves. Please remember that you will ride very few straight roads on IMTBIKE tours!
CHALLENGING ROADS: These are roads that are tight twisty turns which require more technical skill. Many times they will be narrower roads without a shoulder and sometimes with steep inclines or descents. Normally they will be mountainous roads accompanied by spectacular sceneries.
If you have never ridden a motorcycle outside of your country, or if you have little experience riding on mountain roads with many curves, we recommend that you choose a tour rated moderate or intermediate. If you have any questions or doubts please do not hesitate to call or email us. We are always happy to answer your questions to make sure that you choose the best tour for your riding level.
Moderate
This route offers wider sweeping turns that are easy to maneuver. This route may have some tighter turns in a few places but this will be the exception. Regardless, even on moderate tours you must be able to ride a large cylinder motorcycle in any condition. Never plan to learn how to ride a motorcycle on an IMTBIKE tour. We recommend having a minimum of 8.000 km (5.000 miles) of experience riding a large cylinder motorcycle to participate on a MODERATE rated IMTBIKE Tour and you should ride a motorcycle on a regular basis at home.
Intermediate
This route rating can have sections of very twisty curves on narrow roads with no center line to divide the road. There will also wider radius curves on these routes. Traffic conditions can be intense at times in some urban environments and the local driving habits may seem aggressive and unpredictable to you. It is imperative that you are an experienced motorcyclist. We recommend that you have a minimum of 12.000 km (7500 miles) of large cylinder motorcycle experience to participate on a INTERMEDIATE rated IMTBIKE Tour and you should ride a motorcycle on a regular basis at home.
Advanced
This route rating has long sections of technical narrow twisty roads and sometimes single lane roads. These twisty roads will often be in mountains where steep inclines and descents will be commonplace. Some riding days can be long and challenging. Traffic conditions can be intense at times in some urban environments and the local driving habits may seem aggressive and unpredictable to you. It is imperative that you are a very experienced motorcyclist on a large cylinder motorcycle. We recommend that you have a minimum of 16.000 km (10.000 miles) of large cylinder motorcycle experience on an ADVANCE rated IMTBIKE Tour and of course you should ride a motorcycle on a regular basis at home.
IMTBIKE Average Daily Riding Hours
5 to 7 hours
6 to 8 hours
7 to 9 hours
How many hours a day you ride on a tour is important information in helping you decide on the right IMTBIKE tour for you. Some tour members want to ride as many hours as possible everyday, while others prefer to stop more frequently and dedicate more time to enjoying the scenery, visiting cultural sights and arrive at the hotel earlier to relax before dinner. The daily riding hours are calculated including the coffee breaks and photo stops but they do not include the time taken for lunch.
Normally we'll start our riding day at 9:30am and we will take about a one hour lunch break sometime between 1pm and 2pm. So if the daily riding hours for a given tour are 5-7, then you will arrive at the hotel between 3:30pm- 5:30pm depending on the average speed of the group.
Tour Facts
Total Distance

981 miles / 1,579 km

Rest Days

2 Sevilla, White Towns

Breakfast

9 Included Breakfasts

Daily Mileage

160-220 miles / 250-350 km

Hotel Overnights

9 Nights

Highlights: First MotoGP race in Europe! Sevilla, Ronda, Granada, Cordoba, Cadiz. Excellent seats at MotoGP races!

Accommodations: Amazing hotels. First-class historical Paradors and a few specially selected boutique hotels with local flair. Paradors are Castles, Palaces & Fortresses converted into motorcycle-friendly hotels.
*All IMTBIKE lodgings are hand-picked for their quality of service, local charm and strategic locations.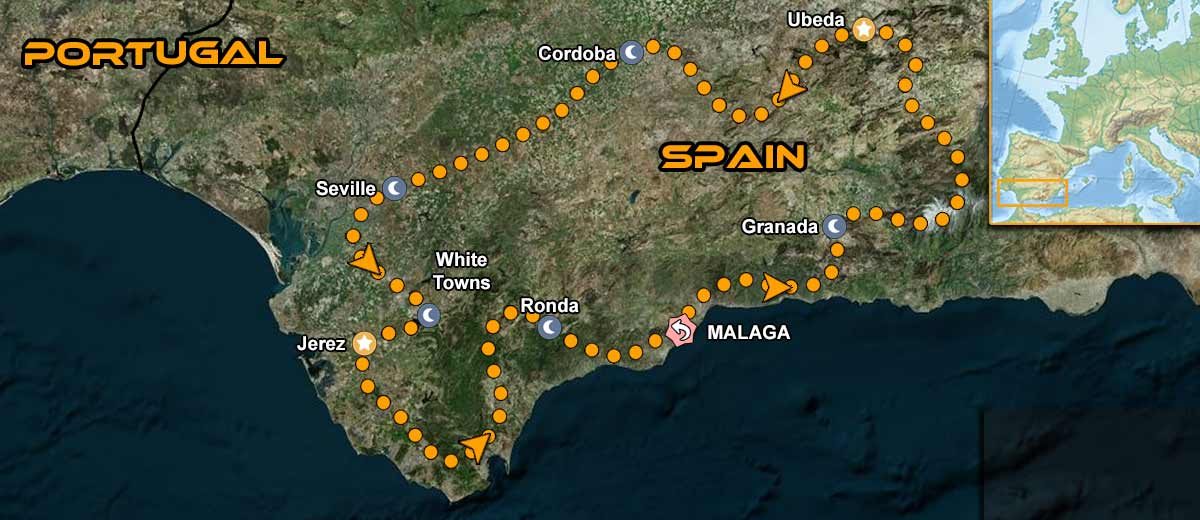 Click to enlarge
MotoGP Motorcycle Tours Gallery

I have toured with IMTBIKE on several of their preset experiences. Guides, roads, accommodations were all premier experiences. I continue to find opportunities to ride with them... actually have a ride in Spain setup for early next year.

Mike Cocozza
Ashburn, USA
All premier experiences

My husband and I have done two tours with IMTBike: one to Southern Spain for the Jerez MotoGP races and the second to Morocco. It goes without saying that both of these countries provide great riding opportunities, have beautiful scenery and offer wonderful cultural experiences. But more than all of that, I have to tell you, we had A BLAST. In between taking care of every detail of the trip, these guys know how to enjoy the ride. It's obvious that the guides at IMTBike are passionate about motorcycling and that this is not just a job for them. Oh, to be so lucky as to call my motorcycle my office :-)

Heidi and Marty Paterno
Florida,USA
MOTOGP Jerez Tour And Morocco Tour - what a bloot!

Meet our guides

We are very proud of the reputation we've earned as one of the world's leading motorcycle tour operators, and it starts with our guides.
Day 1: Arrival Málaga
Day 2: Málaga - Granada
Day 3: Granada - Córdoba
Day 4: Córdoba - Sevilla
Day 5: Sevilla - rest day
Day 6: Sevilla - Jerez Circuit - White Towns
Day 7: White Towns - Jerez Circuit - White Towns
Day 8: White Towns - Ronda
Day 9: Ronda - Málaga
Day 10: Flight home
Day 1: Arrival Málaga, safety briefing and welcome dinner

Transfer included from the Airport to the hotel. You will have some free time to relax or do some sightseeing before the welcome briefing. After the briefing we will enjoy a welcome dinner in a traditional Andalusian restaurant. The first and last days mentioned in the itinerary are the arrival and departure days for your tour. Depending on the country you are flying from, you may have to leave a day early. Please book your flights accordingly!

Day 2: Málaga - Granada

You'll start the day leaving the city of Malaga behind in search of the eastern most parts of the Costa del Sol. You'll hug the coast of the Mediterranean Sea and from the seat of your motorcycle watch the waves roll in to the shore. Curvy roads will carry you along the coast and then turn sharply inland to start the climb into the rugged mountains. You'll climb into the imposing Sierra Nevadas past ski areas on the highest paved highway in Spain. Awaiting you are the steep, narrow streets of Granada, its historic center, the Albayzín and the unequaled beauty of the Alhambra Palace.

Day 3: Granada - Córdoba

On our third day we will head from Granada to a beautiful road surrounded by forests and mountains north of Sierra Nevada. From there the majestic spectacle of the infinit olive trees in perfect formation will display as a carpet on most of Andalusia´s soil. Cordoba awaits bathed by the Guadalquivir River and with its charming atmosphere full of life. We will be able to visit its narrow streets all the way to the Mezquita.

Day 4: Córdoba - Sevilla

Today we will truly enjoy our motorcycles. The route heads north towards the best and most secret roads in Sierra Morena. These mountains act as a frontier north of Andalusia. We will take one curve after another back south until the splendorous Guadalquivir river and to Seville. Seville is the capital of Andalucía and will receive us with its arms wide open as usual.

Day 5: Sevilla - rest day

Today is a rest day perfect for taking in the city of Seville and its impressive Gothic cathedral, countless small churches, interesting neighborhoods full of narrow streets, Flamenco music, tapas bars etc. You will also have the option of riding into the Sierra Morena where you can visit the colorful mines of Riotinto or taste the very best Spanish Iberian Ham, the Jamón de Jabugo.

Day 6: Sevilla - Jerez Circuit - White Towns

We will say goodbye to Seville and head south through its smooth roads and across its fields. We will then find a fun and spectacular section in the Sierra of Grazalema. Passing through some of the most impressive mountain passes in the area. From there we will keep enjoying some curves down to the Jerez Circuit and its amazing atmosphere.

Day 7: White Towns - Jerez Circuit - White Towns

Less than 30Km ahead will have us at the Jerez Circuit. We must wake up early to avoid heavy traffic and be able to enjoy a great day of racing in one of the most beloved circuits by its racers. The track is designed in such way that it´s more about the skills of the rider rather than the motorcycles performance itself. The atmosphere there is unforgetable and one of the most appreciated by the fans worlwide. May the best man win!

Day 8: White Towns - Ronda

Today is a full day with no shortage of harmonious curves amidst the mountains range of Cadiz. The amazing landscape includes cork tree forests and wild bulls. It's here where you'll pass through the numerous White Towns that have made this region famous. You'll rest for the night in one of the most memorable cities in all of Spain, Ronda. Peer over the 120 meter cliff from the "New Bridge" (over 300 years old!), or check out the Roman Bridge that remains intact after several thousand years. You can also lose yourself amongst the lively little streets or visit the oldest bull ring in Spain.

Day 9: Ronda - Málaga

Departing Ronda you'll head straight into the heart of the mountains, snaking along lonely roads past magnificent landscapes. Mountain after mountain, town after town until you return to the IMTBike office, where you'll say goodbye to your faithful motorcycle. You'll then have time rest in the hotel or do some last minute shopping and visit the city of Malaga one more time. The guides will take you out to an excellent restaurant where you'll enjoy a farewell dinner and we can say "Hasta pronto!" "Until next time!"

Day 10: Flight home

Today you will say your goodbyes to the guides and the other tour members (now your new friends) as you make your way to the airport to fly home. Until our next motorcycle adventure together! Hasta Luego!
MotoGP Jerez Motorcycle Tour Pricing
The base price of every tour is calculated for a single rider on a BMW G310R and sharing a double room

Included in Tour:
Airport pickup on the first day of the tour.
Overnight accommodations in carefully selected 4 & 5 star hotels and Paradors/Pousadas (castles and palaces converted into "motorcycle friendly" boutique hotels).
A delicious gourmet evening meal featuring Spanish and Portuguese specialties every night (except on rest days).
Complete buffet breakfast every morning.
New model BMW motorcycle fully equipped with 3 BMW cases.
Tour handbook (normally about 70 pages-very comprehensive) and highlighted map.
Expert multilingual guide on a motorcycle.
Multilingual guide in support vehicle which will carry your luggage, any oversized purchases you make; or even a passenger or two.
Tour Souvenirs.
Not included in Tour:
Air ticket, lunches, gasoline, drinks, tolls, personal spending and tips