MotoGP Valencia Motorcycle Tour
MotoGP & Mediterranean Sea
Spain
What do you get when you combine the last MotoGP race of the season with an incredible one way motorcycle route from Barcelona to Malaga?  Motorcycle excitement at its fullest!
Starting in Barcelona this tour will zigzag between mountain ranges and beautiful coastal roads as it follows the Mediterranean Sea southward until it reaches Malaga, capital of the Costa del Sol. We'll spend two nights in Valencia, where IMTBIKE has reserved the best seats for you at the racetrack.  You'll feel the exciting atmosphere as Spanish fans cheer their favorite racers as they overtake competition in the curves right in front of you.  This tour isn't all about motorcycling, you'll also enjoy amazing hotels along the Mediterranean Sea and savor traditional Spanish cuisine like paella and delicious seafood dishes.   You really can have your cake and eat it too and this tour has all the elements of a fine feast!
* Price includes BMW G310R
IMTBIKE ROUTE rating
It is essential to know the different skill levels needed to participate in the IMTBIKE TOURS that are offered to you. IMTBIKE makes sure that it offers different tours for all riding styles and levels. The IMTBIKE team always works diligently in designing our routes. This is a laborious process which entails reviewing all road choices before selecting the best option for an IMTBIKE tour.
The most experienced motorcyclists looks for roads that require technical skill; narrow twisty roads with little traffic and endless curves. But these same roads would be too difficult for a less experienced rider.
The local driving habits, the amount of traffic, the asphalt quality and the radius of the curves vary considerably from country to country and even in different regions of the same country. They will also vary depending on the season of the year. All of these factors have been studied by IMTBIKE and have been taken into consideration when rating our tours.
IMTBIKE thinks it is also important to know about the different types of roads you will be enjoying on your tour. To understand the road types easier, IMTBIKE has divided them into two categories, and we have calculated an approximate percentage of each on all of our tours.
TOURING ROADS: These are wider roads comprised mainly of larger radius sweepers. They are still curvy roads but not tight mountainous twisty curves. Please remember that you will ride very few straight roads on IMTBIKE tours!
CHALLENGING ROADS: These are roads that are tight twisty turns which require more technical skill. Many times they will be narrower roads without a shoulder and sometimes with steep inclines or descents. Normally they will be mountainous roads accompanied by spectacular sceneries.
If you have never ridden a motorcycle outside of your country, or if you have little experience riding on mountain roads with many curves, we recommend that you choose a tour rated moderate or intermediate. If you have any questions or doubts please do not hesitate to call or email us. We are always happy to answer your questions to make sure that you choose the best tour for your riding level.
Moderate
This route offers wider sweeping turns that are easy to maneuver. This route may have some tighter turns in a few places but this will be the exception. Regardless, even on moderate tours you must be able to ride a large cylinder motorcycle in any condition. Never plan to learn how to ride a motorcycle on an IMTBIKE tour. We recommend having a minimum of 8.000 km (5.000 miles) of experience riding a large cylinder motorcycle to participate on a MODERATE rated IMTBIKE Tour and you should ride a motorcycle on a regular basis at home.
Intermediate
This route rating can have sections of very twisty curves on narrow roads with no center line to divide the road. There will also wider radius curves on these routes. Traffic conditions can be intense at times in some urban environments and the local driving habits may seem aggressive and unpredictable to you. It is imperative that you are an experienced motorcyclist. We recommend that you have a minimum of 12.000 km (7500 miles) of large cylinder motorcycle experience to participate on a INTERMEDIATE rated IMTBIKE Tour and you should ride a motorcycle on a regular basis at home.
Advanced
This route rating has long sections of technical narrow twisty roads and sometimes single lane roads. These twisty roads will often be in mountains where steep inclines and descents will be commonplace. Some riding days can be long and challenging. Traffic conditions can be intense at times in some urban environments and the local driving habits may seem aggressive and unpredictable to you. It is imperative that you are a very experienced motorcyclist on a large cylinder motorcycle. We recommend that you have a minimum of 16.000 km (10.000 miles) of large cylinder motorcycle experience on an ADVANCE rated IMTBIKE Tour and of course you should ride a motorcycle on a regular basis at home.
IMTBIKE Average Daily Riding Hours
5 to 7 hours
6 to 8 hours
7 to 9 hours
How many hours a day you ride on a tour is important information in helping you decide on the right IMTBIKE tour for you. Some tour members want to ride as many hours as possible everyday, while others prefer to stop more frequently and dedicate more time to enjoying the scenery, visiting cultural sights and arrive at the hotel earlier to relax before dinner. The daily riding hours are calculated including the coffee breaks and photo stops but they do not include the time taken for lunch.
Normally we'll start our riding day at 9:30am and we will take about a one hour lunch break sometime between 1pm and 2pm. So if the daily riding hours for a given tour are 5-7, then you will arrive at the hotel between 3:30pm- 5:30pm depending on the average speed of the group.
Tour Facts
Start / End

Barcelona/Malaga

Total Distance

1,260 miles / 2,030 km

Breakfast

9 Included Breakfasts

Daily Mileage

160-220 miles / 250-350 km

Hotel Overnights

9 Nights

Highlights: Barcelona, Valencia, Alicante, Mediaterranean Coast, Maestrazgo Mountains, Ribera del Ebro, Alicante Mountains, Alpujarras Mountains, Tabernas desert, Tropical Coast, Málaga Mountains, Málaga

Accommodations: Amazing hotels. First-class historical Paradors and boutique motorcycle friendly hotels.
*All IMTBIKE lodgings are hand-picked for their quality of service, local charm and strategic locations.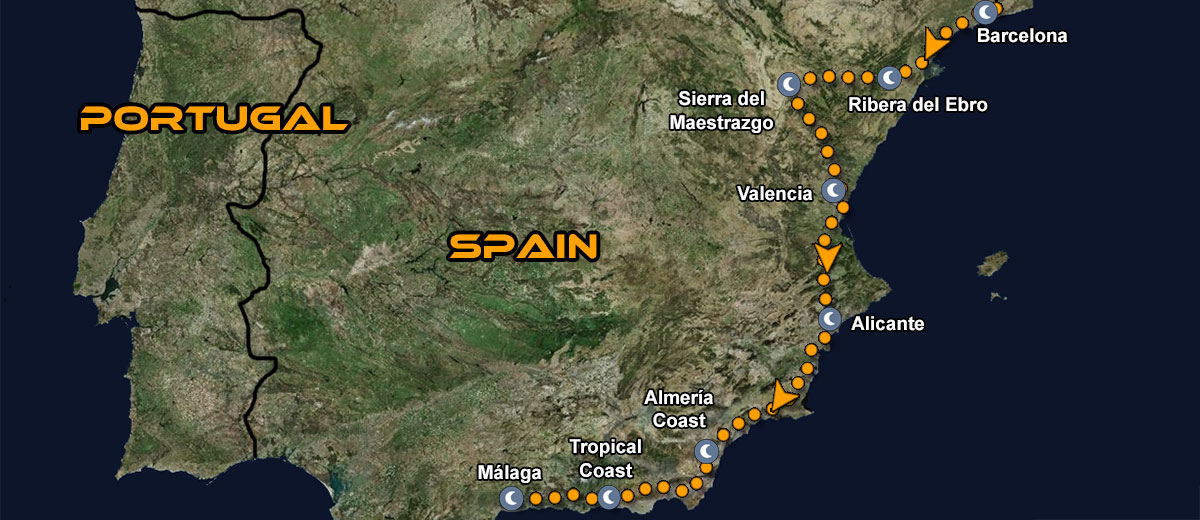 Click to enlarge
MotoGP Motorcycle Tours Gallery

Traveling with IMT is an addictive experience. The hardest part is picking out a tour; the rest is easy. Just show up with your gear & go.

Barbara Kauffman
Phoenix, USA
Outstanding way to see MotoGP

We LOVE our trips with IMTBIKE. Already booked our 3rd trip in 3 years. Trips are flawlessly planned and executed. The routes take you over some of the most amazing roads you've ever seen. Incredible riding. Epic views. Fantastic food. Can't say enough about the trips. I do have to add that the people are what really make the experience with IMTBIKE extra special. Martin '222' has been our guide and we consider him a great friend and stay in touch since. Incredible person to take you on your trip. Roger, Nacho and the rest of the team are incredible. So excited for future trips.

Jasen Gundersen
Lighthouse Point, USA
We LOVE our trips with IMTBIKE

Thank you for another fabulous ride in Spain. Martin and OO found a variety of great roads for brisk rides and fantastic scenery. We enjoyed wonderful meals and lodgings at the Parador Hotels. The MOTOGP races at Valencia, the highlight of our ride, was a unique and breathtaking experience for me, Judd, and the others. Our group enjoyed each other's company and seem to have similar riding comfort levels. Martin and OO were always professional, courteous, sensitive, respectful, and always in good humor. What good people you have in your organization ! Good luck in all your professional and personal endeavours. I remain eager to ride again with IMTBike and highly recommend your outfit to my riding friends.

Sam Kalush
Florida, USA
MOTOGP Valencia Tour - Thank you for another fabulous ride

Meet our guides

We are very proud of the reputation we've earned as one of the world's leading motorcycle tour operators, and it starts with our guides.
Day 1: Arrival Barcelona
Day 2: Barcelona - Ribera del Ebro
Day 3: Ribera del Ebro - Sierra del Maestrazgo
Day 4: Sierra del Maestrazgo - Valencia
Day 5: Valencia - Cheste (MotoGP races) - Valencia
Day 6: Valencia - Alicante
Day 7: Alicante – Costa de Almeria
Day 8: Costa de Almeria - Costa del Sol
Day 9: Costa del Sol – Málaga
Day 10: Flight home
Day 1: Arrival Barcelona, safety briefing and welcome dinner

The airport transfer to the hotel is included today. You will have free time to rest or visit the city until the welcome meeting in the evening. After the meeting we will enjoy a welcome dinner in a traditional restaurant. The first and last day mentioned in the itinerary correspond to the days of arrival and departure of the tour. Depending on which country you're coming from, you might have to leave a day early. Please make your airline reservations accordingly.

Day 2: Barcelona - Ribera del Ebro

We will leave bustling Barcelona behind and head inland, passing through the foothill of Montserrat Mountains. Soon we will be surrounded by forests and low mountains. We'll ride on little-known local mountain roads that will take us across several Natural Parks and vineyard areas like famous Priorat. Upon reaching the banks of the Ebro River bank, we'll stop for the evening at a great hotel.

Day 3: Ribera del Ebro - Sierra del Maestrazgo

Today we will ride our motorcycle on beautiful hidden mountain roads that even the majority of Spanish motorcyclists have never been on. These local roads boast endless curves, with incredible asphalt and almost non-existent traffic. You'll ride through rugged landscape of lush forests and some spectacular canyons that will lead us to our destination in the middle of these mountains.

Day 4: Sierra del Maestrazgo - Valencia

On our way to Valencia we will take more rural roads through unpopulated areas, outside the tourist routes. You'll see small beautiful villages in dramatic landscapes surrounded by cultivated fields. These backroads are of incredible quality and they run through valleys over mountains and follow rivers. Before reaching our destination for the evening, those who want to can stop by the Valencia racetrack to see the official classifications.

Day 5: Valencia - Cheste (MotoGP races) - Valencia

Race day is here! Today we will join more than 100,000 MotoGP fans who will fill the "Circuit Ricardo Tormo de la Comunitat Valenciana" as always to enjoy the last Grand Prix of the season. Even the parking lot with thousands and thousands of different motorcycles, different models and different styles is awe-inspiring in itself.

Day 6: Valencia - Alicante

Another day of motorcycle enjoyment awaits us on twisty mountain roads in the mountains south of Valencia and north of Alicante. From the calm waters of the rice fields of the Albufera Valenciana, where Paella was invented, to the rugged mountain passes of the Aitana Sierra, we'll enjoy curve after curve as we descend towards the blue of the Mediterranean Sea and our hotel for the evening.

Day 7: Alicante – Costa de Almeria

We'll start the day on an easy route heading inland away from the coast. We'll ride a combination of national and local roads that will allow us to relax our senses and to move southward quickly and avoid the tremendous traffic along the coast. But before descending again to the coast to see the azure waves of the sea crash against the Almeria Coast, we will get our daily fix of top quality curves on roads that are considered the jewels of the south for motorcyclists.

Day 8: Costa de Almeria - Costa del Sol

The famous Costa del Sol, in the province of Granada, will be our destination for this evening. We'll enjoy its warmer temperatures as we circumvent the high altitude city of Granada in the Sierra Nevada Mountains and follow mountain roads that take us south on enjoyable curves before reaching the Mediterranean Coast once again.

Day 9: Costa del Sol – Málaga

The mountains that dominate the entire coastline of the Costa del Sol are a treasure that the local motorcyclists know well and that we will enjoy them to the fullest on our last riding day. We'll head inland and quickly climb in altitude and enjoy a combination of local mountain roads that will take us to the Montes de Malaga Natural Park, north of the capital. From here we'll enjoy a few more curves before we will reach our destination for the evening. At night we'll have a farewell dinner at a traditional Andalusian restaurant for the whole group to reminisce about our magnificent adventure together.

Day 10: Flight home

Today you will say your goodbyes to the guides and the other tour members (now your new friends) as you make your way to the airport to fly home. We'll see you again on our next motorcycle adventure together!

* Price includes BMW G310R