Morocco Adventure Motorcycle Tour
The Essence of Morocco
Spain | Morocco
Oct. 22 — Oct. 31, 2023
Sold out
Nov. 18 — Nov. 27, 2023
Sold out
Mar. 16 — Mar. 25, 2024
9 Spots left
Apr. 13 — Apr. 22, 2024
14 Spots left
Oct. 12 — Oct. 21, 2024
14 Spots left
Nov. 16 — Nov. 25, 2024
14 Spots left
If you've always wanted to visit enchanting Morocco but don't have enough time to do our Magical Morocco Motorbike Tour, then IMTBike is proud to present our Morocco Adventure Tour. This intense tour concentrates all the sights that you always dreamed of visiting in Morocco in 9 riding days.  This route is for seasoned riders that want to enjoy rolling green hills, the snow-peaked Atlas Mountains and the mysterious red sand dunes of the Sahara Desert all on well-maintained paved roads. You'll explore casbahs, see oases and have opportunities to buy hand-made rugs, drink mint tea and ride a camel! In the evenings you'll dine on delicious Moroccan cuisine like couscous and tagine. Morocco really is special and our Morocco Adventure Motorcycle Tour is an authentic experience that will leave a lasting impression on you!
IMTBIKE ROUTE rating
It is essential to know the different skill levels needed to participate in the IMTBIKE TOURS that are offered to you. IMTBIKE makes sure that it offers different tours for all riding styles and levels. The IMTBIKE team always works diligently in designing our routes. This is a laborious process which entails reviewing all road choices before selecting the best option for an IMTBIKE tour.
The most experienced motorcyclists looks for roads that require technical skill; narrow twisty roads with little traffic and endless curves. But these same roads would be too difficult for a less experienced rider.
The local driving habits, the amount of traffic, the asphalt quality and the radius of the curves vary considerably from country to country and even in different regions of the same country. They will also vary depending on the season of the year. All of these factors have been studied by IMTBIKE and have been taken into consideration when rating our tours.
IMTBIKE thinks it is also important to know about the different types of roads you will be enjoying on your tour. To understand the road types easier, IMTBIKE has divided them into two categories, and we have calculated an approximate percentage of each on all of our tours.
TOURING ROADS: These are wider roads comprised mainly of larger radius sweepers. They are still curvy roads but not tight mountainous twisty curves. Please remember that you will ride very few straight roads on IMTBIKE tours!
CHALLENGING ROADS: These are roads that are tight twisty turns which require more technical skill. Many times they will be narrower roads without a shoulder and sometimes with steep inclines or descents. Normally they will be mountainous roads accompanied by spectacular sceneries.
If you have never ridden a motorcycle outside of your country, or if you have little experience riding on mountain roads with many curves, we recommend that you choose a tour rated moderate or intermediate. If you have any questions or doubts please do not hesitate to call or email us. We are always happy to answer your questions to make sure that you choose the best tour for your riding level.
Moderate
This route offers wider sweeping turns that are easy to maneuver. This route may have some tighter turns in a few places but this will be the exception. Regardless, even on moderate tours you must be able to ride a large cylinder motorcycle in any condition. Never plan to learn how to ride a motorcycle on an IMTBIKE tour. We recommend having a minimum of 8.000 km (5.000 miles) of experience riding a large cylinder motorcycle to participate on a MODERATE rated IMTBIKE Tour and you should ride a motorcycle on a regular basis at home.
Intermediate
This route rating can have sections of very twisty curves on narrow roads with no center line to divide the road. There will also wider radius curves on these routes. Traffic conditions can be intense at times in some urban environments and the local driving habits may seem aggressive and unpredictable to you. It is imperative that you are an experienced motorcyclist. We recommend that you have a minimum of 12.000 km (7500 miles) of large cylinder motorcycle experience to participate on a INTERMEDIATE rated IMTBIKE Tour and you should ride a motorcycle on a regular basis at home.
Advanced
This route rating has long sections of technical narrow twisty roads and sometimes single lane roads. These twisty roads will often be in mountains where steep inclines and descents will be commonplace. Some riding days can be long and challenging. Traffic conditions can be intense at times in some urban environments and the local driving habits may seem aggressive and unpredictable to you. It is imperative that you are a very experienced motorcyclist on a large cylinder motorcycle. We recommend that you have a minimum of 16.000 km (10.000 miles) of large cylinder motorcycle experience on an ADVANCE rated IMTBIKE Tour and of course you should ride a motorcycle on a regular basis at home.
IMTBIKE Average Daily Riding Hours
5 to 7 hours
6 to 8 hours
7 to 9 hours
How many hours a day you ride on a tour is important information in helping you decide on the right IMTBIKE tour for you. Some tour members want to ride as many hours as possible everyday, while others prefer to stop more frequently and dedicate more time to enjoying the scenery, visiting cultural sights and arrive at the hotel earlier to relax before dinner. The daily riding hours are calculated including the coffee breaks and photo stops but they do not include the time taken for lunch.
Normally we'll start our riding day at 9:30am and we will take about a one hour lunch break sometime between 1pm and 2pm. So if the daily riding hours for a given tour are 5-7, then you will arrive at the hotel between 3:30pm- 5:30pm depending on the average speed of the group.
Tour Facts
Total Distance

1,432 miles / 2,306 km

Breakfast

9 Included Breakfasts

Daily Mileage

160-220 miles / 250-350 km

Hotel Overnights

9 Nights

Riding Season

Autumn, winter, spring

Highlights: Marrakech Djemaa el Fna Square, riding a camel in the Sahara Desert Sand dunes, Fez Medina tour, Atlas Mountains..

Accommodations: Awesome hotels. First-class 4-5 star hotels plus some Moroccan Riads. Riads are Moroccan Palace homes converted into exotic boutique hotels.
*All IMTBIKE lodgings are hand-picked for their quality of service, local charm and strategic locations.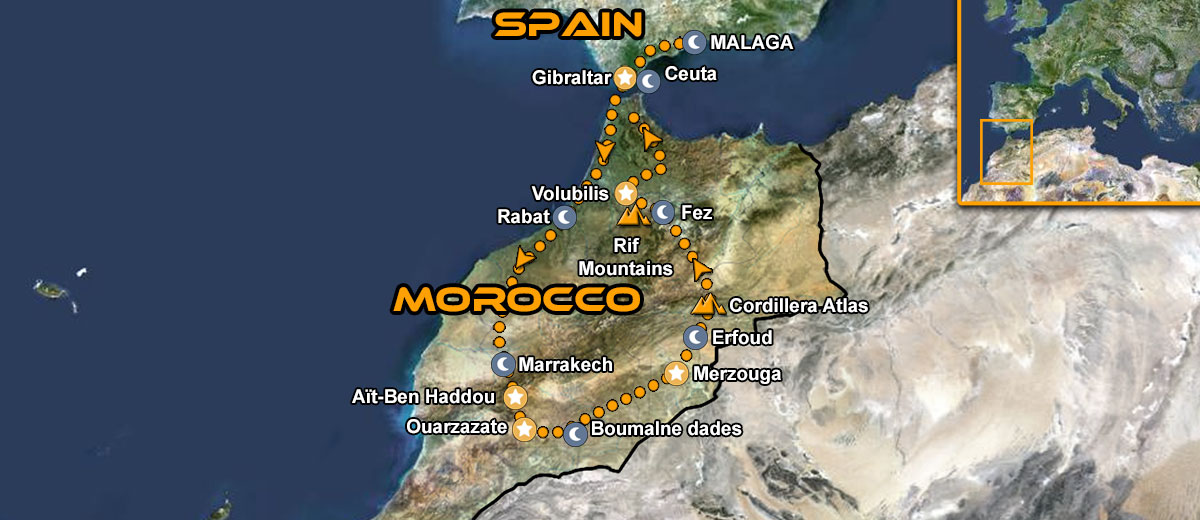 Click to enlarge
Morocco Motorcycle Tours Gallery
Video

I could NOT have been happier with the ' Malaga, Spain, to Morocco and back adventure! Scott and his crew took care of all our needs, while our group thoroughly enjoyed this ' trip of a lifetime '. If you love riding motorcycles, and want a ride you'll never forget, SIGN UP asap. I lost count of the HUNDREDS of small school children, waving us on, as they waited to be picked up for school. Simply put...if you did this trip in a tour bus, well, you might as well watch a Travel Show, on your home TV. But, when you RIDE through Morocco, you FEEL like you're a part of the landscape, you feel CONNECTED with the people you pass by. It's that PERSONAL eye to eye contact, that makes all the difference. It's called - immersion...and you'll love it!

Joseph Bradley
Arcadia, USA
Perfect Morocco Adventure

This has been the best trip of my life on a motorcycle a birthday gift from my loving wife who was also on the motorcycle with me BMW GS1200, the trip was amazing from the scenery to the ride and food, hotels, attention to the rides etc... a truly wonderful experience, the folks from IMTBIKE are super professionals and they have made this amazing tour a wonderful and unforgettable experience i am short on words describing all the great moments and splendors of the trip... its highly recommended its without doubt the funniest and most amazing motorcycle trip i have ever been on. they guys at IMT BIKE TAKE CARE OF EVERY LITTLE DETAIL so all you have to worry about is having fun and enjoying every moment of it... I am signing up for more trips with them with my dear wife...

Luis Caballero
Coral Gables, USA
Morocco motorcycle tour

As with all IMT activities, absolute professionals are at work here. The rental motorbikes are in excellent condition, the staff is extremely friendly, very helpful and extremely competent. Always happy! Guided tours: -) well-trained guides who are always ready to answer any problems and take great care of the well-being of each individual participant -) the hotels booked are always at great locations and in the upper class. Please keep it up!

Christian Bauer
Wilhelmsburg, Austria
Professionals at work

Not my first trip with IMTBIKE, nor will it be my last. These tours are amazing, not only with the fantastic hotels and meals you enjoy along the way, nor is it the newer BMW model bike you'll be using and riding on each trip, but it's the people at IMTBIKE who make it so enjoyable and such a worthwhile trip! The staff really tie everything together.... they are remarkable! I encourage anyone who is considering an organized motorcycle tour to give IMTBIKE a try.... you'll be more than happy!

James B Nims
Westborough, USA
Not my first trip with IMTBIKE, nor will it be my last

This was a great tour, my first with IMTBike but definitely not the last. The guides were fantastic and the riders couldn't have been friendlier or more interesting. It was a diverse group with lots of adventures and experiences to share. Morocco was fascinating and I would love to go back again. I was a bit apprehensive due to the differences in religion and culture, but the tour was so well planned that there were no difficulties or hassles. These guys know how to lay out a tour!! Attention to details makes all the difference... I think that Scott and his team at IMTBike offer a tremendous service to adventuring motorcyclists.

Michael Dwonszyk
Connecticut, USA
Morocco Tour

Inshallah por mas viajes como este!!!!! saludos a toda la pandilla del Morroco Tour!

Abdon Urbina
Venezuela
Tour Marruecos

This was not our first guided motorcycle tour experience, so I had some idea of what to expect. However, I must say that the IMTBike Morocco Tour was beyond our expectations. The tour guides were masters of planning and logistics, the accommodations were perfect, and the IMTBike staff went out of their way to ensure we all had a great time. The Morocco experience was, at times, like being in an alternate reality; it was so different from Ohio. I refer to the blue village of Chefchaouen, the narrow passageways and vendor stalls in the ancient medinas, the dry and sandy world of the desert, and the lush green world of date palms in the oasis. And then there was the riding! Twisty mountain passes, desert riding, and big sweepers with panoramic views. Besides being immersed in these landscapes, we enjoyed meeting the gracious people of Morocco and learning about their history and culture.
Scott, Chano, and Roger—you are the best!


Ginny and Jim LaPoint
Ohio, USA
Morocco Adventure Tour - Beyond our Expectations

Thank you IMTbike for such amazing trip! Thank a lot to our friends Mikel and Roger for taking care of us during all journey. We can recommend this route to all fans of cool riding!

Alexander Chalenko
Moscow, Russia
Morocco Adventure Tour - Thank you

Thank you Scott and Chano for an amazing adventure! The IMTBike team was outstanding from start to finish on our Moroccan tour. The varied terrain of Morocco made for an unbelievable ride... whether climbing through the switch backs of the Atlas Mountains, enjoying the beautiful sweeping roadways on the plateaus, navigating the hectic roundabouts of the major cities or surviving a Saharan sandstorm! The scenery and countryside was awe inspiring and there was never a dull moment... Can't wait for the next tour... Thanks again!

Martin Timmins
New Jersey, USA
Morocco Tour - Amazing Adventure

Had a fantastic trip to Morocco, the tour was well run and our guides Roger and Mikel were well organised and also great fun. The bikes were all in excellent condition and the hotels fantastic. The tour was very comprehensive, taking in the main sights of Morocco, of course I could have stayed longer particularly in Marrakesh and the desert, but as I only had two weeks it did the job admirably. My particular highlight - quad bikes in the dunes – it's a must do for the day!!! Well done IMTBike. I shall be back next year.

Philip Gregory
Northumberland, UK
Morocco Adventure Tour

Dear bikers I would like to share with you my impressions about the trip to Morocco on by IMTBike, which by the way made my dream of riding in Africa become true. Morocco is full of wonders and contrasts that are worth exploring. The IMTBike guides made all the difference due to their deep knowledge of the local customs, best roads and spots. They had a genuine concern whether we were enjoying or not the ride and did not save efforts to make sure that we were having a good time. IMTBike and staff are very professional and the least that I can say is to recommend their services to those that wish to experience a great bike tour.

Monise Alencar Martins
Sao Paulo, Brazil
Morocco Adventure Tour

En pocas palabras...el mejor viaje de mi vida!! Agradecido desde la primera a la última persona por su atención tan cordial hacia mí y creo que también hacia la gente que viajo conmigo, volveré por otro viaje más seguramente, una empresa excelente!!!para recomendar!!!mis saludos cordiales y muchas gracias por esta aventura!

Gaspar Fonollo
Buenos Aires Argentina
Tour Marruecos Aventura

Acabo de regresar del tour Marruecos Aventura.
Querría agradecer a Scott y Javi por tan magnifico viaje.
Marruecos es un destino increíble. Desde las dunas del Sahara a montar en camello un día hasta atravesar las montañas del Atlas con nieve al siguiente. Increibles carreteras de montaña, naturaleza y energía.
Scott y Javi han sido de la mejor compañía: Siempre pendientes de todo, aportando mucho conocimiento y muy divertido. Gran aventunra. ¡ Hasta la próxima!

Scott and Javi were the best of company: on top of things, knowledgeable, and fun!
Great adventure! Hasta la próxima!


Andres Maldonado Bogotà
Colombia
Tour Marruecos Aventura

Scott and Javi are superb guides. I was taken to places and shown things that I never would have done or found on my own. Thank you both again. The entire group was amazing and with representation from six countries around the world the discussions and exchange of ideas was quite enlightening. I have made many new friends. Beautiful scenery, great food, exciting experiences, what else could you ask for?

Robert Bolton
Texas, USA
Morocco Adventure Tour

We did the 9-day Moroccan Adventure tour on October and it was the most exotic experience I've ever had. If you want to take a break from our Western values, (and want to buy a quality rug for cheap) look no further than Morocco. This was my second tour with IMT Bike, the first was 13 years ago. The company has grown steadily since, becoming very polished in its swag department -- presenting a very detailed spiral bounded Tour Book, maps and extras. Great service all-around, great choice of roads, properties, stop points, restaurants and sight seeing. As a tour organizer myself, I was happy to let IMT do all the leading. I would never venture a trip to Morocco alone; IMT knows the languages spoken, the best roads and the best guides. I will never forget this experience. Where else are you going to "enjoy" a camel?

Victor Cruz
Massachusetts, USA
Morocco Adventure Tour

I've been riding motorcycles for more than 50 years, including far away places all around the world, but this trip through Morocco, with the never ending attention from our guides - Scott, Chano and Roger was absolutely PHENOMENAL!
In the past, I've visited countries while in a tour bus and found it to be cold and disconnected. But, while riding a motorcycle, you IMMERSE yourself in the sensory-overload-experience!
IMT BIKE is without a doubt, the BEST motorcycle tour company, I've ever worked with. I CANNOT recommend them, enough!

Joseph Bradley
California, USA
IMT and Morocco, a perfect match

Meet our guides

We are very proud of the reputation we've earned as one of the world's leading motorcycle tour operators, and it starts with our guides.
Day 1: Arrival at Malaga
Day 2: Malaga - Rabat
Day 3: Rabat - Marrakech
Day 4: Marrakesh-Ouarzazate
Day 5: Ouarzazate-Todra Canyon-Erfoud
Day 6: Erfoud Rest Day
Day 7: Erfoud - Fez
Day 8: Fez - Rest day
Day 9: Fez - Ceuta
Day 10: Ceuta - Málaga Flight home
Day 1: Arrival Málaga, safety briefing and welcome dinner

Transfer included from the Airport to the hotel. You'll guides will be waiting to greet you at the airport when you arrive and take you to our hotel in Malaga. You are free to relax or do some sightseeing before our safety briefing in the evening. After our briefing we will enjoy a delicious welcome dinner in a traditional restaurant. The first and last days mentioned in the itinerary are the arrival and departure days for your tour. Depending on the country you are flying from, you may have to leave a day early. Please book your flights accordingly!

Day 2: Malaga - Tangers - Rabat

Our first riding day will lead us out of Malaga and along Spain's Mediterranean Coast. We will arrive at Tarifa the wind and kitesurfing capital of Europe. Here we will take a ferry across the Strait of Gibraltar to Tangers and the continent of Africa. From here we will motor along Morocco's Atlantic Coast to the capital city Rabat for our first exciting night in Morocco.

Day 3: Rabat - Marrakech

Today we will start with some mountain riding through verdant forests with big sweepers which will slowly straighten out as we head into Morocco's bread basket. You will see vast fields of grains and cereals with few villages until we get closer to Marrakech and the villages will become larger and louder as the hustle and excitement of Marrakech becomes obvious! You will have time to visit the Famous Djemaa el-Fna Square before our dinner in a typical Moroccan Restaurant in a 14th century medina house.

Day 4: Marrakesh-Ouarzazate

Today is an incredible motorcycle day! We will leave Marrakech and ride the famous Tizi-n-Tichka Pass in the High Atlas Mountains. This pass is over 2000 meters high and will offer us many good photo opportunities! This road will be sweepers in the beginning and then twisities as you get to the mountain top. Before arriving in Ouarzazate we will stop in Ait Benhaddou for lunch and a visit. This medieval casbah was originally constructed in the 11th century and was used as a filming location for many movies including Gladiator. After our visit we will continue to Ourzazate for the night, known as the Moroccan Hollywood, as many major movies are filmed here.

Day 5: Ouarzazate-Todra Canyon-Erfoud

Today is dedicated to enjoying southern Morocco. From Ouarzazate we will ride on "The Route of the Kasbahs" giving us fascinating views of the desert with the Atlas Mountains in the background. We'll take a slight detour to visit the Todra Canyon and stop for a special lunch that you won't forget! From Todra you will continue on this brown-hued desert road and the scenery will slowly change to date palm trees, oasis, and finally to Erfoud and the Sahara Desert you've been dreaming about!

Day 6: Erfoud - Erg Chebbi Sand Dunes – Erfoud

Today is a rest day and you can relax by the pool, go to the hammam or take a day trip to the Erg Chebbi sand dunes. Our hotel has Land Cruisers, quads, and dirt bikes that can be used to explore these beautiful red-hued dunes. Today is a great day for a camel ride in the dunes and the perfect day to watch the sunset from the top of the highest dune!

Day 7: Erfoud - Fez

Today we will start off in the Sahara Desert and finish the day's ride in Fez, one of the most fascinating cities in Morocco. During the morning you will ride along a date palm oasis on curvy desert mountain road. This road will take you slowly out of the desert and into the Middle Atlas Mountains. These are green cedar forest mountains where monkeys are frequently seen! These mountains also boast several snow ski stations and the "Swiss" village Ifrane! As you descend from the Middle Atlas the Imperial City of Fez awaits you!

Day 8: Fez rest day

Today is a rest day and we have a special guided trip organized for you to the Medina. The Fez Medina is the largest in the world and boasts over 13,000 streets with ceramic shops, leather tanneries, handmade rugs, food markets, and just about everything else. You feel like you have gone back in time a thousand years!

Day 9: Fez - Ceuta

Today's ride will bring you north on excellent motorcycle roads to the "blue village" of Chefchaouen. This quaint Rif Mountain village is a perfect stop to stroll around the old medina and have a mint tea in one of its terraces before crossing the Spanish (yet still in Africa) border. We will get there through a smooth road along the Rif mountain range to Tetouan. Only a few more kilometers along the Mediterranean national road will have us saying goodbye to Morocco. Tonight we will have our farewell dinner in Ceuta!


Day 10: Ceuta - Malaga Flight home

Today we will ride directly to Malaga. Here we will say our goodbyes and you can catch your afternoon flight home until our next riding adventure. Hasta Pronto!
Morocco Adventure Motorcycle Tour Pricing
The base price of every tour is calculated for a single rider on a BMW G310R and sharing a double room

Included in Tour:
Airport pickup on the first day of the tour.
Overnight accommodations in carefully selected 4 & 5 star Hotels and Boutique Riads.
A delicious evening meal featuring Moroccan specialties.
Complete buffet breakfast every morning.
New model BMW motorcycle fully equipped with 3 BMW cases.
Tour handbook (normally about 70 pages-very comprehensive) and highlighted map.
Expert multilingual guide on a motorcycle.
Multilingual guide in support vehicle which will carry your luggage, any oversized purchases you make; or even a passenger or two.
Tour Souvenirs.
Not included in Tour:
Air ticket, lunches, gasoline, drinks, tolls, personal spending and tips