Magical Morocco Motorcycle Tour
Mountains, Oases & Casbahs
Spain | Morocco
Nov. 04 — Nov. 18, 2023
Sold out
Feb. 17 — Mar. 03, 2024
10 Spots left
Nov. 01 — Nov. 16, 2024
14 Spots left
Morocco is magical! Morocco has dramatically changing scenery around every turn ranging from rolling green hills and snow-peaked mountains, to the mysterious red sand dunes of the Sahara Desert. On this motorcycle tour in Morocco, you'll visit the largest Medina in the world, explore casbahs, see oases and have opportunities to buy hand-made rugs, drink mint tea and ride a camel in the Sahara's sand dunes at sunset! You will dine on succulent dishes like couscous and tagine.
Your riding days will see you grinning your way through broad sweepers and snaking around mountain passes on excellently maintained paved roads. Morocco really is magical!
IMTBike ROUTE rating
It is essential to know the different skill levels needed to participate in the IMTBIKE TOURS that are offered to you. IMTBIKE makes sure that it offers different tours for all riding styles and levels. The IMTBIKE team always works diligently in designing our routes. This is a laborious process which entails reviewing all road choices before selecting the best option for an IMTBIKE tour.
The most experienced motorcyclists looks for roads that require technical skill; narrow twisty roads with little traffic and endless curves. But these same roads would be too difficult for a less experienced rider.
The local driving habits, the amount of traffic, the asphalt quality and the radius of the curves vary considerably from country to country and even in different regions of the same country. They will also vary depending on the season of the year. All of these factors have been studied by IMTBIKE and have been taken into consideration when rating our tours.
IMTBIKE thinks it is also important to know about the different types of roads you will be enjoying on your tour. To understand the road types easier, IMTBIKE has divided them into two categories, and we have calculated an approximate percentage of each on all of our tours.
TOURING ROADS: These are wider roads comprised mainly of larger radius sweepers. They are still curvy roads but not tight mountainous twisty curves. Please remember that you will ride very few straight roads on IMTBIKE tours!
CHALLENGING ROADS: These are roads that are tight twisty turns which require more technical skill. Many times they will be narrower roads without a shoulder and sometimes with steep inclines or descents. Normally they will be mountainous roads accompanied by spectacular sceneries.
If you have never ridden a motorcycle outside of your country, or if you have little experience riding on mountain roads with many curves, we recommend that you choose a tour rated moderate or intermediate. If you have any questions or doubts please do not hesitate to call or email us. We are always happy to answer your questions to make sure that you choose the best tour for your riding level.
Moderate
This route offers wider sweeping turns that are easy to maneuver. This route may have some tighter turns in a few places but this will be the exception. Regardless, even on moderate tours you must be able to ride a large cylinder motorcycle in any condition. Never plan to learn how to ride a motorcycle on an IMTBIKE tour. We recommend having a minimum of 8.000 km (5.000 miles) of experience riding a large cylinder motorcycle to participate on a MODERATE rated IMTBIKE Tour and you should ride a motorcycle on a regular basis at home.
Intermediate
This route rating can have sections of very twisty curves on narrow roads with no center line to divide the road. There will also wider radius curves on these routes. Traffic conditions can be intense at times in some urban environments and the local driving habits may seem aggressive and unpredictable to you. It is imperative that you are an experienced motorcyclist. We recommend that you have a minimum of 12.000 km (7500 miles) of large cylinder motorcycle experience to participate on a INTERMEDIATE rated IMTBIKE Tour and you should ride a motorcycle on a regular basis at home.
Advanced
This route rating has long sections of technical narrow twisty roads and sometimes single lane roads. These twisty roads will often be in mountains where steep inclines and descents will be commonplace. Some riding days can be long and challenging. Traffic conditions can be intense at times in some urban environments and the local driving habits may seem aggressive and unpredictable to you. It is imperative that you are a very experienced motorcyclist on a large cylinder motorcycle. We recommend that you have a minimum of 16.000 km (10.000 miles) of large cylinder motorcycle experience on an ADVANCE rated IMTBIKE Tour and of course you should ride a motorcycle on a regular basis at home.
IMTBIKE Average Daily Riding Hours
5 to 7 hours
6 to 8 hours
7 to 9 hours
How many hours a day you ride on a tour is important information in helping you decide on the right IMTBIKE tour for you. Some tour members want to ride as many hours as possible everyday, while others prefer to stop more frequently and dedicate more time to enjoying the scenery, visiting cultural sights and arrive at the hotel earlier to relax before dinner. The daily riding hours are calculated including the coffee breaks and photo stops but they do not include the time taken for lunch.
Normally we'll start our riding day at 9:30am and we will take about a one hour lunch break sometime between 1pm and 2pm. So if the daily riding hours for a given tour are 5-7, then you will arrive at the hotel between 3:30pm- 5:30pm depending on the average speed of the group.
Tour Facts
Total Distance

1,841 miles / 2,964 km

Rest Days

3 Fez, Erfoud, Marrakech

Breakfast

15 Included Breakfasts

Daily Mileage

160-220 miles / 250-350 km

Hotel Overnights

15 Nights

Riding Season

Autumn, Winter

Highlights: Chefchouaen- blue village in Rif Mountains, Fez Medina tour, Erg Chebbi Sand dunes, Marrakech Djemaa el Fna Square.

Accommodations: Awesome hotels. First-class 4-5 star hotels plus some Moroccan Riads. Riads are Moroccan Palace homes converted into exotic boutique hotels.
*All IMTBIKE lodgings are hand-picked for their quality of service, local charm and strategic locations.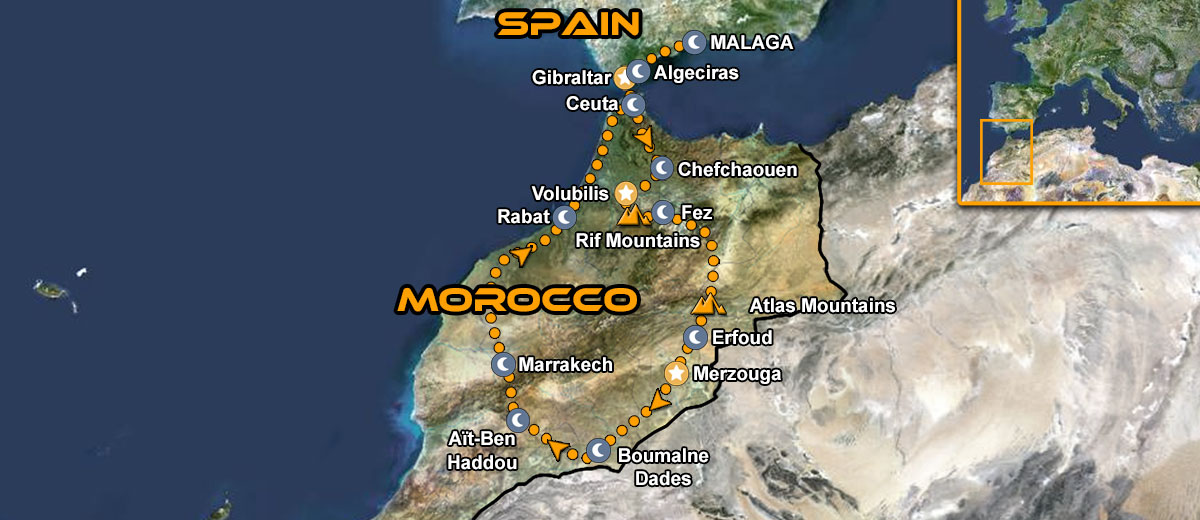 Click to enlarge
Morocco Motorcycle Tours Gallery
Video

We had an excellent trip and saw a whole new world in Morocco. Our guides Head Guide Sergi and Erik did an awesome job keeping us safe while still seeing so many cities and the country. Our time in the desert was also remarkable. Sergi's ability to communicate in Arabic and knowing the local's customs was extremely invaluable. I always look at reviews and ask one question--Would you go again with IMTBIKE? - and my answer is absolutely. I look forward to another adventure with IMTBIKE.

Dr Joe Mellion
Akron, USA
MAGICAL MOROCCO

Over the last 25 years, in addition to my own solo and buddy tours, I have worked with a number of tour companies in Morocco, Alaska, Peru Iceland... I was introduced to IMTBIKE when I needed a rental Moto for a 2-week tour of the Asturias region of Spain with some Euro pals. The rental bike and shop were perfect. The team were helpful, courteous and went out of their way to be accommodation to my screwy schedule. This last Morocco (of perhaps 5) tours was the best yet. There isn't enough room to recount what was so great, it was beyond perfect. Even when it wasn't perfect, they made it perfect!!!! I will continue to rent and tour with IMTBIKE as often as I can. My only complaint; I wish they went to more places.

John Oliva
New London, USA
Best damn Moto Tour with IMTBIKE

Scott and Chano were the greatest hosts. They obviously have tried it from all angles and this particular route encompassed just about everything, a superb cycling experience. As for problems, the only one I had was keeping my credit card in my wallet! There are deals in Morocco like you will not believe...fabulous rugs, leather, silver. And the best orange juice in the world! Even though the tour is primarily of Morocco, the first and last days in Southern Spain were fantastic. The mountains of Southern Spain are spectacular.

W.W.Wibby
Maine, USA
Magical Morocco Tour - The Greatest Hosts

First off, this was my first organized tour on a motorcycle, and after countless hours of searching the internet for a tour, I zoomed in on IMTBike and began to make inquiries not only with them directly, but with former customers...everyone spoke very highly of IMTBike, so I booked the Moroccan Tour. I couldn't have been more pleased The tour is everything they said it would be and more. Scott and Chano were our guides, and every aspect of our tour went very smoothly. We had a very diverse group of 10, and everyone got along like we were lifetime friends.
Morocco is a country like no other, and every day brought new scenery and riding challenges....you are allowed to go at your own pace and enjoy the views. All the hotels we stayed at were first class, and the food was excellent. I was pleasantly surprized how warm and open the Moroccan people are and Morocco is a very safe country to travel in. Scott and Chano made sure we were all happy each and every day, and I can't wait to schedule my next tour with them! Thanks, IMTBike!!

James B. Nims
Massachusets, USA
Moroccan Tour - Thanks IMTBike

Scott, Chano y Roger ... ya en Madrid, de nuevo agradecer la organización y gestión del viaje a Marruecos. Ha sido una experiencia impresionante, tanto en los sitios visitados como en la compañía. Ha cumplido al 100 % expectativas. Esperamos, cuando alguien se quiera volver a quedar con los niños dos semanas, repetir con IMTBike en algún otro destino. Scott, excelente gestión ... Chano, excelente organización y Roger excelente logística. Lo dicho ... nos veremos de nuevo. Gracias por todo.

Carlos y Raquel Vives
Madrid, Spain
Tour Marruecos Mágico - Experiencia Impresionante

We've loved the proposed itinerary on Magical Morocco Tour, the landscapes were fantastic; the desert gives you a very peaceful energy, and I felt like I could breathe all the beauty of the world... I've enjoyed a lot the time spent in Erfoud, the adventure with the ATVs, the route to Zagora, eating very tasty food in almost all restaurants...
Scott and Roger were very well organized and made us feel very comfortable with them. I would say that first of all the IMTBike team has passion for exploring, for diversity, for people and places, for culture and then for motorcycling. I am highly recommending having aside an IMTBike guide.


Simona Nicolaescu
Bucuresti, Romania
Magical Morocco Tour - Thank you for a wonderful Morocco Tour

Whoever came up with Magical Morocco was right on the mark, it was an awesome adventure and far exceeded all our expectations! Scott and Slim and our fellow bikers made for a most memorable time and I still chuckle to myself as I remember moments or see photos! Everyone rocked!! One of the highlights (and there were many) was quad biking in the desert...it was just an amazing experience! We had no idea what to expect and every day was an adventure and Scott certainly did have some surprises for us!! Thank you so much and look forward to the next adventure!!!

Angela & Ian Farnsworth
Australia
Magical Morocco Tour - This Tour Rocked!

This was one of our best trips ever!
Very well organized from beginning to end, beautiful scenery, amazing roads for exciting motorcycling, culturally very interesting cities, fancy hotels, great food and wonderful people!
The motorcycles were top notch, no older than 1 year and in excellent condition.
Our tour guides Scott and Slim did a superb job, we always felt safe and well taken care of.
Our fellow riders were some of the nicest people we have ever met and they made the trip truly special.
The ATV tour through the desert is not to be missed, it was one of the best things we have ever done. Magical in every way! All in all in one word – Awesome!!! :)
Would do it again in a heartbeat, thanks to our guides for an unforgettable adventure!
For the German speaking population:
Da muss man mit, voll sackstark!!!


Elfie and Andreas Luther
Germany
Magical Morocco Tour - Awesome Tour

The Magical Morocco tour was wonderful. The riding was awesome on the roads and the dunes. The trip plan shows a comprehensive view of Morocco and its people. The tour members were extraordinary !
We cannot remember when we laughed so much and so hard. We made many new friends which we will treasure. Great riding everyone!
Chano and Mikel, thank you for a great trip. All our experiences with IMTBike have been great. Thank you to all IMTBike staff for you dedication. Well done.


Colleen and Karl Schenk
Alberta, Canada
Magical Morocco Tour - Canadians in Morocco

Fantastic adventure with the best guides ever. Would recommend IMTBike to anyone looking for adventure on motorcycles. Thanks Chano, Gustavo and Scott.

Kerry and Roanne Potts
Wellington, New Zealand
Magical Morocco Tour - Fantastic Adventure

Well it's difficult to know what to say. I have just had the most fantastic time and incredible experience. It's taken two days to come back down to earth. The tour exceeded my expectations by such a margin and Roger and Christophe were just excellent in every way.
We had a great group and the friendships formed were so rewarding and such an unexpected bonus.
Well done IMTBike, highly recommended.


Richard Williams
Merseyside, UK
Morocco Tour - An Increible Experience!

Our guides Martin, Chano and Javi knocked themselves out to ensure a safe, memorable time. The efficient handling of border crossings, hotel arrivals and departures, gas stops, meals and celebrations, on top of loading/unloading luggage, caring for bikes, is itself worthy of appreciation.
But what really set this tour apart for many of us was the camaraderie among Martin, Chano and Javi and the passion that each brought to the overall experience. The result is hard to put into words. Nancy described it as feeling embraced in a way that she has not experienced on previous tours. At the farewell dinner, Anthony suggested that IMTBike "not change a thing."
For my own part, I felt like a family was parting ways at the end of the trip. I made the acquaintance of some great people that I look forward to keeping in touch with and visiting in the future.


Brenda Priebe
Virginia, USA
Magical Morocco Tour-Memorable time

We were really impressed by both Sergi and Ryan, totally professional, very organised but still heaps of fun. They both went out of their way to make sure everyone in the group was happy, being encouraged & looked after, above and beyond their duty. At all times they were calm and efficient, managed change of plans (due to snow) well. We are aware that there was lots & lots of extra work being done in the background to make sure everything went to plan.
Clearly Sergi & Ryan both have good language skills and great understanding of cultural issues and challenges travelling with a group of people in Morocco, particularly when the group have a wide range of experience travelling.We would recommend IMTBIKE to anyone interested in a motor bike tour.


Kevin Harris & Alison Smith
Doveton, Victoria, Australia
Magical Morocco Tour - IMTBIKE Guides totally professional

This was overall an excellent trip with absolute fantastic experiences throughout. My wife and I seriously doubt that a motorcycle tour with combined adventurous and cultural aspects could be more satisfactory on all levels than the Magical Morocco tour. Both guides went far out of their usual job description. Sergi and Juanan were, while professional at all time, a responsible and well organised team...always with a smile on their faces. The selection of hotels with arabic charm and high standard was a huge surprise. The tour is attractive, extremely well organised with very fine value for money. We will be back again. Recommendation: Increase your tour portfolio!

Tom Heeger
Philippines
Magical Morocco Tour Feb 2017 Excellent Trip

IMTBIKE is, by far, the best organized company of its kind. They strive for excellence and their customers are their priority. They achieve that by selecting the hotels, restaurants, and locals routs that best reflect the cultural richness of the places we visited. The guides deserve an especial mention because of their knowledge and friendliness. I cannot recommend enough IMTBIKE.

Isaac Guttin
Mexico|San Diego
Magical Morocco Tour February 2023

Meet our guides

We are very proud of the reputation we've earned as one of the world's leading motorcycle tour operators, and it starts with our guides.
Day 1: Arrival Malaga
Day 2: Malaga - Algeciras
Day 3: Algegiras - Chefchaouen
Day 4: Chefchaouen - Fez
Day 5: Fez rest day
Day 6: Fez - Erfoud
Day 7: Erfoud Rest Day
Day 8: Erfoud - Todra Gorge - Boumalne Dades
Day 9: Boumalne Dades - Zagora
Day 10: Zagora-Ait Ben Haddou
Day 11: Ait Ben Haddou - Marrakech
Day 12: Marrakech Rest Day
Day 13: Marrakech - Rabat
Day 14: Rabat - Ceuta
Day 15: Ceuta - Malaga
Day 16: Flight home
Day 1: Arrival Malaga, safety briefing and welcome dinner

Transfer included from the Airport to the hotel. You will have some free time to relax or do some sightseeing before the welcome briefing. After the briefing we will enjoy a welcome dinner in a traditional Spanish restaurant. The first and last days mentioned in the itinerary are the arrival and departure days for your tour. Depending on the country you are flying from, you may have to leave a day early. Please book your flights accordingly!

Day 2: Malaga – Ronda - Algeciras

Our first riding day will lead us out of Malaga and towards the famous white pueblos in the Sierra de Grazelema Mountains. You will ride on good tarmac over rolling hills to the high Sierra Mountains with Bravo bull ranches and cork trees around every corner. Ronda is one of the main white pueblos and it is perched on a 300 meter gorge. Ronda is also home to the first bull ring in Spain. This is the perfect place for a lunch stop and stroll! After our break, traffic free roads will wind us down to the coastal port town of Algeciras. Algeciras is Paco de Lucia's hometown.

Day 3: Algeciras - Ceuta - Chefchaouen

We will catch an early ferry across the Strait of Gibraltar to the continent of Africa. The ferry offers great photo opportunities of the Rock of Gibraltar. From the Spanish enclave of Ceuta we will make the border crossing into Morocco. Once in Morocco the real adventure begins! We will ride to Tetuan for a lunch stop and first cup of mint tea. After lunch we will ride coastal sweepers before crossing the verdant Rif Mountains to the town of Chefchaouen where we will spend our first night in Morocco in a "Riad" Hotel located in the heart of the medina.

Day 4: Chefchaouen - Volubilis - Fez

Northern Morocco is very green with rolling hills and fields of winter wheat. This image of Morocco always surprises people! We will weave through these hills to the Roman Ruins at Volubilis where we'll stop for lunch and to visit the ruins at this westernmost Roman outpost. From here we will ride to the Imperial city of Fez.

Day 5: Fez rest day

Today is a rest day and we have a special guided trip organized for you to the Medina. The Fez Medina is the largest in the world and boasts over 13,000 streets with ceramic shops, leather tanneries, handmade rugs, food markets, and just about everything else. You feel like you have gone back in time a thousand years!

Day 6: Fez - Erfoud

Today's ride will start with the snow-capped Middle Atlas Mountains and finish with the red sand dunes of the Sahara Desert in Southern Morocco. The scenery will change dramatically from lush green mountains, to brown-hued high altitude desert, to date palm trees and oasis, and finally to the Sahara Desert. Few rides will offer you such a stunning variety of scenery in just one day!

Day 7: Erfoud - Erg Chebbi Sand Dunes - Erfoud

Today is a rest day and you can relax by the pool, go to the hammam or take a day trip to the Erg Chebbi sand dunes. Our hotel has Land Cruisers, quads, and dirt bikes that can be used to explore these beautiful red-hued dunes. Today is a great day for a camel ride in the dunes and the perfect day to watch the sunset from the top of the highest dune!

Day 8: Erfoud - Todra Gorge - Boumalne Dades

On today's ride you will see camels roaming the desert, adobe casbah villages and, if by chance it rained, there may even be a Wadi crossing! We'll visit the Todra Gorge with its 200 meter (600ft) high walls jutting straight up from the narrow canyon floor. This is the Morocco that you have always dreamed about!

Day 9: Boumalne Dades - Zagora

Today is an exciting day that will take us on little-known back roads over rocky mountains and lead us to the southernmost town on this tour, Zagora. The scenery today will be a highlight of the tour as will the Date Palm oasis where we will stay. esque coffee stop we'll continue along the route of the casbahs to Ait Ben Haddou and arrive in time for an afternoon visit.


Day 10: Zagora-Ait Ben Haddou

Leaving Zagora we will enjoy a ride along the Draa Valley filled with date palms. This is one of the most impressive date palm oasis anywhere. You will also have a chance to see Ouarzazate known as the Moroccan Hollywood before our overnight stop in Ait Ben Haddou.

Day 11: Ait Ben Haddou - Marrakech

Today you will ride countless kilometers of non-stop curves over the Tizi-n-Tichka pass in the High Atlas Mountains. You will see snow-capped peaks and ride sweepers and twisties all the way to the famous Imperial city of Marrakech. This is the highest paved mountain pass in northern Africa and we'll stop at the top for a photo. When we arrive in Marrakesh you will have time to visit the Famous Djemaa el-Fna Square before our dinner in a typical Moroccan Restaurant in a 14th century medina house.


Day 12: Marrakech rest day

Today is a rest day and you can make a day ride to the quaint fishing village of Essaouira in the morning and then visit the medina and historical Marrakech in the afternoon or you can spend your time relaxing by the pool at our hotel the choice is yours!

Day 13: Marrakech - Rabat

The road out of Marrakech will curve through Morocco's bread basket as miles of fertile land will surround you for the first 200 kilometers. Afterwards we will head back into the mountains for some more great sweepers and pine forest scenery all the way to Rabat the capital of Morocco.

Day 14: Rabat - Tangers - Ceuta

Today we will head along the Atlantic Coast en route to Tangers. The movie Casablanca is really based on Tangers not Casablanca! Tangers has an alluring past as a haven for rich heiresses, spies, and Beat poets like Ginsberg, Kerouac, and William S. Burroughs. After our Tanger visit, a fantastic coastal road with spectacular ocean views will bring us to the border crossing back into the Spain.

Day 15: Ceuta - Malaga

Today we will ferry back to mainland Spain and ride some more curves in Andalucia's verdant mountains before heading back to Malaga with enough time for a walk around the city before our farewell dinner. After dinner we will all say our goodbyes.

Day 16: Flight home

Today it's time to head back to the airport for your flight home. Until our next motorcycle adventure together! Hasta Pronto!

Magical Morocco Motorcycle Tour Pricing
The base price of every tour is calculated for a single rider on a BMW G310R and sharing a double room

Included in Tour:
Airport pickup on the first day of the tour.
Overnight accommodations in carefully selected 4 & 5 star Hotels and Boutique Riads.
A delicious evening meal featuring Moroccan specialties.
Complete buffet breakfast every morning.
New model BMW motorcycle fully equipped with 3 BMW cases.
Tour handbook (normally about 70 pages-very comprehensive) and highlighted map.
Expert multilingual guide on a motorcycle.
Multilingual guide in support vehicle which will carry your luggage, any oversized purchases you make; or even a passenger or two.
Tour Souvenirs.
Not included in Tour:
Air ticket, lunches, gasoline, drinks, tolls, personal spending and tips