Southern Spain Andalusia Motorcycle Tour
The Spirit of Andalucia
Spain
Mar. 08 — Mar. 16, 2024
10 Spots left
Apr. 05 — Apr. 13, 2024
10 Spots left
Oct. 04 — Oct. 12, 2024
14 Spots left
Nov. 08 — Nov. 16, 2024
14 Spots left
Discover the charm of Andalusia and visit Seville, Ronda, Cordoba and Granada with this motorcycle tour in Andalusia. See the famous "White Towns" and discover Andalusian cuisine, famous for its "Jamón Ibérico Pata Negra" (Spanish Iberian Ham) and delicious tapas. Soak up the sun, meet friendly people and experience the Andalusian joy for life. A hefty dose of curves and twisties awaits you in the Grazalema and Sierra Nevada Mountain ranges where you'll ride perfect asphalt from high mountains down to the shores of the Mediterranean.
Our Southern Spain Andalucia Motorcycle Tour is packed full of great riding and is the perfect motorcycle tour for those with busy schedules. You deserve a Spanish getaway!
IMTBIKE ROUTE rating
It is essential to know the different skill levels needed to participate in the IMTBIKE TOURS that are offered to you. IMTBIKE makes sure that it offers different tours for all riding styles and levels. The IMTBIKE team always works diligently in designing our routes. This is a laborious process which entails reviewing all road choices before selecting the best option for an IMTBIKE tour.
The most experienced motorcyclists looks for roads that require technical skill; narrow twisty roads with little traffic and endless curves. But these same roads would be too difficult for a less experienced rider.
The local driving habits, the amount of traffic, the asphalt quality and the radius of the curves vary considerably from country to country and even in different regions of the same country. They will also vary depending on the season of the year. All of these factors have been studied by IMTBIKE and have been taken into consideration when rating our tours.
IMTBIKE thinks it is also important to know about the different types of roads you will be enjoying on your tour. To understand the road types easier, IMTBIKE has divided them into two categories, and we have calculated an approximate percentage of each on all of our tours.
TOURING ROADS: These are wider roads comprised mainly of larger radius sweepers. They are still curvy roads but not tight mountainous twisty curves. Please remember that you will ride very few straight roads on IMTBIKE tours!
CHALLENGING ROADS: These are roads that are tight twisty turns which require more technical skill. Many times they will be narrower roads without a shoulder and sometimes with steep inclines or descents. Normally they will be mountainous roads accompanied by spectacular sceneries.
If you have never ridden a motorcycle outside of your country, or if you have little experience riding on mountain roads with many curves, we recommend that you choose a tour rated moderate or intermediate. If you have any questions or doubts please do not hesitate to call or email us. We are always happy to answer your questions to make sure that you choose the best tour for your riding level.
Moderate
This route offers wider sweeping turns that are easy to maneuver. This route may have some tighter turns in a few places but this will be the exception. Regardless, even on moderate tours you must be able to ride a large cylinder motorcycle in any condition. Never plan to learn how to ride a motorcycle on an IMTBIKE tour. We recommend having a minimum of 8.000 km (5.000 miles) of experience riding a large cylinder motorcycle to participate on a MODERATE rated IMTBIKE Tour and you should ride a motorcycle on a regular basis at home.
Intermediate
This route rating can have sections of very twisty curves on narrow roads with no center line to divide the road. There will also wider radius curves on these routes. Traffic conditions can be intense at times in some urban environments and the local driving habits may seem aggressive and unpredictable to you. It is imperative that you are an experienced motorcyclist. We recommend that you have a minimum of 12.000 km (7500 miles) of large cylinder motorcycle experience to participate on a INTERMEDIATE rated IMTBIKE Tour and you should ride a motorcycle on a regular basis at home.
Advanced
This route rating has long sections of technical narrow twisty roads and sometimes single lane roads. These twisty roads will often be in mountains where steep inclines and descents will be commonplace. Some riding days can be long and challenging. Traffic conditions can be intense at times in some urban environments and the local driving habits may seem aggressive and unpredictable to you. It is imperative that you are a very experienced motorcyclist on a large cylinder motorcycle. We recommend that you have a minimum of 16.000 km (10.000 miles) of large cylinder motorcycle experience on an ADVANCE rated IMTBIKE Tour and of course you should ride a motorcycle on a regular basis at home.
IMTBIKE Average Daily Riding Hours
5 to 7 hours
6 to 8 hours
7 to 9 hours
How many hours a day you ride on a tour is important information in helping you decide on the right IMTBIKE tour for you. Some tour members want to ride as many hours as possible everyday, while others prefer to stop more frequently and dedicate more time to enjoying the scenery, visiting cultural sights and arrive at the hotel earlier to relax before dinner. The daily riding hours are calculated including the coffee breaks and photo stops but they do not include the time taken for lunch.
Normally we'll start our riding day at 9:30am and we will take about a one hour lunch break sometime between 1pm and 2pm. So if the daily riding hours for a given tour are 5-7, then you will arrive at the hotel between 3:30pm- 5:30pm depending on the average speed of the group.
Tour Facts
Total Distance

815 miles / 1,313 km

Breakfast

8 Included Breakfasts

Daily Mileage

160-220 miles / 250-350 kms.

Hotel Overnights

8 Nights

Riding Season

Spring, Autumn, Winter

Highlights: Málaga, Mediterranean Sea, The Alhambra Fortress/Palace, Sierra Nevada & Sierra Morena Mountains, Cordoba´s Mezquita, Ronda, Seville, the White Villages, Sierra de Cádiz.

Accommodations: Amazing hotels. First-class historical Paradors and a few specially selected boutique hotels with local flair. Paradors are Castles, Palaces & Fortresses converted into motorcycle-friendly hotels.
*All IMTBIKE lodgings are hand-picked for their quality of service, local charm and strategic locations.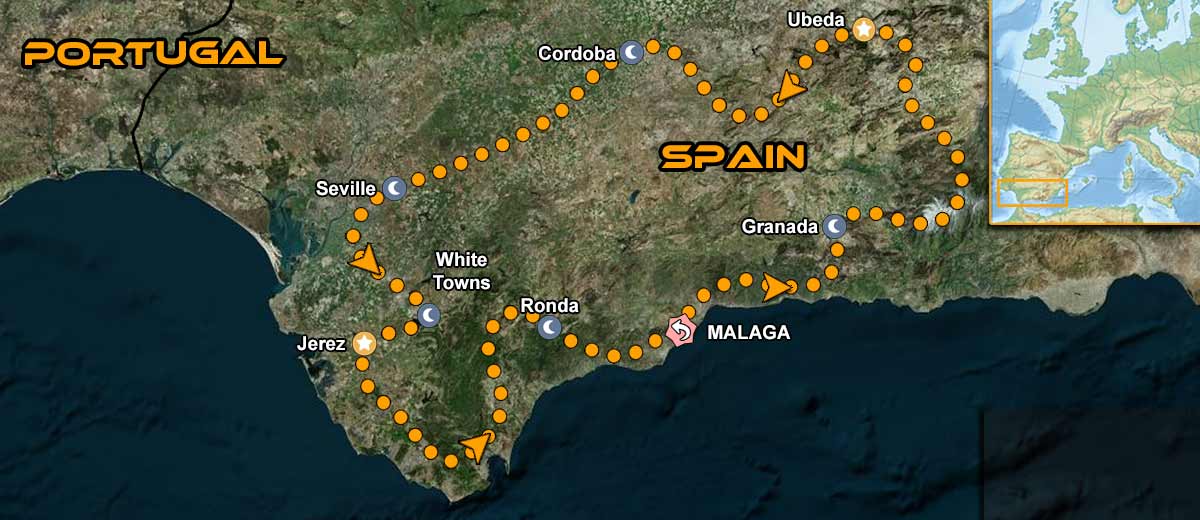 Click to enlarge
Southern Spain Andalucia Motorcycle Tours gallery

We went on this tour with the idea it would be a "bucket list", once in a lifetime trip. We had such a great time that both my wife and I can't wait to go back. IMTBIKE was great, their employees were warm, friendly and extremely knowledgeable. The riding (roads & routes), bikes, accommodations, meals and other amenities were first rate!! GREAT JOB IMTBIKE!!!

John Fitzer
Eufaula, USA
Great experience

These people are the best! From the people answering the phone, to the spectacular guides, you know they care about you, and will do their best to insure the best experience for you they can. The bikes are new, the guides well-traveled and knowledgeable, and the rooms they book and the meals are incredible.

Denise Jones
Madrid, USA
Best time on a motorcycle

I have done THREE tours with IMTBIKE in a period of 20 years. I cannot wait for travel restrictions to lift to go on my fourth one for my 70th birthday. I have known these folks since shortly after they started the business. They keep getting better. Cannot go wrong. JUST DO IT! See you in Morocco.

Roy Perez-Daple
Yardley, USA
Does not get better than with IMTBIKE

We had a fantastic time and I have to say I have travelled many places around the globe and have had many adventure trips where we have hired guided services and this experience has far exceeded any other experience for me. Martin and Javier were a perfect team and their enthusiasm and passion for the bikes, the roads, the country, the food and just overall experience for us made this a trip of a lifetime for everyone. I hope to see your team again maybe next year when I have more experience but their professionalism and care to my level made it possible for me to ride on this tour. I do feel like I gained a year of riding from this experience!!

Casey Villamil
New Jersey, USA
Southern Spain Andalucia Tour

This was our first experience on a professional tour with IMTBike. My husband and I rode two brand new R1200RT BMW motorcycles. What a blast, Nice Bikes, now I want a new bike. The roads in Spain are incredible roads to ride a bike on. We had 10 bikes on our 8 day tour and our guides managed everybody perfectly. We enjoyed our trip so much we will be going on another real soon. Our guides Scott and Juan Pablo were the best! The hotels and foods were spectacular. IMTbike don't change a thing!! This is a trip we will never forget!! Thank you!!!!!

Shelly Sougias
California, USA
Andalucia Tour - Don't Change a Thing!

Just a short note to let you know how much our group enjoyed the tour you guys put together for us. The bikes, the support, the accommodation , the roads and the scenery were all perfect. We could not have asked for more - It was certainly a fantastic holiday and ride. We were all particularly impressed with our guides: Chano and Javier. They were not just great guides, they were great people - Funny, entertaining, caring and so positive that it rubbed off on all of us and certainly made the overall experience better than we could ever have hoped for. Please pass our thanks onto the guys. We will certainly recommend IMTBike to others and hope to tour with you again in the future.

Bob Watson
Victoria, Australia
Sevilla - Barcelona Custom Tour

My husband and I had the extraordinary pleasure of riding through beautiful Andalucia with IMTBike. Though we've been riding for years, this was our first ride with a tour group, and it will not be our last. We will not shop for other tour companies; we are confident the fun-loving guides and extreme attention to detail of IMTBike cannot be beat. The roads were all spectacularly beautiful, a delightful blend of long, smooth, twisty and sweeping. Our days of riding were filled with mountains, olive trees, cork forests, the Mediterranean Sea and the unforgettable Goat Road. We never tired of the scenery, nor of our riding companions. When we were not riding, we stayed at the most beautiful Parador Hotels you can imagine, and each day brought new culinary delights. There was plenty of time to explore on our own, and though we could have ridden by ourselves at any time, we enjoyed the company of our fellow riders so much we preferred to hang together. We ate in bodegas on side streets where the owners always hugged or glad-handed our guide Scott, and walked up twisting alleys to find very cool places that we never would have found on our own. We would not have eaten so well had Scott not interpreted endlessly for us when we had so many unbelievable choices for food. Each day was an adventure, we were Never disappointed, and we will remember this trip forever. Hats off to IMTBike, Scott, and Juan Pablo, for providing the best of all things to do and see in Andalucia in the amount of time we had. Nobody does it better, and nobody could be more grateful and appreciative than my husband and me. Thanks for everything Scott and JP. You rock.

Connie and Dave Christianson
Minnesota, USA
Andalucia Tour - Extraordinary Pleasure

The IMTBike staff were absolutely great in helping tour members prepare for a fabulous tour. The lodging and meals were first rate and the roads were fantastic! Riders of varying experience and skill levels received as much attention as needed to ensure a wonderful experience for all. Andalucia was fantastic and I can't wait to see other areas of beautiful Spain. Inexperienced riders as well as experienced riders will enjoy the daily rides. Highly recommend Scott, Martin and Slim for the excellent support, guidance and friendship they provided on the tour for all participants!

John Rivera
Wyoming, USA
Andalucia Tour - Absolutely Great Tour

I did not want to go. My wife made me, she bought the tickets and told me she was going without me if I decided to stay at work. Boy, did I ever marry a smart women! My time in Spain, on the tour and with the group and guides was one of the best weeks of my life. The folks from IMTBike knew the answer to every question we asked all week. They could not have been more helpful and the roads/route were second to none. The food and lodging were first class and I really enjoyed both tour leaders, Scott and Juan-Pablo. We are going to Morocco with IMT in a little over a year and this time I will be more than willing to get on the plane!

Matt Griffoul
California, USA
Andalucia Tour - My wife is Smart!

We just returned from a fantastic tour of Andalusia and want to thank Scott, Martin and Sergi (as well as the office support team) for providing us with the trip of a lifetime. We've been on great motorcycle tours before - but this time we were overwhelmed by the scenery, the twisties and sweepers, the beautiful cities and villages, the great food and wine but most of all the people who planned our trip and the others who joined us as fellow riders. The itinerary was very well laid out with choice accommodation and wonderful restaurants that we would not have found on our own. We enjoyed having the opportunity to really get to know everyone on the tour and we enjoyed the different stories that were told along the way. Thanks also for the photos, gifts and your follow up emails. We have already shared our experiences with friends at home and hope to join them in another tour next year.

Laurie Johnston and Rob Fullerton
Ontario, Canada
Southern Spain Tour - A fantastic time in Southern Spain

This was my sixth tour with IMTBike and third in Andalucia so I thought I knew exactly what I was in for but they still managed to exceed my expectations. Martin and Juan Pablo went well beyond the call of duty and even secured spectacular weather for us. Touring Southern Spain is a magical experience and difficult to express in a few lines. So my advice is to grab your Visa Card and see for yourself. You won't regret it.

Ric Allison
Ontario, Canada
Andalucia Tour - My sixth IMTBike Tour

The IMTbike Andalucia Tour was phenomenal! Scott and Martin were our guides and were knowledgeable, accommodating, and all-around great guys. Sergi, our faithful van driver and sherpa, was a pleasure to have along. The bikes were in pristine condition and performed flawlessly (Beemers, of course). Our fellow riders have become our newest friends and made the trip even more enjoyable.
Then there was Spain...The scenery was magnificent, from the mountains to the shores of the Mediterranean. The roads and chosen routes were blissful. The hotels and meals were spectacular. Even the weather cooperated...barely a few sprinkles and only after we parked for the night!
All in all this was a fantastic trip. I would go again in a flash!


John Ortinau
Illinois, USA
Andalucia Tour - Phenomenal!

I would like to take this opportunity to thank you for a very well-run tour. From the introductions by your first rate guides: Martin and Javier I was made to feel welcome and secure on this adventure. The bike part of the tour was excellent with lots of variety and a pace to let you ride at your own speed. The part of the tour that blew me away was the cultural exposure. Staying in these beautiful hotels in the middle of the towns and having the time to explore was great. Martin And Javier were very helpful when questioned about the culture and landmarks. The third part of the tour was the food excellent. The food was all new to me so the help from Martin and Javier was invaluable in making this a very pleasant experience . The suppers were a highlight; beautiful locations, excellent food and wine, and great company and because of Martin and Javier I feel like I got a little feel for the Spanish lifestyle.
Excellent Tour..A1...Highly recommended!


Paul MacCorrmac
BC, Canada
Andalucia Tour

I just wanted to send a short note regarding our Andalucia Tour. Anyone who has travelled a lot knows that no trip is perfect. I wanted you to know that this trip was about as close as you can get. Thanks.
I can't say enough about Martin; he is just top notch in every respect and Ryan is a natural. The two worked well together and were fun to be around. I know you have little control over who is on the tour, but if you did, you couldn't have picked a much better group. They were some really nice folks.
Thanks again, and keep doing what you are doing - it works.


Abel Bates and Sylvia Sullivan
Maine, USA
Andalucia tour - A Perfect Tour!

Wanted to let you know that we appreciated all the hard work that you went through to make a fabulous vacation for all,
I realize that whenever things get tweaked it can sometimes go south ,having said that you made it all work out great.
It was special having Chano as our guide for the first part of the tour. That is not to take away from the great job that Sergi did for his portion of the tour, might also add that you have a real gem in Ryan ,for a youngster he is way beyond his years ,take care of that young man. we truly appreciate the wonder full gifts which will be worn and drunk with fond memories.
As always we would like to thank you and the staff at IMTBike for making for a memorable trip that we will cherish for years to come.


Dennins Gonzalez - Owner BMW Santa Rosa
California, USA
BMW Santa Rosa Pyrenees & Provence Tour

This was the second IMTBike tour my wife and I have taken and it was a very enjoyable experience. The Iberian Peninsula is IMTBike's bailiwick and it shows in the professionalism and thoroughness they demonstrate in escorting their customers through the Spanish countryside.
The lodgings (mostly Paradors) were first class as were the evening meals. IMTBike renews their BMW fleet every year so the bikes were in excellent condition.
We are excited about riding in Africa on the Magical Morocco tour in the near future.


Steve and Ruth Ann Reynen
Winsconsin, USA
Andalucia Tour

This was my first tour with IMTBike and what a fabulous experience! It was a small cosy group of 5 bikes. My bike was nearly new. The routes were well thought out, the roads fun but challenging and showed the intimate local knowledge of IMTBike.
Martin 222 our guide was absolutely magnificent. He was our navigator, guide, photographer, translator and in house entertainer! He single handedly made a good bike trip a very memorable one and a great holiday too. Thank you Martin.

I was not aware Spain is such good biking country. I will be back.


Robin Dawson
Staffordshire, UK
Andalucia Tour

Hi IMTBIKE

I would like to provide some feedback from my recent rental from Barcelona.

I am both a qualified mechanic and licensed aircraft engineer and as such I have high expectations from service providers when renting anything mechanical.

When I arrived at IMTBike Barcelona the bike was in exceptional condition and ready to go. I had freighted my helmet and boots and they were there waiting for me having been safely stored for about 3 weeks. The briefing of the bike was carried out in an extremely professional manner in perfect English and all the assistance I could ever have needed was offered including the safe storage of my excess baggage. After some route tips on heading north in to the rest of Europe and the easiest way out Barcelona I headed out of town happy with the bike and very happy with the service provided by the IMTBike staff.

The bike performed faultlessly for 14 days.

Both Sergi and Ruben went above and beyond in making themselves available and making sure that I made my flight back to Australia on time, they even called me a taxi as I don't speak Spanish so I didn't have to carry my bags and bike gear anywhere.

IMTBike helped make my rental and riding experience in Europe unforgettable. I would recommend my excellent rental experience to anybody.

Thanks IMTBike

Dean Hillyer
Victoria, Australia
Rentals

This is the second IMTBike tour that my wife and I have been on and we toured with the same guides and mostly the same people as our first tour! IMTBike runs a first class tour company, everything is included and the insight you get into the country is worth the price vs. a self guided tour. We are already planning our next IMTBike tour with the hardest part being which tour to take. I would (and have already) recommend these guys for anyone looking to rent a bike in Spain or go on a guided tour or self guided tour.

David Simkins
Arizona, USA
Southern Spain & Andalusia Tour

Ruben and Paulo as the best guides I could imagine. They were amazing individually and as a team. Obviously the route plans and navigation went without a hitch. Ruben has a beautiful way to push the pace in the sporting terrain with good visibility and warm tires but more importantly he knows when and where to slow the pace. His guide's local knowledge was so extensive it's like he has ESP!
Paolo was a great support in the van. As the "client/organizer" I really appreciated the logistical strategy of having the van literally following the motorcade. Paolo is of course brilliant and 100% fluent in English which really helped our group learn at the villages and cultural stops about Spain , geography, history, IMTBIKE, agriculture and pop culture-always in a respectful thoughtful and diplomatic manner. I really enjoyed him as my personal cultural interpreter !
IMTBIKE's entire product from pick up to goodbye exceeded expectations. I knew the bikes would be new and in good shape but every other aspect including your meeting with us was a positive surprise. Bravo IMTBIKE!
Thank you and all of IMTBIKE for a great time and I look forward to working with you again soon!


Eric Fretz
Southern Spain Andalucia Custom Tour

My name is Chai, software architect from Israel. I would like to thank IMTBIKE for my Andalusia self-guided motorcycle trip I done this month. The organization was exemplary, the hotels excellent and were of a high standards and the route was well designed and very enjoyable as challenged me to my next levels as a motorcycle rider/traveler.

Many Thanks to the tours department for its perfect communication with me during the whole tour creation and setup process and for the Malaga Agents for his important accompaniment and the answers to the questions raised during the briefing.

I have no doubt that I will return for other trips with IMTBIKE as will recommend you to anyone interested.

You are doing a great and professional job.


Chai, Israel.
Southern Spain Andalucia Self Guided Tour

After almost blindly choosing a tour company to have a 1-week bike ride around Andalusia, I was really impressed by the organization and quality of everything, from selected routes & stops to hotels, dinners and ultimately company. Our guides Sergi & Eric went above and beyond what was needed to make each member of the small (10 people) tour group welcome and comfortable. Overall experience was really great and although a bit pricey (at least for me), was nevertheless worth every euro spent. If I ever decide to ride in Europe again, this would definitely be the company of my choice.

Anna Antonova
Moscow, Russia
Great company & guides for organizing a bike tour

Hi Scott and Team,
We are back in Berlin. I would just like to thank you and you team for the professional and helpful manner. The Team in Malaga were great and the bikes were in a super condition. We are already planning to come back next year. One again thanks a lot.

David Munro
Berlin, Germany
Rental in Malaga - BMW Berlin Club

Meet our guides

We are very proud of the reputation we've earned as one of the world's leading motorcycle tour operators, and it starts with our guides.
Day 1: Arrival in Málaga
Day 2: Málaga – Costa del Sol – Sierra Nevada - Granada
Day 3: Granada – Córdoba
Day 4: Córdoba - Seville
Day 5: Seville - rest day
Day 6: Seville – White Towns
Day 7: White Towns - Ronda
Day 8: Ronda – Serranía de Ronda - Málaga
Day 9: Flight home
Day 1: Arrival Malaga, safety briefing and welcome dinner

Transfer included from the Airport to the hotel. You'll have time to rest and visit the city until we meet up again in the evening for a welcome briefing in the hotel. After the briefing you'll have dinner with your guides at a local Spanish restaurant. The first and last days mentioned in the itinerary correspond to first and last days of the tour. Keep in mind that, depending on which country you are flying from you may need to leave a day early so please reserve your flights accordingly.

Day 2: Málaga – Costa del Sol – Sierra Nevada - Granada

Leaving Malaga, we'll head for the eastern most parts of the Costa del Sol. From the seat of our motorcycles we'll hug the coast as we watch the waves roll into the shore. Curve after curve we'll follow the Mediterranean before turning sharply inland to start the climb into the rugged mountains. We'll climb into the imposing Sierra Nevadas past ski areas on the highest paved highway in Spain. Awaiting you are the steep, narrow streets of Granada, its historic center, the Albayzín and the unequaled beauty of the Alhambra Palace.

Day 3: Granada – Córdoba

On our third day we will leave Granada on a beautiful little road surrounded by forests and mountains north of the Sierra Nevada. The forest will give way to an incredible expanse of seemingly infinite rows of olive trees carpeting the Andalusian soil, truly an amazing sight. After that, on the banks of the Guadalquivir River, Cordoba awaits us with a charming and lively atmosphere. We will be able to wander its narrow streets and visit the famous Mezquita.

Day 4: Córdoba - Seville

Get ready for a day that is packed full of great motorcycling roads and beautiful views. The route heads north towards the Sierra Morena, the region's best kept motorcycling secret. This mountain range is the northern border of Andalucia. We'll take one curve after another through the mountains and then south along the splendid Guadalquivir River to Sevilla. Sevilla is the capital of Andalucia and the heart of Spain's welcoming Southern hospitality.

Day 5: Seville - rest day

Today is a rest day, perfect for taking in the city of Seville and its impressive Gothic cathedral, countless small churches and interesting neighborhoods full of narrow streets, Flamenco music, tapas bars etc. You will also have the option of riding into the Sierra Morena where you can visit the colorful mines of Riotinto or taste the very best of the Spanish Iberian Ham, the Jamón de Jabugo.

Day 6: Seville – White Towns

Today we'll say goodbye to the magical Andalusian capital and all its art and beauty. We'll head south on tranquil roads through pleasant rural landscapes and large plains. Next we'll climb quickly into a nice, intense section of the Grazalema Mountains, crossing over the most impressive mountain passes of the entire range. The day will come to an end in one of the prettiest pueblos blancos of Andalucía, located on the top of a narrow cliff.

Day 7: White Towns - Ronda

Today is a very full day with no shortage of perfect curves amidst the mountains range of Cadiz. The amazing landscape includes cork tree forests and grazing Spanish bulls. It's here where you'll pass through the numerous Pueblos Blancos that have made this region famous. You'll rest for the night in one of the most memorable cities in all of Spain, Ronda. Peer over the 120 meter cliff from the "New Bridge" (over 300 years old!), or check out the Roman Bridge that remains intact after several thousand years. You can also lose yourself amongst the lively little streets or visit the oldest bull ring in Spain.

Day 8: Ronda – Serranía de Ronda - Málaga

Departing Ronda you'll head straight into the heart of the mountains, snaking along lonely roads past magnificent landscapes. Mountain after mountain, town after town until you return to the IMTBike office, where you'll say goodbye to your faithful motorcycle. You'll then have time to rest in the hotel or do some last minute shopping and visit the city of Malaga one more time. The guides will take you out to an excellent restaurant where you'll enjoy a farewell dinner and we can say "Hasta pronto!" "Until next time!"

Day 9: Flight home

Today you will say your goodbyes to the guides and the other tour members (now your new friends) as you make your way to the airport to fly home. We'll see you again on our next motorcycle adventure together!
Southern Spain Andalusia Motorcycle Tour Pricing
The base price of every tour is calculated for a single rider on a BMW G310R and sharing a double room

Included in Tour:
Airport pickup on the first day of the tour.
Overnight accommodations in carefully selected 4 & 5 star hotels and Paradors/Pousadas (castles and palaces converted into "motorcycle friendly" boutique hotels).
A delicious gourmet evening meal featuring Spanish and Portuguese specialties every night (except on rest days).
Complete buffet breakfast every morning.
New model BMW motorcycle fully equipped with 3 BMW cases.
Tour handbook (normally about 70 pages-very comprehensive) and highlighted map.
Expert multilingual guide on a motorcycle.
Multilingual guide in support vehicle which will carry your luggage, any oversized purchases you make; or even a passenger or two.
Tour Souvenirs.
Not included in Tour:
Air ticket, lunches, gasoline, drinks, tolls, personal spending and tips