Majestic Japan Motorcycle Tour
Land of the Rising Sun
Japan
Oct. 14 — Oct. 29, 2023
Sold out
Sep. 23 — Oct. 08, 2024
14 Spots left
Oct. 12 — Oct. 27, 2024
14 spots left
Japan is one of the most desired destinations for many tourists, at IMTBIKE we have prepared a Motorcycle route that highlights little known roads, sophisticated Japanese food its refined culture and rich history. On this tour you will enjoy breathtaking views of Mount Fuji, lush forests of the Japanese Alps and relax in the famous natural hot springs that we find along our way. Live this autumn in a different way on this incredible motorcycle tour in Japan.
IMTBIKE ROUTE rating
It is essential to know the different skill levels needed to participate in the IMTBIKE TOURS that are offered to you. IMTBIKE makes sure that it offers different tours for all riding styles and levels. The IMTBIKE team always works diligently in designing our routes. This is a laborious process which entails reviewing all road choices before selecting the best option for an IMTBIKE tour.
The most experienced motorcyclists looks for roads that require technical skill; narrow twisty roads with little traffic and endless curves. But these same roads would be too difficult for a less experienced rider.
The local driving habits, the amount of traffic, the asphalt quality and the radius of the curves vary considerably from country to country and even in different regions of the same country. They will also vary depending on the season of the year. All of these factors have been studied by IMTBIKE and have been taken into consideration when rating our tours.
IMTBIKE thinks it is also important to know about the different types of roads you will be enjoying on your tour. To understand the road types easier, IMTBIKE has divided them into two categories, and we have calculated an approximate percentage of each on all of our tours.
TOURING ROADS: These are wider roads comprised mainly of larger radius sweepers. They are still curvy roads but not tight mountainous twisty curves. Please remember that you will ride very few straight roads on IMTBIKE tours!
CHALLENGING ROADS: These are roads that are tight twisty turns which require more technical skill. Many times they will be narrower roads without a shoulder and sometimes with steep inclines or descents. Normally they will be mountainous roads accompanied by spectacular sceneries.
If you have never ridden a motorcycle outside of your country, or if you have little experience riding on mountain roads with many curves, we recommend that you choose a tour rated moderate or intermediate. If you have any questions or doubts please do not hesitate to call or email us. We are always happy to answer your questions to make sure that you choose the best tour for your riding level.
Moderate
This route offers wider sweeping turns that are easy to maneuver. This route may have some tighter turns in a few places but this will be the exception. Regardless, even on moderate tours you must be able to ride a large cylinder motorcycle in any condition. Never plan to learn how to ride a motorcycle on an IMTBIKE tour. We recommend having a minimum of 8.000 km (5.000 miles) of experience riding a large cylinder motorcycle to participate on a MODERATE rated IMTBIKE Tour and you should ride a motorcycle on a regular basis at home.
Intermediate
This route rating can have sections of very twisty curves on narrow roads with no center line to divide the road. There will also wider radius curves on these routes. Traffic conditions can be intense at times in some urban environments and the local driving habits may seem aggressive and unpredictable to you. It is imperative that you are an experienced motorcyclist. We recommend that you have a minimum of 12.000 km (7500 miles) of large cylinder motorcycle experience to participate on a INTERMEDIATE rated IMTBIKE Tour and you should ride a motorcycle on a regular basis at home.
Advanced
This route rating has long sections of technical narrow twisty roads and sometimes single lane roads. These twisty roads will often be in mountains where steep inclines and descents will be commonplace. Some riding days can be long and challenging. Traffic conditions can be intense at times in some urban environments and the local driving habits may seem aggressive and unpredictable to you. It is imperative that you are a very experienced motorcyclist on a large cylinder motorcycle. We recommend that you have a minimum of 16.000 km (10.000 miles) of large cylinder motorcycle experience on an ADVANCE rated IMTBIKE Tour and of course you should ride a motorcycle on a regular basis at home.
IMTBIKE Average Daily Riding Hours
5 to 7 hours
6 to 8 hours
7 to 9 hours
How many hours a day you ride on a tour is important information in helping you decide on the right IMTBIKE tour for you. Some tour members want to ride as many hours as possible everyday, while others prefer to stop more frequently and dedicate more time to enjoying the scenery, visiting cultural sights and arrive at the hotel earlier to relax before dinner. The daily riding hours are calculated including the coffee breaks and photo stops but they do not include the time taken for lunch.
Normally we'll start our riding day at 9:30am and we will take about a one hour lunch break sometime between 1pm and 2pm. So if the daily riding hours for a given tour are 5-7, then you will arrive at the hotel between 3:30pm- 5:30pm depending on the average speed of the group.
Tour Facts
Total Distance

1,740 miles / 2,818 km

Rest Days

3 Kyoto, Hiroshima, Kusatsu

Breakfast

15 Included Breakfasts

Daily Mileage

160-220 miles / 250-350 km

Hotel Overnights

15 Nights

Highlights: Tokyo, Mount Fuji, Japanese alps, Tsumago, Shikoku, Kyoto, Hiroshima, Eiheiji, Matsumoto, Kusatsu, Nikko.

Accommodations: Quality hotels and Japanese Ryokans. Ryokans are a type of traditional Japanese Inn that has existed since the 8th century. The oldest hotel in the world is a Japanese Ryokan founded in 718 A.D.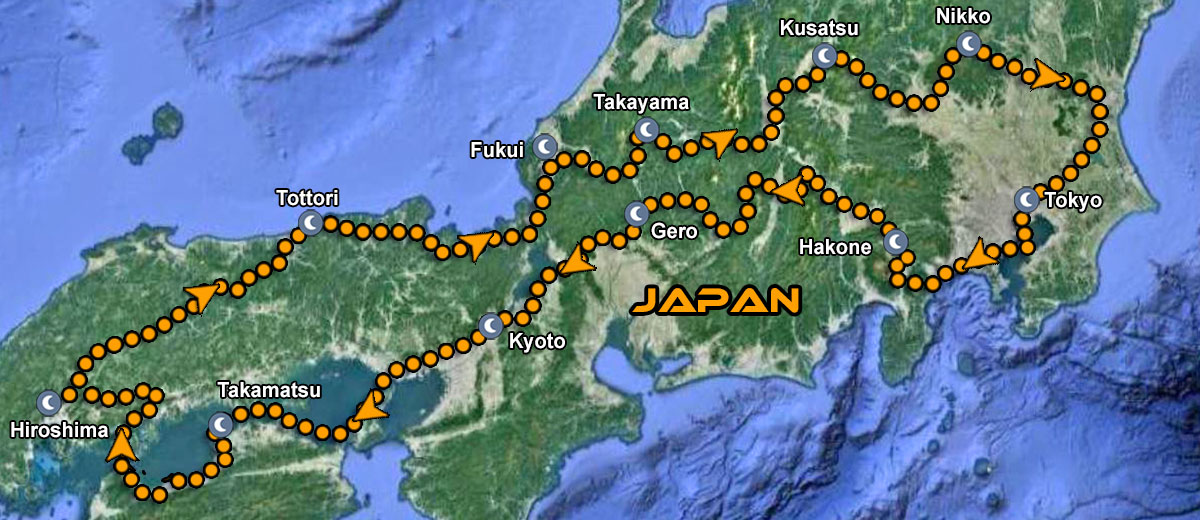 Click to enlarge
Majestic Japan Motorcycle Tour Gallery
Day 1: Arrival in Tokyo
Day 2: Hakone - Kawaguchi lake
Day 3: Lake kawaguchi - Kiso Valley - Gero Hot Springs.
Day 4: Gero Hot Springs - Kyoto
Day 5: Kyoto - rest day
Day 6: Kyoto – Takamatsu
Day 7: Takamatsu - Hiroshima
Day 8: Hiroshima - rest day
Day 9: Hiroshima - Tottori
Day 10: Tottori - Fukui
Day 11: Fukui - Takayama
Day 12: Takayama - Kusatsu
Day 13: Kusatsu - rest day
Day 14: Kusatsu - Nikko
Day 15: Nikko - Tokyo
Day 16: Flight back home
Day 1: Arrival in Tokyo

Arrive to Japan and transfer to hotel. You will have some free time to relax or explore the Odaiba bay area before the welcome briefing. After the briefing we will have a welcome dinner at a traditional Japanese izakaya restaurant.

Day 2: Hakone - Kawaguchi lake

Our first riding day will get us outside of the bustling Tokyo, through Yokohama and its impressive suspension bridges. Then we will continue riding through the picturesque west of Kanagawa prefecture to reach the famous Mazda Turnpike Road. At the top we will be greeted with a beautiful view of Mount Fuji. We will continue to ride towards it through two skylines. After reaching the fifth station of Mount Fuji we will visit the second world heritage site of the day; the old town of Oshino Hakkai. Then we will continue to the hotel at Kawaguchi Lake, riding around Mount Fuji.

Day 3: Lake kawaguchi - Kiso Valley - Gero Hot Springs.

We will head west, having the Japanese Southern Alps on the left to reach the Suntory Hakushu Whisky Distillery, enclosed in a forest in the mountains, for a tour of how they make this acclaimed spirit. Then we will continue towards Suwa Lake to enter the Kiso Valley and ride its winding roads to Tsumago Village, and old town that has been restored to its appearance as Edo-era post town. It was the 42 of the 69 post towns that connected Edo (present Tokyo) with Kyoto. After we will go to Gero city, famous for its hot springs.

Day 4: Gero Hot Springs - Kyoto

We will ride through Gifu Mountain roads to reach Ibuki Driveway, a fun toll road that that goes all the way up to Ibuki Mountain for a wonderful view of the area from the top. Then we will continue to pass by Hikone city and its castle, one of only 12 Japanese castles with the original keep, and one of only five castles listed as a national treasure. And continue to ride along Biwa Lake, the largest freshwater lake in Japan to reach the old capital of Kyoto.

Day 5: Kyoto - rest day

Today is a rest day in Kyoto, most well known in Japanese history for being the former imperial capital of Japan for more than one thousand years. Due to its exceptional historic value, the city was dropped from the list of target cities for the atomic bomb and escaped destruction during World War II. Countless temples, shrines and other historically priceless structures survive in the city today. We suggest taking a walk in the bamboo grooves in the morning followed by visits to some of the most beautiful temples the city has to offer, like Kinkakuji (the golden temple) or Kiyo Mizudera.

Day 6: Kyoto – Takamatsu

Today we will ride through Osaka and Kobe to reach the Akashi Kaikyo Bridge. It was opened in 1998 and with a length of almost four kilometers, it is the world's longest suspension bridge. Through it we will reach Awaji Island first and then head into Shikoku Island. Shikoku (literally meaning "four countries") is Japan's fourth largest island. True to its name, Shikoku is divided into four prefectures. In the city of Takamatsu we will visit the Ritsurin Gardens, one of the most famous historical gardens in Japan, build by the local feudal lords during the early Edo period.

Day 7: Takamatsu - Hiroshima

Today we will ride through Shikoku island and some of its mountain roads, and then cross back to Honshu the main island. We will do so through the impressive Shimanami Kaido, a 60km long toll road that connects six small islands in the Seto Inland Sea. Beautiful scenery can be enjoyed all along the way. Once back in Honshu we will head to Hiroshima city, where we will stay for the night.

Day 8: Hiroshima - rest day

Today is a rest day in Hiroshima. When the first atomic bomb was dropped over Hiroshima on August 6, 1945, the city became known worldwide for this unenviable distinction. The destructive power of the bomb was tremendous and obliterated nearly everything within a two kilometer radius. Only the atomic bomb dome building was left standing. A visit to the Hiroshima Peace Memorial Museum and to the near Miyajima Island are highly recommended. Miyajima is most famous for its giant torii gate, which at high tide seems to float on the water. The sight is ranked as one of Japan's three best views. While officially named Itsukushima, the island is more commonly referred to as Miyajima, Japanese for "shrine island". This is because the island is so closely related to its key shrine, Itsukushima Shrine, in the public's mind. Like the torii gate, the shrine's main buildings are built over water. Miyajima is a romantic place and there are also wild deer on the island roaming around. Watch out, they like to eat maps and any paper you have on your hands!

Day 9: Hiroshima - Tottori

Today we will cross Honshu Island to reach the Sea of Japan, going through mountain roads on three different prefectures; Hiroshima, Okayama and Tottori.

Day 10: Tottori - Fukui

Today we will ride to Amanohashidate, one of the known as best three scenic views of Japan. We will continue to ride through Obama city and then ride the Mikata Five lakes Rainbow Road. A beautiful winding road that has the sea of Japan on one side and the Mikata five lakes on the other. The panorama from the top is astonishing. We will then continue riding to Fukui prefecture.

Day 11: Fukui - Takayama

Today we will visit Eiheji, a large temple complex and active monastery standing on a cedar covered slope in the mountains just outside Fukui City. The temple was founded in 1244 by Dogen, the Buddhist scholar who introduced Soto Zen from China to Japan in 1228. We will then continue to visit the World Heritage Site of Shirakawago in the remote mountains that span between Gifu and Toyama. They are famous for their Gassho-Zukuri farmhouses, some of which are more than 250 years old. Then we will reach Takayama where we will spend the night.

Day 12: Takayama - Kusatsu

Today we will visit Matsumoto Castle. It is one of the most complete and beautiful among Japan's original castles. It is unique for having both a secondary donjon and a turret adjoined to its main keep. The castle structures, in combination with their characteristic black wainscoting, give off an air of grandeur and poise. We will then continue to ride to the Japanese Northern Alps, including the highest public road in the country. On the way there we will visit the largest wasabi farm in Japan to learn more about this iconic element of Japanese cuisine. An idyllic scene of old-fashioned, wooden water wheels alongside the river of the farm can also be enjoyed from the walking trails. The water wheels were constructed here for the filming of Kurosawa Akira's "Dreams" in 1989 and have been left standing. We will spend the night at the Hot Spring town of Kusatsu.

Day 13: Kusatsu - rest day

Today is a rest day in Kusatsu. It is one of Japan's most famous hot spring resorts and is blessed with large volumes of high quality hot spring water said to cure every illness except lovesickness! Well known as a hot spring resort for many centuries, Kusatsu's fame was further boasted by German doctor Erwin Von Baelz, who served at the imperial court in the late 1800s and recommended Kusatsu for its water's health benefits.
Kusatsu is situated at an altitude of 1200 meters above sea level in the mountains of Gunma Prefecture and is a great place to walk and relax in their hot springs. It also offers great day trips for riding in the near mountains for those who want to keep exploring on two wheels.


Day 14: Kusatsu - Nikko

Today we will ride the Japanese romantic road, and through two lakes in volcano craters. One is Mount Haruna, and the other Mount Akagi, which has a temple inside an island, inside a lake, inside the crater. Then we will continue riding winding roads all the way to Nikko.

Day 15: Nikko - Tokyo

One the last day before heading back to Tokyo we will ride through the 400 year old Suginami Cedar Avenue. It is the longest tree lined avenue in the world with cedar trees that stand 30 meters tall and enclose over 35 kilometers of road. Originally about 200,000 trees were planted in a project which began around 1625, and extended over approximately 20 years. We will also go to the Twing Ring Motegi Circuit and enjoy the extensive Honda Collection Hall Museum were hundreds of motorcycles are displayed and kept in running condition.

Day 16: Flight back home

Today you will say your goodbyes to the guides and the other tour members (now your new friends) as you make your way to the airport to fly home. We'll see you again on our next motorcycle adventure together!
Majestic Japan Motorcycle Tour Pricing
The base price of every tour is calculated for a single rider on a Honda NC750X or Suzuki VStrom and sharing a double room.

Included in Tour:
Overnight accommodations in high quality hotels
A gourmet dinner every night (except on rest days).
Complete buffet breakfast every morning.
New model BMW motorcycle fully equipped with 3 BMW cases.
Tour handbook (normally about 70 pages-very comprehensive) and highlighted map.
Expert multilingual guide on a motorcycle.
Multilingual guide in support vehicle which will carry your luggage, any oversized purchases you make; or even a passenger or two.
Tour Souvenirs.
Not included in Tour:
Air ticket, lunches, gasoline, drinks, tolls, personal spending and tips