The Alps & Southern France Tour
Ultimate European Motorcycle Dream
Spain | France | Switzerland | Italy
This is the journey motorcyclists around the world dream of! An exhilarating and comprehensive tour that traverses the best of the Alps, highlighting majestic mountain passes, beautiful valleys, and the most sought-after cities. Hands-down, this is the greatest motorcycle festival in all of Europe!
We will cross 4 different countries on our motorcycle adventure: Spain, France, Italy and Switzerland.
We'll visit dreamy lakes and beautiful valleys, as well as the mountains of the breathtaking Swiss Alps and the great heights of the French Maritime Alps.
On our 15-day ride, we will ascend more than 30 mountain passes! These include such legendary and evocative names such as Stelvio, Nufenenpass, Furkapass, Passo Bernina, Colle del Gran San Bernardo, Col de la Forclaz, Col d'Iseran (the highest in Europe) Col du Galibier, Col du Telegraphe, some of which are included in the Tour de France.
We'll also visit Italy's Lago Maggiore, the Tarn Gorge, the Millau Viaduct, Grenoble, Saint-Moritz, Interlaken, the Aosta Valley, Chamonix-Montblanc, Gruyères…
The icing on the cake on this incredible trip is the return ride through the south of France on the famous winding roads of the Massif Central. We will explore picturesque Provence and the rugged Land of Cathars, visiting the historic cities Avignon and Carcassonne. We finish our adventure by crossing the Pyrenees and heading back to the shores of the Mediterranean.
* Price includes BMW G310R
IMTBIKE ROUTE rating
It is essential to know the different skill levels needed to participate in the IMTBIKE TOURS that are offered to you. IMTBIKE makes sure that it offers different tours for all riding styles and levels. The IMTBIKE team always works diligently in designing our routes. This is a laborious process which entails reviewing all road choices before selecting the best option for an IMTBIKE tour.
The most experienced motorcyclists looks for roads that require technical skill; narrow twisty roads with little traffic and endless curves. But these same roads would be too difficult for a less experienced rider.
The local driving habits, the amount of traffic, the asphalt quality and the radius of the curves vary considerably from country to country and even in different regions of the same country. They will also vary depending on the season of the year. All of these factors have been studied by IMTBIKE and have been taken into consideration when rating our tours.
IMTBIKE thinks it is also important to know about the different types of roads you will be enjoying on your tour. To understand the road types easier, IMTBIKE has divided them into two categories, and we have calculated an approximate percentage of each on all of our tours.
TOURING ROADS: These are wider roads comprised mainly of larger radius sweepers. They are still curvy roads but not tight mountainous twisty curves. Please remember that you will ride very few straight roads on IMTBIKE tours!
CHALLENGING ROADS: These are roads that are tight twisty turns which require more technical skill. Many times they will be narrower roads without a shoulder and sometimes with steep inclines or descents. Normally they will be mountainous roads accompanied by spectacular sceneries.
If you have never ridden a motorcycle outside of your country, or if you have little experience riding on mountain roads with many curves, we recommend that you choose a tour rated moderate or intermediate. If you have any questions or doubts please do not hesitate to call or email us. We are always happy to answer your questions to make sure that you choose the best tour for your riding level.
Moderate
This route offers wider sweeping turns that are easy to maneuver. This route may have some tighter turns in a few places but this will be the exception. Regardless, even on moderate tours you must be able to ride a large cylinder motorcycle in any condition. Never plan to learn how to ride a motorcycle on an IMTBIKE tour. We recommend having a minimum of 8.000 km (5.000 miles) of experience riding a large cylinder motorcycle to participate on a MODERATE rated IMTBIKE Tour and you should ride a motorcycle on a regular basis at home.
Intermediate
This route rating can have sections of very twisty curves on narrow roads with no center line to divide the road. There will also wider radius curves on these routes. Traffic conditions can be intense at times in some urban environments and the local driving habits may seem aggressive and unpredictable to you. It is imperative that you are an experienced motorcyclist. We recommend that you have a minimum of 12.000 km (7500 miles) of large cylinder motorcycle experience to participate on a INTERMEDIATE rated IMTBIKE Tour and you should ride a motorcycle on a regular basis at home.
Advanced
This route rating has long sections of technical narrow twisty roads and sometimes single lane roads. These twisty roads will often be in mountains where steep inclines and descents will be commonplace. Some riding days can be long and challenging. Traffic conditions can be intense at times in some urban environments and the local driving habits may seem aggressive and unpredictable to you. It is imperative that you are a very experienced motorcyclist on a large cylinder motorcycle. We recommend that you have a minimum of 16.000 km (10.000 miles) of large cylinder motorcycle experience on an ADVANCE rated IMTBIKE Tour and of course you should ride a motorcycle on a regular basis at home.
IMTBIKE Average Daily Riding Hours
5 to 7 hours
6 to 8 hours
7 to 9 hours
How many hours a day you ride on a tour is important information in helping you decide on the right IMTBIKE tour for you. Some tour members want to ride as many hours as possible everyday, while others prefer to stop more frequently and dedicate more time to enjoying the scenery, visiting cultural sights and arrive at the hotel earlier to relax before dinner. The daily riding hours are calculated including the coffee breaks and photo stops but they do not include the time taken for lunch.
Normally we'll start our riding day at 9:30am and we will take about a one hour lunch break sometime between 1pm and 2pm. So if the daily riding hours for a given tour are 5-7, then you will arrive at the hotel between 3:30pm- 5:30pm depending on the average speed of the group.
Tour Facts
Total Distance

2.280 miles / 3.670 km

Rest Days

2 Chamonix, Avignon

Breakfast

16 Included Breakfasts

Daily Mileage

160-220 miles / 250-350 km

Hotel Overnights

16 Nights

Highlights: Barcelona, Passo di Stelvio, Col d'Iseran (highest pass in the Alps), Swiss mountain passes, French Tour de France passes (Telegraphe, Galibier...), Interlaken, Chamonix-Montblanc, Avignon, Carcassonne, Pyrenees

Accommodations: Good hotels with local charm and selection of boutique hotels.
*All IMTBIKE Hotels are carefully selected for their high quality of service, cultural interest in their regions and their strategic location, as well as for being Motorcycle Friendly.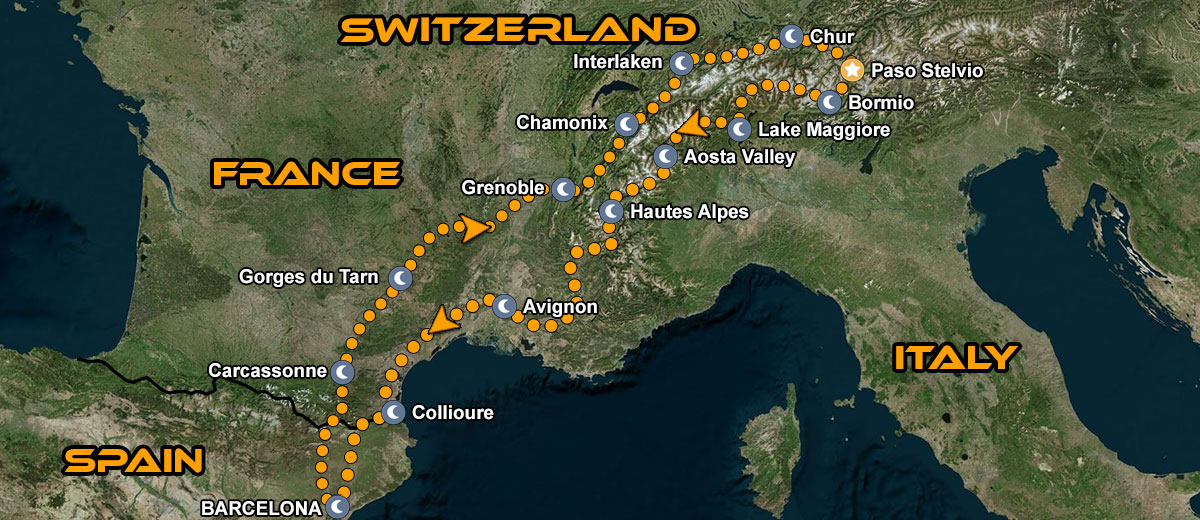 Click to enlarge
France, Italy & Alps Motorcycle Tours Gallery
Day 1: Arrival in Barcelona/Safety Briefing/Welcome Dinner
Day 2: Barcelona – Carcassonne
Day 3: Carcassonne – Gorges du Tarn
Day 4: Gorges du Tarn – Grenoble
Day 5: Grenoble – Chamonix-Mont-Blanc
Day 6: Chamonix – Mont-Blanc - Rest Day
Day 7: Chamonix – Mont-Blanc – Interlaken
Day 8: Interlaken – Chur
Day 9: Chur – Bormio
Day 10: Bormio – Lago Maggiore
Day 11: Lago Maggiore – Valle de Aosta
Day 12: Valle de Aosta – Serre Chevalier
Day 13: Serre Chevalier – Avignon
Day 14: Avignon – Rest Day
Day 15: Avignon – Collioure
Day 16: Collioure – Barcelona
Day 17: Flight back home
Day 1: Arrival in Barcelona/Safety Briefing/Welcome Dinner

One of your guides will be waiting for you at the airport to pick you and your luggage up if your flight arrives this morning. He will take you to our hotel in the city and then you will have the rest of the day to explore Barcelona. At 18:00 we'll have a meeting to welcome everyone on the tour. Afterwards, we will have dinner together in a cozy restaurant where we will toast to the beginning of our trip through the Alps.

Day 2: Barcelona – Carcassonne

On our first day we'll leave cosmopolitan Barcelona and head across the Pyrenees into France. We will enter the Cathar region, with its clifftop castles and arrive in the fortified city of Carcassonne, a picture perfect medieval town that will welcome us on our first night in French lands.

Day 3: Carcassonne – Gorges du Tarn

We'll leave the city following the navigable canal of the Aude River until we turn towards the mountains. Then we will pass by the village of Roquefort, famous for its cheese production, and the Millau Viaduct, one of the most impressive engineering works in Europe. Then we'll descend into the epic Tarn Gorge.

Day 4: Gorges du Tarn – Grenoble

Today is truly enjoyable day on two wheels including an extraordinary selection of the twistiest roads in the Cévennes national park, the Ardeche Mountains and the Vercors Massif where we'll enjoy mountain scenery and lush forests until we reach Grenoble, at the foot of the Alps.



Day 5: Grenoble – Chamonix-Mont-Blanc

The first Alpine day of the tour awaits us, and we will ride the mythical passes of Col du Glandon and Col de la Madaleine. The buzzing atmosphere of chic Chamonix awaits us, nestled at the base of the Alpine giant, Montblanc, the highest mountain in Europe.

Day 6: Chamonix – Mont-Blanc - Rest Day

Rest day in Chamonix-Mont-Blanc. Enjoy the glamorous ambience of Chamonix with a stroll through its lively streets and a coffee in one of the many terraces with a view of the mountains. There are many outdoor activities as well and if you feel like riding there are some beautiful roads nearby.

Day 7: Chamonix – Mont-Blanc – Interlaken

We'll say goodbye to France for a few days to immerse ourselves in the postcard perfect images of Switzerland and the Rhône Valley. Switzerland awaits us with its splendid greenery, its charming mountain villages and its numerous mountain passes. Before arriving in Gstaad we'll already have crossed a couple of them. We will also pass through the medieval village of Gruyères just before reaching the blue waters of the lakes surrounding Interlaken.

Day 8: Interlaken – Chur

A day of intense scenery and riding, a treat for the senses as we conquer the most famous passes of Switzerland: Oberalpass, St-Gotthardpass, Nufenenpass, Furkapass and Sustenpass. We'll find refuge in the picturesque town of Chur, the oldest city in Switzerland.

Day 9: Chur – Bormio

We will leave Switzerland behind us as we ride over Flüelapass and Fuorn Pass, giving us access to Italy and its Venosta Valley, known for the quality of its world famous apples. But that's not all, we'll also ride one of the most sought-after roads in the Alps, the mythical Stelvio and its more than eighty "tornanti" that that will bring us into Bormio.

Day 10: Bormio – Lago Maggiore

Today we will return to Switzerland and to ride more famous passes. The Passo del Bernina is one of them and will allow us to reach Saint-Moritz, another of those Alpine places that evoke glamour in the snow and images of James Bond. Before reaching the tranquil waters of Lake Maggiore we still have three more passes to ride.

Day 11: Lago Maggiore – Valle de Aosta

This will be the day of the valleys. We will make a small incursion into Italy in the morning and end up back there later, but we will spend most of the day in Swiss territory saying goodbye to this beautiful country. It won't be just idyllic valleys all day however, we'll also hit some more passes like the Simplonpass and the Colle del Gran San Bernardo on our way to the Italian Aosta Valley.

Day 12: Valle de Aosta – Serre Chevalier

This is the day we will attack the French giants. Some of the highest mountain passes of the Western Alps await such as the colossus of the Vanoise and the Col d'Iseran, classified as the highest asphalted pass in all of Europe. We'll also ride the mythical combination of the Col du Telegraphe and Col du Galibier, a dream for motorcyclists but an extreme test of endurance for the Tour de France cyclists.

Day 13: Serre Chevalier – Avignon

After so many heights and so many curves, a little softness and a delicate combination of valleys and gorges will do us good to relax the senses. Today we enter the aromatic Provence, home to the ramparts of Avignon, its monumental Palais de Papes (Pope's Palace) and its famous bridge.



Day 14: Avignon – Rest Day

Today is a rest day and you can explore beautiful Provence and maybe visit the town of Arles where Van Gogh spent his final days painting or you can enjoy all the culture that Avignon has to offer. The choice is yours!



Day 15: Avignon – Collioure

Today's destination is the blue waters of the Mediterranean and the picturesque village of Collioure. There we'll be delighted with the same landscapes, colors and scenes that fascinated Matisse and other painters who captured it in their work. On our way there we'll enjoy the magnificent roads that run through the southern Massif Central mountains, rolling between the vineyards of Beziers and the local roads around Narbonne and Perpignan.

Day 16: Collioure – Barcelona

There is no better way to return to Barcelona than by crossing the Pyrenees again. No less than three Pyrenean Mountain passes will accompany us. We'll cross the volcanic region of Garrotxa and small mountain villages surrounded by lush forests until we finally arrive at our destination and the bitter sweet end to an unforgettable adventure through the two most important mountain ranges in Europe

Day 17: Flight back home

Flight back home
* Price includes BMW G310R