Pyrenees Coast to Coast Motorcycle Tour
From Barcelona to San Sebastian
Spain | Andorra | France
It's no coincidence that many of the best riders in the world come from the areas around Barcelona, just a stone's throw from the Pyrenees, the most revered mountain range amongst motorcyclists who know what they are talking about. If you are one of them, if you are the type who would like to spend 10 unforgettable, intense and exciting  days on top of a motorcycle, this is the motorbike tour for you!
In this route, carefully planned by our expert local guides, are some of the most famous motorcycling roads in the world as well as many lesser known sections that will surely surprise you. The exceptional combination of magnificent roads with perfect asphalt, intoxicating curves and mountain and coastal landscapes straight out of your wildest dreams make for an exquisite feast fit for true motorcyclists.
The Coast to Coast Motorcycle Tour starts and ends in the attractive and cosmopolitan city of Barcelona, passes by the rugged Costa Brava, the imposing natural parks in the Pyrenees, beautiful sections in France including mountain passes famous from the Tour de France, a visit to Pamplona and a rest day in the most beautiful city in the north of Spain, San Sebastian world famous for its gastronomy, this tour is a 10 out of 10 in every way. You don't want to miss it!
* Price includes BMW G310R
IMTBIKE ROUTE rating
It is essential to know the different skill levels needed to participate in the IMTBIKE TOURS that are offered to you. IMTBIKE makes sure that it offers different tours for all riding styles and levels. The IMTBIKE team always works diligently in designing our routes. This is a laborious process which entails reviewing all road choices before selecting the best option for an IMTBIKE tour.
The most experienced motorcyclists looks for roads that require technical skill; narrow twisty roads with little traffic and endless curves. But these same roads would be too difficult for a less experienced rider.
The local driving habits, the amount of traffic, the asphalt quality and the radius of the curves vary considerably from country to country and even in different regions of the same country. They will also vary depending on the season of the year. All of these factors have been studied by IMTBIKE and have been taken into consideration when rating our tours.
IMTBIKE thinks it is also important to know about the different types of roads you will be enjoying on your tour. To understand the road types easier, IMTBIKE has divided them into two categories, and we have calculated an approximate percentage of each on all of our tours.
TOURING ROADS: These are wider roads comprised mainly of larger radius sweepers. They are still curvy roads but not tight mountainous twisty curves. Please remember that you will ride very few straight roads on IMTBIKE tours!
CHALLENGING ROADS: These are roads that are tight twisty turns which require more technical skill. Many times they will be narrower roads without a shoulder and sometimes with steep inclines or descents. Normally they will be mountainous roads accompanied by spectacular sceneries.
If you have never ridden a motorcycle outside of your country, or if you have little experience riding on mountain roads with many curves, we recommend that you choose a tour rated moderate or intermediate. If you have any questions or doubts please do not hesitate to call or email us. We are always happy to answer your questions to make sure that you choose the best tour for your riding level.
Moderate
This route offers wider sweeping turns that are easy to maneuver. This route may have some tighter turns in a few places but this will be the exception. Regardless, even on moderate tours you must be able to ride a large cylinder motorcycle in any condition. Never plan to learn how to ride a motorcycle on an IMTBIKE tour. We recommend having a minimum of 8.000 km (5.000 miles) of experience riding a large cylinder motorcycle to participate on a MODERATE rated IMTBIKE Tour and you should ride a motorcycle on a regular basis at home.
Intermediate
This route rating can have sections of very twisty curves on narrow roads with no center line to divide the road. There will also wider radius curves on these routes. Traffic conditions can be intense at times in some urban environments and the local driving habits may seem aggressive and unpredictable to you. It is imperative that you are an experienced motorcyclist. We recommend that you have a minimum of 12.000 km (7500 miles) of large cylinder motorcycle experience to participate on a INTERMEDIATE rated IMTBIKE Tour and you should ride a motorcycle on a regular basis at home.
Advanced
This route rating has long sections of technical narrow twisty roads and sometimes single lane roads. These twisty roads will often be in mountains where steep inclines and descents will be commonplace. Some riding days can be long and challenging. Traffic conditions can be intense at times in some urban environments and the local driving habits may seem aggressive and unpredictable to you. It is imperative that you are a very experienced motorcyclist on a large cylinder motorcycle. We recommend that you have a minimum of 16.000 km (10.000 miles) of large cylinder motorcycle experience on an ADVANCE rated IMTBIKE Tour and of course you should ride a motorcycle on a regular basis at home.
IMTBIKE Average Daily Riding Hours
5 to 7 hours
6 to 8 hours
7 to 9 hours
How many hours a day you ride on a tour is important information in helping you decide on the right IMTBIKE tour for you. Some tour members want to ride as many hours as possible everyday, while others prefer to stop more frequently and dedicate more time to enjoying the scenery, visiting cultural sights and arrive at the hotel earlier to relax before dinner. The daily riding hours are calculated including the coffee breaks and photo stops but they do not include the time taken for lunch.
Normally we'll start our riding day at 9:30am and we will take about a one hour lunch break sometime between 1pm and 2pm. So if the daily riding hours for a given tour are 5-7, then you will arrive at the hotel between 3:30pm- 5:30pm depending on the average speed of the group.
Tour Facts
Total Distance

1,373 miles / 2,211 km

Rest Days

1 San Sebastian

Breakfast

11 Included Breakfasts

Daily Mileage

160-220 miles / 250-350 kms.

Hotel Overnights

11 Nights

Highlights: Barcelona, Costa Brava, San Sebastian, Pamplona, Tour de France mountain passes, Coast to Coast Mediterranean to Cantabric Seas, The best riding in Europe.

Accommodations: Amazing hotels. First-class historical Paradors and a few specially selected boutique hotels with local flair. Paradors are Castles, Palaces & Fortresses converted into motorcycle-friendly hotels.
*All IMTBIKE lodgings are hand-picked for their quality of service, local charm and strategic locations.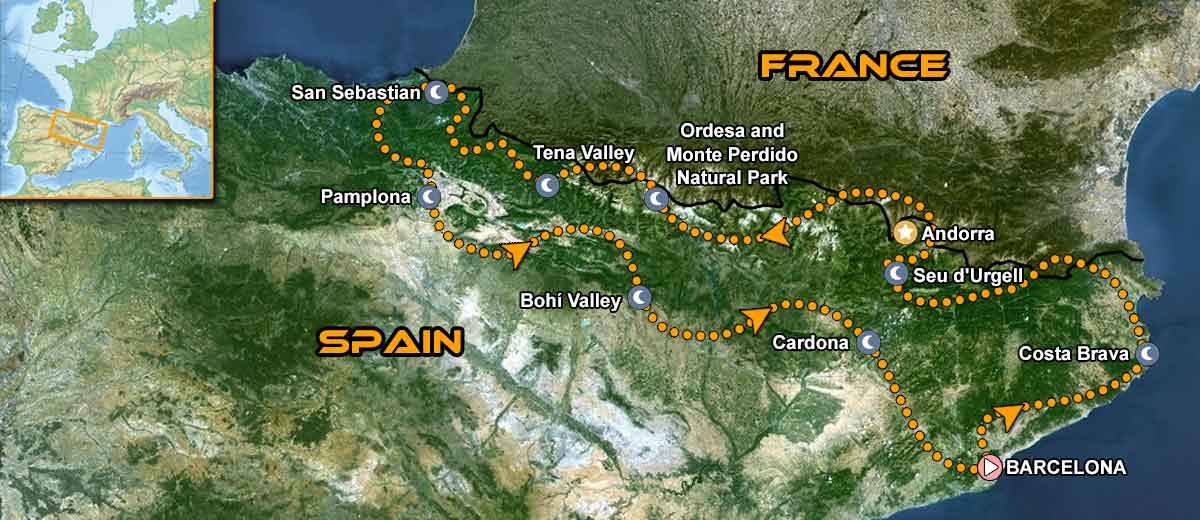 Click to enlarge
Northern Spain & Pyrenees Motorcycle Tours gallery

Absolutely the best! Our guide was super, fluent in all languages of countries we visited, and effective in herding cats. Roads, scenery, hotels, dinners were all fantastic. And when one of our group had a mishap with his bike, he took care of everything the best way possible...and at the end, charges were minor - others had minor scrapes, but IMTBIKE did not nitpick at everything, as I've heard happens with some companies. Overall an incredible experience of a lifetime.

Joseph Warner
Lenexa, USA
Absolutely the best!

We did a non-guided tour of the Pyrenees. IMTBIKE prepared a fantastic trip for us with just the right hotels and choice of roads. Everyone on the trip was delighted with their choices. The several people who rented bikes from IMTBIKE got late model BMW's in excellent condition. I would definitely plan another trip with IMTBIKE.

John Iglehart
London, UK
IMTBIKE prepared a fantastic trip

We did the inaugural IMTBike Wild Pyrenees Tour with Sergi Besses in July 2015. We were looking for the ultimate sport-touring adventure and got everything and more… This tour is about 80% technical with lots of hair-pin turns, mind-bending ascents and descents, long sweepers, majestic scenery, changing landscapes and excellent food…We highly recommend this tour for the adventurous looking for a series of technical rides by a great guide with a passion for riding and a desire to serve you.

David Wood
Florida, USA
Wild Pyrenees Tour

Hard for me to know which of the four IMTBIKE tours I've taken is the best since they've all been great. If I had to rank them, I would say Wild Pyrenees and Green Spain tied for first, with Sardinia & Corsica and Portugal & Southern Spain nipping at their heels.
I've come back from rides in Europe and elsewhere thinking "that's enough", but this time, all I can think about is how long to the next one! Can't be any better recommendation for a product than that.


Mike Atkin Victoria,
Canada
Thanks Y'all for a great shared experience; roll on Sicily.

Went on the wild Pyrenees tour with 2 mates which involved 9 days riding from Barcelona across Pyrenees to San Sebastián (rest day here which was serious fun) and back to Barcelona on alternate route. In short, this trip was absolutely AWESOME!! From even before the start we were provided great information on the various tours and responses were efficient, professional and useful with nothing being a problem. They gave great advice on machines to be ridden based on experience recognising the wild Pyrenees is a technical ride and wanted to ensure safety and enjoyment. There are other less technical courses available. On arrival we were provided a full briefing and arrival pack which again was professional and friendly and made you feel very welcome. The actual trip was unbelievable in terms of scenery and riding with twisties, sweepers, incredible road surface and lack of other vehicle traffic. Could not think of anywhere in world that could be better. Our riding just got better as we were tested on the diverse riding requirements with little freeway which was great. You pay good coin but you absolutely get value for money as the hotels are amazing and locations superb. If riding is your thing, whether with mates or partner, this is a must do and the IMT team were faultless in their attention to detail and your needs. Well done guys, best holiday!!

My gang of friends and I choose a country every year and experience it on a motorcycle. This year is our 7th year in a row. Each year based on the country we choose we have different organizers. This year(2017) we did Spain with IMT Bikes. I can tell without hesitation that they are the very best and has set the 'platinum standard' in our minds.
Chano and Ryan were our guides. They were incredible and superbly professional, personal, friendly, warm and a lot of fun. In such trips it is the details and attitude that matters and they were the among the best that I have ever experienced not in just this industry but in the service industry in general. "No" or even a hint or trace of hesitation or irritation doesn't seem to be in their vocabulary or attitude when dealing with out of plan requests or situations.
Scott, if Ryan and Chano represent your company culture you have built something amazing. Both of them are gems and true assets.
I would highly recommend IMT. A seven star if I could rate them so.

George Varghese
Bangalore, California, India
Bike trip in Spain

Thank you, thank you so much for a fabulous holiday. We had such a great time that we don't really know how to describe it. Every twist and turn, every curve, every mountain top, every view was beyond words to describe - the English language doesn't really have words to describe how amazed we were by the beauty and wonder
of your beautiful country - and all organised by you at IMTbike. Honestly we can't praise your company and organisation enough, it was the holiday of a lifetime, but hopefully not the only holiday - we want to repeat it all next year. Once again thanks - it was all complete magic.


Julian & Bev Foulkes
Litcham, UK
Self guided Coast to Coast Tour

I've been back for about three weeks now from the Pyrenees Coast to Coast tour. Wow, I can't stop thinking about how much we enjoyed the trip.
Everything about IMTBike from the bikes to the guides to the lodging were all first rate. And oh my gosh, the roads were fantastic.
This was my wife and l's fourth motorcycle trip but first time with IMTBike and it was by far the best experience. I'm trying to figure out a way to afford another trip with them soon.
So, all in all a terrific experience and I wouldn't hesitate to use them again in the future. You should too.

Steven Mack
Texas, USA
June 2019 Coast to Coast

Meet our guides

We are very proud of the reputation we've earned as one of the world's leading motorcycle tour operators, and it starts with our guides.
Day 1: Arrival in Barcelona
Day 2: Barcelona - Costa Brava
Day 3: Costa Brava - La Seu d'Urgell
Day 4: La Seu d'Urgell - Ordesa & Monte Perdido Natural Park
Day 5: Ordesa & Monte Perdido Natural Park - Valle del Tena
Day 6: Valle del Tena - San Sebastián
Day 7: San Sebastián - rest day
Day 8: San Sebastián - Pamplona
Day 9: Pamplona - Vall de Boí
Day 10: Vall de Boí - Cardona
Day 11: Cardona - Barcelona
Day 12: Flight Home
Day 1: Arrival in Barcelona, welcome briefing and dinner

Transfer included from the Airport to the hotel. You'll have the rest of the day to rest or explore the city of Barcelona before meeting your guides and the other tourmembers at the welcome briefing. Afterwards we'll enjoy our welcome dinner in an excellent local restaurant.

Day 2: Barcelona - Costa Brava

The first day will be a perfect chance for us to get used to our motorcycles in some of the local biker "sanctuaries" of Cataluña. Leaving Barcelona we'll head straight for the Sierra de Montseny and its famous curves. This has always been a favorite spot for local motorcyclists and is usually full of riders on the weekends. We'll ride out to the coast to another one of the most famous roads in the country which will take us to our hotel perched high on a cliff overlooking the Mediterranean Sea.

Day 3: Costa Brava - La Seu d'Urgell

This will be our first day riding in the Pyrenees. We'll discover more fantastic local favorites like Banyoles Lake, the green volcanic region of La Garrotxa and one of the most famous mountain passes of the region across the Sierra del Cadí Mountains.

Day 4: La Seu d'Urgell - Ordesa & Monte Perdido Natural Park

Another day of legendary mountain passes including the Col del Cantó and the majestic Port de la Bonaigua which will be our entry into the Valle de Arán. Then we'll cross into France for some more passes and slightly different scenery. The Bielsa Tunnel will be our re-entry point into Spain where we'll find our hotel for the night, located at the foot of the impressive Ordesa & Monte Perdido Natural Park.

Day 5: Ordesa & Monte Perdido Natural Park - Valle del Tena

You'll wake up to fresh mountain air, and the sound of waterfalls. Don't forget to take advantage of the sumptuous breakfast; you have a full day of riding ahead of you. You'll cross many mountain passes all of which offer breath-taking beauty and pristine road quality. Many of today's roads are the same that are pedaled in the Tour de France bicycle race. Today's overnight will be mountains surrounded by some of the best ski areas in the Pyrenees

Day 6: Valle del Tena - San Sebastián

Today we'll arrive at the northern coast in the heart of the Basque Country. Our day will be full of excitement and breathtaking landscapes not easily forgotten. Today we'll have the privilege of following part of the famous "Camino de Santiago" pilgrimage passing through Roncesvalles on our way to the Northern side of the French Pyrenees. We'll soon arrive in San Sebastian but only after crossing the lush green Basque Mountains.

Day 7: San Sebastián - rest day

For the rest day in Donostia (San Sebastian) there are tons of options. You can take a swim in the "Bahia de la Concha" (Shell Bay), explore the old city and taste the famous "Pintxos" (Basque tapas). You can also try one of the Michelin starred restaurants in a city home to some of the greatest chefs in the world. Your guides also have a special route planned if you would like to ride into the hills to discover the small villages and endless forests in the area.

Day 8: San Sebastián - Pamplona

We'll leave Donosti for another city, equally attractive and welcoming as well as legendary, the city of Pamplona. And we'll do it on a carefully selected series of back roads, winding and twisting our way through the beautiful countryside. In the Navarran capital we'll stay right in the historical center.

Day 9: Pamplona - Vall de Boí

We'll start our return journey back to the Mediterranean Sea along the most prestigious roads of the Spanish Pyrenees; beautiful sections with almost no traffic that we'll enjoy to the fullest, a perfect day putting our bikes to the test and enjoying all they have to offer. Most of the day we'll ride the lands of Aragón where we'll also sleep for the night, resting up in preparation for the many curves that are still to come.

Day 10: Vall de Boí - Cardona

Crossing into Cataluña from Aragón, two ancient medieval kingdoms, we'll conquer more mountain passes, lower in altitude but with excellent riding qualities. We'll also ride through some incredible canyons that at times seem like they are going to close in around us. It's a day of changing landscapes and contrasts on routes tailored for riders like us. At the end of the day we'll stop for the night in a medieval castle perched on top of a hill.

Day 11: Cardona - Barcelona

Not even the last day will be free from incredible motorcycling roads. The sacred rocky mountain of Montserrat awaits us for one final, yet unforgettable, section of twisties. After saying goodbye to our reliable machines we'll head to the hotel. In the evening we'll all get together with the guides for our farewell dinner in a delicious local restaurant where we'll reminisce about the journey and have a final toast to more adventures in the future. ¡Hasta pronto amigos!

Day 12: Flight Home

Today it's time to head to the airport and board your flight home. We'll see you on your next motorcycle adventure!
* Price includes BMW G310R