Perfect Pyrenees Motorcycle Tour
The Soul of the Pyrenees
Spain | Andorra | France
Aug. 03 — Aug. 10, 2024
14 Spots left
Aug. 31 — Sep. 07, 2024
14 Spots left
The mighty Pyrenees Mountains are known as one of the best motorcycle paradises in the world. Our Perfect Pyrenees Motorcycle Tour is a rider's tour as the quality of the asphalt is top-notch, the route is 99% curves, and there is almost no traffic at all. Now add incredible scenery to all this and you have an outstanding riding experience!
The Pyrenees are the beautiful mountains that separate France & Spain. This 7 day motorcycle tour weaves along the border following the natural flow of the mountain range to take full advantage of all the serpentine roads. This truly is motorcycle heaven!
IMTBIKE ROUTE rating
It is essential to know the different skill levels needed to participate in the IMTBIKE TOURS that are offered to you. IMTBIKE makes sure that it offers different tours for all riding styles and levels. The IMTBIKE team always works diligently in designing our routes. This is a laborious process which entails reviewing all road choices before selecting the best option for an IMTBIKE tour.
The most experienced motorcyclists looks for roads that require technical skill; narrow twisty roads with little traffic and endless curves. But these same roads would be too difficult for a less experienced rider.
The local driving habits, the amount of traffic, the asphalt quality and the radius of the curves vary considerably from country to country and even in different regions of the same country. They will also vary depending on the season of the year. All of these factors have been studied by IMTBIKE and have been taken into consideration when rating our tours.
IMTBIKE thinks it is also important to know about the different types of roads you will be enjoying on your tour. To understand the road types easier, IMTBIKE has divided them into two categories, and we have calculated an approximate percentage of each on all of our tours.
TOURING ROADS: These are wider roads comprised mainly of larger radius sweepers. They are still curvy roads but not tight mountainous twisty curves. Please remember that you will ride very few straight roads on IMTBIKE tours!
CHALLENGING ROADS: These are roads that are tight twisty turns which require more technical skill. Many times they will be narrower roads without a shoulder and sometimes with steep inclines or descents. Normally they will be mountainous roads accompanied by spectacular sceneries.
If you have never ridden a motorcycle outside of your country, or if you have little experience riding on mountain roads with many curves, we recommend that you choose a tour rated moderate or intermediate. If you have any questions or doubts please do not hesitate to call or email us. We are always happy to answer your questions to make sure that you choose the best tour for your riding level.
Moderate
This route offers wider sweeping turns that are easy to maneuver. This route may have some tighter turns in a few places but this will be the exception. Regardless, even on moderate tours you must be able to ride a large cylinder motorcycle in any condition. Never plan to learn how to ride a motorcycle on an IMTBIKE tour. We recommend having a minimum of 8.000 km (5.000 miles) of experience riding a large cylinder motorcycle to participate on a MODERATE rated IMTBIKE Tour and you should ride a motorcycle on a regular basis at home.
Intermediate
This route rating can have sections of very twisty curves on narrow roads with no center line to divide the road. There will also wider radius curves on these routes. Traffic conditions can be intense at times in some urban environments and the local driving habits may seem aggressive and unpredictable to you. It is imperative that you are an experienced motorcyclist. We recommend that you have a minimum of 12.000 km (7500 miles) of large cylinder motorcycle experience to participate on a INTERMEDIATE rated IMTBIKE Tour and you should ride a motorcycle on a regular basis at home.
Advanced
This route rating has long sections of technical narrow twisty roads and sometimes single lane roads. These twisty roads will often be in mountains where steep inclines and descents will be commonplace. Some riding days can be long and challenging. Traffic conditions can be intense at times in some urban environments and the local driving habits may seem aggressive and unpredictable to you. It is imperative that you are a very experienced motorcyclist on a large cylinder motorcycle. We recommend that you have a minimum of 16.000 km (10.000 miles) of large cylinder motorcycle experience on an ADVANCE rated IMTBIKE Tour and of course you should ride a motorcycle on a regular basis at home.
IMTBIKE Average Daily Riding Hours
5 to 7 hours
6 to 8 hours
7 to 9 hours
How many hours a day you ride on a tour is important information in helping you decide on the right IMTBIKE tour for you. Some tour members want to ride as many hours as possible everyday, while others prefer to stop more frequently and dedicate more time to enjoying the scenery, visiting cultural sights and arrive at the hotel earlier to relax before dinner. The daily riding hours are calculated including the coffee breaks and photo stops but they do not include the time taken for lunch.
Normally we'll start our riding day at 9:30am and we will take about a one hour lunch break sometime between 1pm and 2pm. So if the daily riding hours for a given tour are 5-7, then you will arrive at the hotel between 3:30pm- 5:30pm depending on the average speed of the group.
Tour Facts
Total Distance

902 miles / 1,453 km

Rest Days

1 Valle del Tena

Breakfast

7 Included Breakfasts

Daily Mileage

160-220 miles / 250-350 kms.

Hotel Overnights

7 Nights

Riding Season

late Spring, Summer, early Autumn

Highlights: Cosmopolitan Barcelona, Mountain passes used in the Tour de France bicycle race, Incredible scenery in France and Spain.

Accommodations: Amazing hotels. First-class historical Paradors and a few specially selected boutique hotels with local flair. Paradors are Castles, Palaces & Fortresses converted into motorcycle-friendly hotels.
*All IMTBIKE lodgings are hand-picked for their quality of service, local charm and strategic locations.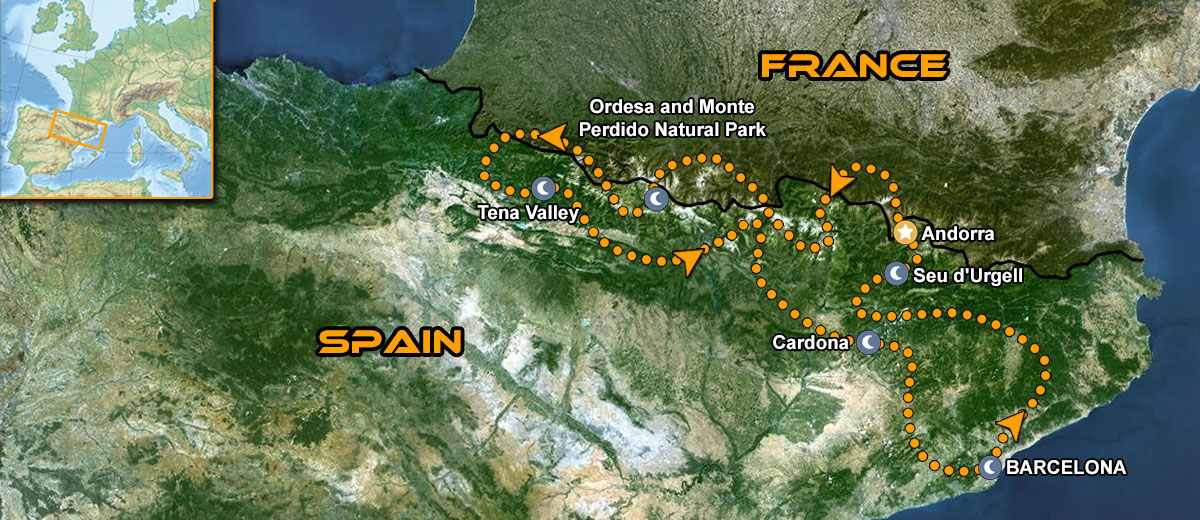 Click to enlarge
Northern Spain & Pyrenees Motorcycle Tours gallery

My wife and I enjoy motorcycle riding. Our very first date 38 years ago was on a motorcycle! We ride a lot here in the States and our very first ride overseas was a "self-guided" tour in Ireland. Looking for more motorcycle adventures in Europe, we happened on IMT Tours and booked our very first "guided tour" with them. Great decision! We booked the Perfect Pyrenees Tour and believe me, it was "perfect". Our guides, Chano and Juanan were awesome in every way. Our ride thru the amazing mountain passes was flawless. Both Chano and Juanan are excellent tour guides and riders and we always felt safe and comfortable on these amazing roads. There were 9 bikes and 3 passengers on our tour and right from the start, we all got along like we knew each other our entire lives. The accommodations and meals were top shelf and one night we even stayed in a castle! Well, only one thing to do after an amazing adventure like this......book another one! We have booked a tour of Morocco with IMT. I will add one more comment about the company. IMT=Incredible Motorcycle Tours. "Simply The Best" Thank you all.

Paul Will
Doylestown, USA
Simply The Best

We had a great time on our trip. The places they selected for our lodging was fantastic. The people treated us like royalty, made us feel welcome. One place made us feel like family, cannot get any better than that. Our trip was in Aug. Of 2019. If the opportunity to travel with IMTBIKE arises again, I would definitely do it. We are checking their other tours. May be booking one in the future. Absolutely loved our trip. And would do the same trip again given the opportunity, loved it.

Richard Allison
Ontario, Canada
Great time

This is a premier organization that has experienced staff and great resources to take care of any unexpected event. Our ride leader, Sergio, was extremely professional while being humorous and supportive of the riders.

John Symonds
Naples, USA
Great Organization

El tour de los perfectos pirineos así estuvo, PERFECTO!!
Sobre todo gracias al profesionalismo y simpatia de nuestros guias.
Saludos y espero verlos el proximo año.

Jaime Guzman
Mexico City, Mexico
Perfect Pyrenees Tour

Ya de regreso en Mexico, la hemos pasado increíble! El viaje supero por mucho nuestras expectativas! Martín y Chano fueron lo mejor del viaje, de verdad! Nos hicieron el tour ameno, seguro, y además de haber sido un paseo increíble, nos ayudaron a mejorar nuestra calidad de manejo, ya que siempre estuvieron dispuestos a responder con paciencia a todas nuestras preguntas.
Pronto nos pondremos en contacto con ustedes para organizar el siguiente tour.
Un abrazo.

Francisco Guzman
Mexico City, Mexico
Tour Pirineos Perfectos -

Estimados Martin y Oscar, luego que nos despedimos en Barcelona cada uno de nosotros tomo su camino unos de regreso inmediatamente a Venezuela otros también de regreso pero más despacio ó mejor dicho dando una vuelta más larga, el tema es todos nos fuimos con la sensación de haber pasado una de esas semanas que no vamos a olvidar y además de la que vamos a hablar por mucho tiempo.

Estoy seguro que hablo por todos al decirles que se superaron todas nuestras expectativas en el paseo, su conocimiento, profesionalismo, amabilidad y simpatía hicieron que lo que empezó como ocho amigos que iban a los Pirineos Españoles a montar en moto se convirtiera rápidamente en diez amigos
Creo que todos mejoramos nuestra capacidad de conducción, disfrutamos de los mejores paisajes, las mejores carreteras, comimos y bebimos de primera incluyendo paellas a derecha e izquierda! En resumen seria propio decir que la pasamos "DE PUTA MADRE!" También sería propio decir que ustedes tienen ocho nuevos amigos en Venezuela y nosotros dos en España. Bueno solo queda decirles Muchas Gracias por todo y vamos a ver si nos vemos en el próximo año para rodar esta vez por las carreteras Andaluzas o por lo llaman España verde.

Alberto Ramirez
Venezuela
Pirineos Perfectos - Moto Aventura Custom Tour

I just wanted to thank you for a truly wonderful experience far beyond what I had anticipated. Bravo to you, your company and your staff. The roads and scenery bordered on being Magical. Words cannot express how much fun I had. It was superb.
What a bummer to come home! Ride Well my friend: Hopefully we can do it again someday.

Jon Gracey
West Virginia, USA
Pyrenees Tour - A truly Wonderful Experience

I just finished the Perfect Pyrenees trip last week. I must say it was one of my most enjoyable experiences, on or off of a motorcycle, ever. The roads were superb. The IMTBike team (Martin And Roger) were extraordinary hosts, mentors and guides. The hotels and food was fantastic. I cannot recommend this trip highly enough. BRAVO IMTBike!!!!

Terrence Burns
Georgia, USA
Perfect Pyrenees Tour

I just want to thank IMTbike tours for a fantastic six days in the Pyrenees Mountains. It was beyond my greatest expectations. Everything they promised, they delivered and more. Martin and Roger are both fantastic people and guides. They are fun to be with and awesome riders. We had a great group and many first time tour riders; I am sure some will be back for more. The roads and scenery are beyond description. An experience not to be missed. Oh yes, ask anybody that was on the tour about the food. The tour should be renamed the Perfect Pyrenees motorcycle and Food Experience Tour!

Dale Brandt
Iowa, USA
Perfect Pyrenees Tour - Fantastic six days

This was my second tour with IMTBike, having gone to Morocco last year. As before the pacing and daily riding distance was perfect plus our guides went out of their way to ensure none of the tail-enders became lost which is quite the contrary to other tours I've been on. This was my 6th foreign tour and keeping up generally doesn't apply to me but it was good to see IMTBike staff concerned enough to make sure everyone has a good time. I'm already looking at my schedule to see what IMTBike tour I can take next year!

Tosh Konya
Ohio, USA
Perfect Pyrenees Tour

I am sitting down thinking about my trip to the Magical Pyrenees looking at the pictures you took makes me smile and feel sad. Getting home is comforting but the joy of riding with you, Roger, Al and the rest brings a huge smile to my face. It is hard to describe to your friends the exhilaration riding a motorcycle brings it makes me feel like a kid again.
Many thanks to you and Roger for taking care of all riders all were included in all aspects of the trip.
Everything was first class: the little touches, marked maps, planning local information, photography (the photos were a treasure). Was awesome!
I will be back! You and Roger are a great team and fab riders thanks for the riding lessons.
Until we meet again!

Howard Strode
Ontario, Canada
Perfect Pyrenees Tour - Better than Advertised

It is difficult to find the words to express my appreciation to IMTBIKE for the absolutely PERFECT Pyrenees Tour . I have been riding motorcycles for over 50 years. I have travelled over a large percentage of North America by motorcycle and my son and I did a self-guided tour of the Pyrenees several years ago (also arranged by IMTBIKE).
The trip last week was by far my most enjoyable time on a motorcycle. I am at a loss to think of any way that the experience could have been improved upon. The roads, scenery, accommodations and meals were magnificent.
Although I realize that the successful execution of an undertaking of this type requires a great deal of work by people that we never see, you should be very proud that IMTBIKE is represented so exceptionally well by both Martin and Roger. Their knowledge of the Pyrenees and Catalunya are impressive, their motorcycling passion and skills are amazing, and their attention to every little detail made this a trip of a lifetime.
Please extend my thanks to everyone at IMTBike for their hard work.


Hinton Buzz Crockett
Tennessee, USA
Perfect Pyrenees Tour - A PERFECT Pyrenees Tour

After traveling with my moto buddy Greg Pecknold on the Perfect Pyrenees trip, I thought I would write to thank you for putting together a fantastic tour. This being our second tour this year we pretty much knew what to expect. However, like one of our fellow bikers noted, while the Andalucía Tour was about the history and culture of the region, the Pyrenees Tour is about the roads.

Both are quite memorable, but the twisties in the Pyrenees....unbelievably exciting and satisfying. Greg and I often remarked what great guides Roger and Martin are. Really, the trip by itself is fine, but these two men add delicious frosting on the moto cake. Their riding expertise, familiarity of roads traveled, intricacies in Spanish culture and knowledge of the sidelines of food and lodgings make for a trip of a lifetime. Not to mention their genuine caring for their tourists. These guys are golden.

You haven't seen the last of Greg and I, what a trip!

Phillip Roush
Washington State, USA
Perfect Pyrenees Tour

My tour with IMTBike of the Pyrenees was awesome! I can not think of a more potent word to describe it. Martin and Roger were so excellent and I have not had as much fun riding with others as I did with them. They adjusted the riding to fit the group and everybody had fun. They really love the job and made sure that we were maximizing what we could get out of the tour from the actual routes chosen, the riding style, the sites to see, the restaurants and culture. They also had a great positive energy that was infectious. I had hesitations of doing a group tour and thought long and hard about signing up on this one but upon completion I am very happy to say that I was so impressed I would have no hesitation to do it again. My only fear would be that this tour set the bar so high other tours would have a tough time meeting my expectations.

I look forward to riding with you guys again in the future.

Todd Yamkovy
Alberta, Canada
Perfect Pyrenees Tour

Six unforgettable days. We had a good feeling right away, because all the staff at IMTBike, most notably Ryan and Scott the Principal of IMTBIKE were always available to answer any and all questions and concerns.
Being a self-guided tour, we had an initial briefing from one of the IMTBIKE staff-Sergi, a very knowledgeable guide who has ridden the Pyrenees for many years and gave us some additional information and tips. We felt very comfortable being on our own and the flexibility of making changes on the fly, which we did.

All the motorcycles were clean and in top condition, no issues whatsoever, again the staff at the depot checked and rechecked and answered any questions.

The route chosen for us was superb; we did modify a bit to suit our needs, as we are very well acquainted with GPS routing and paper map reading. IMTBIKE gave us all the materials and back up information. The printed handbook and maps showed a high level of preparation. This was much appreciated as we are very detailed oriented.

The roads were in A1 shape. Some of the toughest and most challenging roads I have ever ridden on, a sheer delight. Some enchanting surprises along the way made for a most enjoyable tour.

All in all, the best motorcycle trip I have ever done, and I can speak for the others as well on this point.

To all the staff at IMTBIKE, thank you for this great experience. I would not hesitate to recommend your tours to anyone.


Gadi Pragerz
Toronto
Self-Guided Perfect Pyrenees Tour

I just wanted to let you know that our self-guided Pyrenees trip was fantastic. Everything was perfect; the bikes, hotels and most importantly, the roads. The navigation system was right on, there was almost no traffic and fortunately the weather was great. Everyone is still sky high after returning home.

Michael Glass
USA
Self-Guided Perfect Pyrenees Tour

Having just got back to New Zealand I wanted to say to you and your staff in Barcelona a big thank you for the trip that was planned out for Ruth & Myself last month. It was a highlight for us both and with fantastic accommodation sorted each day it was just great. I will happily recommend you to any of my mates wanting to do the Pyrenees or any other Spanish ride.

Malcolm & Ruth Eves
New Zealand
Self-Guided Perfect Pyrenees Tour

We both want to thank you for suggesting we do a guided trip. Our ride thus far is nothing short of fantastic. Our guide Martin is the best, he's like riding with a good friend. He is very relaxed but totally professional and fun to travel with. We are not only seeing the Pyranese but learning the history at the same time. We could not have mapped out a route like this not knowing the country. The additional two guides Roger and Rubin are equally capable and exceptionally accommodating. The guides are all about having a fun ride but put an emphasis on safety and good riding habits. IMT has spared no expense in providing a first-class experience.

Gene & Bob
United States
Perfect Pyrenees Tour

Many times the excitement leading up to a trip and the vision of what it will be are better than the trip itself. Not so with IMT Bike's Perfect Pyrenees Tour! Wow! Our guides Martin, Roger, and Rubin were amazing! Our group was large...17 bikes and 26 people. We never felt like we were in a crowd. Everything was orchestrated perfectly! Our rides were beautiful and challenging. Our hotels and dinners were amazing. Our bikes were great! We really had a wonderful time! I would recommend IMT Bike Tours to anyone wanting an adventure without having to do all the planning!

Tamara Roth
Missouri, USA
Perfect Pyrenees Tour

Fantastic ride through the Pyranese Mountains in Spain and France. The whole experience was first class, the guides were so much fun to ride with. I am a much better rider after a week of learning from these guys. They put a real emphasis on safety and good riding technique. The hotels, the food, the drink, were all first class. This was my third Europe ride and by far the best. We were in a large group, everyone was great to ride with. Martin, Rubin, and Rogier...we will be back! IMT is exceptionally well organized and the bikes were near new. The IMT rates are a bargain, their service and attention to detail left nothing to be desired.

Gene Hildahl
Washignton, USA
Perfect Pyrenees Tour

Meet our guides

We are very proud of the reputation we've earned as one of the world's leading motorcycle tour operators, and it starts with our guides.
Day 1: Arrival Barcelona
Day 2: Barcelona - La Seu d' Urgell
Day 3: La Seu d'Urgell - Ordesa & Monte Perdido National Park
Day 4: Ordesa & Monte Perdido National Park – Valle del Tena
Day 5: Valle del Tena - Rest Day
Day 6: Valle del Tena – Cardona
Day 7: Cardona – Barcelona
Day 8: Flight home
Day 1: Arrival Barcelona, safety briefing and welcome dinner

Transfer included from the Airport to the hotel. You will have some free time to relax or do some sightseeing before the welcome briefing. After the briefing we will enjoy a welcome dinner in a traditional restaurant. The first and last days mentioned in the itinerary are the arrival and departure days for your tour. Depending on the country you are flying from, you may have to leave a day early. Please book your flights accordingly!

Day 2: Barcelona - La Seu d' Urgell

Your journey will begin in the beautiful and historically rich city of Barcelona. On your first day of riding we'll leave Barcelona and make our way into the Pyrenees Mountains. You'll ride famous mountain passes that have perfect asphalt and curves. Your first day of twisties and curves in the Pyrenees ends in the quaint town of Seu D'Urgel, just a stones through from Andorra.

Day 3: La Seu d'Urgell - Ordesa & Monte Perdido National Park

Today you'll start border hopping! The full beauty of the Pyrenees and her perfect asphalt and lack of traffic will amaze you! You'll cross from Spain to France and back several times today taking advantage of some of the best riding in the World! Beautiful Ordesa & Monte Perdido National Park will make for the perfect way to end this day.

Day 4: Ordesa & Monte Perdido National Park – Valle del Tena

You'll wake up to fresh mountain air, and the sound of waterfalls. Don't forget to take advantage of the sumptuous breakfast; you have a full day of riding ahead of you. You'll cross five mountain passes all of which offer breath-taking beauty and pristine road quality. Many of today's roads are the same that are pedaled in the Tour de France bicycle race. Today's overnight will be mountains surrounded by some of the best ski stations in the Pyrenees.

Day 5: Valle del Tena - rest day

Today you'll wake up feeling at home as today there'll be no packing, it's the rest day! Today you can relax and walk around town, the mountains or go for a day ride in the valleys or to Pamplona, famous for the annual Running of the Bulls festival.

Day 6: Valle del Tena – Cardona

Leaving the beautiful Tena Valley, your day will begin by crossing a beautiful mountain pass and then entering the lower Aragonés Pyrenees. On today's journey you'll cross four more mountain passes and experience typical Pyrenees villages. Perfect sweepers will bring you down to Cardona, a town famous for its salt mines and the 8th century fortress perched high on the hilltop overlooking the town.

Day 7: Cardona – Barcelona

Today's ride will bring you out of the Pyrenees Mountains to the Montserrat Mountain which has magical scenery and many amazing curves on great roads before you return to Barcelona.

Day 8: Flight home

Today you will say your goodbyes to the guides and the other tour members (now your new friends) as you make your way to the airport to fly home. Until our next motorcycle adventure together! Hasta Luego!
Perfect Pyrenees Motorcycle Tour Pricing
The base price of every tour is calculated for a single rider on a BMW G310R and sharing a double room

Included in Tour:
Airport pickup on the first day of the tour.
Overnight accommodations in carefully selected 4 & 5 star hotels and Paradors/Pousadas (castles and palaces converted into "motorcycle friendly" boutique hotels).
A delicious gourmet evening meal featuring Spanish and Portuguese specialties every night (except on rest days).
Complete buffet breakfast every morning.
New model BMW motorcycle fully equipped with 3 BMW cases.
Tour handbook (normally about 70 pages-very comprehensive) and highlighted map.
Expert multilingual guide on a motorcycle.
Multilingual guide in support vehicle which will carry your luggage, any oversized purchases you make; or even a passenger or two.
Tour Souvenirs.
Not included in Tour:
Air ticket, lunches, gasoline, drinks, tolls, personal spending and tips