Essence of Portugal Motorcycle Tour
Soul and tradition
Portugal
This unique tour is the perfect way to discover all the hidden secrets that Portugal has to offer.  Seven riding days through Central Portugal will give you sufficient time to enjoy the traditions of these hospitable people, from their bewitching Fado music to delicious Portuguese cuisine and its excellent wines.
The mountains in Central Portugal boast some of the best curvy roads in all of Europe. These serpentine roads, with almost no traffic and incredible asphalt, will keep you smiling day after day.  Now add beautiful landscapes and seascapes around every curve and you'll understand what authentic motorcycle pleasure is.  From the beauty of the Estoril Coast and the charming vineyards on the Douro riverbank; to uniquely fascinating cities like Lisbon and Porto, this tour will leave you wanting to return for more!
* Price includes BMW G310R
IMTBIKE ROUTE rating
It is essential to know the different skill levels needed to participate in the IMTBIKE TOURS that are offered to you. IMTBIKE makes sure that it offers different tours for all riding styles and levels. The IMTBIKE team always works diligently in designing our routes. This is a laborious process which entails reviewing all road choices before selecting the best option for an IMTBIKE tour.
The most experienced motorcyclists looks for roads that require technical skill; narrow twisty roads with little traffic and endless curves. But these same roads would be too difficult for a less experienced rider.
The local driving habits, the amount of traffic, the asphalt quality and the radius of the curves vary considerably from country to country and even in different regions of the same country. They will also vary depending on the season of the year. All of these factors have been studied by IMTBIKE and have been taken into consideration when rating our tours.
IMTBIKE thinks it is also important to know about the different types of roads you will be enjoying on your tour. To understand the road types easier, IMTBIKE has divided them into two categories, and we have calculated an approximate percentage of each on all of our tours.
TOURING ROADS: These are wider roads comprised mainly of larger radius sweepers. They are still curvy roads but not tight mountainous twisty curves. Please remember that you will ride very few straight roads on IMTBIKE tours!
CHALLENGING ROADS: These are roads that are tight twisty turns which require more technical skill. Many times they will be narrower roads without a shoulder and sometimes with steep inclines or descents. Normally they will be mountainous roads accompanied by spectacular sceneries.
If you have never ridden a motorcycle outside of your country, or if you have little experience riding on mountain roads with many curves, we recommend that you choose a tour rated moderate or intermediate. If you have any questions or doubts please do not hesitate to call or email us. We are always happy to answer your questions to make sure that you choose the best tour for your riding level.
Moderate
This route offers wider sweeping turns that are easy to maneuver. This route may have some tighter turns in a few places but this will be the exception. Regardless, even on moderate tours you must be able to ride a large cylinder motorcycle in any condition. Never plan to learn how to ride a motorcycle on an IMTBIKE tour. We recommend having a minimum of 8.000 km (5.000 miles) of experience riding a large cylinder motorcycle to participate on a MODERATE rated IMTBIKE Tour and you should ride a motorcycle on a regular basis at home.
Intermediate
This route rating can have sections of very twisty curves on narrow roads with no center line to divide the road. There will also wider radius curves on these routes. Traffic conditions can be intense at times in some urban environments and the local driving habits may seem aggressive and unpredictable to you. It is imperative that you are an experienced motorcyclist. We recommend that you have a minimum of 12.000 km (7500 miles) of large cylinder motorcycle experience to participate on a INTERMEDIATE rated IMTBIKE Tour and you should ride a motorcycle on a regular basis at home.
Advanced
This route rating has long sections of technical narrow twisty roads and sometimes single lane roads. These twisty roads will often be in mountains where steep inclines and descents will be commonplace. Some riding days can be long and challenging. Traffic conditions can be intense at times in some urban environments and the local driving habits may seem aggressive and unpredictable to you. It is imperative that you are a very experienced motorcyclist on a large cylinder motorcycle. We recommend that you have a minimum of 16.000 km (10.000 miles) of large cylinder motorcycle experience on an ADVANCE rated IMTBIKE Tour and of course you should ride a motorcycle on a regular basis at home.
IMTBIKE Average Daily Riding Hours
5 to 7 hours
6 to 8 hours
7 to 9 hours
How many hours a day you ride on a tour is important information in helping you decide on the right IMTBIKE tour for you. Some tour members want to ride as many hours as possible everyday, while others prefer to stop more frequently and dedicate more time to enjoying the scenery, visiting cultural sights and arrive at the hotel earlier to relax before dinner. The daily riding hours are calculated including the coffee breaks and photo stops but they do not include the time taken for lunch.
Normally we'll start our riding day at 9:30am and we will take about a one hour lunch break sometime between 1pm and 2pm. So if the daily riding hours for a given tour are 5-7, then you will arrive at the hotel between 3:30pm- 5:30pm depending on the average speed of the group.
Tour Facts
Total Distance

1.615 km / 1.003 millas

Breakfast

8 Included Breakfasts

Daily Mileage

250-350 km / 160-220 millas

Hotel Overnights

8 Nights

Riding Season

Spring, Autumn

Highlights: Cascáis, Sintra, Lisboa, Porto, Óbidos, Serra da Estrela, Atlantic Coast

Accommodations: Awesome hotels. First-class historical Pousadas.
*All IMTBIKE lodgings are hand-picked for their quality of service, local charm and strategic locations.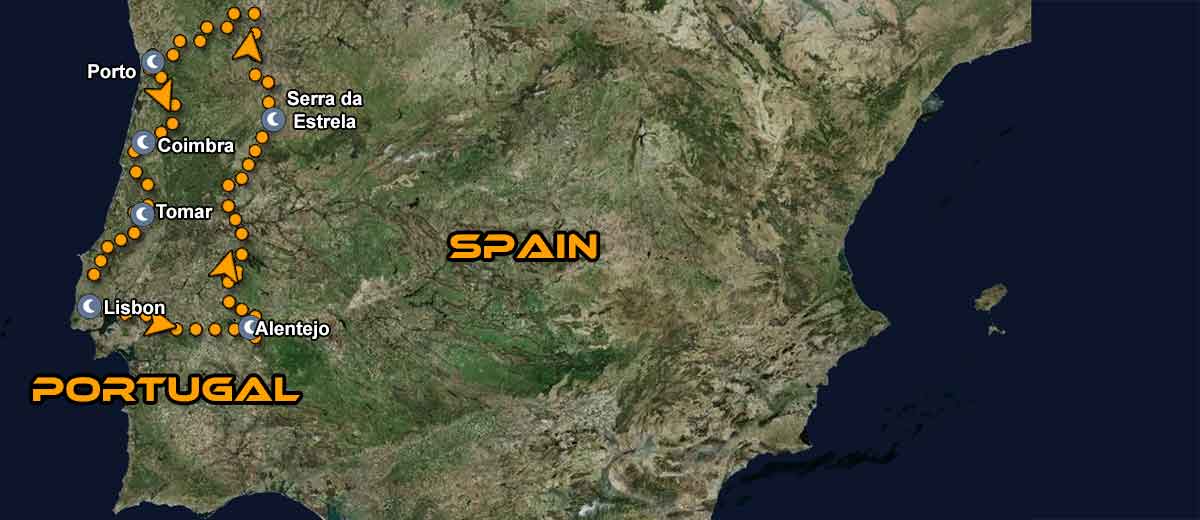 Click to enlarge
Portugal Motorcycle Tours Gallery
Day 1: Arrival in Lisbon
Day 2: Lisbon - Alentejo
Day 3: Alentejo – Serra da Estrela
Day 4: Serra da Estrela – Porto
Day 5: Porto - Rest day
Day 6: Porto – Coimbra
Day 7: Coimbra - Tomar
Day 8: Tomar - Lisboa
Day 9: Flight Back home
Day 1: Arrival in Lisbon, safety instructions and welcome dinner

The airport transfer to the hotel is included today. You'll have time to rest and visit the city before meeting with the group for a welcome briefing in the evening. Afterwards we'll all eat dinner together at a traditional Portuguese restaurant. The first and last day of the itinerary correspond to your arrival and departure days. Depending on which country you are coming from, you might have to leave a day early. Please make your airline reservations accordingly.

Day 2: Lisbon - Alentejo

We will depart Lisbon to the south and cross the spectacular 25 de Abril Bridge over the Tajo River. This will bring us to the picturesque coastal city of Setúbal. We'll then head inland, traveling on little-known roads that will gradually lead us to the famous Alentejo wine region where we will sleep in a fascinating walled city.

Day 3: Alentejo – Serra da Estrela

Today is the day we leave the landscapes of gentle tilled fields and rolling hills and enter the mountainous territory of the Serra da Estrela. This mighty mountain range awaits us with hundreds of kilometers of winding mountain road and perfect asphalt, all surrounded by a spectacular landscapes of leafy forests and postcard valleys.

Day 4: Serra da Estrela – Porto

Today is another pure motorcycle enjoyment day on winding mountain roads that will continue northward towards the Douro River. We will continue along a beautiful twisty road that will wind us all the way to the Atlantic Ocean. Along the way we'll admire the terraced vineyards where grapes grow to make delicious Port wine. The bewitching city of Porto awaits us, famous throughout the world for its appreciated wines.

Day 5: Porto - Rest day

Today you'll have the opportunity to explore Porto. Don't miss your chance to visit one of the famous Port wine cellars on the other side of the river in Vila Nova de Gaia. You can also head towards the beach and eat freshly grilled fish or even hop on your motorcycle and ride north along the Atlantic Coast, the choice is yours!

Day 6: Porto – Coimbra

Another day of motorcycle enjoyment awaits us as we ride along the pristine mountain roads of Portugal's central mountain range. Little-known roads with good asphalt and no traffic will lead us through small Portuguese villages outside the touristy routes until you reach the youthful university city of Coimbra.

Day 7: Coimbra - Tomar

Today's ride will start with another good set of curves in the Serra da Lousã Mountains which will lead us through a little known part of central Portugal. We will have the opportunity to see how the locals live in this beautiful rural area. From here enjoyable local roads with hardly any traffic will lead us to our final destination for today where a beautiful city full of Templar tradition awaits us.

Day 8: Tomar - Lisboa

For our last riding day we have an exquisite menu! We'll start on local winding roads that will lead us southward to the extraordinary medieval walled village of Óbidos. After a visit, we'll continue south to visit the spectacular cliffs of Cabo da Roca, the westernmost point of Europe. For our grand finale we will follow the stunning coastline on a beautiful road with seascapes of bobbing surfers waiting for a good wave and secretive hidden beaches. We'll pass such emblematic places like Cascáis and Estoril (the Portuguese Monaco), until we reach Lisbon.

Day 9: Flight Back home

Today you will say your goodbyes to the guides and the other tour members (now your new friends) as you make your way to the airport to fly home. We'll see you again on our next motorcycle adventure together!
* Price includes BMW G310R