Morocco & Southern Spain Motorcycle Tour
The Ancient Moorish Kingdom
Spain | Morocco
Mar. 18 — Apr. 03, 2023
8 spots left
The ancient Moorish kingdom is yours to discover as you ride through Andalucia and Morocco on this fun filled 15 day adventure on two wheels. During this Southern Spain and Morocco motorbike tour, you'll start off in Southern Spain and ride on excellent quality asphalt through "White Pueblos", Bravo bull ranches and cork tree forests. Vestiges of "Al Andalus" are evident everywhere as ancient Moorish Fortresses like the Alhambra and Almohad Minarets dot the Spanish countryside.
Now it's time for Morocco! After the motorbike tour in Southern Spain, a quick ferry ride will bring you across to Africa where you'll ride diverse landscapes from the Atlas Mountains and breathtaking gorges to the desert. You'll feast your senses in Imperial Cities like Fez and Marrakesh and relive history in ancient Casbahs. In the evening you'll dine on delicious Moroccan cuisine like tagine and couscous. The ancient Moorish kingdom in Andalucia and Morocco is yours to discover and you'll be happy that you did!
IMTBike ROUTE rating
It is essential to know the different skill levels needed to participate in the IMTBIKE TOURS that are offered to you. IMTBIKE makes sure that it offers different tours for all riding styles and levels. The IMTBIKE team always works diligently in designing our routes. This is a laborious process which entails reviewing all road choices before selecting the best option for an IMTBIKE tour.
The most experienced motorcyclists looks for roads that require technical skill; narrow twisty roads with little traffic and endless curves. But these same roads would be too difficult for a less experienced rider.
The local driving habits, the amount of traffic, the asphalt quality and the radius of the curves vary considerably from country to country and even in different regions of the same country. They will also vary depending on the season of the year. All of these factors have been studied by IMTBIKE and have been taken into consideration when rating our tours.
IMTBIKE thinks it is also important to know about the different types of roads you will be enjoying on your tour. To understand the road types easier, IMTBIKE has divided them into two categories, and we have calculated an approximate percentage of each on all of our tours.
TOURING ROADS: These are wider roads comprised mainly of larger radius sweepers. They are still curvy roads but not tight mountainous twisty curves. Please remember that you will ride very few straight roads on IMTBIKE tours!
CHALLENGING ROADS: These are roads that are tight twisty turns which require more technical skill. Many times they will be narrower roads without a shoulder and sometimes with steep inclines or descents. Normally they will be mountainous roads accompanied by spectacular sceneries.
If you have never ridden a motorcycle outside of your country, or if you have little experience riding on mountain roads with many curves, we recommend that you choose a tour rated moderate or intermediate. If you have any questions or doubts please do not hesitate to call or email us. We are always happy to answer your questions to make sure that you choose the best tour for your riding level.
Moderate
This route offers wider sweeping turns that are easy to maneuver. This route may have some tighter turns in a few places but this will be the exception. Regardless, even on moderate tours you must be able to ride a large cylinder motorcycle in any condition. Never plan to learn how to ride a motorcycle on an IMTBIKE tour. We recommend having a minimum of 8.000 km (5.000 miles) of experience riding a large cylinder motorcycle to participate on a MODERATE rated IMTBIKE Tour and you should ride a motorcycle on a regular basis at home.
Intermediate
This route rating can have sections of very twisty curves on narrow roads with no center line to divide the road. There will also wider radius curves on these routes. Traffic conditions can be intense at times in some urban environments and the local driving habits may seem aggressive and unpredictable to you. It is imperative that you are an experienced motorcyclist. We recommend that you have a minimum of 12.000 km (7500 miles) of large cylinder motorcycle experience to participate on a INTERMEDIATE rated IMTBIKE Tour and you should ride a motorcycle on a regular basis at home.
Advanced
This route rating has long sections of technical narrow twisty roads and sometimes single lane roads. These twisty roads will often be in mountains where steep inclines and descents will be commonplace. Some riding days can be long and challenging. Traffic conditions can be intense at times in some urban environments and the local driving habits may seem aggressive and unpredictable to you. It is imperative that you are a very experienced motorcyclist on a large cylinder motorcycle. We recommend that you have a minimum of 16.000 km (10.000 miles) of large cylinder motorcycle experience on an ADVANCE rated IMTBIKE Tour and of course you should ride a motorcycle on a regular basis at home.
IMTBIKE Average Daily Riding Hours
5 to 7 hours
6 to 8 hours
7 to 9 hours
How many hours a day you ride on a tour is important information in helping you decide on the right IMTBIKE tour for you. Some tour members want to ride as many hours as possible everyday, while others prefer to stop more frequently and dedicate more time to enjoying the scenery, visiting cultural sights and arrive at the hotel earlier to relax before dinner. The daily riding hours are calculated including the coffee breaks and photo stops but they do not include the time taken for lunch.
Normally we'll start our riding day at 9:30am and we will take about a one hour lunch break sometime between 1pm and 2pm. So if the daily riding hours for a given tour are 5-7, then you will arrive at the hotel between 3:30pm- 5:30pm depending on the average speed of the group.
Tour Facts
Total Distance

2,200 miles / 3,500 km

Rest Days

3 Seville, Fez, Boumalne Dades

Breakfast

16 Included Breakfasts

Daily Mileage

160-220 miles / 250-350 kms

Hotel Overnights

16 Nights

Highlights: Mediterranean Sea, Granada, The Alhambra Fortress/Palace, Ronda and other "White Pueblos", Seville, Gibraltar, Fez, Marrakesh, Sahara Desert, Chefchoauen.

Accommodations: Awesome hotels. First-class historical Paradors and specially selected lodgings with local flair in Spain. Paradors are Castles, Palaces & Fortresses converted into motorcycle-friendly hotels. In Morocco, first-class 4-5 star hotels and a few Moroccan Riads. Riads are Moroccan Palace homes converted into exotic boutique hotels.
*All IMTBIKE lodgings are hand-picked for their quality of service, local charm and strategic locations.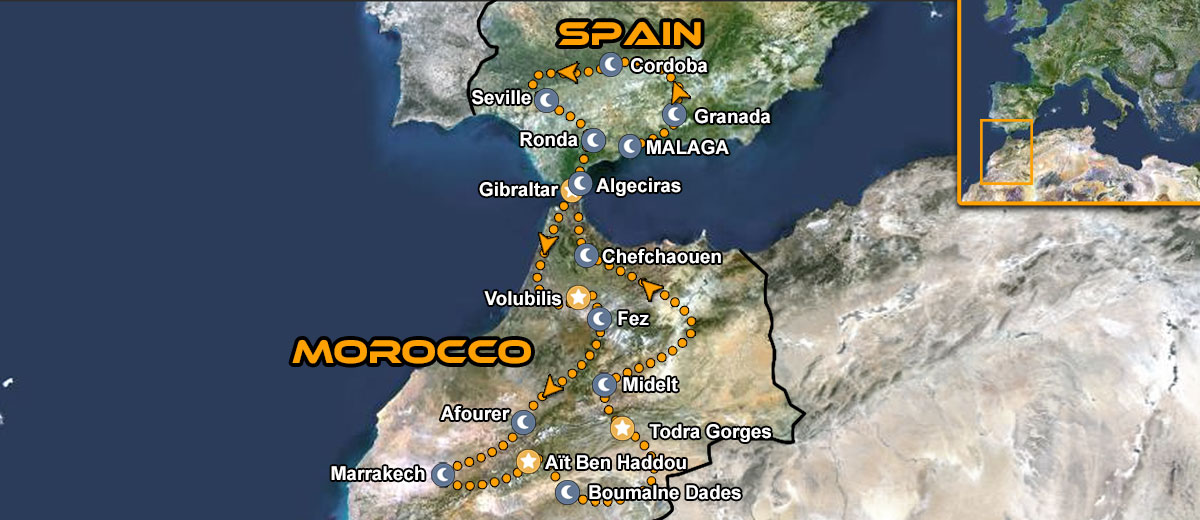 Click to enlarge
Morocco Motorcycle Tours Gallery

Everything to do with IMTBIKE tours is unbelievable perfect. It's a bucket list for all bikers. I can't wait for our next trip.

Beverly Ann Dray
Currumbin Valley, QLD, Australia
Absolutely amazing

First of all, let me just say that IMTBIKE is a great company. My wife and I have done two tours with them (Sardinia & Corsica and Southern Spain & Morocco), and both were fantastic. In these days of confinement, I think we all dream of getting away. One day the pandemic will fade and the borders will be open again. When that day comes, be ready to ride! If you've never done a motorcycle tour in Europe, what are you waiting for? It's an amazing experience. You won't regret choosing to do it with IMT. They offer a big selection of late-model BMWs, of course, and many great itineraries, but the best thing they offer is their guides. Smart, friendly, knowledgeable about all aspects of the tour, they are consummate professionals. You will know you're in good hands. So, do it, go riding in Europe! I'm looking forward to doing it again as soon as possible.

William Buckley
New York, USA
IMTBIKE is a great company

This Spain/Morocco trip was an adventure of a lifetime. Our guide Juanan was outstanding. We experienced a variety of accommodations which made our trip even more delightful. The food was awesome, the roads were great and the scenery was unbelievable. IMTBIKE knows how to treat their guests royally and as soon as the Covid virus gets resolved we hope to take another adventure with them.

Carol Graczyk
Libertyville, USA
This Spain/Morocco trip was an adventure of a lifetime

My husband and I along with two other couples signed up for this adventure. We were reluctant knowing it would be many miles through a wide range of temperatures. In summary, it was long days but a trip of a lifetime. IMTBIKE tour guides were exceptional. Safety was paramount, as well as having a wonderful time by all. All but one hotel, exceeded our expectations. I highly recommend this touring company.

Sharon Vaughan
The Villages, USA
Morocco Adventure

To Chano, Sergi y Scott:
Thank you the best motorcycle adventure yet in my life! Can't say enough about how well organized and safe your tour was. How much fun all of made the adventure and that your "passion for motorcycling" really shows.
Take good care and ride safe!


Robert Magill. Oregon, United States
Best motorcycle adventure yet in my life

Thanks for a great vacation.
I was really glad that I chose your company for the tour.
Customer Service was outstanding in every way and provided every day. Your approach and attitude and guides is what makes the difference. Anyone can find a good hotel or a restaurant with good food. How you get there and how you are treated over a 17 day period are the key memories that make each day come alive.
Much Success in your Continued Journey!


Charlie and Sharon Vaughan Virginia, USA
Customer Service was outstanding in every way and provided every day

We just returned from our tour of Southern Spain & Morocco, our second tour with IMT (we did the Corsica & Sardinia tour in 2015). Once again, the tour exceeded our expectations.

The roads and scenery are everything you'd hope for. The bikes are top-notch and well maintained, as you'd expect. The hotels and restaurants are chosen with care, and they will not disappoint. But as it says on the IMT website, "it starts with our guides," and that couldn't be more true.

We've ridden now with Sergi and Roger and Martín, and not only are they true professionals who are prepared to deal with anything that might arise during a tour, not only are they great riders (and photographers!), but they are truly fantastic and generous people who you would love to spend time with under any circumstances.
We can't recommend IMT more highly, and we look forward to our next adventure.

Bill Buckley and Leslie Greaves
New York City, USA
Fantastic Company

Meet our guides

We are very proud of the reputation we've earned as one of the world's leading motorcycle tour operators, and it starts with our guides.
Day 1: Arrival to Malaga
Day 2: Malaga – Granada
Day 3: Granada - Cordoba
Day 4: Cordoba - Sevilla
Day 5: Sevilla - Rest Day
Day 6: Sevilla - Ronda
Day 7: Ronda - Algeciras
Day 8: Algeciras - Fez
Day 9: Fez - Rest Day
Day 10: Fez - Afourer
Day 11: Afourer - Marrakesh
Day 12: Marrakesh - Boumalne Dades
Day 13: Boumalne Dades - Rest Day
Day 14: Boumalne Dades - Midelt
Day 15: Midelt - Chefchaouen
Day 16: Chefchaouen - Malaga
Day 17: Flight home
Day 1: Arrival to Malaga & Welcome Dinner

Transfer included from the Airport to the hotel. You'll have time to rest and sightsee in Malaga until we meet up again in the evening for a welcome briefing in the hotel. After the briefing you'll enjoy dinner with your guides at a local Spanish restaurant. The first and last days mentioned in the itinerary correspond to first and last days of the tour. Keep in mind that, depending on which country you are flying from you may need to leave a day early so please reserve your flights accordingly.

Day 2: Malaga – Granada

You'll spend your morning riding along the coast of the Mediterranean Sea while enjoying the gentle curves of the coast before turning inland to climb into the mighty Sierra Nevada Mountains. You'll pass by ski areas with beautiful views as you ride the highest paved highway in Spain. Awaiting you are the steep narrow streets of Granada, its historic center, the Albayzín and the unequaled beauty of the Alhambra Palace which was the last Moorish stronghold in "Al-Andalus."

Day 3: Granada - Cordoba

Today in the morning you'll have time to visit the Alhambra Palace which is one of Spain's greatest historical treasures. Afterwards you'll ride into the foothills near Granada past picturesque villages, seemingly frozen in time, on little known local roads. Then you'll turn north and watch the scenery change into vast groves of Olive trees and endless sweepers all the way to Córdoba. Don't miss your chance to see the unique Moorish mosque which has a Catholic Cathedral built in the center of it!

Day 4: Cordoba - Sevilla

Today you'll climb into another pristine Andalusian mountain range with perfect motorcycling roads and no traffic. You'll spend the day criss-crossing the Sierra Morena on your way to Sevilla known as the "Jewel of the South," and the capital of Andalucía.

Day 5: Sevilla - Rest Day

Today is a rest day and there is no shortage of things to do. Flamenco music and tapas bars accompany you around every corner as you explore the interesting neighborhoods and narrow streets of Sevilla. Don't miss Sevilla's Gothic Cathedral which is the largest in the world and the famous Giralda. Pay special attention the architecture and historical parallels that you will later encounter in Morocco.

Day 6: Sevilla - Ronda

A spectacular day of mountain roads, green hills and big blue skies. You'll cross small mountain passes and stop for coffee in white washed villages hidden in this special corner of Spain. Follow the route of the "Pueblos Blancos" or "White Towns" of Andalucia all the way to Ronda where you'll spend the night overlooking a 300 meter gorge. Ronda is one of the most incredible towns in all of Andalucía and is home to Spain's first bull ring.

Day 7: Ronda - Algeciras

Today we'll take the scenic route down to Algeciras riding through more Andalusian mountains and more traffic free roads that are perfect for motorcycling. Algeciras is Paco de Lucia's hometown, we'll spend the night here and prepare for our crossing to Africa the next day.

Day 8: Algeciras - Fez

Today your Moroccan adventure begins. We'll get an early start and cross the Strait of Gibraltar on a fast ferry. Once in Africa, a Moroccan tea break will be in order as we get our first taste of Morrocan food and culture. You'll work your way down to the city of Fez where you'll spend your first night.

Day 9: Fez - Rest Day

For the rest day in Fez we have an excellent local guide who will take us into the labyrinth of over 13,000 tiny streets in the biggest medina in the world. Many of the streets, alleyways and passageways do not even have names and exploring them is like going back in time 1000 years! You'll see leather tanneries, ceramic shops, food markets and just about everything else. This is an experience you won't want to miss!

Day 10: Fez - Afourer

You'll head South out of Fez on a beautiful road with views of the Middle Atlas Mountains. We'll stop for lunch in a quaint Atlas village along the way. After lunch we'll find our way along some incredible mountain roads that are lush and green. You'll stop for the night in Afourêr.

Day 11: Afourer - Marrakesh

Today you'll see the impressive d'Ouzoud Waterfall and more of the beautiful Moroccan countryside. You'll arrive in Marrakesh in the early afternoon giving you enough time to explore this famous imperial city and the fascinating Djemaa el-Fna Square which is home to snake-charmers, Berber henna tattoo artists, monkeys, acrobats, Moroccan water sellers and many more colorful people.

Day 12: Marrakesh - Boumalne Dades

Today you'll immerse yourself in the incredible beauty and countless twisties of the highest mountain pass in Northern Africa and the impressive Boulmaine Dades Gorge. This is one of the great destinations for adventure motorcyclists around the world. You'll spend the night near the gorge surrounded by red-hued rocks and unique landscapes.

Day 13: Boumalne Dades - Rest Day

Today is a rest day where you can visit the Dades Gorge, a deep ravine located in the High Atlas in the upper valley of the Dades River between the towns of Boumalne Dades and Msemrir.

Day 14: Boumalne Dades - Midelt

Today is probably the most spectacular day scenery-wise. You'll ride through another incredible gorge, the Todra Gorge and then climb into the High Atlas on remote mountain roads with zero traffic and good pavement. Make sure your camera is charged, you won't want to miss the countless photo opportunities on today's route!

Day 15: Midelt - Chefchaouen

Watch the scenery change again from mountains into the rolling green hills as we cross back into the North of Morocco. You'll see snow in the Atlas Mountains, monkeys on the side of the road and "Swiss" style chalets. Then in the afternoon you'll ride through farmland and fields of winter wheat as you make your way to the blue city of Chefchaouen; a wonderful day of contrasts!

Day 16: Chefchaouen - Ceuta - Malaga

This is our last day and we will start our ride in Morocco and finish in Spain! Leaving Chefchouaen you'll find your way back to the northern coast of Africa where you'll take a ferry back across the Strait of Gibraltar to Spain. In Spain you'll enjoy a few last curves on the ride back to Malaga where we'll have our farewell dinner.

Day 17: Flight home

Today it's time to head to the airport and board your flight home. We'll see you on your next motorcycle adventure! Until next time amigos!
Morocco & Southern Spain Motorcycle Tour Pricing
The base price of every tour is calculated for a single rider on a BMW G310R and sharing a double room

Included in Tour:
Airport pickup on the first day of the tour.
Overnight accommodations in carefully selected 4 & 5 star Hotels and Boutique Riads.
A delicious evening meal featuring Moroccan specialties.
Complete buffet breakfast every morning.
New model BMW motorcycle fully equipped with 3 BMW cases.
Tour handbook (normally about 70 pages-very comprehensive) and highlighted map.
Expert multilingual guide on a motorcycle.
Multilingual guide in support vehicle which will carry your luggage, any oversized purchases you make; or even a passenger or two.
Tour Souvenirs.
Not included in Tour:
Air ticket, lunches, gasoline, drinks, tolls, personal spending and tips