Ancient Turkey Motorcycle Tour
Motorcycling through Ancient History
Turkey
May. 13 — May. 26, 2023
12 spots left
Take an extraordinary motorcycle journey across the transcontinental, Eurasian country of Turkey. During the Ancient Turkey Motorcycle Tour, you'll ride through diverse landscapes such as the Taurus Mountains and the volcanic Cappadocia. You'll visit enchanting cities full of history and experience the unforgettable charm of Istanbul, Ephesus and Bodrum.
Ride perfect roads full of curves and discover the natural beauty of lost mountain villages, ancient Greco-Roman cities and the pristine waters of the Marmara, Aegean and Mediterranean Seas during this wonderful motorbike tour. Sunny days are the norm in Turkey's perfect climate and it is complemented by an incredible gastronomy. Last but most certainly not least are the warm, friendly locals who will welcome you with open arms and share the secrets of their ancient land and culture.
Mark the dates on your calendar and join IMTBIKE in this motorcycling adventure across Turkey.
IMTBike ROUTE rating
It is essential to know the different skill levels needed to participate in the IMTBIKE TOURS that are offered to you. IMTBIKE makes sure that it offers different tours for all riding styles and levels. The IMTBIKE team always works diligently in designing our routes. This is a laborious process which entails reviewing all road choices before selecting the best option for an IMTBIKE tour.
The most experienced motorcyclists looks for roads that require technical skill; narrow twisty roads with little traffic and endless curves. But these same roads would be too difficult for a less experienced rider.
The local driving habits, the amount of traffic, the asphalt quality and the radius of the curves vary considerably from country to country and even in different regions of the same country. They will also vary depending on the season of the year. All of these factors have been studied by IMTBIKE and have been taken into consideration when rating our tours.
IMTBIKE thinks it is also important to know about the different types of roads you will be enjoying on your tour. To understand the road types easier, IMTBIKE has divided them into two categories, and we have calculated an approximate percentage of each on all of our tours.
TOURING ROADS: These are wider roads comprised mainly of larger radius sweepers. They are still curvy roads but not tight mountainous twisty curves. Please remember that you will ride very few straight roads on IMTBIKE tours!
CHALLENGING ROADS: These are roads that are tight twisty turns which require more technical skill. Many times they will be narrower roads without a shoulder and sometimes with steep inclines or descents. Normally they will be mountainous roads accompanied by spectacular sceneries.
If you have never ridden a motorcycle outside of your country, or if you have little experience riding on mountain roads with many curves, we recommend that you choose a tour rated moderate or intermediate. If you have any questions or doubts please do not hesitate to call or email us. We are always happy to answer your questions to make sure that you choose the best tour for your riding level.
Moderate
This route offers wider sweeping turns that are easy to maneuver. This route may have some tighter turns in a few places but this will be the exception. Regardless, even on moderate tours you must be able to ride a large cylinder motorcycle in any condition. Never plan to learn how to ride a motorcycle on an IMTBIKE tour. We recommend having a minimum of 8.000 km (5.000 miles) of experience riding a large cylinder motorcycle to participate on a MODERATE rated IMTBIKE Tour and you should ride a motorcycle on a regular basis at home.
Intermediate
This route rating can have sections of very twisty curves on narrow roads with no center line to divide the road. There will also wider radius curves on these routes. Traffic conditions can be intense at times in some urban environments and the local driving habits may seem aggressive and unpredictable to you. It is imperative that you are an experienced motorcyclist. We recommend that you have a minimum of 12.000 km (7500 miles) of large cylinder motorcycle experience to participate on a INTERMEDIATE rated IMTBIKE Tour and you should ride a motorcycle on a regular basis at home.
Advanced
This route rating has long sections of technical narrow twisty roads and sometimes single lane roads. These twisty roads will often be in mountains where steep inclines and descents will be commonplace. Some riding days can be long and challenging. Traffic conditions can be intense at times in some urban environments and the local driving habits may seem aggressive and unpredictable to you. It is imperative that you are a very experienced motorcyclist on a large cylinder motorcycle. We recommend that you have a minimum of 16.000 km (10.000 miles) of large cylinder motorcycle experience on an ADVANCE rated IMTBIKE Tour and of course you should ride a motorcycle on a regular basis at home.
IMTBIKE Average Daily Riding Hours
5 to 7 hours
6 to 8 hours
7 to 9 hours
How many hours a day you ride on a tour is important information in helping you decide on the right IMTBIKE tour for you. Some tour members want to ride as many hours as possible everyday, while others prefer to stop more frequently and dedicate more time to enjoying the scenery, visiting cultural sights and arrive at the hotel earlier to relax before dinner. The daily riding hours are calculated including the coffee breaks and photo stops but they do not include the time taken for lunch.
Normally we'll start our riding day at 9:30am and we will take about a one hour lunch break sometime between 1pm and 2pm. So if the daily riding hours for a given tour are 5-7, then you will arrive at the hotel between 3:30pm- 5:30pm depending on the average speed of the group.
Tour Facts
Total Distance

1,400 miles / 2,250 km

Rest Days

1 Istanbul, 1 Sirince (Ephesus), 1 Ügrüp (Cappadocia)

Breakfast

13 Included Breakfasts

Daily Mileage

125 - 200 miles / 190 - 320 km

Hotel Overnights

13 Nights

Highlights: Istanbul, Aegean Coast, ancient cities of Troy and Ephesus, resort town of Bodrum, Mediterranean Coast, Taurus Mountains, volcanic and fantastic region of Cappadocia, optional hot air balloon flight in Cappadocia, and great food!

Accommodations: Amazing hotels as well as charming boutique hotels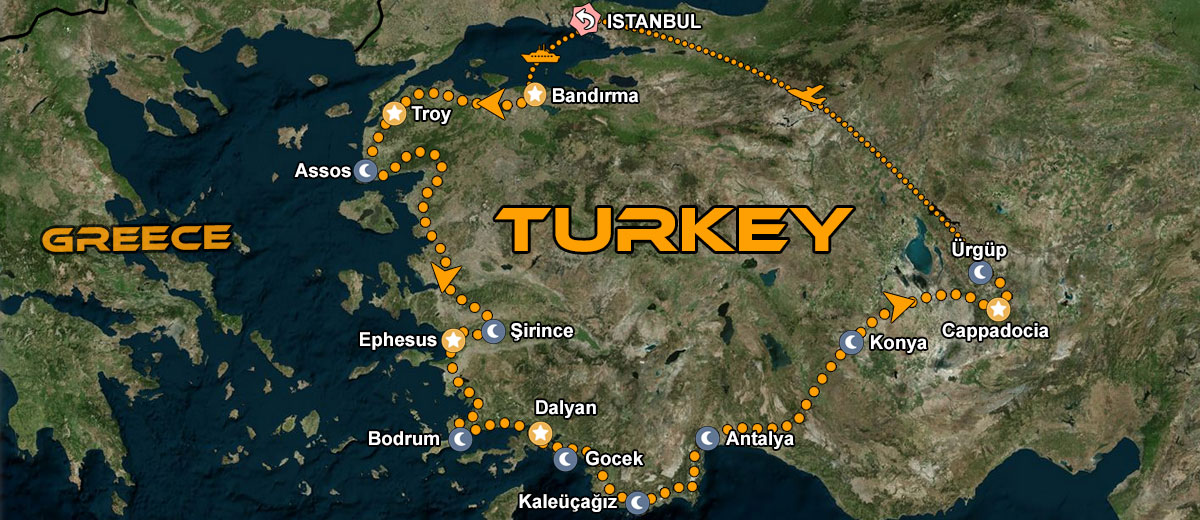 Click to enlarge
Ancient Turkey Motorcycle Tour Gallery
Day 1: Arrive in Istanbul
Day 2: Istanbul - Rest Day
Day 3: Istanbul - ferry across the Sea of Marmara - Assos
Day 4: Assos - Şirince
Day 5: Şirince - Rest Day
Day 6: Sirince - Bodrum
Day 7: Bodrum – Gocek
Day 8: Gocek - Kaleüçağız (Kekova)
Day 9: Kaleüçağız (Kekova) - Antalya
Day 10: Antalya - Konya
Day 11: Konya - Ürgüp (Cappadocia)
Day 12: Ürgüp (Cappadocia) - Rest Day
Day 13: Ürgüp (Cappadocia) - Istanbul
Day 14: Flight Home
Day 1: Arrive in Istanbul & Welcome dinner

Your guides will be waiting to welcome you at the airport and take you to the hotel. Later today you will enjoy a welcome dinner in a traditional restaurant.

Day 2: Istanbul - Rest Day

Today you will have a welcome briefing at the hotel and then enjoy a ½ day guided tour around Istanbul including the Topkapi Palace, the seat of the Ottoman Sultans for 400 years and the 17th century Blue Mosque, world famous for its tiles. The rest of the day you are free to explore on your own or simply to rest at the hotel.

Day 3: Istanbul - ferry across the Sea of Marmara - Assos

You'll take the early morning ferry across the Sea of Marmara in order to avoid the busy traffic of Istanbul. After a pleasant 2 hour ride across the Sea of Marmara we will land at Gallipoli. It was here where the Allied Navy forces commanded by Sir Winston Churchill attempted to pass through the Dardanelles and control Istanbul and then later bring help and provisions to Russia. We will visit the impressive war memorials and cemeteries from World War I. After crossing the Dardanelles to Asia on a ferryboat you will visit the legendary site of Troy, where the famous battles of the Iliad took place. Troy is one of the most significant sites in the History of Western Civilization, and recent archaeological discoveries have shed immense light on the question "fiction or fact?" You'll later head south to legendary Mt.Ida for overnight Assus, a cute village with its restored stone houses.

Day 4: Assos - Şirince

Today you'll continue riding south along the Aegean. Our first stop will be at Pergamon, a very fine Greek city and Asclepion, an ancient healing center. We will continue our motorcycle tour through Izmir (ancient Symrna), third largest city in Turkey and arrive in Sirince, a small village that was abandoned in the early 1920s. Sirince still retains its colorful character with its typical Greek homes.

Day 5: Şirince - rest day

Today is a rest day and you can do what you like. We will have a guided tour of the magnificent ruins of Ephesus in the morning. Ephesus was the jewel city in the Greek and Roman times, famed for its marble streets and temples. One of the Ancient Seven Wonders of the World, the Temple of Artemis was built in Ephesus, along with many other splendid structures.

Day 6: Şirince - Bodrum

Today you will continue riding south through the fertile Meander Valley. You will see the Lake Latmos (Bafa) in our way to Bodrum, ancient Halicarnassos. On the road, you will visit Didyma with its colossal Temple of Apollo and Euromos, hidden among olive trees, and boasting one of the best preserved Roman temples in antiquity. Bodrum is the liveliest resort town in Turkey now, famous for its whitewashed buildings and colorful nightlife.

Day 7: Bodrum – Gocek

On the way out of Bodrum you'll take some fantastic secondary roads right along the Aegean Sea. You will stop at Dalyan to enjoy a short boat ride to see monumental Lycian rock tombs from 5th century BC. Continue on to Gocek for overnight. Gocek is a small yachting town thriving on yachting and boating.

Day 8: Gocek - Kaleüçağız (Kekova)

Today you will ride along the Mediterranean Coast of Turkey through small and charming resort towns such as Kalkan and Kas. You'll drive by many important ancient sites like Xanthos, Patara, and Letoon that were once the most important cities of Lycian Federation. Once we past Kalkan we'll ride some fantastic twisties along the coast and arrive in Kekova (Kaleüçağız). We will leave our motorcycles and take a short boat ride to reach Simena/Kalekoy, not accessible by road and one of the most picturesque places in Turkey.

Day 9: Kaleüçağız (Kekova) - Antalya

You'll leave Kekova (Kaleüçağız) after a leisurely morning and ride on the stunning mountains lined along the Mediterranean coast, through lush pine forests. We'll visit the ancient sites of Phaselis and Chimera in our way to Antalya where will enjoy a night in this exciting city.

Day 10: Antalya - Konya

Today you will leave the coast and continue north through the Taurus Mountains to Konya, home of the whirling dervishes. We will visit the tomb/museum of Mevlana (known as Rumi in the west), the founder of the dervish lodge (tekke) of the Mevlevi order, better known as the whirling dervishes.

Day 11: Konya - Ürgüp (Cappadocia)

Today you will venture east into the Anatolian plateau to arrive in Ürgüp (Cappadocia), where bizarre volcanic landscapes have fascinated travelers for ages. On route, you will stop at a caravanserai, an 800 year old ancient camel motel built on the Silk Road to accommodate the caravans on the Silk Road. Overnight in Urgup at a cave hotel.

Day 12: Ürgüp (Cappadocia) - rest day

Today is a rest day and you can do what you like. IMTBike has planned an optional sightseeing in Cappadocia, including Goreme Open Air Museum that has the best rock-cut churches with frescoes from 10-12th centuries. A must-do activity is a hot air balloon flight over the lunar landscapes of Cappadocia. You can also visit an underground city where ancient peoples have taken refuge during times of siege. There will be plenty of opportunities to take great pictures of the amazing landscape.

Day 13: Ürgüp (Cappadocia) - Istanbul

Today you will go to Kayseri Airport to catch the morning flight to Istanbul. Once we arrive to Istanbul we'll have the rest of the day free for more sightseeing and/or shopping. At night we'll have a farewell dinner.

Day 14: Flight Home

Today it's time to head to the airport and board your flight home. We'll see you on your next motorcycle adventure!
Ancient Turkey Motorcycle Tour Pricing
The base price of every tour is calculated for a single rider on a BMW F750GS and sharing a double room

Included in Tour:
Overnight accommodations in 4 – 5 star or charming boutique hotels as per itinerary.
Complete buffet breakfast every morning at all hotels.
Dinner every day except 2-night stays.
Alcohol (wine, beer and local drinks) included at welcome and farewell dinners.
New model BMW motorcycle fully equipped with a BMW topbox.
Comprehensive insurance coverage with €2,000 Euro deductible.
Expert multilingual, nationally licensed guide riding a motorcycle.
Support vehicle that will carry luggage, parts, up to 2 passengers and if necessary up to 3 motorcycles..
Ferry ticket from Istanbul to Bandirma across the Sea of Marmara on Day 3.
Attendance to Whirling Dervishes ceremony in Cappadocia on Day 13.
River cruise in Dalyan to see the rock tombs.
Tolls on highways or bridges.
Parking fees.
Tips at all hotels and restaurants.
All museum entrance fees/tickets.
Airfare from Cappadocia to Istanbul at the end of tour.
Trucking of motorcycles from Cappadocia to Istanbul.
Comprehensive RoadBook in color.
Trip shirt with unique design.
Airport transfer on arrival day.
18% VAT and all related taxes.
Not included in Tour:
International airfare.
Departure transfer in Istanbul on last day.
Lunches and dinners on 2nd night at two night stays.
Fuel for motorcycles.
Drinks during meals.
Optional hot air balloon flight in Cappadocia.
Personal medical and accident insurance.
Gratuities to staff.