Serpentine Sardinia Motorcycle Tour
True Motorcycle Nirvana
Spain | Italy
May. 15 — May. 25, 2023
12 spots left
Join us for an incredible ride in the last true motorcycle paradise in Europe, the wild island of Sardinia. During this motorbike tour, eight days of endless curves on roads seemingly designed just for motorcyclists with perfect asphalt through rugged, sparsely inhabited mountains, where traffic is a rare sight.
Beginning and ending in the beautiful city of Barcelona, we'll ride a few of the excellent roads frequented by the local bikers before embarking on a cruise ship that will take us through the night across the blue Mediterranean to the island of Sardinia. During this Sardinia Motorcycle Tour, a careful selection of only the best roads will take us to the far reaches and hidden corners of the island. From the heart of the Gennargentu Natural Park and the Gulf of Orosei to the crystal clear waters of the Emerald Coast, this route is sure to captivate you and leave long lasting memories of the unforgettable island of Sardinia.
IMTBike ROUTE rating
It is essential to know the different skill levels needed to participate in the IMTBIKE TOURS that are offered to you. IMTBIKE makes sure that it offers different tours for all riding styles and levels. The IMTBIKE team always works diligently in designing our routes. This is a laborious process which entails reviewing all road choices before selecting the best option for an IMTBIKE tour.
The most experienced motorcyclists looks for roads that require technical skill; narrow twisty roads with little traffic and endless curves. But these same roads would be too difficult for a less experienced rider.
The local driving habits, the amount of traffic, the asphalt quality and the radius of the curves vary considerably from country to country and even in different regions of the same country. They will also vary depending on the season of the year. All of these factors have been studied by IMTBIKE and have been taken into consideration when rating our tours.
IMTBIKE thinks it is also important to know about the different types of roads you will be enjoying on your tour. To understand the road types easier, IMTBIKE has divided them into two categories, and we have calculated an approximate percentage of each on all of our tours.
TOURING ROADS: These are wider roads comprised mainly of larger radius sweepers. They are still curvy roads but not tight mountainous twisty curves. Please remember that you will ride very few straight roads on IMTBIKE tours!
CHALLENGING ROADS: These are roads that are tight twisty turns which require more technical skill. Many times they will be narrower roads without a shoulder and sometimes with steep inclines or descents. Normally they will be mountainous roads accompanied by spectacular sceneries.
If you have never ridden a motorcycle outside of your country, or if you have little experience riding on mountain roads with many curves, we recommend that you choose a tour rated moderate or intermediate. If you have any questions or doubts please do not hesitate to call or email us. We are always happy to answer your questions to make sure that you choose the best tour for your riding level.
Moderate
This route offers wider sweeping turns that are easy to maneuver. This route may have some tighter turns in a few places but this will be the exception. Regardless, even on moderate tours you must be able to ride a large cylinder motorcycle in any condition. Never plan to learn how to ride a motorcycle on an IMTBIKE tour. We recommend having a minimum of 8.000 km (5.000 miles) of experience riding a large cylinder motorcycle to participate on a MODERATE rated IMTBIKE Tour and you should ride a motorcycle on a regular basis at home.
Intermediate
This route rating can have sections of very twisty curves on narrow roads with no center line to divide the road. There will also wider radius curves on these routes. Traffic conditions can be intense at times in some urban environments and the local driving habits may seem aggressive and unpredictable to you. It is imperative that you are an experienced motorcyclist. We recommend that you have a minimum of 12.000 km (7500 miles) of large cylinder motorcycle experience to participate on a INTERMEDIATE rated IMTBIKE Tour and you should ride a motorcycle on a regular basis at home.
Advanced
This route rating has long sections of technical narrow twisty roads and sometimes single lane roads. These twisty roads will often be in mountains where steep inclines and descents will be commonplace. Some riding days can be long and challenging. Traffic conditions can be intense at times in some urban environments and the local driving habits may seem aggressive and unpredictable to you. It is imperative that you are a very experienced motorcyclist on a large cylinder motorcycle. We recommend that you have a minimum of 16.000 km (10.000 miles) of large cylinder motorcycle experience on an ADVANCE rated IMTBIKE Tour and of course you should ride a motorcycle on a regular basis at home.
IMTBIKE Average Daily Riding Hours
5 to 7 hours
6 to 8 hours
7 to 9 hours
How many hours a day you ride on a tour is important information in helping you decide on the right IMTBIKE tour for you. Some tour members want to ride as many hours as possible everyday, while others prefer to stop more frequently and dedicate more time to enjoying the scenery, visiting cultural sights and arrive at the hotel earlier to relax before dinner. The daily riding hours are calculated including the coffee breaks and photo stops but they do not include the time taken for lunch.
Normally we'll start our riding day at 9:30am and we will take about a one hour lunch break sometime between 1pm and 2pm. So if the daily riding hours for a given tour are 5-7, then you will arrive at the hotel between 3:30pm- 5:30pm depending on the average speed of the group.
Tour Facts
Total Distance

1,059 miles / 1,705 km

Rest Days

1 Gennargentu Natural Park

Breakfast

10 Included Breakfasts

Daily Mileage

160-220 miles / 250-350 km

Hotel Overnights

10 Nights

Riding Season

Autumn, Spring

Highlights: Barcelona, Mediterranean cruise, National Park of Gennargentu and Golfo di Orosei, Costa Esmeralda. Some of the best riding in the world!

Accommodations: Comfortable, very nice hotels, often the best in the area, mostly 4****
*All IMTBIKE lodgings are hand-picked for their quality of service, local charm and strategic locations.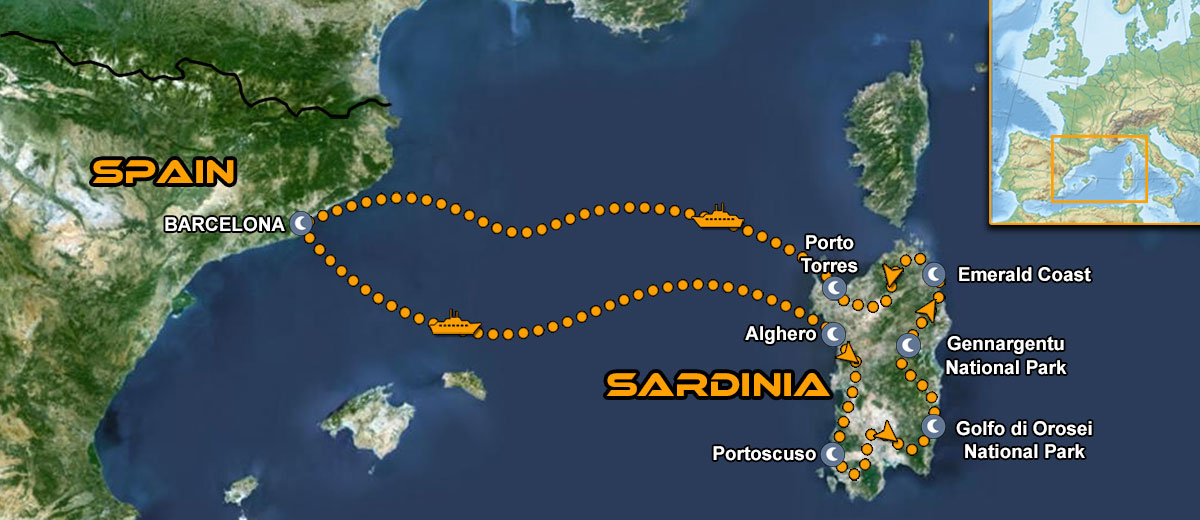 Click to enlarge
France, Italy & Alps Motorcycle Tours Gallery
Video

This tour is pure rock 'n roll!

Jon Kovacks


Meet our guides

We are very proud of the reputation we've earned as one of the world's leading motorcycle tour operators, and it starts with our guides.
Day 1: Arrival in Barcelona
Day 2: Ferry to Sardinia
Day 3: Porto Torres - Alghero
Day 4: Alghero - Portoscuso
Day 5: Portoscuso - Parco Nazionale Golfo di Orosei
Day 6: Parco Nazionale Golfo di Orosei - Parco Nazionale del Gennargentu
Day 7: Parco Nazionale Golfo di Orosei - rest day
Day 8: Parco Nazionale Golfo di Orosei - Costa Smeralda
Day 9: Costa Smeralda - Porto Torres
Day 10: Ferry to Barcelona
Day 11: Barcelona - Flight Home
Day 1: Arrival in Barcelona, safety briefing and welcome dinner

Transfer included from the Airport to the hotel. You'll have the rest of the day to relax or explore the city of Barcelona. In the evening you'll meet your guides and the rest of the tour members for a welcome briefing. Afterwards we'll dine together in an excellent local restaurant where we'll kick off our journey to the island of Sardinia. The first and last days mentioned in the itinerary are the arrival and departure days for your tour. Depending on the country you are flying from, you may have to leave a day early. Please book your flights accordingly!

Day 2: Ferry to Sardinia

Today you have the option of sightseeing in Barcelona or going for a day ride in the mountains around Barcelona. The route is a relaxing and scenic ride through the Montserrat Mountains on outstanding local roads. The roads will wind you through the famous Penedés wine region. The whole group will meet up in the afternoon in the port of Barcelona where we'll board our cruise ship to Sardinia.

Day 3: Porto Torres - Alghero

You will enjoy a relaxing night crossing the Mediterranean on a cruise ship in your comfortable cabin with private bathroom. You will wake up to the sight of the island of Sardinia. We'll disembark in Porto Torres and follow the coastline to visit the picturesque fishing village of Castelsardo. We'll then head towards the interior, enjoying some quiet local roads until we reach the fortified city of Alghero, which maybe the most beautiful town of the island.

Day 4: Alghero - Portoscuso

We'll ride down the picturesque coastal road to Bosa before heading inland along some entertaining mountain roads past lakes, fields and small farms until we arrive at the Gulf of Gonnesa with views of the San Pietro and Sant'Antioco Islands. We'll rest here for the night.

Day 5: Portoscuso - Parco Nazionale Golfo di Orosei

Today you'll cross the entire island from coast to coast to get to the western shores and the Tyrrhenian Sea. You'll ride little-known roads through low mountains in the southern part of the island close to Cagliari, the capital of Sardinia. From there we'll climb high into the mountains on magnificent motorcycle roads that will eventually bring us once again to the shores of the Mediterranean Sea, to the town of Arbatax.

Day 6: Parco Nazionale Golfo di Orosei - Parco Nazionale del Gennargentu

Today you'll dive into the heart of the Gennargentu National Park and ride some of the best roads of the entire island and maybe in all of Europe. You'll pass through small traditional towns, full of history and our day will end in the middle of the park in a beautiful hotel where we'll stay for two nights.

Day 7: Parco Nazionale Golfo di Orosei - rest day

Today is a rest day and you'll be able to choose between enjoying the hotel amenities and nice hikes in the surrounding mountains or take your motorcycles to enjoy a fun day ride in the heart of the Golfo di Orosei and Gennargentu National Parks on their fantastic roads, which including the highest mountain pass in Sardinia.

Day 8: Parco Nazionale Golfo di Orosei - Costa Smeralda

Today you'll ride to the Emerald Coast ( Costa Smeralda) and its famous turquoise colored waters. To get there, we'll ride an incredible route on some lesser known mountain roads through authentic Western Sardinia.

Day 9: Costa Smeralda - Porto Torres

On our return to Porto Torres you'll ride some of the best mountain roads of the whole tour. Roads that boast endless curves through verdant forests and that rise and fall with the natural lay of the land and snake past beautiful lakes until finally arriving to the coast and our hotel for the night.


Day 10: Early morning ferry and farewell dinner in Barcelona

With the sun just barely peaking over the horizon, we'll board the ferry with our motorcycles. A relaxing trip across the tranquil Mediterranean Sea will take us to Barcelona once again. We'll arrive in the afternoon and ride to the IMTBIKE base where you'll say goodbye to your trusty BMW. In the evening we'll meet up again for a delicious farewell dinner. Until next time!

Day 11: Flight Home

Today it's time to say goodbye to Spain and head to the airport to fly home. Until our next motorcycle adventure together! Hasta Pronto!
Serpentine Sardinia Motorcycle Tour Pricing
The base price of every tour is calculated for a single rider on a BMW G310R and sharing a double room

Included in Tour:
Airport pickup on the first day of the tour.
Overnight accommodations in carefully selected 4 & 5 star hotels and boutique hotels.
A delicious gourmet evening meal featuring French and Italian specialties every night (except on rest days).
Complete buffet breakfast every morning.
New model BMW motorcycle fully equipped with 3 BMW cases.
Tour handbook (normally about 70 pages-very comprehensive) and highlighted map.
Expert multilingual guide on a motorcycle.
Multilingual guide in support vehicle which will carry your luggage, any oversized purchases you make; or even a passenger or two.
Tour Souvenirs.
Not included in Tour:
Air ticket, lunches, gasoline, drinks, tolls, personal spending and tips