Castles and Mountains Central Spain Motorcycle Tour
Don Quixote Country
Spain
What if we told you there was a forgotten motorcycle paradise with beautiful mountain ranges, green valleys, crystal clear creeks and no traffic? How about spending your nights like royalty in historical Palaces, Castles and Fortresses, all converted into motorcycle-friendly hotels? Well, you're in luck, IMTBIKE's  Castles & Mountains Tour is all that and more! Discover this motorcycle tour in Central Spain.
The motorbike tour will take you twisting and turning on perfect asphalt through four mountain ranges and six UNESCO World Heritage Sites. You´ll revel in the sights and smells of springtime wildflowers, cherry blossoms and medieval villages with half-timbered houses. During the day you'll ride through little-known parts of Spain, at night you'll spoil yourself with gourmet meals and full bodied Spanish wines.
* Price includes BMW G310R
IMTBIKE ROUTE rating
It is essential to know the different skill levels needed to participate in the IMTBIKE TOURS that are offered to you. IMTBIKE makes sure that it offers different tours for all riding styles and levels. The IMTBIKE team always works diligently in designing our routes. This is a laborious process which entails reviewing all road choices before selecting the best option for an IMTBIKE tour.
The most experienced motorcyclists looks for roads that require technical skill; narrow twisty roads with little traffic and endless curves. But these same roads would be too difficult for a less experienced rider.
The local driving habits, the amount of traffic, the asphalt quality and the radius of the curves vary considerably from country to country and even in different regions of the same country. They will also vary depending on the season of the year. All of these factors have been studied by IMTBIKE and have been taken into consideration when rating our tours.
IMTBIKE thinks it is also important to know about the different types of roads you will be enjoying on your tour. To understand the road types easier, IMTBIKE has divided them into two categories, and we have calculated an approximate percentage of each on all of our tours.
TOURING ROADS: These are wider roads comprised mainly of larger radius sweepers. They are still curvy roads but not tight mountainous twisty curves. Please remember that you will ride very few straight roads on IMTBIKE tours!
CHALLENGING ROADS: These are roads that are tight twisty turns which require more technical skill. Many times they will be narrower roads without a shoulder and sometimes with steep inclines or descents. Normally they will be mountainous roads accompanied by spectacular sceneries.
If you have never ridden a motorcycle outside of your country, or if you have little experience riding on mountain roads with many curves, we recommend that you choose a tour rated moderate or intermediate. If you have any questions or doubts please do not hesitate to call or email us. We are always happy to answer your questions to make sure that you choose the best tour for your riding level.
Moderate
This route offers wider sweeping turns that are easy to maneuver. This route may have some tighter turns in a few places but this will be the exception. Regardless, even on moderate tours you must be able to ride a large cylinder motorcycle in any condition. Never plan to learn how to ride a motorcycle on an IMTBIKE tour. We recommend having a minimum of 8.000 km (5.000 miles) of experience riding a large cylinder motorcycle to participate on a MODERATE rated IMTBIKE Tour and you should ride a motorcycle on a regular basis at home.
Intermediate
This route rating can have sections of very twisty curves on narrow roads with no center line to divide the road. There will also wider radius curves on these routes. Traffic conditions can be intense at times in some urban environments and the local driving habits may seem aggressive and unpredictable to you. It is imperative that you are an experienced motorcyclist. We recommend that you have a minimum of 12.000 km (7500 miles) of large cylinder motorcycle experience to participate on a INTERMEDIATE rated IMTBIKE Tour and you should ride a motorcycle on a regular basis at home.
Advanced
This route rating has long sections of technical narrow twisty roads and sometimes single lane roads. These twisty roads will often be in mountains where steep inclines and descents will be commonplace. Some riding days can be long and challenging. Traffic conditions can be intense at times in some urban environments and the local driving habits may seem aggressive and unpredictable to you. It is imperative that you are a very experienced motorcyclist on a large cylinder motorcycle. We recommend that you have a minimum of 16.000 km (10.000 miles) of large cylinder motorcycle experience on an ADVANCE rated IMTBIKE Tour and of course you should ride a motorcycle on a regular basis at home.
IMTBIKE Average Daily Riding Hours
5 to 7 hours
6 to 8 hours
7 to 9 hours
How many hours a day you ride on a tour is important information in helping you decide on the right IMTBIKE tour for you. Some tour members want to ride as many hours as possible everyday, while others prefer to stop more frequently and dedicate more time to enjoying the scenery, visiting cultural sights and arrive at the hotel earlier to relax before dinner. The daily riding hours are calculated including the coffee breaks and photo stops but they do not include the time taken for lunch.
Normally we'll start our riding day at 9:30am and we will take about a one hour lunch break sometime between 1pm and 2pm. So if the daily riding hours for a given tour are 5-7, then you will arrive at the hotel between 3:30pm- 5:30pm depending on the average speed of the group.
Tour Facts
Total Distance

1,083 miles / 1,743 km

Breakfast

8 Included Breakfasts

Daily Mileage

160-220 miles / 250-350 kms.

Hotel Overnights

8 Nights

Highlights: 6 UNESCO World Heritage Sites. Segovia, Ávila, Ciudad Rodrigo, Trujillo, Cuenca, Toledo. Tour starts and ends in vibrant Madrid.

Accommodations: Amazing hotels. First-class historical Paradors and a few specially selected boutique hotels with local flair. Paradors are Castles, Palaces & Fortresses converted into motorcycle-friendly hotels.
*All IMTBIKE lodgings are hand-picked for their quality of service, local charm and strategic locations.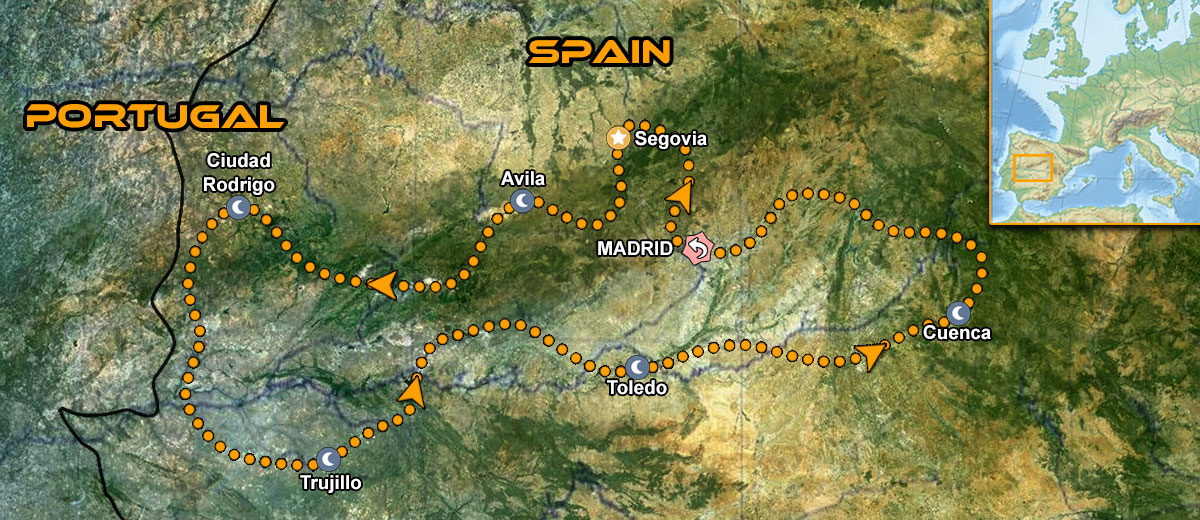 Click to enlarge
Central Spain Motorcycle Tours gallery

My wife and I have done two tours with IMTBike and have a third one scheduled for next year. I've used other motorcycle tour companies in Europe but IMTBIKE is my favorite. Here's why. The bikes are in fantastic condition. With other companies, the bikes may be relatively new but sometimes have unexpected glitches that can mess up a riding day. Probably from good but not great maintenance since the fleet turns over every couple of years. But IMTBIKE maintains their bikes perfectly, like most of us do with our personal bikes. Even better, the tours are amazing. The routes are well thought out (no stopping while the guide sits there looking at a map) and the roads they've picked are superb. The stops and sights are carefully planned so that each day is a unique and delightful experience. And the accommodations and meals are terrific...those mean a lot more to my wife than me, and she loves them. I think the best part of the experience is the IMTBIKE crew. The guides are all fantastic riders who love leading tours, always gracious and patient to a fault, and happy to push hard if asked (but always safely). The van drivers are super accommodating. So, from start to finish, an IMTBIKE tour is super relaxed...zero stress, zero worry, smooth transitions, no boredom, and amazing riding!

Gordon Blasius
Houston, USA
IMTBIKE is my favorite

I've been riding for 50 years, but the two group rides with IMTBIKE were some of the best days of riding, ever! Scott and crew artfully guided our group with nonstop, relentless care and attention from Malaga, Spain, and all through Morocco, and back. Prior to the ride, I called and asked Scott if I'd be satisfied with the ride. He said: " Your brain will be overwhelmed by all that you'll see and do. " He was 100% correct! I literally, was never in want or need, of anything, for the entire trip. In the end, I simply could NOT have asked for a better trip, a better ADVENTURE! WHAT are you waiting for? Sign up!

Joseph Bradley
Arcadia, USA
Some of the best days of riding, ever!

First let me say, WHAT A WONDERFUL TIME ! ! ! ! IMTBike certainly knows how to throw a party ! Mark and I thoroughly enjoyed the entire trip and the tour was spectacular ! You were right, we loved Spain and the Central Spain Tour was a tour not to be forgotten. The time spent in Toledo was extremely well timed as we were in the midst of the Feast of Corpus Christi. What a festival that was ! Everywhere we went was special, the accommodations were superb and the foods were outstanding ! It is hard to pick a favorite as each place will be remembered by its own events. Chano was outstanding and certainly knew the places to go, the things to see and the history behind it. Two thumbs up to Chano and Tomas ! We had a great group to ride with, we had a lot of laughs and we made some good friends. We look forward to touring with IMT again. Until then, Thanks to everyone at IMT for such a wonderfully delightful trip !

Mark and Toni Dapper
Ohio, USA
Central Spain Tour - What a Wonderful Time!

Hola mi experiencia fue excelente desde el recibimiento, el guía, la furgoneta...Chris y Gustavo al 100 % todo el tiempo. La moto en excelentes condiciones...los Paradores,
la comida. Lo repetiré en cuanto pueda.
Scott de 10 las rutas increíbles!
Muchas Gracias

Nacho Abaroa
Veracruz, Mexico
BMW MOA Castles & Palaces Tour - Increible

Denise and I just wanted to tell you how much we enjoyed our recent tour. It was the first guided tour that we had ever done. I was a little skeptical going into it about riding with a group that I didn't know. Martin, Scott and Ryan made it clear that this was going to be FUN!! And it was.
This trip in my opinion is great for couples especially if your partner isn't that comfortable with riding. It had some really fun, challenging riding but it also had a lot of just cruising and sightseeing. I don't know if all of the tours do lunch "family style" like this one did but those lunches were a highlight. It gave everyone a chance to taste some of the house specialties that on my own I wouldn't have ordered.

Martin, Scott and Ryan were awesome. You were all very professional but also just had a knack for making it fun. Martin's enthusiasm for everything was just contagious. He even made the briefing fun. The three of you were very competent and caring and your attention to every detail set the pace for each day making sure we were all safe and enjoying our collective experience. It allowed the group to bond and enjoy one another as much as all the fantastic riding, scenery, food and beautiful lodging.

I wasn't sure I would like the structure of a tour but because IMTBIKE made it so stress free and fun, I can't wait to do another one. The hard part is deciding which one.

Denise & Randy Jones
New Mexico, USA
BMW MOA Castles & Mountains Tour

We experienced some of the best riding roads I have ever been on, mostly mountainous and twisty or big sweepers and no lack of beautiful scenery. We overnighted in converted castles and historic manors, and dined on the best food you could imagine. We made lasting friendships with the people on the ride and the IMTBike staff. Our last day felt like the last day of summer camp, saying goodbye to our new best friends and the guides who showed us the parts of Spain that most tourists will miss.

So, to sum it up, this was THE BEST vacation I have ever had; I would and will sign up for another IMTBike vacation, problem is, which one? If you are seriously considering going on a motorcycle touring vacation give these people a call, you won't be disappointed!

David Simkins
Arizona, USA
BMW MOA Castles & Mountains Tour

I thought the entire trip was very well paced and well choreographed. Everything was so well planned but had a hint of spontaneity. I would go on another tour with IMT Bike without hesitation. Thank you for a fantastic vacation.

Eileen Simkins
Arizona, USA
BMW MOA Castles & Mountains Tour

Daryl and I enjoyed every bit of the tour in Spain: the riding, the scenery, the food and being with all of you. Martin and Ryan, you were the best! Scott, since we finally signed up for one of your tours it was a pleasure that you were along as well. It was absolutely one of the best trips we have ever taken.

Daryl & Emily Gibbs
SC, USA
BMW MOA Castles & Mountains Tour

I want to thank our tour guides Scott, Martin and Ryan as well as the whole staff at IMTBike for putting on a fabulous BMW MOA Castles and Mountains Tour. As first time visitors to Spain, Jackie and I had a truly wonderful time that was well beyond our expectations. What made this tour special was the combination of riding the beautiful mountains and plains along with being immersed in the history and culture of Spain; making this a tour I would recommend to anyone.
Riding with them was like riding with your best friends!

Chris Hughes
Advertising Director BMW MOA - Spokane, WA
BMW MOA Castles & Mountains Tour

Just amazing... you now have a new #1 fan. We will return for another tour, in the meantime...we can not thank you enough for my adventure in Spain! I felt comfortable as a rider (my first experience for long rides) safe, cared for, as well as making the sites educational and fun. They both made this trip so fun and personable for my husband and me, also their attention to every detail for all participants was extraordinary.

Diane & Paul Campbell
Binghamton, NY, USA
BMW MOA Castles & Mountains Tour

Lora and I made it home in one piece. I just wanted to say thank you for including her in all functions and making pillions feel part of the group. You guys have a great thing going on over there. Both of you worked very hard to make sure all riders we safe and well taken care of. "Customer Service" is outstanding. We love IMT BIKE! I'm trying to talk Lora into a Southern Spain/Portugal trip next year.

Kenny Hudson
California, USA


Kenny Hudson
California, USA
Castles & Mountains Tour

We were/are really impressed with your staff Sergi, Ruben, and especially Josu. While I was still working I had the pleasure of being involved with an organization that provided the opportunity for highly skilled individuals to do the things they were good at and loved to do. In developing my staff I found that combination provided the best opportunity for superior performance while still having an enjoyable work experience. Your staff on this tour ( Josu, Sergi, and Ruben) all demonstrated those traits. They performed exemplary, kept everybody on task, demonstrated an amazing level of love for their country and the riding experience, all while having fun. I cannot say how highly impressed I was. Your staff made the good times of the tour better.

Thank you for your excellent organization and quality of IMTBIKE.


Ruth and Wayne Fox
Castles & Mountains Tour April 2018

Meet our guides

We are very proud of the reputation we've earned as one of the world's leading motorcycle tour operators, and it starts with our guides.
Day 1: Arrival in Madrid
Day 2: Madrid - Ávila
Day 3: Ávila - Ciudad Rodrigo
Day 4: Ciudad Rodrigo - Trujillo
Day 5: Trujillo - Toledo
Day 6: Toledo - rest day
Day 7: Toledo – Cuenca
Day 8: Cuenca – Madrid
Day 9: Flight home
Day 1: Arrival in Madrid, safety briefing and welcome dinner

Transfer included from the Airport to the hotel. You will have some free time to relax or do some sightseeing before the welcome briefing. After the briefing we will enjoy a welcome dinner in a traditional restaurant. The first and last days mentioned in the itinerary are the arrival and departure days for your tour. Depending on the country you are flying from, you may have to leave a day early. Please book your flights accordingly!

Day 2: Madrid – Segovia - Ávila

Leaving Madrid we will head for the mountains just outside Madrid and visit El Escorial- the burial site of the Spanish Kings. Then we will head over a verdant mountain pass and stop in Segovia. Segovia is famous for its 2000 year old Aqueduct, Alcazar Castle, and cathedral. From Segovia we will ride to the walled city of Avila for the night.

Day 3: Ávila – Ciudad Rodrigo

Leaving Avila we will head on little-known back country roads with beautiful mountain scenery dotted with castles, fortresses, and Roman bridges. You will cross three different mountain ranges before arriving at the 14th century fortress town of Ciudad Rodrigo for the night.

Day 4: Ciudad Rodrigo - Trujillo

More great riding today as you cross several mountain passes, head through valleys of cherry tree orchards, and a national park. This complete riding day will finish in historical Trujillo, the birth place of "Conquistadors" Pizarro and Cortes.

Day 5: Trujillo - Toledo

We have two more mountain ranges for you to ride today en-route to Toledo, the ancient capital of Spain. You will ride verdant mountain twisties to the town of Guadalupe with its famed monastery. From here sweepers will lead you to Toledo and our hotel for the next two nights.

Day 6: Toledo - rest day

Toledo is one of the most fascinating cities in Spain. It houses one of the largest cathedrals in Spain, two ancient synagogues, El Greco's house, and quaint cobblestone streets. Sightseeing in Toledo can be combined with an afternoon ride in the Toledo Mountains.

Day 7: Toledo – Cuenca

Leaving Toledo you will re-trace the famous path of Don Quixote down to the 500-year-old windmills that the great knight-errant attempted to battle with his weary squire Sancho Panza in tow. After seeing the windmills, you will head through the Valdepeñas Wine region to the mountain region of Cuenca. Cuenca is famous for its hanging houses.

Day 8: Cuenca – Madrid

The Cuenca Mountains boast some of the best riding with perfect curves and asphalt and no traffic; a fantastic way to end a great tour. These curves and mountain scenery will lead you back to Madrid. At night we will enjoy our farewell dinner.

Day 9: Flight home

Today you will say your goodbyes to the guides and the other tour members (now your new friends) as you make your way to the airport to fly home. We'll see you again on our next motorcycle adventure together!
* Price includes BMW G310R