Südspanien Andalusien Motorrad Tour
We had a fantastic time and I have to say I have travelled many places around the globe and have had many adventure trips where we have hired guided services and this experience has far exceeded any other experience for me. Martin and Javier were a perfect team and their enthusiasm and passion for the bikes, the roads, the country, the food and just overall experience for us made this a trip of a lifetime for everyone. I hope to see your team again maybe next year when I have more experience but their professionalism and care to my level made it possible for me to ride on this tour. I do feel like I gained a year of riding from this experience!!
Casey Villamil
New Jersey, USA
Southern Spain Andalucia Tour
Just a short note to let you know how much our group enjoyed the tour you guys put together for us. The bikes, the support, the accommodation , the roads and the scenery were all perfect. We could not have asked for more - It was certainly a fantastic holiday and ride. We were all particularly impressed with our guides: Chano and Javier. They were not just great guides, they were great people - Funny, entertaining, caring and so positive that it rubbed off on all of us and certainly made the overall experience better than we could ever have hoped for. Please pass our thanks onto the guys. We will certainly recommend IMTBike to others and hope to tour with you again in the future.
Bob Watson
Victoria, Australia
Sevilla - Barcelona Custom Tour
This was our first experience on a professional tour with IMTBike. My husband and I rode two brand new R1200RT BMW motorcycles. What a blast, Nice Bikes, now I want a new bike. The roads in Spain are incredible roads to ride a bike on. We had 10 bikes on our 8 day tour and our guides managed everybody perfectly. We enjoyed our trip so much we will be going on another real soon. Our guides Scott and Juan Pablo were the best! The hotels and foods were spectacular. IMTbike don't change a thing!! This is a trip we will never forget!! Thank you!!!!!
Shelly Sougias
California, USA
Andalucia Tour - Don't Change a Thing!
My husband and I had the extraordinary pleasure of riding through beautiful Andalucia with IMTBike. Though we've been riding for years, this was our first ride with a tour group, and it will not be our last. We will not shop for other tour companies; we are confident the fun-loving guides and extreme attention to detail of IMTBike cannot be beat. The roads were all spectacularly beautiful, a delightful blend of long, smooth, twisty and sweeping. Our days of riding were filled with mountains, olive trees, cork forests, the Mediterranean Sea and the unforgettable Goat Road. We never tired of the scenery, nor of our riding companions. When we were not riding, we stayed at the most beautiful Parador Hotels you can imagine, and each day brought new culinary delights. There was plenty of time to explore on our own, and though we could have ridden by ourselves at any time, we enjoyed the company of our fellow riders so much we preferred to hang together. We ate in bodegas on side streets where the owners always hugged or glad-handed our guide Scott, and walked up twisting alleys to find very cool places that we never would have found on our own. We would not have eaten so well had Scott not interpreted endlessly for us when we had so many unbelievable choices for food. Each day was an adventure, we were Never disappointed, and we will remember this trip forever. Hats off to IMTBike, Scott, and Juan Pablo, for providing the best of all things to do and see in Andalucia in the amount of time we had. Nobody does it better, and nobody could be more grateful and appreciative than my husband and me. Thanks for everything Scott and JP. You rock.
Connie and Dave Christianson
Minnesota, USA
Andalucia Tour - Extraordinary Pleasure
I did not want to go. My wife made me, she bought the tickets and told me she was going without me if I decided to stay at work. Boy, did I ever marry a smart women! My time in Spain, on the tour and with the group and guides was one of the best weeks of my life. The folks from IMTBike knew the answer to every question we asked all week. They could not have been more helpful and the roads/route were second to none. The food and lodging were first class and I really enjoyed both tour leaders, Scott and Juan-Pablo. We are going to Morocco with IMT in a little over a year and this time I will be more than willing to get on the plane!
Matt Griffoul
California, USA
Andalucia Tour - My wife is Smart!
The IMTBike staff were absolutely great in helping tour members prepare for a fabulous tour. The lodging and meals were first rate and the roads were fantastic! Riders of varying experience and skill levels received as much attention as needed to ensure a wonderful experience for all. Andalucia was fantastic and I can't wait to see other areas of beautiful Spain. Inexperienced riders as well as experienced riders will enjoy the daily rides. Highly recommend Scott, Martin and Slim for the excellent support, guidance and friendship they provided on the tour for all participants!
John Rivera
Wyoming, USA
Andalucia Tour - Absolutely Great Tour
We just returned from a fantastic tour of Andalusia and want to thank Scott, Martin and Sergi (as well as the office support team) for providing us with the trip of a lifetime. We've been on great motorcycle tours before - but this time we were overwhelmed by the scenery, the twisties and sweepers, the beautiful cities and villages, the great food and wine but most of all the people who planned our trip and the others who joined us as fellow riders. The itinerary was very well laid out with choice accommodation and wonderful restaurants that we would not have found on our own. We enjoyed having the opportunity to really get to know everyone on the tour and we enjoyed the different stories that were told along the way. Thanks also for the photos, gifts and your follow up emails. We have already shared our experiences with friends at home and hope to join them in another tour next year.
Laurie Johnston and Rob Fullerton
Ontario, Canada
Southern Spain Tour - A fantastic time in Southern Spain
This was my sixth tour with IMTBike and third in Andalucia so I thought I knew exactly what I was in for but they still managed to exceed my expectations. Martin and Juan Pablo went well beyond the call of duty and even secured spectacular weather for us. Touring Southern Spain is a magical experience and difficult to express in a few lines. So my advice is to grab your Visa Card and see for yourself. You won't regret it.
Ric Allison
Ontario, Canada
Andalucia Tour - My sixth IMTBike Tour
The IMTbike Andalucia Tour was phenomenal! Scott and Martin were our guides and were knowledgeable, accommodating, and all-around great guys. Sergi, our faithful van driver and sherpa, was a pleasure to have along. The bikes were in pristine condition and performed flawlessly (Beemers, of course). Our fellow riders have become our newest friends and made the trip even more enjoyable.
Then there was Spain...The scenery was magnificent, from the mountains to the shores of the Mediterranean. The roads and chosen routes were blissful. The hotels and meals were spectacular. Even the weather cooperated...barely a few sprinkles and only after we parked for the night!
All in all this was a fantastic trip. I would go again in a flash!

John Ortinau
Illinois, USA
Andalucia Tour - Phenomenal!
I would like to take this opportunity to thank you for a very well-run tour. From the introductions by your first rate guides: Martin and Javier I was made to feel welcome and secure on this adventure. The bike part of the tour was excellent with lots of variety and a pace to let you ride at your own speed. The part of the tour that blew me away was the cultural exposure. Staying in these beautiful hotels in the middle of the towns and having the time to explore was great. Martin And Javier were very helpful when questioned about the culture and landmarks. The third part of the tour was the food excellent. The food was all new to me so the help from Martin and Javier was invaluable in making this a very pleasant experience . The suppers were a highlight; beautiful locations, excellent food and wine, and great company and because of Martin and Javier I feel like I got a little feel for the Spanish lifestyle.
Excellent Tour..A1...Highly recommended!

Paul MacCorrmac
BC, Canada
Andalucia Tour
I just wanted to send a short note regarding our Andalucia Tour. Anyone who has travelled a lot knows that no trip is perfect. I wanted you to know that this trip was about as close as you can get. Thanks.
I can't say enough about Martin; he is just top notch in every respect and Ryan is a natural. The two worked well together and were fun to be around. I know you have little control over who is on the tour, but if you did, you couldn't have picked a much better group. They were some really nice folks.
Thanks again, and keep doing what you are doing - it works.

Abel Bates and Sylvia Sullivan
Maine, USA
Andalucia tour - A Perfect Tour!
Wanted to let you know that we appreciated all the hard work that you went through to make a fabulous vacation for all,
I realize that whenever things get tweaked it can sometimes go south ,having said that you made it all work out great.
It was special having Chano as our guide for the first part of the tour. That is not to take away from the great job that Sergi did for his portion of the tour, might also add that you have a real gem in Ryan ,for a youngster he is way beyond his years ,take care of that young man. we truly appreciate the wonder full gifts which will be worn and drunk with fond memories.
As always we would like to thank you and the staff at IMTBike for making for a memorable trip that we will cherish for years to come.

Dennins Gonzalez - Owner BMW Santa Rosa
California, USA
BMW Santa Rosa Pyrenees & Provence Tour
This was my first tour with IMTBike and what a fabulous experience! It was a small cosy group of 5 bikes. My bike was nearly new. The routes were well thought out, the roads fun but challenging and showed the intimate local knowledge of IMTBike.
Martin 222 our guide was absolutely magnificent. He was our navigator, guide, photographer, translator and in house entertainer! He single handedly made a good bike trip a very memorable one and a great holiday too. Thank you Martin.

I was not aware Spain is such good biking country. I will be back.

Robin Dawson
Staffordshire, UK
Andalucia Tour
This was the second IMTBike tour my wife and I have taken and it was a very enjoyable experience. The Iberian Peninsula is IMTBike's bailiwick and it shows in the professionalism and thoroughness they demonstrate in escorting their customers through the Spanish countryside.
The lodgings (mostly Paradors) were first class as were the evening meals. IMTBike renews their BMW fleet every year so the bikes were in excellent condition.
We are excited about riding in Africa on the Magical Morocco tour in the near future.

Steve and Ruth Ann Reynen
Winsconsin, USA
Andalucia Tour
After almost blindly choosing a tour company to have a 1-week bike ride around Andalusia, I was really impressed by the organization and quality of everything, from selected routes & stops to hotels, dinners and ultimately company. Our guides Sergi & Eric went above and beyond what was needed to make each member of the small (10 people) tour group welcome and comfortable. Overall experience was really great and although a bit pricey (at least for me), was nevertheless worth every euro spent. If I ever decide to ride in Europe again, this would definitely be the company of my choice.
Anna Antonova
Moscow, Russia
Great company & guides for organizing a bike tour
Schlösser & Berge Zentralspanien Motorrad Tour IMTBIKE
First let me say, WHAT A WONDERFUL TIME ! ! ! ! IMTBike certainly knows how to throw a party ! Mark and I thoroughly enjoyed the entire trip and the tour was spectacular ! You were right, we loved Spain and the Central Spain Tour was a tour not to be forgotten. The time spent in Toledo was extremely well timed as we were in the midst of the Feast of Corpus Christi. What a festival that was ! Everywhere we went was special, the accommodations were superb and the foods were outstanding ! It is hard to pick a favorite as each place will be remembered by its own events. Chano was outstanding and certainly knew the places to go, the things to see and the history behind it. Two thumbs up to Chano and Tomas ! We had a great group to ride with, we had a lot of laughs and we made some good friends. We look forward to touring with IMT again. Until then, Thanks to everyone at IMT for such a wonderfully delightful trip !
Mark and Toni Dapper
Ohio, USA
Central Spain Tour - What a Wonderful Time!
Hola mi experiencia fue excelente desde el recibimiento, el guía, la furgoneta...Chris y Gustavo al 100 % todo el tiempo. La moto en excelentes condiciones...los Paradores,
la comida. Lo repetiré en cuanto pueda.
Scott de 10 las rutas increíbles!
Muchas Gracias
Nacho Abaroa
Veracruz, Mexico
BMW MOA Castles & Palaces Tour - Increible
Denise and I just wanted to tell you how much we enjoyed our recent tour. It was the first guided tour that we had ever done. I was a little skeptical going into it about riding with a group that I didn't know. Martin, Scott and Ryan made it clear that this was going to be FUN!! And it was.
This trip in my opinion is great for couples especially if your partner isn't that comfortable with riding. It had some really fun, challenging riding but it also had a lot of just cruising and sightseeing. I don't know if all of the tours do lunch "family style" like this one did but those lunches were a highlight. It gave everyone a chance to taste some of the house specialties that on my own I wouldn't have ordered.

Martin, Scott and Ryan were awesome. You were all very professional but also just had a knack for making it fun. Martin's enthusiasm for everything was just contagious. He even made the briefing fun. The three of you were very competent and caring and your attention to every detail set the pace for each day making sure we were all safe and enjoying our collective experience. It allowed the group to bond and enjoy one another as much as all the fantastic riding, scenery, food and beautiful lodging.

I wasn't sure I would like the structure of a tour but because IMTBIKE made it so stress free and fun, I can't wait to do another one. The hard part is deciding which one.
Denise & Randy Jones
New Mexico, USA
BMW MOA Castles & Mountains Tour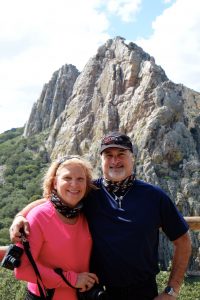 We experienced some of the best riding roads I have ever been on, mostly mountainous and twisty or big sweepers and no lack of beautiful scenery. We overnighted in converted castles and historic manors, and dined on the best food you could imagine. We made lasting friendships with the people on the ride and the IMTBike staff. Our last day felt like the last day of summer camp, saying goodbye to our new best friends and the guides who showed us the parts of Spain that most tourists will miss.

So, to sum it up, this was THE BEST vacation I have ever had; I would and will sign up for another IMTBike vacation, problem is, which one? If you are seriously considering going on a motorcycle touring vacation give these people a call, you won't be disappointed!
David & Eileen Simkins
Arizona, USA
BMW MOA Castles & Mountains Tour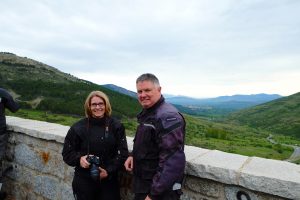 I want to thank our tour guides Scott, Martin and Ryan as well as the whole staff at IMTBike for putting on a fabulous BMW MOA Castles and Mountains Tour. As first time visitors to Spain, Jackie and I had a truly wonderful time that was well beyond our expectations. What made this tour special was the combination of riding the beautiful mountains and plains along with being immersed in the history and culture of Spain; making this a tour I would recommend to anyone.
Riding with them was like riding with your best friends!
Chris Hughes
Advertising Director BMW MOA - Spokane, WA
BMW MOA Castles & Mountains Tour
Motorradtour Pyrenäen Von Küste zu Küste
We did the inaugural IMTBike Wild Pyrenees Tour with Sergi Besses in July 2015. We were looking for the ultimate sport-touring adventure and got everything and more… This tour is about 80% technical with lots of hair-pin turns, mind-bending ascents and descents, long sweepers, majestic scenery, changing landscapes and excellent food…We highly recommend this tour for the adventurous looking for a series of technical rides by a great guide with a passion for riding and a desire to serve you.
David Wood
Florida, USA
Wild Pyrenees Tour
Perfekte Pyrenäen Motorrad Tour
Ya de regreso en Mexico, la hemos pasado increíble ! El viaje supero por mucho nuestras expectativas ! Martin y Chano fueron lo mejor del viaje, de verdad ! Nos hicieron el tour ameno, seguro, y además de haber sido un paseo increíble, nos ayudaron a mejorar nuestra calidad de manejo, ya que siempre estuvieron dispuestos a responder con paciencia a todas nuestras preguntas.
Pronto nos pondremos en contacto con ustedes para organizar el siguiente tour.
Un abrazo.
Francisco Guzman
Mexico City, Mexico
Tour Pirineos Perfectos -
El tour de los perfectos pirineos así estuvo, PERFECTO!!
Sobre todo gracias al profesionalismo y simpatia de nuestros guias.
Saludos y espero verlos el proximo año.
Jaime Guzman
Mexico City, Mexico
Perfect Pyrenees Tour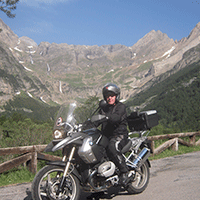 Estimados Martin y Oscar, luego que nos despedimos en Barcelona cada uno de nosotros tomo su camino unos de regreso inmediatamente a Venezuela otros también de regreso pero más despacio ó mejor dicho dando una vuelta más larga, el tema es todos nos fuimos con la sensación de haber pasado una de esas semanas que no vamos a olvidar y además de la que vamos a hablar por mucho tiempo.

Estoy seguro que hablo por todos al decirles que se superaron todas nuestras expectativas en el paseo, su conocimiento, profesionalismo, amabilidad y simpatía hicieron que lo que empezó como ocho amigos que iban a los Pirineos Españoles a montar en moto se convirtiera rápidamente en diez amigos
Creo que todos mejoramos nuestra capacidad de conducción, disfrutamos de los mejores paisajes, las mejores carreteras, comimos y bebimos de primera incluyendo paellas a derecha e izquierda! En resumen seria propio decir que la pasamos "DE PUTA MADRE!" También sería propio decir que ustedes tienen ocho nuevos amigos en Venezuela y nosotros dos en España. Bueno solo queda decirles Muchas Gracias por todo y vamos a ver si nos vemos en el próximo año para rodar esta vez por las carreteras Andaluzas o por lo llaman España verde.
Alberto Ramirez
Venezuela
Pirineos Perfectos - Moto Aventura Custom Tour
I just wanted to thank you for a truly wonderful experience far beyond what I had anticipated. Bravo to you, your company and your staff. The roads and scenery bordered on being Magical. Words cannot express how much fun I had. It was superb.
What a bummer to come home! Ride Well my friend: Hopefully we can do it again someday.
Jon Gracey
Wheeling, WV
Pyrenees Tour - A truly Wonderful Experience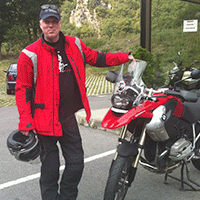 I just finished the Perfect Pyrenees trip last week. I must say it was one of my most enjoyable experiences, on or off of a motorcycle, ever. The roads were superb. The IMTBike team (Martin And Roger) were extraordinary hosts, mentors and guides. The hotels and food was fantastic. I cannot recommend this trip highly enough. BRAVO IMTBike!!!!
Terrence Burns
Georgia, USA
Perfect Pyrenees Tour
I just want to thank IMTbike tours for a fantastic six days in the Pyrenees Mountains. It was beyond my greatest expectations. Everything they promised, they delivered and more. Martin and Roger are both fantastic people and guides. They are fun to be with and awesome riders. We had a great group and many first time tour riders; I am sure some will be back for more. The roads and scenery are beyond description. An experience not to be missed. Oh yes, ask anybody that was on the tour about the food. The tour should be renamed the Perfect Pyrenees motorcycle and Food Experience Tour!
Dale Brandt
Iowa,USA
Perfect Pyrenees Tour - Fantastic six days
This was my second tour with IMTBike, having gone to Morocco last year. As before the pacing and daily riding distance was perfect plus our guides went out of their way to ensure none of the tail-enders became lost which is quite the contrary to other tours I've been on. This was my 6th foreign tour and keeping up generally doesn't apply to me but it was good to see IMTBike staff concerned enough to make sure everyone has a good time. I'm already looking at my schedule to see what IMTBike tour I can take next year!
Tosh Konya
Ohio, USA
Perfect Pyrenees Tour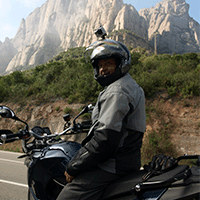 I am sitting down thinking about my trip to the Magical Pyrenees looking at the pictures you took makes me smile and feel sad. Getting home is comforting but the joy of riding with you, Roger, Al and the rest brings a huge smile to my face. It is hard to describe to your friends the exhilaration riding a motorcycle brings it makes me feel like a kid again.
Many thanks to you and Roger for taking care of all riders all were included in all aspects of the trip.
Everything was first class: the little touches, marked maps, planning local information, photography (the photos were a treasure). Was awesome!
I will be back! You and Roger are a great team and fab riders thanks for the riding lessons.
Until we meet again!
Howard Strode
Ontario, Canada
Perfect Pyrenees Tour - Better than Advertised
It is difficult to find the words to express my appreciation to IMTBIKE for the absolutely PERFECT Pyrenees Tour . I have been riding motorcycles for over 50 years. I have travelled over a large percentage of North America by motorcycle and my son and I did a self-guided tour of the Pyrenees several years ago (also arranged by IMTBIKE).
The trip last week was by far my most enjoyable time on a motorcycle. I am at a loss to think of any way that the experience could have been improved upon. The roads, scenery, accommodations and meals were magnificent.
Although I realize that the successful execution of an undertaking of this type requires a great deal of work by people that we never see, you should be very proud that IMTBIKE is represented so exceptionally well by both Martin and Roger. Their knowledge of the Pyrenees and Catalunya are impressive, their motorcycling passion and skills are amazing, and their attention to every little detail made this a trip of a lifetime.
Please extend my thanks to everyone at IMTBike for their hard work.

Hinton Buzz Crockett
Tennessee, USA
Perfect Pyrenees Tour - A PERFECT Pyrenees Tour
After traveling with my moto buddy Greg Pecknold on the Perfect Pyrenees trip, I thought I would write to thank you for putting together a fantastic tour. This being our second tour this year we pretty much knew what to expect. However, like one of our fellow bikers noted, while the Andalucía Tour was about the history and culture of the region, the Pyrenees Tour is about the roads.

Both are quite memorable, but the twisties in the Pyrenees....unbelievably exciting and satisfying. Greg and I often remarked what great guides Roger and Martin are. Really, the trip by itself is fine, but these two men add delicious frosting on the moto cake. Their riding expertise, familiarity of roads traveled, intricacies in Spanish culture and knowledge of the sidelines of food and lodgings make for a trip of a lifetime. Not to mention their genuine caring for their tourists. These guys are golden.

You haven't seen the last of Greg and I, what a trip!
Phillip Roush
Washington State, USA
Perfect Pyrenees Tour
BMWMOA Motorradtour Portugal & Zentralspanien
I've been on 5 IMTBike Tours, each of which felt like the best. However, the Spain & Portugal Tour truly is the best one! The panoply of Parador Hotels in both Spain and Portugal was breathtaking. Food on this tour was sensational. Portuguese cuisine, particularly deserts and coffee, is not to be missed. Art, culture, great food, great riding, it's all there!
Ruth Kile
Washington DC, USA
Portugal & Central Spain Tour
Seven Australians with a massive thirst for good riding, good company, good food and cold beer had a ball thanks to the fantastic organisational skills of Scott and the IMTBike team. Our main guide Chano is the best and his back-up man Tomas was great. Many thanks also to Isabel for putting up with us. The ride was brilliant and in particular we loved Porto, Baiona And Salamanca. This is our 2nd ride with IMTBike (and Chano) and would not hesitate to jump on board again. Best wishes!
Gary Cox
Western Australia
Portugal & Central Spain Tour Oz Custom Tour
Our third trip with IMTBike and as usual, wonderful routes and beautiful scenery. Chano and Scott took such good care of Ann and I, it made for a much more enjoyable ride. These tours are so well planned, that everything is so smooth and easy. It is hard to think of any place in the world with better riding. Thank you!
Jerry and Ann Larsen
Texas, USA
Portugal & Central Spain Tour - Our Third IMTBike Tour
When RuthAnn won a 500 Euro discount off an IMTBIKE tour, we quickly decided that the Central Spain & Portugal Tour would be the one for us. It was a good choice and we enjoyed it immensely. Our guides, Chano and Javi, did a great job escorting our small group through Central Spain and Portugal and keeping us in good spirits. It was always thumbs up and big smiles all around. Coffee breaks, lunch stops, comfy lodging in Paradors and Pousadas with wonderful evening meals all added to the experience.
The bikes were in excellent condition, well maintained, and all ran flawlessly during the tour. We would not hesitate to rent from IMTBIKE for an independent tour in the future. Like most of Europe, Spain and Portugal have a rich history and Chano and Javi made it come alive for us with their extensive knowledge history class on two wheels!
Meanwhile, time for another sip of the excellent IMTBike Vino!!
Steve and Ruth Ann Reynen
Wisconsin,USA
Portugal & Central Spain Tour
Motorradtour Portugal & Südspanien
I've been on many tours with various motorcycle tour companies in Europe; most of which were well worth the money. I've also motorcycle toured on my own in Europe several times. However IMTBike, in my opinion, hits the "sweet spot" in terms of the combination of luxury tourism, great riding, and affordability. The accommodation is always interesting and good quality. The riding routes are challenging, which I love, but not so difficult that non-European riders (and passengers) are intimidated. The bikes are in perfect condition and usually almost new. The food is great with a tremendous amount of local content. The IMTBike staff is unfailingly courteous, helpful and patient. I really think IMTBike "has it nailed"!

Michael Atkin,
Canada
It was a GREAT Tour!!
A expectativa era alta, afinal "todo mundo" vai para o sul da Espanha nas férias, e Martin
havia me garantido que este era um tour novo e imperdivel.

Realmente a IMTBike conseguiu criar um tour fantástico.
Roteiro diferente; quem espera um dia de folga logo no 2o dia da viagem. Ousado.
Pequenas cidades, mas sempre com historia e boa gastronomia.

Estradas diferentes; nada de autopistas e retas, somente estradinhas com pouco
transito e muitas curvas. O sonho de todo motociclista. E voce vai descobrir as melhores.
Os dois ultimos dias, Arcos e Ronda, são para fechar com chave de ouro.

Hoteis diferentes; Pousadas e Paradores sensacionais. Os de Évora, Cascais, Arcos e
Ronda são um show a parte.

Nem é necessário comentar sobre as comidas e vinhos, né? Andalucia e Portugal já
dizem tudo. Prepare sua dieta no retorno.

É o sul da Espanha apresentado por quem conhece, pesquisou e escolheu o melhor.
Paisagens maravilhosas, montanhas com estradas incriveis, los Pueblos Blancos....
Martin e o talentoso Ruben (motos, fotos e musica) cuidam de todos os detalhes,
até 15 dias de sol eles conseguiram acertar com S. Pedro rsrsrs, para que voce
aproveite ao máximo e não tenha com que se preocupar.
(Atenção: nos proximos tours "obriguem" os dois a levarem suas guitarras na van)

Muchas Gracias Martin, Ruben e IMTBike por mais um tour fantastico.
Nos vemos em breve.
Louis Pitaluga Jr
Sao Paulo, Brazil
Portugal e Sul de Espanha - Surpresa total !! Inesquecivel !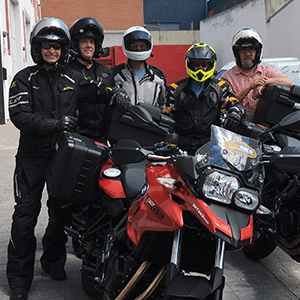 Now that we are back home and reflecting on our recent adventure, I just wanted to say thanks to all of you for putting together such a wonderful trip. We had a truly amazing time! I can't say enough good things about you all and what you do. All of the details were covered. The bikes were excellent, the maps and itinerary were beyond helpful, and the accommodations well exceeded our expectations. And certainly of highest priority, being a motorcycle trip, the route/roads you recommended were fantastic! So good, I realize, that this may have been the pinnacle of rides for me. Thank you, thank you , thank you
Mark Luposello,
Virginia, USA
Amazing Time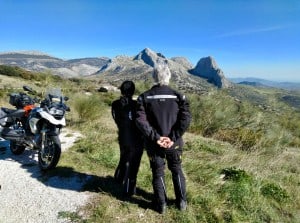 I just wanted to complement you both on the amazing trip your company provided for both myself and my wife, Rose.
The routes, accommodations and restaurants were, in a word, exemplary. Any concerns I had initially about my wife riding, at least part of the time, in the support vehicle had all vanished by the lunch break our first day of riding. Throughout the trip Mikel was a gracious host and tour guide while she was both a passenger in the support vehicle and afterwards as well. He will, undoubtedly, be a great asset to your company in the years to come.
I was also very impressed with Martin. His enthusiasm for motorcycling in particular and life in general was quite contagious. He also demonstrated an incredible ability to look after the less experienced riders while still making it a great deal of fun for those riders interested in riding at a more spirited pace. When off the bikes he had a way of making sure everyone's needs and concerns were attended to and that the group was always enjoying themselves.
I have been involved in at least a dozen motorcycle trips that were organized,at least to some degree.Your trip was,by far,the best( and that was with your trip being,for the first time,WITH MY WIFE!)LOL A specific shout out for a job well done should also go to the other support staff who put together the printed materials,photographs and other similar work.
I am already considering booking your Perfect Pyrenees Tour and the Castles & Mountains Central Spain Tour.
Best regards,
Bill Taberner,
Ontario, Canada
Portugal & Southern Spain Tour-By far the Best Tour I've ever Taken
Motorradtour Portugal & Zentralspanien
I've been on 5 IMTBike Tours, each of which felt like the best. However, the Spain & Portugal Tour truly is the best one! The panoply of Parador Hotels in both Spain and Portugal was breathtaking. Food on this tour was sensational. Portuguese cuisine, particularly deserts and coffee, is not to be missed. Art, culture, great food, great riding, it's all there!
Ruth Kile
Washington DC, USA
Portugal & Central Spain Tour
Seven Australians with a massive thirst for good riding, good company, good food and cold beer had a ball thanks to the fantastic organisational skills of Scott and the IMTBike team. Our main guide Chano is the best and his back-up man Tomas was great. Many thanks also to Isabel for putting up with us. The ride was brilliant and in particular we loved Porto, Baiona And Salamanca. This is our 2nd ride with IMTBike (and Chano) and would not hesitate to jump on board again. Best wishes!
Gary Cox
Western Australia
Portugal & Central Spain Tour Oz Custom Tour
Our third trip with IMTBike and as usual, wonderful routes and beautiful scenery. Chano and Scott took such good care of Ann and I, it made for a much more enjoyable ride. These tours are so well planned, that everything is so smooth and easy. It is hard to think of any place in the world with better riding. Thank you!
Jerry and Ann Larsen
Texas, USA
Portugal & Central Spain Tour - Our Third IMTBike Tour
When RuthAnn won a 500 Euro discount off an IMTBIKE tour, we quickly decided that the Central Spain & Portugal Tour would be the one for us. It was a good choice and we enjoyed it immensely. Our guides, Chano and Javi, did a great job escorting our small group through Central Spain and Portugal and keeping us in good spirits. It was always thumbs up and big smiles all around. Coffee breaks, lunch stops, comfy lodging in Paradors and Pousadas with wonderful evening meals all added to the experience.
The bikes were in excellent condition, well maintained, and all ran flawlessly during the tour. We would not hesitate to rent from IMTBIKE for an independent tour in the future. Like most of Europe, Spain and Portugal have a rich history and Chano and Javi made it come alive for us with their extensive knowledge history class on two wheels!
Meanwhile, time for another sip of the excellent IMTBike Vino!!
Steve and Ruth Ann Reynen
Wisconsin,USA
Portugal & Central Spain Tour
Magische Marokko Motorrad Tour
Scott and Chano were the greatest hosts. They obviously have tried it from all angles and this particular route encompassed just about everything, a superb cycling experience. As for problems, the only one I had was keeping my credit card in my wallet! There are deals in Morocco like you will not believe...fabulous rugs, leather, silver. And the best orange juice in the world! Even though the tour is primarily of Morocco, the first and last days in Southern Spain were fantastic. The mountains of Southern Spain are spectacular.
W.W.Wibby
Maine, USA
Magical Morocco Tour - The Greatest Hosts
First off, this was my first organized tour on a motorcycle, and after countless hours of searching the internet for a tour, I zoomed in on IMTBike and began to make inquiries not only with them directly, but with former customers...everyone spoke very highly of IMTBike, so I booked the Moroccan Tour. I couldn't have been more pleased The tour is everything they said it would be and more. Scott and Chano were our guides, and every aspect of our tour went very smoothly. We had a very diverse group of 10, and everyone got along like we were lifetime friends.
Morocco is a country like no other, and every day brought new scenery and riding challenges....you are allowed to go at your own pace and enjoy the views. All the hotels we stayed at were first class, and the food was excellent. I was pleasantly surprized how warm and open the Moroccan people are and Morocco is a very safe country to travel in. Scott and Chano made sure we were all happy each and every day, and I can't wait to schedule my next tour with them! Thanks, IMTBike!!
James B. Nims
Massachusets, USA
Moroccan Tour - Thanks IMTBike
Scott, Chano y Roger ... ya en Madrid, de nuevo agradecer la organización y gestión del viaje a Marruecos. Ha sido una experiencia impresionante, tanto en los sitios visitados como en la compañía. Ha cumplido al 100 % expectativas. Esperamos, cuando alguien se quiera volver a quedar con los niños dos semanas, repetir con IMTBike en algún otro destino. Scott, excelente gestión ... Chano, excelente organización y Roger excelente logística. Lo dicho ... nos veremos de nuevo. Gracias por todo.
Carlos y Raquel Vives
Madrid, Spain
Tour Marruecos Mágico - Experiencia Impresionante
We've loved the proposed itinerary on Magical Morocco Tour, the landscapes were fantastic; the desert gives you a very peaceful energy, and I felt like I could breathe all the beauty of the world... I've enjoyed a lot the time spent in Erfoud, the adventure with the ATVs, the route to Zagora, eating very tasty food in almost all restaurants...
Scott and Roger were very well organized and made us feel very comfortable with them. I would say that first of all the IMTBike team has passion for exploring, for diversity, for people and places, for culture and then for motorcycling. I am highly recommending having aside an IMTBike guide.

Simona Nicolaescu
Bucuresti, Romania
Magical Morocco Tour - Thank you for a wonderful Morocco Tour
Whoever came up with Magical Morocco was right on the mark, it was an awesome adventure and far exceeded all our expectations! Scott and Slim and our fellow bikers made for a most memorable time and I still chuckle to myself as I remember moments or see photos! Everyone rocked!! One of the highlights (and there were many) was quad biking in the desert...it was just an amazing experience! We had no idea what to expect and every day was an adventure and Scott certainly did have some surprises for us!! Thank you so much and look forward to the next adventure!!!
Angela & Ian Farnsworth
Australia
Magical Morocco Tour - This Tour Rocked!
This was one of our best trips ever!
Very well organized from beginning to end, beautiful scenery, amazing roads for exciting motorcycling, culturally very interesting cities, fancy hotels, great food and wonderful people!
The motorcycles were top notch, no older than 1 year and in excellent condition.
Our tour guides Scott and Slim did a superb job, we always felt safe and well taken care of.
Our fellow riders were some of the nicest people we have ever met and they made the trip truly special.
The ATV tour through the desert is not to be missed, it was one of the best things we have ever done. Magical in every way! All in all in one word – Awesome!!! :)
Would do it again in a heartbeat, thanks to our guides for an unforgettable adventure!
For the German speaking population:
Da muss man mit, voll sackstark!!!

Elfie and Andreas Luther
Germany
Magical Morocco Tour - Awesome Tour
The Magical Morocco tour was wonderful. The riding was awesome on the roads and the dunes. The trip plan shows a comprehensive view of Morocco and its people. The tour members were extraordinary !
We cannot remember when we laughed so much and so hard. We made many new friends which we will treasure. Great riding everyone!
Chano and Mikel, thank you for a great trip. All our experiences with IMTBike have been great. Thank you to all IMTBike staff for you dedication. Well done.

Colleen and Karl Schenk
Alberta, Canada
Magical Morocco Tour - Canadians in Morocco
Fantastic adventure with the best guides ever. Would recommend IMTBike to anyone looking for adventure on motorcycles. Thanks Chano, Gustavo and Scott.
Kerry and Roanne Potts
Wellington, New Zealand
Magical Morocco Tour - Fantastic Adventure
Well it's difficult to know what to say. I have just had the most fantastic time and incredible experience. It's taken two days to come back down to earth. The tour exceeded my expectations by such a margin and Roger and Christophe were just excellent in every way.
We had a great group and the friendships formed were so rewarding and such an unexpected bonus.
Well done IMTBike, highly recommended.

Richard Williams
Merseyside, UK
Morocco Tour - An Increible Experience!
Nie hätten wir im gedacht, dass Marokko so spektakuläre Landschaften, tolle Strassen und viel Fahrspass (viele Gebiete mit ganz wenig Verkehr) und freundliche Leute vereint, so dass sich das Land bestens für eine Motorradtour eignet. Im November 2014 haben wir als Fahrer und Passagierin an der "Magical Morocco Tour" von IMTBike teilgenommen. Auf einer sauberen BMW F800 GT mit guten Reifen sind wir mit der Gruppe in Malaga gestartet und haben einen ersten Tag auf kurvenreichen spanischen Bergstrassen bester Qualität erlebt. Jeder in der Gruppe konnte sich einstimmen und im passenden Tempo durch die wunderschöne andalusische Landschaft fahren. Bereits am Vortag hatte sich die Gruppe in Malaga getroffen und einen fröhlichen Abend bei gutem Essen und spanischen Wein verbracht. Am Ende des ersten Fahrtages erwartete uns ein schönes Hotel in der Nähe des Fährhafens, so dass wir am nächsten Morgen rasch bereit zur Überfahrt mit der Fähre "nach Afrika" waren. Nach einer von unseren beiden Tourguides gut vorbereiteten Einreise nach Marokko ging es der Küste entlang und bald danach auf sehr guten kurvenreichen Bergstrassen nach Chefchaouen, wo wir ein wunderschönes Hotel in der Altstadt beziehen konnten. Der erste Abend in Marokko verlief so angenehm und bei ausgezeichnetem Essen, wie die folgenden Abende. Die Marokkaner, die wir getroffen haben, und dies gilt für die ganze Reise, erwiesen sich als freundliche und sprachgewandte Leute. Am nächsten Tag führte die Tour über weitere Bergstrassen von ausgezeichneter Qualität nach Fes (sehr sehenswert) und in den folgenden Tagen an den Nordrand der Sahara. Traumhafte Wüstenlandschaft und tolle Hotels, fast kein Verkehr und ausgezeichnete Strassen wurden uns geboten. Nie hätten wir gedacht, dass Marokko so vielseitig sein kann! Nach dem Aufenthalt in Zagora, dem südlichsten Punkt der Reise ging es nach Marrakesch. Was für eine lebendige Stadt, absolut sehenswert und wir haben so gut gegessen... Die Tour führte weiter über Rabat und Tanger zurück nach Spanien. Es blieben unvergessliche Eindrücke. Die Tour war prima organisiert und durchgeführt, die Guides von IMTBike sehr professionell aber dennoch "locker drauf". Sehr empfehlenswert.
Rainer & Claudia Schweiz
Schweiz
Magical Morocco Tour - Was für eine wunderbare Reise
Our guides Martin, Chano and Javi knocked themselves out to ensure a safe, memorable time. The efficient handling of border crossings, hotel arrivals and departures, gas stops, meals and celebrations, on top of loading/unloading luggage, caring for bikes, is itself worthy of appreciation.
But what really set this tour apart for many of us was the camaraderie among Martin, Chano and Javi and the passion that each brought to the overall experience. The result is hard to put into words. Nancy described it as feeling embraced in a way that she has not experienced on previous tours. At the farewell dinner, Anthony suggested that IMTBike "not change a thing."
For my own part, I felt like a family was parting ways at the end of the trip. I made the acquaintance of some great people that I look forward to keeping in touch with and visiting in the future.

Brenda Priebe
Virginia, USA
Magical Morocco Tour-Memorable time
We were really impressed by both Sergi and Ryan, totally professional, very organised but still heaps of fun. They both went out of their way to make sure everyone in the group was happy, being encouraged & looked after, above and beyond their duty. At all times they were calm and efficient, managed change of plans (due to snow) well. We are aware that there was lots & lots of extra work being done in the background to make sure everything went to plan.
Clearly Sergi & Ryan both have good language skills and great understanding of cultural issues and challenges travelling with a group of people in Morocco, particularly when the group have a wide range of experience travelling. We would recommend IMTBIKE to anyone interested in a motor bike tour.

Kevin Harris & Alison Smith Doveton, Victoria, Australia
Magical Morocco Tour-
Marokko Abenteuer Motorrad Tour
This was a great tour, my first with IMTBike but definitely not the last. The guides were fantastic and the riders couldn't have been friendlier or more interesting. It was a diverse group with lots of adventures and experiences to share. Morocco was fascinating and I would love to go back again. I was a bit apprehensive due to the differences in religion and culture, but the tour was so well planned that there were no difficulties or hassles. These guys know how to lay out a tour!! Attention to details makes all the difference... I think that Scott and his team at IMTBike offer a tremendous service to adventuring motorcyclists.
Michael Dwonszyk
Connecticut, USA
Morocco Tour
Inshallah por mas viajes como este!!!!! saludos a toda la pandilla del Morroco Tour!
Abdon Urbina
Venezuela
Tour Marruecos
This was not our first guided motorcycle tour experience, so I had some idea of what to expect. However, I must say that the IMTBike Morocco Tour was beyond our expectations. The tour guides were masters of planning and logistics, the accommodations were perfect, and the IMTBike staff went out of their way to ensure we all had a great time. The Morocco experience was, at times, like being in an alternate reality; it was so different from Ohio. I refer to the blue village of Chefchaouen, the narrow passageways and vendor stalls in the ancient medinas, the dry and sandy world of the desert, and the lush green world of date palms in the oasis. And then there was the riding! Twisty mountain passes, desert riding, and big sweepers with panoramic views. Besides being immersed in these landscapes, we enjoyed meeting the gracious people of Morocco and learning about their history and culture.
Scott, Chano, and Roger—you are the best!

Ginny and Jim LaPoint
Ohio, USA
Morocco Adventure Tour - Beyond our Expectations
Thank you IMTbike for such amazing trip! Thank a lot to our friends Mikel and Roger for taking care of us during all journey. We can recommend this route to all fans of cool riding!
Alexander Chalenko
Moscow, Russia
Morocco Adventure Tour - Thank you
Thank you Scott and Chano for an amazing adventure! The IMTBike team was outstanding from start to finish on our Moroccan tour. The varied terrain of Morocco made for an unbelievable ride... whether climbing through the switch backs of the Atlas Mountains, enjoying the beautiful sweeping roadways on the plateaus, navigating the hectic roundabouts of the major cities or surviving a Saharan sandstorm! The scenery and countryside was awe inspiring and there was never a dull moment... Can't wait for the next tour... Thanks again!
Martin Timmins
New Jersey, USA
Morocco Tour - Amazing Adventure
Had a fantastic trip to Morocco, the tour was well run and our guides Roger and Mikel were well organised and also great fun. The bikes were all in excellent condition and the hotels fantastic. The tour was very comprehensive, taking in the main sights of Morocco, of course I could have stayed longer particularly in Marrakesh and the desert, but as I only had two weeks it did the job admirably. My particular highlight - quad bikes in the dunes – it's a must do for the day!!! Well done IMTBike. I shall be back next year.
Philip Gregory
Northumberland, UK
Morocco Adventure Tour
Dear bikers I would like to share with you my impressions about the trip to Morocco on by IMTBike, which by the way made my dream of riding in Africa become true. Morocco is full of wonders and contrasts that are worth exploring. The IMTBike guides made all the difference due to their deep knowledge of the local customs, best roads and spots. They had a genuine concern whether we were enjoying or not the ride and did not save efforts to make sure that we were having a good time. IMTBike and staff are very professional and the least that I can say is to recommend their services to those that wish to experience a great bike tour.
Monise Alencar Martins
Sao Paulo, Brazil
Morocco Adventure Tour
En pocas palabras...el mejor viaje de mi vida!! Agradecido desde la primera a la última persona por su atención tan cordial hacia mí y creo que también hacia la gente que viajo conmigo, volveré por otro viaje más seguramente, una empresa excelente!!!para recomendar!!!mis saludos cordiales y muchas gracias por esta aventura!
Gaspar Fonollo
Buenos Aires Argentina
Tour Marruecos Aventura
Acabo de regresar del tour Marruecos Aventura.
Querría agradecer a Scott y Javi por tan magnifico viaje.
Marruecos es un destino increíble. Desde las dunas del Sahara a montar en camello un día hasta atravesar las montañas del Atlas con nieve al siguiente. Increibles carreteras de montaña, naturaleza y energía.
Scott y Javi han sido de la mejor compañía: Siempre pendientes de todo, aportando mucho conocimiento y muy divertido. Gran aventunra. ¡ Hasta la próxima!

Scott and Javi were the best of company: on top of things, knowledgeable, and fun!
Great adventure! Hasta la próxima!

Andres Maldonado Bogotà
Colombia
Tour Marruecos Aventura
Scott and Javi are superb guides. I was taken to places and shown things that I never would have done or found on my own. Thank you both again. The entire group was amazing and with representation from six countries around the world the discussions and exchange of ideas was quite enlightening. I have made many new friends. Beautiful scenery, great food, exciting experiences, what else could you ask for?
Robert Bolton
Texas, USA
Morocco Adventure Tour
I've been riding motorcycles for more than 50 years, including far away places all around the world, but this trip through Morocco, with the never ending attention from our guides - Scott, Chano and Roger was absolutely PHENOMENAL!
In the past, I've visited countries while in a tour bus and found it to be cold and disconnected. But, while riding a motorcycle, you IMMERSE yourself in the sensory-overload-experience!
IMT BIKE is without a doubt, the BEST motorcycle tour company, I've ever worked with. I CANNOT recommend them, enough!
Joseph Bradley
Texas, USA
IMT and Morocco, a perfect match
Provence & Toskana Motorrad Tour
This was truly a bike trip of a life time. The guides were great and the routes were unbelievable. This was our fourth tour, but the first one outside of North America. The food and wines as expected were wonderful. Pictures and words cannot adequately describe the adventure of being on a bike in these beautiful mountains.
See you in Morocco in April.

Jerry and Ann Larsen
Texas, USA
Provence & Tuscany Tour - Bike Trip of a Lifetime
What a terrific trip! Our guides, Martin and Chano were outstanding. The roads were something you only dream about: lots of variety to keep you alert, good asphalt, beautiful scenery, and great bikes to enjoy it all. Hotels were more than comfortable, dinners together were most enjoyable with lots of conversation, sharing stories and making new friends. Rest days we got to explore some of the history of the places we were visiting. Lucky for us the weather was excellent. We look forward to another IMTBIKE Tour and spending time with Martin and Chano again.
Jerry Julian
New York, USA
Provence & Tuscany Tour - A Terrific Trip
My wife and I rode two up and we had some special needs that Scott and Chano accommodated very easily and graciously without any hint that we were imposing on them.
We couldnt wait to ride in Tuscany because we knew it would be so beautiful and that part of the trip lived up to our very high expectations. What knocked our socks off, though, were the incredible twisties and spectacular scenery throughout the French mountains and the Pyrenees. Overall, this trip was one of the best trips of any kind we have taken. The roads, the scenery, the bikes, the sights and the people (the IMTBike people and the other riders) were all terrific.
Dean Vegosen
Utah & Florida, USA
Provence & Tuscany Tour - Lived up to our very high expectations
This was my third tour with IMTBike (Morocco, Andalucia) and as usual, spectacular in all regards. Weather cooperated for the most part, and the roads and scenery were second to none.
What continues to amaze me are not only the tours themselves, but the people who make up the group. Each time I think the group cannot be any better than the previous tour group, but lo and behold, they are! We had an excellent group, easy to get along with, just fantastic!
I was the least experienced rider in the group, but everyone went out of the way to offer helpful suggestions and tips; Scott and Chano did make this trip extra special....thanks again, look forward to the next tour!
Jim Nims
Massachusetts, USA
Provence & Tuscany Tour - Third Tour with IMTBike
What a Wild, Wild trip we had!! Fantastic. Pretty well sensory overload but what a rush. The roads, the food, the people, the history, the cities, the towns, the villages, the views, the Med, the wine...it goes on and on....did I mention the roads!!
Your guys, Chano and Roger, did a fantastic job. I also want to thank you for your gifts, the T- shirt, pullover, memory stick and the wine for most of our dinners. I will wear the cloths with pride and spread the word of IMTBIKE.
Once again, a great trip, a great IMTBike company, great memories and stories..an adventure!!
Tom and Kathy
Ontario, Canada
Provence & Tuscany Tour - A wild, wild, trip
Sardinien und Korsika Motorrad Tour
You cannot in words or pictures express what these rides are like and the care that the guides give you. There is nothing in the US that compares to these rides and the food is the best in the world. Ann And I are both in our 70s, so the extra care of setting our bike up at every stop was really nice. If you are looking to tour Southern Europe or Morocco, IMTBIKE is the best. It will be an experience of a life time.
Jerry and Ann Larsen
Texas, USA
Sardinia & Corsica Tour - Our 4th IMTBike Tour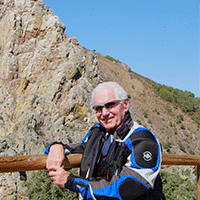 The purpose of this message is to let you know how much I enjoyed the Sardinia & Corsica Tour. Not only was the weather great, but the two Tour Guides were among the best of any I have encountered during my 20+ organized motorcycle rides outside of the U.S. As you undoubtedly already know, Martin 222 is absolutely the most animated conversationalist and ride briefers one could ever encounter. He is a joy to watch when he has both feet on the ground, and even more fun to follow when he is in his element - riding. Mikel was mesmerizing in his enthusiasm, energy and friendliness. If the rest of your staff is even close to these two, you have a winning team.

Sardinia exceeded my expectations. I really expected a small island more oriented to the conditions of Mexico. Wow, was I wrong! Even though the big draw for me was Corsica, I think Sardinia is a better choice for the pure enjoyment of motorcycle riding.

After 16 years in business, an inventory of 120 motorcycles and a crew that really gives a damn about keeping the business going, I think you have a winning program. You haven't seen the last of me. Because of Martins description and my personal desire to experience as much of the world as I can on two wheels while Im still on this side of the grass, I strongly suspect that you will find me on your Moroccan Tour in November.

Gary Pricket
California, USA
Sardinia & Corsica - What an Incredible Tour!
Katalunien MotoGP Tour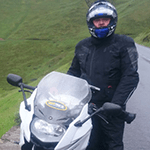 This was my first experience with IMTBike and I was very impressed. The tour package was above my expectation with excellent bikes, fun riding routes, outstanding accommodation, and to top it off great MotoGP seats. What a fantastic week!
Glen Yeomans
Fantastic Week
MotoGP Jerez Tour
My husband and I have done two tours with IMTBike: one to Southern Spain for the Jerez MotoGP races and the second to Morocco. It goes without saying that both of these countries provide great riding opportunities, have beautiful scenery and offer wonderful cultural experiences. But more than all of that, I have to tell you, we had A BLAST. In between taking care of every detail of the trip, these guys know how to enjoy the ride. It's obvious that the guides at IMTBike are passionate about motorcycling and that this is not just a job for them. Oh, to be so lucky as to call my motorcycle my office :-)
Heidi and Marty Paterno
Florida,USA
MOTOGP Jerez Tour And Morocco Tour - what a bloot!
MotoGP Valencia Tour
Thank you for another fabulous ride in Spain. Martin and OO found a variety of great roads for brisk rides and fantastic scenery. We enjoyed wonderful meals and lodgings at the Parador Hotels. The MOTOGP races at Valencia, the highlight of our ride, was a unique and breathtaking experience for me, Judd, and the others. Our group enjoyed each other's company and seem to have similar riding comfort levels. Martin and OO were always professional, courteous, sensitive, respectful, and always in good humor. What good people you have in your organization ! Good luck in all your professional and personal endeavours. I remain eager to ride again with IMTBike and highly recommend your outfit to my riding friends.
Sam Kalush
Florida, USA
MOTOGP Valencia Tour - Thank you for another fabulous ride