Paradisiac New Zealand Motorcycle Tour
South Island Adventure
New Zealand
Nov. 27 — Dec. 10, 2022
12 spots left
Nov. 26 — Dec. 09, 2023
Discover for yourself why New Zealand's South Island is at the top of the "Bike It List" rides for motorcycle tourists from all over the world. On this fantastic 12 Day 'New Zealand South Island Highlights' motorcycle tour you will experience all the grandeur New Zealand's South Island has to offer. You'll loop across the Southern Alps, view Aoraki /Mt Cook, explore Glacier Country on the wild West Coast, dose up on adrenaline in Queenstown and take a cruise on the Milford Sound. Breathtaking views and natural wonders are trademarks of New Zealand and you won't be disappointed!  IMTBIKE has teamed up with the best Official BMW Partner in New Zealand to make sure that IMTBIKE's high quality standards in lodgings, new BMW motorcycles and professional guides are met and you get the most out of this once in a lifetime riding experience!   So if New Zealand has been on your "Bike It List" for a while now is the perfect moment to check it off!
IMTBike ROUTE rating
It is essential to know the different skill levels needed to participate in the IMTBIKE TOURS that are offered to you. IMTBIKE makes sure that it offers different tours for all riding styles and levels. The IMTBIKE team always works diligently in designing our routes. This is a laborious process which entails reviewing all road choices before selecting the best option for an IMTBIKE tour.
The most experienced motorcyclists looks for roads that require technical skill; narrow twisty roads with little traffic and endless curves. But these same roads would be too difficult for a less experienced rider.
The local driving habits, the amount of traffic, the asphalt quality and the radius of the curves vary considerably from country to country and even in different regions of the same country. They will also vary depending on the season of the year. All of these factors have been studied by IMTBIKE and have been taken into consideration when rating our tours.
IMTBIKE thinks it is also important to know about the different types of roads you will be enjoying on your tour. To understand the road types easier, IMTBIKE has divided them into two categories, and we have calculated an approximate percentage of each on all of our tours.
TOURING ROADS: These are wider roads comprised mainly of larger radius sweepers. They are still curvy roads but not tight mountainous twisty curves. Please remember that you will ride very few straight roads on IMTBIKE tours!
CHALLENGING ROADS: These are roads that are tight twisty turns which require more technical skill. Many times they will be narrower roads without a shoulder and sometimes with steep inclines or descents. Normally they will be mountainous roads accompanied by spectacular sceneries.
If you have never ridden a motorcycle outside of your country, or if you have little experience riding on mountain roads with many curves, we recommend that you choose a tour rated moderate or intermediate. If you have any questions or doubts please do not hesitate to call or email us. We are always happy to answer your questions to make sure that you choose the best tour for your riding level.
Moderate
This route offers wider sweeping turns that are easy to maneuver. This route may have some tighter turns in a few places but this will be the exception. Regardless, even on moderate tours you must be able to ride a large cylinder motorcycle in any condition. Never plan to learn how to ride a motorcycle on an IMTBIKE tour. We recommend having a minimum of 8.000 km (5.000 miles) of experience riding a large cylinder motorcycle to participate on a MODERATE rated IMTBIKE Tour and you should ride a motorcycle on a regular basis at home.
Intermediate
This route rating can have sections of very twisty curves on narrow roads with no center line to divide the road. There will also wider radius curves on these routes. Traffic conditions can be intense at times in some urban environments and the local driving habits may seem aggressive and unpredictable to you. It is imperative that you are an experienced motorcyclist. We recommend that you have a minimum of 12.000 km (7500 miles) of large cylinder motorcycle experience to participate on a INTERMEDIATE rated IMTBIKE Tour and you should ride a motorcycle on a regular basis at home.
Advanced
This route rating has long sections of technical narrow twisty roads and sometimes single lane roads. These twisty roads will often be in mountains where steep inclines and descents will be commonplace. Some riding days can be long and challenging. Traffic conditions can be intense at times in some urban environments and the local driving habits may seem aggressive and unpredictable to you. It is imperative that you are a very experienced motorcyclist on a large cylinder motorcycle. We recommend that you have a minimum of 16.000 km (10.000 miles) of large cylinder motorcycle experience on an ADVANCE rated IMTBIKE Tour and of course you should ride a motorcycle on a regular basis at home.
IMTBIKE Average Daily Riding Hours
5 to 7 hours
6 to 8 hours
7 to 9 hours
How many hours a day you ride on a tour is important information in helping you decide on the right IMTBIKE tour for you. Some tour members want to ride as many hours as possible everyday, while others prefer to stop more frequently and dedicate more time to enjoying the scenery, visiting cultural sights and arrive at the hotel earlier to relax before dinner. The daily riding hours are calculated including the coffee breaks and photo stops but they do not include the time taken for lunch.
Normally we'll start our riding day at 9:30am and we will take about a one hour lunch break sometime between 1pm and 2pm. So if the daily riding hours for a given tour are 5-7, then you will arrive at the hotel between 3:30pm- 5:30pm depending on the average speed of the group.
Tour Facts
Start / End

Christchurch / Christchurch

Total Distance

1,416 miles / 2,279 km

Rest Days

2 Queenstown & 1 Dunedin

Breakfast

13 Included Breakfasts

Daily Mileage

155 miles / 250 km

Hotel Overnights

13 Nights

Riding Season

Austral Summer

Highlights: 3 Southern Alps passes, Glacier country, West coast road from Westport to Haast, Aoraki/ Mt Cook, Lake Tekapo, The Crown Range Road, Hammer Springs Thermal Resort, Queenstown, Glenorchy & Arrowtown, Te Anau & Milford Sound, Dunedin & the Otago Peninsula, visit to the Burt Munro 'World's Fastest Indian', The Pancake Rocks.

Accommodations: 4* Hotel/ Lodge accommodation. Superior Rooms. If there is a view you´ll have it.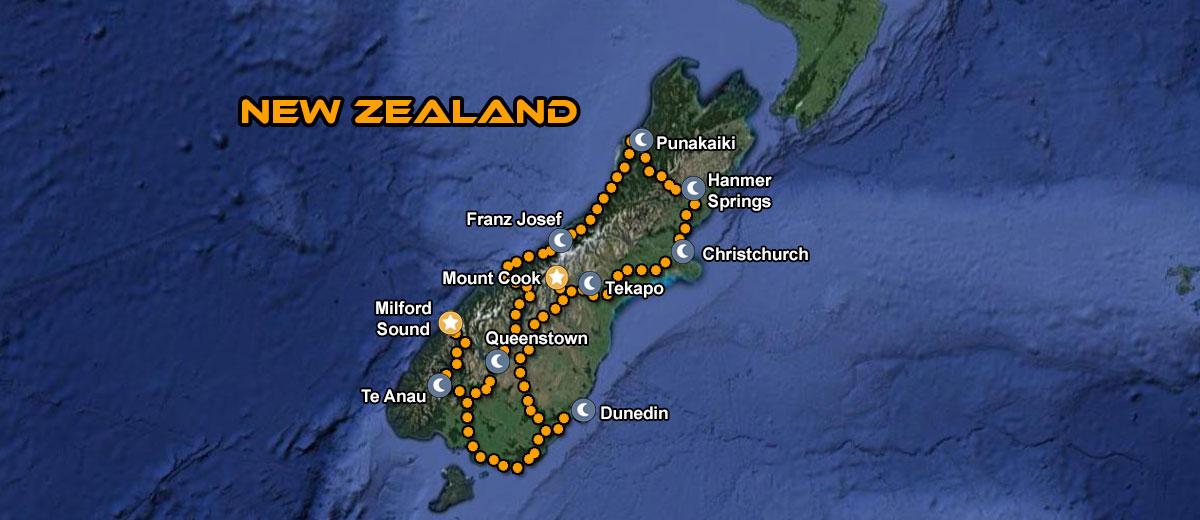 Click to enlarge
Paradisiac New Zealand Motorcycle Tour Gallery
Day 1: Ankunft in Christchurch, Sicherheitseinweisung und Begrüßungs Dinner
Day 2: Christchurch - Hanmer Springs
Day 3: Hanmer Springs - Punakaiki
Day 4: Punakaiki - Franz Josef
Day 5: Franz Joseph - Queenstown
Day 6: Queenstown - rest day
Day 7: Queenstown - rest day
Day 8: Queenstown - Te Anau
Day 9: Milford Sound
Day 10: Te Anau - Dunedin
Day 11: Dunedin - rest day
Day 12: Dunedin - Tekapo
Day 13: Tekapo - Christchurch
Day 14: Fligh back home
Day 1: Ankunft in Christchurch, Sicherheitseinweisung und Begrüßungs Dinner

Dein Transfer vom Flughafen zum Hotel ist inbegriffen. Bevor wir Dich über die Reise informieren, kannst Du etwas ausruhen oder eine Stadtbesichtigung machen. Nach dem Briefing gibt es zum ersten Kennenlernen ein Welcome-Dinner in einem traditionellen Restaurant. Der erste und letzte im Programm beschriebene Tag ist An- und Abreisetag Deiner Tour. Je nachdem, in welchem Land die Reise stattfindet, muss möglicherweise ein zusätzlicher Tag einkalkuliert werden. Wir bitten Dich, Deine Flüge entsprechend zu buchen!

Day 2: Christchurch - Hanmer Springs

A short ride to Hanmer Springs today – get used to your motorcycle and get in the holiday mood!
Hanmer Springs, an alpine resort set in a basin of forest clad mountains and home of natural hot springs where you can soak away your aches.

Day 3: Hanmer Springs - Punakaiki

Ride the Lewis Pass - a fabulous scenic ride and an old Maori greenstone trail.
Stop at Reefton, an old gold mining town for lunch then head to Punakaiki on the wild West Coast. This coastal ride is virtually traffic free with stunning views.
See the Pancake Rocks, these incredible rock formations and blowholes were 30 million years in the making.

Day 4: Punakaiki - Franz Josef

Reputably 'The best motorcycling in the world' is your next experience on the West Coast Road, designed by the grandfather of famous motorcycle designer John Britten. A curvy route through the wild and rocky west coast leading to beautiful native forests and lakes. The West Coast road looks towards the Tasman Sea on the right and Southern Alps on the left.
Nowhere else in the world at this latitude have glaciers advanced so close to the coast. These majestic, awe inspiring spectacles are amazing seen from the ground, and even more stunning seen from above. A helicopter trip can take you around Mount Cook and land on the glazier - a trip you'll never forget

Day 5: Franz Joseph - Queenstown

Heading north on the Tasman coast road - wild and beautiful, stop to sign a pebble on Bruce Bay - a Kiwi tradition!
The scenery changes dramatically to native forest as you turn inland to cross the famous Haast Pass. Tumbling rivers, waterfalls and winding undulating riding.
Again, the scenery changes as you enter central Otago and the Mount Aspiring National Park. Ride beside huge lakes with a background of snow-capped mountains and cross the highest sealed road in New Zealand, the Crown Ranges and descend into the Adventure Capital of the World - Queenstown!

Day 6: Queenstown - rest day

We'll give you plenty of time to explore and experience the delights of this fantastic spot. There is so much to do here - paraglide, jet boat ride, bungee jump, white water rafting, to name but a few. Ride to the old Gold mining town of Arrowtown or the fabulous road to Glenorchy alongside Lake Wakatipu.


Day 7: Queenstown - rest day

Have lunch at the Gibson Valley winery, just down the road from the A J Hacket Bridge Bungee. Eat at The Skyline restaurant at the top of Bob's Peak – you can look over Queenstown and watch the sun set over the mountains

Day 8: Queenstown - Te Anau

Head toward Te Anau in Fiordland today. Fiordland is 1.2 million hectares of remote, primeval beauty.
This is one of the few places on the planet of untouched wilderness. Waterfalls tumble hundreds of metres into pristine forested valleys. The mirror surfaces of the fiords reflect the majestic towering mountains enclosing them, dolphins, seals and Fiordland crested penguins make their home here.
This is where the word 'silence' takes on a different meaning. Another great trip is the Te Anau glow worm caves, accessible by boat, if you wish.

Day 9: Milford Sound

A fantastic ride along the shores of Lake Te Anau, then through the famous Homer tunnel – carved out of the rock by hand in the 1930's.. Emerge the other side of the tunnel to stunning mountain scenery and twisting roads.
Keep an eye out for the cheeky, very intelligent Kea Alpine parrots.
Milford Sound cruise. (included on your tour) cruise is 2 hours.

Day 10: Te Anau - Dunedin

Today's route is a curvaceous ride that winds through central Otago, to the very Scottish city of Dunedin.
Victorian architecture and the divine Otago Peninsula makes this a particularly attractive place to visit.
Pass through the fly- fishing capital of New Zealand - Gore and visit a fascinating vintage aircraft museum and workshop

Day 11: Dunedin - rest day

Explore Dunedin City and the Otago Peninsula.
You can see rare royal albatross and yellow eyed penguins in their natural habitat, winding roads with beautiful coastal views.
Take a ride on the Taieri Gorge Railway or a wildlife boat trip around the peninsular. Admire the Scottish style architecture and ride down the steepest street in the world!

Day 12: Dunedin - Tekapo

Leave Dunedin for a great ride over the Maungatua Ranges. The area is typical of the dry Maniototo region - sparse, tussock clad, rolling hills.
Stop at Cromwell the 'fruit bowl of New Zealand'. Then take on the Lindis Pass, the saddle with alpine landscape between Lindis Valley and the Ahuriri River to Lake Tekapo.

Day 13: Tekapo - Christchurch

Lake Tekapo offers breath taking views of Mt Cook, New Zealand's tallest mountain.
At the Church of the Good Shepherd, admire the bronze statue of a sheep dog and views of the turquoise lake. Ride on to Christchurch via Burkes Pass, Mount Hutt and the Canterbury plains.

Day 14: Fligh back home

Fligh back home
Paradisiac New Zealand Motorcycle Tour Pricing
The base price of every tour is calculated for a single rider on a BMW F750GS and sharing a double room

Included in Tour:
Airport Transfers (arrival and departure).
Overnight accommodations in high quality hotels.
Complete buffet breakfast every morning at hotels.
A gourmet and a la carte evening meal every night. (Except on rest days.)
Wine during welcome and farewell dinners.
New model BMW motorcycle fully equipped with a BMW top box & side cases.
Comprehensive motorcycle insurance with $3,000NZD excess (deductible). Option to reduce to excess to $750NZD for $240NZD.
Tour handbook (normally about 50 pages-very comprehensive) and map.
Support vehicle which will carry your luggage, any oversized purchases you make, or even a passenger or two.
Milford Sound Cruise.
Visit to the Burt Munro 'World's Fastest Indian' Display in Invercargill.
Activity booking service.
All taxes included.
Not included in Tour:
International airfare.
Lunches.
Fuel.
Dinners on rest days.
Drinks during meals.
Travel Insurance.
Personal expenses.