Valencia is located on the Mediterranean Sea about 350 kilometers east of Madrid and 350 kilometers south of Barcelona and it enjoys a warm Mediterranean climate all year round. Valencia is world-renowned as the birthplace of paella, for the America's Cup Sailing Regatta and for Las Fallas, a local festival where giant floats made out of carton are paraded through Valencia's streets and then, on the last day of the festival, are lit on fire.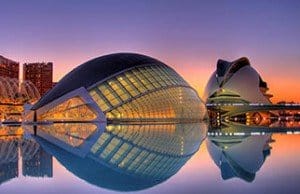 Renting a motorcycle in Valencia puts you within a short ride from Cheste Motorcycle Racetrack. At this track the last MotoGP race of the season is held every year! Many times it comes down to this last motorcycle race of the season to see who will be crowned champion. Valencia has always been known as a motorcycle city and apart from its famous racetrack several famous motorcycle racers hail from this region such as: Ricardo Tormo, Jorge Martinez Aspar and Nico Terrol. Valencia is perfect as a riding destination as it has incredible nearby mountains that are perfect for motorcycling.
Valencia Sights
When you visit Valencia you shouldn't miss its City of Arts & Science, its Oceanographic Park, and the Malvarosa Beach. And of course you must try a delicious paella with a chilled Valencia white wine!
IMTBIKE Tours
If you are looking for a hassle free motorcycle vacation, IMTBIKE also offers outstanding organized and self-guided motorcycle tours in Spain, Portugal, Morocco, France and Italy. We use top quality "motorcycle-friendly" hotels and you are guaranteed incredible motorcycle roads day after day! To see more information on IMTBike tours please click here