Santiago de Compostela is located in the northwest corner of Spain and is world famous for the "Camino de Santiago" or St. James Way Pilgrimage. For over 1000 years people have been making this special pilgrimage to Santiago where the apostle James is said to be buried beneath the Cathedral. Santiago is a United Nations World Heritage Site with a historical section overflowing with monumental and artistical treasures. Walking these streets is to turn back time hundreds of years! Santiago is also a young and vibrant city thanks to the many students that make Santiago their home during their university years.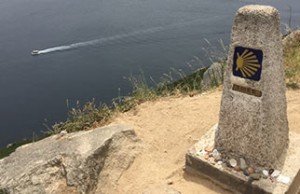 Renting a motorcycle in Santiago de Compostela puts the motorcycle lover in the Galicia Region that surrounds Santiago which offers some outstanding motorcycle roads on rolling green hills and along rugged coastlines like the Rías Baixas y Rías Altas. The close proximity of Northern Portugal and beautiful Asturias also offers countless motorcycle options to be explored.
Santiago de Compostela Sights
One cannot go to Santiago de Compostela without seeing the Plaza de Obradoiro where the Cathedral and the Parador Hostal de los Reyes Católicos are located. You will recognize the pilgrims as they will have a Scallop Shell, the symbol of the Camino de Santiago, on their backpacks. Another "must do" in Santiago is to sample some of the most delicious seafood on the planet that comes from the Galician coast!
IMTBike Tours
If you are looking for a hassle free motorcycle vacation, IMTBike also offers outstanding organized and self-guided motorcycle tours in Spain, Portugal, Morocco, France and Italy. We use top quality "motorcycle-friendly" hotels and you are guaranteed incredible motorcycle roads day after day! To see more information on IMTBike tours please click here