Paradiesisches Neuseeland
Südinsel Abenteuer
Neuseeland
Jan. 26 — Feb. 08, 2021
8 Plätze verfügbar
Discover for yourself why New Zealand's South Island is at the top of the "Bike It List" rides for motorcycle tourists from all over the world. On this fantastic 12 Day 'South Island Highlights' motorcycle tour you will experience all the grandeur New Zealand's South Island has to offer. You'll loop across the Southern Alps, view Aoraki /Mt Cook, explore Glacier Country on the wild West Coast, dose up on adrenaline in Queenstown and take a cruise on the Milford Sound. Breathtaking views and natural wonders are trademarks of New Zealand and you won't be disappointed!  IMTBIKE has teamed up with the best Official BMW Partner in New Zealand to make sure that IMTBIKE's high quality standards in lodgings, new BMW motorcycles and professional guides are met and you get the most out of this once in a lifetime riding experience!   So if New Zealand has been on your "Bike It List" for a while now is the perfect moment to check it off!
IMTBike Streckenbewertung
Lernen Sie die verschiedenen Schwierigkeitsstufen der IMTBike Touren kennen, um zu wissen, welche Fahrpraxis erforderlich ist, um an den entsprechenden Touren teilnehmen zu können. IMTBike bietet verschiedene Touren für unterschiedlichste Fahrstile und Schwierigkeitsstufen an und arbeitet weiter an der Gestaltung neuer Routen. Das ist ein fortlaufender Prozess, bei dem unsere erfahrenen Guides Strecken abfahren und überprüfen, bevor die besten davon für die IMTBike Touren ausgewählt werden.
Sehr erfahrene Motorradfahrer wünschen sich Strecken, die technisches Können erfordern; schmale, kurvige Straßen mit wenig Verkehr und endlosen Kurven. Genau diese Strecken könnten jedoch für weniger erfahrene Motorradfahrer zu schwierig sein.
Die lokalen Fahrgewohnheiten, das Verkehrsaufkommen, die Qualität des Asphalts und der Radius der Kurven unterscheiden sich von Land zu Land erheblich und oftmals sogar in den verschiedenen Regionen des gleichen Landes. Diese Merkmale sind auch jahreszeitenabhängig. Sie wurden alle von IMTBike sorgfältig erprobt und bei der Bewertung der Touren berücksichtigt.
Darüber hinaus finden finden wir es auch wichtig, Sie über die unterschiedlichen Straßen, auf denen Sie Ihre Reise genießen, zu informieren. Für ein besseres Verständnis hat IMTBike die Straßen in zwei Kategorien unterteilt und sie unseren Touren prozentual zugeordnet.
TOURING STRECKEN: hier wird auf breiten Straßen gefahren, die hauptsächlich aus Kehren mit großem Radius bestehen. Es gibt geschwungene Kurven, aber keine engen, bergigen Serpentinen. Ganz gerade Strecken findet man auf IMTBike Touren nur sehr wenige!
ANSPRUCHSVOLLE STRECKEN: hier werden enge, geschwungene Kurven gefahren, die mehr technisches Können erfordern. Oftmals werden die Straßen enger, mit unbefestigten Vorsprüngen, steilen Steigungen und Abfahrten. Normalerweise handelt es sich hierbei um Bergstraßen mit spektakulärer Landschaft.
Wenn Sie noch nicht außerhalb Ihres eigenen Landes Motorrad gefahren sind, oder wenn Sie nur wenig Fahrpraxis und Fahrerfahrung mit kurvenreichen Bergstraßen haben, empfehlen wir Ihnen mit einer Tour, die mit leicht oder mittel bewertet wurde, zu beginnen. Im Zweifelsfall oder bei Fragen senden Sie uns bitte eine E-Mail oder rufen Sie uns an. Wir beantworten jederzeit gerne Ihre Fragen, um sicher gehen zu können, dass Sie die geeignetste Tour aussuchen.
LEICHT
Hier fahren wir Strecken mit weiten Kurven, die leicht zu manövrieren sind. An einigen Stellen gibt es auch enge Kurven, aber das ist eher die Ausnahme.
Auf jeden Fall sollten Sie auch auf den leichten Strecken jederzeit in der Lage sein, ein Motorrad mit großem Hubraum zu fahren.
Planen Sie bitte nicht, das Motorradfahren während einer IMTBike Tour zu lernen. Wir empfehlen mindestens 8.000 km Fahrpraxis auf einem Motorrad mit großem Hubraum und Sie sollten auch unter dem Jahr regelmäßig Motorradfahren.
MITTEL
Auf diesen Strecken fahren wir Abschnitte mit sehr vielen Kurven auf engen Straßen, mitunter ohne Mittellinie. Es sind auch Kurven mit weitem Radius dabei. Manchmal kommt es zu bestimmten Zeiten in der Nähe der Städte zu dichtem Verkehr und die lokalen Fahrgewohnheiten können Ihnen ungewohnt und unberechenbar vorkommen. Von daher ist es sehr wichtig, daß Sie ein erfahrener Motorradfahrer sind und wir empfehlen Ihnen für eine mit MITTEL bewertete IMTBike Tour eine Fahrpraxis von mindestens 25.000 km auf einem Motorrad mit großem Hubraum. Desweiteren sollten Sie auch unter dem Jahr regelmäßig Motorradfahren.
Fortgeschritten
Auf diesen Routen fahren wir lange Abschnitte auf technisch engen, kurvigen Straßen, manchmal auch einspurigen.
Manchmal kommt es zu bestimmten Zeiten zu dichtem Verkehr und die lokalen Fahrgewohnheiten können Ihnen ungewohnt und unberechenbar vorkommen.
Diese kurvenreichen Straßen befinden sich dabei oft im Gebirge mit steilen Auf- und Abfahrten.
Dadurch können einige Fahrtage lang und herausfordernd sein. Es ist von daher sehr wichtig, daß Sie ein erfahrener Motorradfahrer sind und wir empfehlen Ihnen für eine mit FORTGESCHRITTEN bewertete IMTBike Tour eine Fahrpraxis von mindestens 50.000 km auf einem Motorrad mit großem Hubraum. Desweiteren sollten Sie auch unter dem Jahr regelmäßig Motorradfahren.
Unsere durchschnittliche tägliche Fahrdauer
5 bis 7 Stunden
6 bis 8 Stunden
7 bis 9 Stunden
Wir finden es wichtig, daß Sie wissen, wieviel Stunden am Tag auf einer Tour gefahren wird, damit Sie entscheiden können, welche IMTBIKE Tour die richtige für Sie ist. Manche Tourmitglieder möchten jeden Tag so viele Stunden wie möglich fahren, während andere es bevorzugen, öfters anhalten zu können und mehr Zeit für das Genießen der Landschaft und für das Besuchen von kulturellen Stätten zu haben.
Oder Sie möchten abends früher im Hotel ankommen, um vor dem Abendessen noch ein wenig entspannen zu können. Die tägliche Fahrzeit ist inklusive Kaffee- und Fotopause, beinhaltet jedoch nicht die Zeit für die Zwischenmahlzeit.
Normalerweise starten wir unseren Fahrtag morgens um 9:30 Uhr und halten zwischen 13 Uhr und 14 Uhr für die einstündige Zwischenmahlzeit an. Somit kommen wir bei einer Tour, die mit 5 - 7 Stunden angegeben ist, gegen 15:30 Uhr und 17:30 Uhr im Hotel an, je nach Durchschnittsgeschwindigkeit der Gruppe.
Tourdaten
Start /Ende

Christchurch / Christchurch

Gesamtstrecke

2,279 km / 1,416 miles

Rasttage

2 Queenstown & 1 Dunedin

Frühstück

13 Frühstück inbegriffen

Tagesstrecke

250 km/ 155 miles

Hotelübernachtungen

13 Nächte

Fahrsaison

Austral Summer

Highlights: 3 Southern Alps passes, Glacier country, West coast road from Westport to Haast, Aoraki/ Mt Cook, Lake Tekapo, The Crown Range Road, Hammer Springs Thermal Resort, Queenstown, Glenorchy & Arrowtown, Te Anau & Milford Sound, Dunedin & the Otago Peninsula, Visit to the Burt Munro 'World's Fastest Indian' Display in Invercargill, The Pancake Rocks.

Unterbringung: 4* Hotel/ Lodge accommodation. Superior Rooms. If there is a view you´ll have it.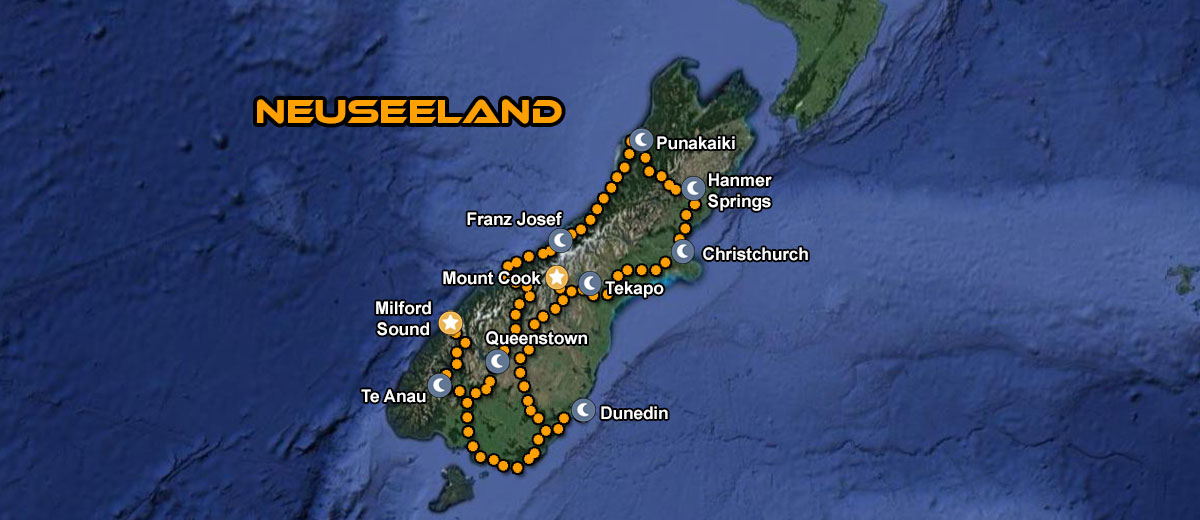 zum Vergrößern anklicken
Day 1: Arrival Christchurch, safety briefing and welcome dinner
Day 2: Christchurch to Hanmer Springs
Day 3: Hanmer Springs to Punakaiki
Day 4: Punakaiki to Franz Josef
Day 5: Franz Joseph to Queenstown
Day 6: Explore Queenstown
Day 7: Explore Queenstown
Day 8: Queenstown to Te Anau
Day 9: Milford Sound
Day 10: Te Anau to Dunedin
Day 11: Free day to explore Dunedin
Day 12: Dunedin to Tekapo
Day 13: Tekapo to Christchurch
Day 14: Fligh back home
Day 1: Arrival Christchurch

Transfer included from the airport to the hotel. You'll have time to rest and visit the city before our welcome briefing in the evening. After the briefing you'll have dinner with your guides at a local restaurant. The first and last days mentioned in the itinerary correspond to first and last days of the tour. Keep in mind that, depending on which country you are flying from, you may need to leave a day early, so please reserve your flights accordingly.

Day 2: Christchurch to Hanmer Springs

A short ride to Hanmer Springs today – get used to your motorcycle and get in the holiday mood!
Hanmer Springs, an alpine resort set in a basin of forest clad mountains and home of natural hot springs where you can soak away your aches.

Day 3: Hanmer Springs to Punakaiki

Ride the Lewis Pass - a fabulous scenic ride and an old Maori greenstone trail.
Stop at Reefton, an old gold mining town for lunch then head to Punakaiki on the wild West Coast. This coastal ride is virtually traffic free with stunning views.
See the Pancake Rocks, these incredible rock formations and blowholes were 30 million years in the making.

Day 4: Punakaiki to Franz Josef

Reputably 'The best motorcycling in the world' is your next experience on the West Coast Road, designed by the grandfather of famous motorcycle designer John Britten. A curvy route through the wild and rocky west coast leading to beautiful native forests and lakes. The West Coast road looks towards the Tasman Sea on the right and Southern Alps on the left.
Nowhere else in the world at this latitude have glaciers advanced so close to the coast. These majestic, awe inspiring spectacles are amazing seen from the ground, and even more stunning seen from above. A helicopter trip can take you around Mount Cook and land on the glazier - a trip you'll never forget!

Day 5: Franz Joseph to Queenstown

Heading north on the Tasman coast road - wild and beautiful, stop to sign a pebble on Bruce Bay - a Kiwi tradition!
The scenery changes dramatically to native forest as you turn inland to cross the famous Haast Pass. Tumbling rivers, waterfalls and winding undulating riding.
Again, the scenery changes as you enter central Otago and the Mount Aspiring National Park. Ride beside huge lakes with a background of snow-capped mountains and cross the highest sealed road in New Zealand, the Crown Range, and descend into the Adventure Capital of the World - Queenstown!

Day 6: Explore Queenstown

We'll give you plenty of time to explore and experience the delights of this fantastic spot. There is so much to do here - paraglide, jet boat ride, bungee jump, white water rafting, to name but a few. Ride to the old Gold mining town of Arrowtown or the fabulous road to Glenorchy alongside Lake Wakatipu.


Day 7: Explore Queenstown

Have lunch at the Gibson Valley winery, just down the road from the A J Hacket Bridge Bungee. Eat at The Skyline restaurant at the top of Bob's Peak – you can look over Queenstown and watch the sun set over the mountains.

Day 8: Queenstown to Te Anau

Head toward Te Anau in Fiordland today. Fiordland is 1.2 million hectares of remote, primeval beauty.
This is one of the few places on the planet of untouched wilderness. Waterfalls tumble hundreds of metres into pristine forested valleys. The mirror surfaces of the fiords reflect the majestic towering mountains enclosing them, dolphins, seals and Fiordland crested penguins make their home here.
This is where the word 'silence' takes on a different meaning. Another great trip is the Te Anau glow worm caves, accessible by boat, if you wish.

Day 9: Milford Sound

A fantastic ride along the shores of Lake Te Anau, then through the famous Homer tunnel – carved out of the rock by hand in the 1930's. Emerge the other side of the tunnel to stunning mountain scenery and twisting roads.
Keep an eye out for the cheeky, very intelligent Kea Alpine parrots.
Milford Sound cruise. (included on your tour) cruise is 2 hours.

Day 10: Te Anau to Dunedin

Today's route is a curvaceous ride that winds through central Otago, to the very Scottish city of Dunedin.
Victorian architecture and the divine Otago Peninsula makes this a particularly attractive place to visit.
Pass through the fly- fishing capital of New Zealand - Gore and visit a fascinating vintage aircraft museum and workshop

Day 11: Free day to explore Dunedin

Explore Dunedin City and the Otago Peninsula.
You can see rare royal albatross and yellow eyed penguins in their natural habitat, winding roads with beautiful coastal views.
Take a ride on the Taieri Gorge Railway or a wildlife boat trip around the peninsular. Admire the Scottish style architecture and ride down the steepest street in the world!

Day 12: Dunedin to Tekapo

Leave Dunedin for a great ride over the Maungatua Ranges. The area is typical of the dry Maniototo region - sparse, tussock clad, rolling hills.
Stop at Cromwell the 'fruit bowl of New Zealand'. Then take on the Lindis Pass, the saddle with alpine landscape between Lindis Valley and the Ahuriri River to Lake Tekapo.

Day 13: Tekapo to Christchurch

Lake Tekapo offers breath taking views of Mt Cook, New Zealand's tallest mountain.
At the Church of the Good Shepherd, admire the bronze statue of a sheep dog and views of the turquoise lake. Ride on to Christchurch via Burkes Pass, Mount Hutt and the Canterbury plains.

Day 14: Fligh back home

Fligh back home
Preise
Der Grundpreis jeder Tour ist kalkuliert auf Basis einer BMW F750GS mit Einzelfahrer, untergebracht in 1 Doppelzimmer.
Reiseteilnehmer hinzufügen
In der Tour inbegriffen:
Airport Transfers (arrival and departure).
Overnight accommodations in high quality hotels.
Complete buffet breakfast every morning at hotels.
A gourmet and a la carte evening meal every night. (Except on rest days.)
Wine during welcome and farewell dinners.
New model BMW motorcycle fully equipped with a BMW top box & side cases.
Comprehensive motorcycle insurance with $3,000NZD excess (deductible). Option to reduce to excess to $750NZD for $240NZD.
Tour handbook (normally about 50 pages-very comprehensive) and map.
Support vehicle which will carry your luggage, any oversized purchases you make, or even a passenger or two.
Milford Sound Cruise.
Visita à exposição de Burt Munro "Indian mais rápida do mundo" em Invercargill.
Activity booking service.
All taxes included.
Nicht in der Tour enthalten:
International airfare.
Lunches.
Fuel.
Dinners on rest days.
Drinks during meals.
Travel Insurance.
Personal expenses.