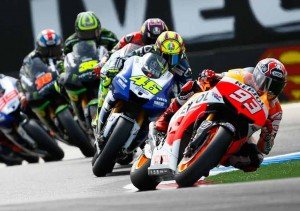 Did you know Spain is the only country in the world to have four MotoGP races? Some say it's because Spaniards love motorcycles so much. Others say it's due to Spain's perfect climate for motorcycling! Whatever the reason, this year you can have an outstanding motorcycle tour and experience the excitement of MotoGP together with IMTBike MotoGP Motorcycle Tours.
for 2015 we're running three different MotoGP Motorcycle Tours: Jerez, Catalunya and Valencia. These tours will take you twisting and turning on perfect asphalt through the best curves in the country to the MotoGP race of your choice. You'll experience the excitement of the races first-hand and ride trhough little-known parts of Spain. At night you'll sleep in 4 & 5 star hotels and Spanish Paradors. Paradors are historical buildings such as palaces and castles turned into top-notch motorcycle-friendly hotels.
Since 1997 we've been offering outstanding motorcycle tours and rentals in Europe and Morocco. Their experienced multi-lingual guides are all expert riders that enjoy sharing their local knowledge.
For more information visit our MotoGP Motorcycle Tours page, send us an email or give us a call: USA (412) 468-2453/Spain (+34) 91 633 72 22
Are you up for an unforgettable weekend at the races? let us know what you think in the comments below!
#PassionForMotorcycling