Blog


Discover our new motorcycle tours for 2015
We are introducing five brand new motorcycle tours for 2015:
Motorcyle Tours in Spain
Explore Sevilla, Ronda, Cordoba and Granada. Enjoy the famous "White Towns" and ride the greatest curves in the Sierra Nevada and Grazalema Mountains. Spend the night in exclusive Paradors, historical buildings such as Palaces and Castles converted into top-notch motorcycle—friendly hotels.
A tour designed with BMW MOA members in mind! This tour rides through history across six UNESCO World Heritage sites linked up by the best curves, twisties and sweepers of four different Mountain Ranges. Spend your nights in Palaces, Castles and Fortresses converted into top-notch motorcycle-friendly hotels.
The exceptional combination of magnificent roads with perfect asphalt and the intoxicating curves of the Pyrenees. An exquisite feast fit for true motorcyclists.
Motorcyle Tours in Morocco
Discover The Ancient Moorish Kingdom. Ride through Andalucia/Southern Spain and Morocco on this fascinating 15 day adventure on two wheels.
Motorcyle Tours in Sardinia (Italy)
An astonishing motorcycle tour through the best roads of the mountainous island of Sardinia. One of the best places to ride a motorcycle in the world.
What do you think? are these some good looking motorcycle tours in Spain & Morocco?
Tweet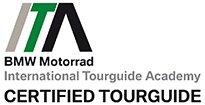 22/04/2014 - IMTBIKE is now a certified ITA BMW Motorrad (International Tourguide Academy) company.

This certification guaranties that IMTBIKE fulfills the high standards of quality required by BMW Motorrad as an official travel partner.

The skill level, experience and knowledge of our guides has been put to the test and pushed to the limits in all fields required for their job: on and off-road riding, first aid, motorcycle mechanics and more.

For us, this certification is tantamount to a promise to all of our clients to continue providing guided motorcycle tours of the highest quality.

Our guides represent the image of IMTBIKE during a tour, and it has always been our goal that they are adequately trained and prepared to provide and unforgettable tour that exceeds expectations. 

For that reason we are proud to announce that since April 2014 IMTBIKE holds the official certification of the ITA BMW Motorrad (International Tourguide Academy).
Tweet
08/05/2013 - We have moved our rental center in Malaga. The new IMTBike Malaga Center is located just 2 kilometers from the Malaga international Airport. This recently expanded airport is Andalucia's hub for direct international flights from around the world! Now it's easier than ever to rent a BMW and ride in sunny Southern Spain or join an IMTBIKE Andalucia or Morocco Tour!

Do you keep a motorcycle in Europe? IMTBike's new Malaga center is also a perfect location to store your motorcycle during the offseason.

For more information on the new Malaga Center contact us at [email protected]
Tweet